<![if gte vml 1]><![endif]>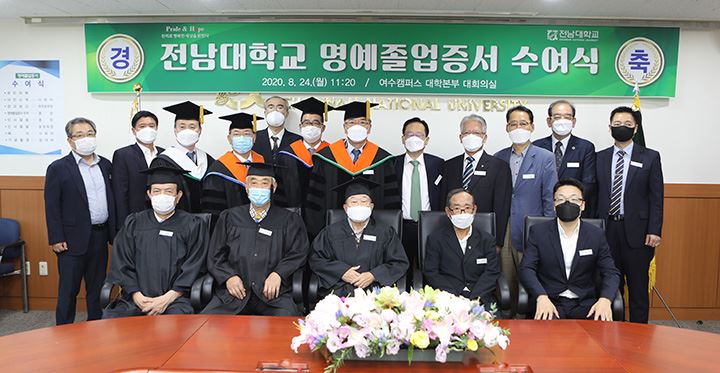 CNU conferred honorary graduation certificates to those who graduated from predecessor schools of CNU and asked them to have pride in their positions as CNU alumni.
CNU awarded honorary graduation certificates to 501 graduates from predecessor schools and two people of merit in independence at CNU's Yeosu Campus on August 24. The graduation certificates were received by 5 representatives to prevent the infection of COVID-19 and the other recipients received their certificates by mail.
On the ceremony day, the grandson and son of Park No-woon and Hwang Byeong-ik, respectively, who are both men of merit for independence and graduates of Yeosu Fisheries High School attended the ceremony as representatives. The other three representatives, Im Sang-taek who graduated from Yeosu Fisheries High School and, Park Eui-cheol and Jeong Jun-ho, who graduated from Yeosu Professional Fisheries High School, attended the ceremony by themselves to receive the honorary graduation certificates.
CNU has decided to award honorary graduation certificates to those who graduated from the 30 predecessor schools, including Gwangju Agricultural School (1907) and Yeosu Public Simplified Fisheries School (1917). Those who are eligible can apply through CNU Alumni Associations.
<![data-hwpjson]{ "documentPr": { "di": "", "dp": { "dn": "test.hwp", "ta": 1, "d1": 5, "d2": 1, "dv": 0, "dr": 1, "do": 1, "vj": "1.0", "an": "Hancom Office Hangul", "av": "9, 6, 1, 9059", "ao": "WIN", "ab": "32", "ar": "LE", "as": "Windows_Unknown_Version" }, "dis": false, "ds": { "ti": "", "la": "ko", "cr": "", "su": "", "de": "", "cd": "2020-10-07T09:08:01.405Z", "md": "1601-01-01T09:00:00.000Z", "pd": "1601-01-01T09:00:00.000Z", "ke": "" } }, "dh": { "do": { "pa": 1, "fo": 1, "en": 1, "pi": 1, "tb": 1, "eq": 1 }, "fo": [ ], "cd": { "tp": 0, "lc": { "af": false, "ui": false, "fu": false, "dn": false, "ul": false, "el": false, "at": false, "tq": false, "da": false, "dw": false, "dj": false, "bc": false, "bu": false, "al": false, "ab": false, "ap": false, "an": false, "aa": false, "ds": false, "de": false, "as": false, "cp": false, "ao": false, "et": false, "ay": false, "am": false, "a1": false, "bt": false, "av": false, "dh": false, "dp": false, "d1": false, "mf": false, "bl": false, "ag": false, "dg": false, "ae": false, "df": false, "do": false, "dl": false, "di": false, "d2": false, "d3": false, "ob": false, "d4": false, "ev": false, "d5": false, "d6": false, "a2": false, "dc": false } }, "ld": { "pa": "", "pi": true, "fo": false } }, "bf": { "01D69C3DEC356A3000000042": { "id": 1, "td": false, "sh": false, "st": 0, "sc": 0, "si": false, "bt": 0, "bi": false, "cl": 0, "bc": false, "lt": 0, "lw": 0, "lc": 0, "rt": 0, "rw": 0, "rc": 0, "tt": 0, "tw": 0, "tc": 0, "bbt": 0, "bbw": 0, "bbc": 0, "dt": 1, "dw": 0, "dc": 0, "fi": { } }, "01D69C3DEC356A3000000043": { "id": 2, "td": false, "sh": false, "st": 0, "sc": 0, "si": false, "bt": 0, "bi": false, "cl": 0, "bc": false, "lt": 0, "lw": 0, "lc": 0, "rt": 0, "rw": 0, "rc": 0, "tt": 0, "tw": 0, "tc": 0, "bbt": 0, "bbw": 0, "bbc": 0, "dt": 1, "dw": 0, "dc": 0, "fi": { "wb": { "fc": 4294967295, "hc": 10066329, "al": 0, "hs": -1 } } }, "01D69C3DEC356A3000000044": { "id": 3, "td": false, "sh": false, "st": 0, "sc": 0, "si": false, "bt": 0, "bi": false, "cl": 0, "bc": false, "lt": 0, "lw": 0, "lc": 0, "rt": 0, "rw": 0, "rc": 0, "tt": 0, "tw": 0, "tc": 0, "bbt": 0, "bbw": 0, "bbc": 0, "dt": 1, "dw": 0, "dc": 0, "fi": { "wb": { "fc": 4294967295, "hc": 0, "al": 0, "hs": -1 } } } }, "cp": { "01D69C3DEC356A3000000045": { "id": 0, "he": 1000, "tc": 0, "sc": 4294967295, "uf": false, "uk": false, "sm": 0, "bf": "01D69C3DEC356A3000000043", "f1": "함초롬바탕", "t1": 1, "f2": "함초롬바탕", "t2": 1, "f3": "함초롬바탕", "t3": 1, "f4": "함초롬바탕", "t4": 1, "f5": "함초롬바탕", "t5": 1, "f6": "함초롬바탕", "t6": 1, "f7": "함초롬바탕", "t7": 1, "r1": 100, "r2": 100, "r3": 100, "r4": 100, "r5": 100, "r6": 100, "r7": 100, "s1": 0, "s2": 0, "s3": 0, "s4": 0, "s5": 0, "s6": 0, "s7": 0, "e1": 100, "e2": 100, "e3": 100, "e4": 100, "e5": 100, "e6": 100, "e7": 100, "o1": 0, "o2": 0, "o3": 0, "o4": 0, "o5": 0, "o6": 0, "o7": 0, "it": false, "bo": false, "ut": 0, "us": 1, "uc": 0, "st": false, "ss": 1, "so": 0, "ot": 0, "ht": 0, "hc": 0, "hx": 0, "hy": 0, "em": false, "en": false, "su": false, "sb": false }, "01D69C3DEC356A3000000046": { "id": 1, "he": 1000, "tc": 0, "sc": 4294967295, "uf": false, "uk": false, "sm": 0, "bf": "01D69C3DEC356A3000000044", "f1": "굴림", "t1": 1, "f2": "굴림", "t2": 1, "f3": "굴림", "t3": 1, "f4": "굴림", "t4": 1, "f5": "굴림", "t5": 1, "f6": "굴림", "t6": 1, "f7": "굴림", "t7": 1, "r1": 100, "r2": 100, "r3": 100, "r4": 100, "r5": 100, "r6": 100, "r7": 100, "s1": 0, "s2": 0, "s3": 0, "s4": 0, "s5": 0, "s6": 0, "s7": 0, "e1": 100, "e2": 100, "e3": 100, "e4": 100, "e5": 100, "e6": 100, "e7": 100, "o1": 0, "o2": 0, "o3": 0, "o4": 0, "o5": 0, "o6": 0, "o7": 0, "it": false, "bo": false, "ut": 0, "us": 1, "uc": 0, "st": false, "ss": 1, "so": 0, "ot": 0, "ht": 0, "hc": 0, "hx": 0, "hy": 0, "em": false, "en": false, "su": false, "sb": false } }, "tp": { "01D69C3DEC356A3000000047": { "id": 0, "al": false, "ar": false, "tp": [ ] } }, "nu": { }, "bu": { }, "pp": { "01D69C3DEC356A3000000048": { "id": 0, "ah": 0, "av": 0, "ht": 0, "hi": "", "hl": 0, "tp": "01D69C3DEC356A3000000047", "kb": 0, "kn": true, "ko": false, "kk": false, "kl": false, "kp": false, "kw": 0, "co": 0, "fl": false, "st": true, "sl": false, "ae": false, "aa": false, "mi": 0, "ml": 0, "mr": 0, "mp": 0, "mn": 0, "lt": 0, "lv": 160, "bf": "01D69C3DEC356A3000000043", "bl": 0, "br": 0, "bt": 0, "bb": 0, "bc": false, "bi": false }, "01D69C3DEC356A3000000049": { "id": 1, "ah": 0, "av": 0, "ht": 0, "hi": "", "hl": 0, "tp": "01D69C3DEC356A3000000047", "kb": 0, "kn": true, "ko": false, "kk": false, "kl": false, "kp": false, "kw": 0, "co": 0, "fl": false, "st": true, "sl": false, "ae": false, "aa": false, "mi": 0, "ml": 0, "mr": 0, "mp": 0, "mn": 0, "lt": 0, "lv": 120, "bf": "01D69C3DEC356A3000000044", "bl": 0, "br": 0, "bt": 0, "bb": 0, "bc": false, "bi": false } }, "st": { "01D69C3DEC356A300000004A": { "id": 0, "ty": 0, "na": "바탕글", "en": "Normal", "pp": "01D69C3DEC356A3000000048", "cp": "01D69C3DEC356A3000000045", "ns": "01D69C3DEC356A300000004A", "li": 1042, "lf": false } }, "mp": { }, "ro": { "hp": "01D69C3DEC356A3000000037", "01D69C3DEC356A3000000037": { "np": "01D69C3DEC356A3000000038", "id": 0, "pp": "01D69C3DEC356A3000000048", "si": "01D69C3DEC356A300000004A", "bf": 3, "ru": [ { "cp": "01D69C3DEC356A3000000045", "ch": [ { "cc": 2, "ci": 1936024420, "co": "01D69C3DEC356A3000000033" } , { "cc": 2, "ci": 1668246628, "co": "01D69C3DEC356A3000000034" } , { "t": "" } ] } ] }, "01D69C3DEC356A3000000038": { "np": "01D69C3DEC356A3000000039", "id": -2147483648, "pp": "01D69C3DEC356A3000000049", "si": "01D69C3DEC356A300000004A", "bf": 0, "ru": [ { "cp": "01D69C3DEC356A3000000046", "ch": [ { "cc": 11, "ci": 1735618336, "co": "01D69C3DEC356A3000000035" } , { "t": "" } ] } ] }, "01D69C3DEC356A3000000039": { "np": "01D69C3DEC356A300000003A", "id": -2147483648, "pp": "01D69C3DEC356A3000000049", "si": "01D69C3DEC356A300000004A", "bf": 0, "ru": [ { "cp": "01D69C3DEC356A3000000046", "ch": [ { "t": "" } ] } ] }, "01D69C3DEC356A300000003A": { "np": "01D69C3DEC356A300000003B", "id": -2147483648, "pp": "01D69C3DEC356A3000000049", "si": "01D69C3DEC356A300000004A", "bf": 0, "ru": [ { "cp": "01D69C3DEC356A3000000046", "ch": [ { "t": "" } ] } ] }, "01D69C3DEC356A300000003B": { "np": "01D69C3DEC356A300000003C", "id": -2147483648, "pp": "01D69C3DEC356A3000000048", "si": "01D69C3DEC356A300000004A", "bf": 0, "ru": [ { "cp": "01D69C3DEC356A3000000045", "ch": [ { "t": "CNU conferred honorary graduation certificates to those who graduated from predecessor schools of CNU and asked them to have pride in their positions as CNU alumni." } ] } ] }, "01D69C3DEC356A300000003C": { "np": "01D69C3DEC356A300000003D", "id": -2147483648, "pp": "01D69C3DEC356A3000000048", "si": "01D69C3DEC356A300000004A", "bf": 0, "ru": [ { "cp": "01D69C3DEC356A3000000045", "ch": [ { "t": "" } ] } ] }, "01D69C3DEC356A300000003D": { "np": "01D69C3DEC356A300000003E", "id": -2147483648, "pp": "01D69C3DEC356A3000000048", "si": "01D69C3DEC356A300000004A", "bf": 0, "ru": [ { "cp": "01D69C3DEC356A3000000045", "ch": [ { "t": " CNU awarded honorary graduation certificates to 501 graduates from predecessor schools and two people of merit in independence at CNU's Yeosu Campus on August 24. The graduation certificates were received by 5 representatives to prevent the infection of COVID-19 and the other recipients received their certificates by mail." } ] } ] }, "01D69C3DEC356A300000003E": { "np": "01D69C3DEC356A300000003F", "id": -2147483648, "pp": "01D69C3DEC356A3000000048", "si": "01D69C3DEC356A300000004A", "bf": 0, "ru": [ { "cp": "01D69C3DEC356A3000000045", "ch": [ { "t": " " } ] } ] }, "01D69C3DEC356A300000003F": { "np": "01D69C3DEC356A3000000040", "id": -2147483648, "pp": "01D69C3DEC356A3000000048", "si": "01D69C3DEC356A300000004A", "bf": 0, "ru": [ { "cp": "01D69C3DEC356A3000000045", "ch": [ { "t": " On the ceremony day, the grandson and son of Park No-woon and Hwang Byeong-ik, respectively, who are both men of merit for independence and graduates of Yeosu Fisheries High School attended the ceremony as representatives. The other three representatives, Im Sang-taek who graduated from Yeosu Fisheries High School and, Park Eui-cheol and Jeong Jun-ho, who graduated from Yeosu Professional Fisheries High School, attended the ceremony by themselves to receive the honorary graduation certificates." } ] } ] }, "01D69C3DEC356A3000000040": { "np": "01D69C3DEC356A3000000041", "id": -2147483648, "pp": "01D69C3DEC356A3000000048", "si": "01D69C3DEC356A300000004A", "bf": 0, "ru": [ { "cp": "01D69C3DEC356A3000000045", "ch": [ { "t": "" } ] } ] }, "01D69C3DEC356A3000000041": { "np": "", "id": -2147483648, "pp": "01D69C3DEC356A3000000048", "si": "01D69C3DEC356A300000004A", "bf": 0, "ru": [ { "cp": "01D69C3DEC356A3000000045", "ch": [ { "t": " CNU has decided to award honorary graduation certificates to those who graduated from the 30 predecessor schools, including Gwangju Agricultural School (1907) and Yeosu Public Simplified Fisheries School (1917). Those who are eligible can apply through CNU Alumni Associations. " } ] } ] } }, "sl": { }, "cs": { "01D69C3DEC356A3000000033": { "cc": 2, "ci": 1936024420, "td": 0, "tv": false, "sc": 1134, "ts": 8000, "ms": "", "os": "", "gl": 0, "gc": 0, "gw": false, "ns": 0, "np": 0, "ni": 0, "nt": 0, "ne": 0, "hh": false, "hf": false, "hm": false, "fb": false, "hb": false, "fi": false, "hi": false, "hp": false, "he": false, "sl": false, "lr": 0, "lc": 0, "ld": 0, "ls": 0, "pp": { "ls": false, "wi": 59528, "he": 84188, "gt": 0, "ml": 8504, "mr": 8504, "mt": 5668, "mb": 4252, "mh": 4252, "mf": 4252, "mg": 0 }, "fn": { "at": 0, "au": "", "ap": "", "ac": ")", "as": false, "ll": -1, "lt": 1, "lw": 1, "lc": 0, "sa": 850, "sb": 567, "st": 283 , "nt": 0, "nn": 1, "pp": 0, "pb": false }, "en": { "at": 0, "au": "", "ap": "", "ac": ")", "as": false, "ll": 0, "lt": 1, "lw": 1, "lc": 0, "sa": 850, "sb": 567, "st": 0 , "nt": 0, "nn": 1, "pp": 0, "pb": false }, "pb": [ { "ty": 0, "bf": "01D69C3DEC356A3000000042", "tb": true, "hi": false, "fi": false, "fa": 0, "ol": 1417, "or": 1417, "ot": 1417, "ob": 1417 }, { "ty": 1, "bf": "01D69C3DEC356A3000000042", "tb": true, "hi": false, "fi": false, "fa": 0, "ol": 1417, "or": 1417, "ot": 1417, "ob": 1417 }, { "ty": 2, "bf": "01D69C3DEC356A3000000042", "tb": true, "hi": false, "fi": false, "fa": 0, "ol": 1417, "or": 1417, "ot": 1417, "ob": 1417 } ], "mp": [ ] } , "01D69C3DEC356A3000000034": { "cc": 2, "ci": 1668246628, "ty": 0, "la": 0, "co": 1, "ss": true, "sg": 0, "lt": 0, "lw": 0, "lc": 0, "cs": [ ] } , "01D69C3DEC356A3000000035": { "cc": 11, "ci": 1735618336, "id": 1468526014, "zo": 0, "nt": 1, "tw": 1, "tf": 0, "lo": false, "swi": 42520, "she": 22016, "swr": 4, "shr": 2, "spr": false, "pta": true, "pal": false, "pvr": 2, "phr": 3, "pva": 0, "ph1": 0, "pvo": 0, "ph2": 0, "pfw": true, "pao": false, "pha": false, "ole": 0, "ori": 0, "oto": 0, "obo": 0, "ca": { }, "sc": "그림입니다.\r\n원본 그림의 이름: mem00001e1c26e3.tmp\r\n원본 그림의 크기: 가로 720pixel, 세로 373pixel\r\n사진 찍은 날짜: 2020년 08월 25일 오후 13:48\r\n카메라 제조 업체 : Canon\r\n카메라 모델 : Canon EOS 5D Mark IV\r\n프로그램 이름 : Adobe Photoshop 21.2 (Windows)\r\nF-스톱 : 2.8\r\n노출 시간 : 1/30초\r\nIOS 감도 : 400\r\n색 대표 : sRGB\r\n노출 모드 : 자동\r\n프로그램 노출 : 자동 제어 모드\r\n측광 모드 : 스팟 측광\r\nEXIF 버전 : 0231" , "rc": { "cc": 11, "ci": 611346787, "hr": "", "gl": 0, "ii": 394784191, "ox": 0, "oy": 0, "ow": 54000, "oh": 27960, "cw": 42520, "ch": 22016, "fh": false, "fv": false, "ra": 0, "rcx": 21260, "rcy": 11008, "rc": false, "ri": true, "in": { "ma": false, "rb": false, "tm": { "e1": 1.000000, "e2": 0.000000, "e3": 0.000000, "e4": 0.000000, "e5": 1.000000, "e6": 0.000000 }, "re": [ { "sm": { "e1": 0.787407, "e2": 0.000000, "e3": 0.000000, "e4": 0.000000, "e5": 0.787411, "e6": 0.000000 }, "ro": { "e1": 1.000000, "e2": 0.000000, "e3": 0.000000, "e4": 0.000000, "e5": 1.000000, "e6": 0.000000 } } ] } , "re": false, "ls": { }, "iw": 54000, "ih": 27960, "ix0": 0, "iy0": 0, "ix1": 54000, "iy1": 0, "ix2": 54000, "iy2": 27960, "ix3": 0, "iy3": 27960, "il": 0, "ir": 54000, "it": 0, "ib": 27960, "ml": 0, "mr": 0, "mt": 0, "mb": 0, "img": { "br": 0, "co": 0, "ef": 0, "al": 0, "ie": true, "bi": "01D69C3DEC36F0D00000004B.jpg" }, "ef": { "sh": { }, "gl": { }, "se": { }, "re": { } } } } }, "bi": [ { "ty": "image/jpg", "sr": "01D69C3DEC36F0D00000004B.jpg" } ], "bidt": { "01D69C3DEC36F0D00000004B.jpg": "/9j/4AAQSkZJRgABAQEAYABgAAD/2wBDAAEBAQEBAQEBAQEBAQEBAQEBAQEBAQEBAQEBAQEBAQEBAQEBAQEBAQEBAQEBAQEBAQEBAQEBAQEBAQEBAQEBAQH/2wBDAQEBAQEBAQEBAQEBAQEBAQEBAQEBAQEBAQEBAQEBAQEBAQEBAQEBAQEBAQEBAQEBAQEBAQEBAQEBAQEBAQEBAQH/wAARCAF1AtADASIAAhEBAxEB/8QAHwAAAQUBAQEBAQEAAAAAAAAAAAECAwQFBgcICQoL/8QAtRAAAgEDAwIEAwUFBAQAAAF9AQIDAAQRBRIhMUEGE1FhByJxFDKBkaEII0KxwRVS0fAkM2JyggkKFhcYGRolJicoKSo0NTY3ODk6Q0RFRkdISUpTVFVWV1hZWmNkZWZnaGlqc3R1dnd4eXqDhIWGh4iJipKTlJWWl5iZmqKjpKWmp6ipqrKztLW2t7i5usLDxMXGx8jJytLT1NXW19jZ2uHi4+Tl5ufo6erx8vP09fb3+Pn6/8QAHwEAAwEBAQEBAQEBAQAAAAAAAAECAwQFBgcICQoL/8QAtREAAgECBAQDBAcFBAQAAQJ3AAECAxEEBSExBhJBUQdhcRMiMoEIFEKRobHBCSMzUvAVYnLRChYkNOEl8RcYGRomJygpKjU2Nzg5OkNERUZHSElKU1RVVldYWVpjZGVmZ2hpanN0dXZ3eHl6goOEhYaHiImKkpOUlZaXmJmaoqOkpaanqKmqsrO0tba3uLm6wsPExcbHyMnK0tPU1dbX2Nna4uPk5ebn6Onq8vP09fb3+Pn6/9oADAMBAAIRAxEAPwD+hK416SSRoftHyzfJtf8A5afuv+WUv6/jiuVur5ZGbzvMG1flmSPzPL8vpL5sXp7Vm/2lbsoXciyfc8t/3f4+VL+/z/nNQSX0ce3c23b+7VU/+t2/z61rKrdNyaglbVv3V66aaHkqN/5t+kb9vNdyeZo5FV1d9qpI7tn93/21i7f41SaESbnU/K3/AGzz/wDc+Pf1rOjuo5vmXznw8m7yo7r/AMiy+T/X+VO+0SfehV2xmTa8fl+Z/wCQev4Z9DWHtKf/AD8h/wCB032/v+f4G2v8svu9P8/wYk1vG33dm6T/AFbJ/rP+mvt0/wA9agaO4jXarfaGTkRzfu5P+2UsWc/n6VD/AGgy3TR/2fqULSIf3z28sdvOkf8Azymi86D/AEf/AD1qT7U376P7LeMFTerPHL+8/X8xS9pD+eP/AIEvL/Nf1e1P2itdTV/Xy/z/AAZX86Nd0Mm+1bJRZJozHH5n/TKXiD8qhmjWRWVvuq+9WI9f8/41PIs27c1u8vmP2j/d+X/zyl/6+P8A6+KzJLGaP/jx+02O596xpH5ln/21tZf3B68m2qfbUr29pH7/ADXl5otqo7WhNf8ABt+V/wAGNmXaxZfl8x43Zk/6Z/8ATE/896o3UEYVmjZ7dpP9ZdW0nl3Ef/TWKaL/AJeP17+tOmbV45E+0aa8yxf6u4s5P9Z/24Szef8A5FOkF18jLb7d3/XL/wAi49+KPb0f+fkfv/rv/VmZN1Fa0Kjv8u3n5/qZ/nT28a+WqX0iJs2PJ5dxJ5fHmyS/6j7R/wBPRpoulm2q3nRyMf8AltH5dxb/AOfyqGSO6jkZvs6K5+TzPPtY/wB3/wA8v9d/noOlZ8zXy7Y1jh8s/dd7yw/d/h5w9PzqXWpO372K+d+z8u/3fME59KdRbdLduz8/xXy0pJF8tbdm8xj3eP8A55//AK+//wBeq9xIrPJ3l/d/9c4/L+vtXPzSXkO5o2s2bzPmV9U0uPiM/wDTW9/Wqa3V9NC26fTbfHWO58QaN5n0837ZN+HT9KU61N29+P397PrbuNe0bi+WfXdX7dX2vr/Vti4+ytcW8m545lz9nmtriW3kjj583PlfuJ7ef/n1uR61Ib6Ty/3kfmbfLeNkjzJJHH/z1ii5rmZLhsL5t9on7vy+H8QaNxJ/yyl/4/Rjjj8c1Rm1BV/dzat4b/1m8F/FGjf8tP8Apr/aQEGf8iq9vS/nj069+Xy/vf10hqol8Mr32tFdraylHfy218jtv7QhmVZI5sqyb2/6Z/8AXX8/fFV2ul+abzEZtn7tn8mTy+fw9uledzatCzfN4i8H28n3PMTxhoEcnv8A8vn/ANesyTxAsc3l3XiTwHcW8P8Aq7g+NPDkdx5kn/PW1/tLyT2/nSeIoq3vx1/vc38v/Pv2nfra9rq+thRrK143ito3jHt1k11fRPu9z1NbobZFVo9qpGix/wDtKX+ecfSsm4W3uPLkLPazQ/uY7i2k8u8s45P+eWPO8+35/wCPW5tvsffrXB/8JTpe7H/CYeAI1bzE3SeOPDkfl57f8hLr/wDqzVf/AISzQdy7/HXw33R/8tP+FgeF+PM74/tL+VQqtLrK+2yqeX/Tvu7ff8hzqp605Jvdc9Ndl/Nrv2W3rbtl1i709fL1iHzLXfvbWLP95bx/88v7UsOJtK/7dvtmj/8AXnW0JmZY1jZ5oZPMmWbzIpI5PM/exRS/894Mfr7V5ivinw+rbv8AhYnwyTd8/wDyUDw5+P8Ay+fzqp/wlHh2x8trH4ifC5Y1m3taP8QPDn2cW0n/AB9RWsUd5+4/5+f61SrwTa5r7fZn10/kfl/VyXKpp7t31fPT1+FL7XZ99b9Nz2H7VCzKvyMq/PJCR+7Pl/8APMf9d61be8ZZI2aVN2z73/PTp/n/AOvXii+NvCK/NJ8SvhjDjp/xcDQZJN8nP/LKb/GnH4heCI/+aofDF23/AC7PHGjfu45P9bLL++/rT+sU+/8A5LU8v7nmiHUq3ta9v79N9v73r+e2h9I2esSLJDN5m2RU9+OfpzXT2/juVVhhkuvJbfshbzP3cj/9df8APWvlkfEjwO3yt8Uvhj5f8LJ440b/AFf/AH+7+nf0p8nxG8C+XJCfil8KHjkSTzFfxppchk8z/tt/j+ldFPFW5bc2v9yp5f3Nfv1suhnzVOb3ox97b99RXb+acb6NbbaLc+nb7xlczSMs11umjTYv73/lmP8AVfusD/I78Vweraosy/M+6Nn+Y/8ALTy/z/z1rwub4leDLeRfL+L3wruLf+GObxppYvLf91/qvN/5b2//AJN+mKjvvjR8L4bVt3iz4Y6lJ+7T7DD8S9G0+O4/fQ+bLFf3c37j/r1ubb8KJ4xOO05ar7Mo20X80Ve93ttbzVtKblfWcKfrUhK+i/klK1tFrbR2V7Ho19feYu4tC3l/e7e/+qxntziuX1CSRtv77F1D89rJD/rI5JP+WUnm48+3n/59feuEuvjp8O23eTrnwf8ALX7v2z4qaNJJ5g/1n/HreQ9v896yG+Onw1WSP7RrnwXkhV906p8WNFjk/wC2X76byP8APrXJOvB30l7vl3t5/wDDnRGbTinWprf/AJeU3fb+9/S7HcJqkszSLMsNuyvvb/SP9ZH/AKrzYov3E/2fp2/Oo5rpGkj3K8jL88bP/q/3n/XH/X3E+OP/ANVec3Pxx+Ds0kck2rfCjbbvJND/AMXg0GO4jkk7eb5I/wA5qGb4+fBr92v9pfCjdDl42/4XJ4cxHJ1/59P8+veslXv9hrbd23t5ef6mnOlG7r0I+Xtqeu3Xn8z0KS+k8xm/1jKn7xX8rjj/AJZdKyf7SjjaOH+LZ50bTfvPs8Z/dcf9e8/+je1ebal8fvhP8slnr3wTtZF8xZpLz4waNcRyR/8APLyooe/aucm/aE+G6qVXxd+z9HHH8+6b4maXJHHjnzZf3P4jtWXP5fj/AJeoRqLW1ek9vt01/wC3+X3aevsFxcRttjjZIbqH54f3n/PT/wBt5z/x9d/pVddTjmt/O8x4TD5m+3f955FxH/rf06/8/leQL8fvhuytJceMP2eLhudrQ/EzS/L8s/8APL9z/n9KWT4/fC1mkkXxN8BI5pEjhlk/4Whpf7zy4v3X/LH/AJYflS9qusWv8Wnbb7/usylNr/l5HW326X93+arHutr9eh6wuqK3ltuwzfOrdY/s/wDPj+vHvXkv4418vd8q/L3k/H/pv/n8PJX+PXww/wCh0/Z73fc2v8SNP8vy+OMeTVf/AIX18MlkZv8AhNP2csM/7xn+JFh+86f9Mevf25z61PteVXUGtt41Ffb/AKdvbr/w9rUm3y+2pWe69th12tr7f+tetz1ptQZpNrNCyKm+TfzGY/N/Csm61ArGpE3mNHNvVn/gkj/1UX/PxP8Abv8Aj2/LPrXn3/C+vhaNu7xl+zku3/qqFh+g8r/P51F/wvj4U5+bxf8As5P/ALnxU0uP9Psf9aPb/wByS9Y1H2/kp1O+t7eV9S1b/n/h+m+Iw/l/099fu7s9Mj1K32r+88wlPuvL5knl9P3UX/pV9M0f2luVv3nTrv8Ay/zn8PWvJv8AheHwnjZfsviz9nKFv3m5f+FqaXJ+8k/e/wDPD9xz/Tv0lX44fCfayyeKv2b2VjJxD8WNKj8zzM+b/rYc4/yBS9u1a9Oav/NGou237t33/LvpSSaTVai7/wAtbDu22/75b3/Ptp6h/aCK0O35t3yK3mH95/11l/z/AI5630LLtibzEV/OCySeXiTzf9b5XH5Vwf8Awuz4O/K6+Iv2e2ZU2K3/AAuTRv8AVx9v9Tn9Of1pv/C6vhH93+3v2fvm+7Inxk8OCX8ZRzUwqtX/AHVV7f8ALqov/bPP8u+lJK6TrUVe29Win025asvne1nb0XbX2pKsK3SsjeW9u+Ul/wBZsl/1UX0/0n69KnbUdvlqsn3fM85f+Wkf/XKX/P1rzK7+MHw5aPbpviD9nK33eZ5q3Pxg0C4jkjkH+qi8qaHyP/1/jg3Xxa0WSZ/s/jL9lpbceW/2e5+KGlySD/tt/aUOf89uah1bK/JUfpCo/wD2z1+4pJLR1qeltfa4eO7X/PyvT9dOZddNj2r+0Yf4tm2F9iv5h8yPzP3Xp6/zqH+0MxtHHsVt8jsj/wDPPzcd/wDOP18jsPit4fVZFvvE37M17uSNLdtN+KmjW/8A4FSy6x/pFdHZ/Ez4ftHG1xN8F5riPzPJaz+NHhfy/L/55fvdY86fP/6/Sl7aPVSj5ShUi/u5B2sv4tPp/wAvIeX99/8ADaHc/bo2j8tpPmd7hVVx/wAtMf6r/thVa+vm+zrDG23dNZwrvz5fmRyQ/wCq/wCe/wD+r0rkl8feBdu2NfhRNumkdmf40eF5JPMk4i/e/wBvY/p+tU28deHbhhutfhLIq/8APH4weHcjy/8AuPce9N1Unb9Knl/07/p/gkmvtx6fbh/d/v8An91l3t6F/ayt+8dvL/fb9qdKn/tKNtvlyJubzE3eXx9f8+9cRF408Msq7tM8AM33GW2+LHhaSPy/+eX/ACMn+ferUfijw3Iqqug+FZPk8tlh+KHheTy/+eXl/wDFVdPX/Hq/aq9rS6dOXdpbTcO/S/na6Bp3tzx0t9uF9eX+/wD5669zrv7SjjjWTcFVX+ZsY/79f1/ziZdQV22+Z+9XzPmT93zJ/wA9ep4z/j0rnU1zwmyqv/CNwzN/eT4ieEriX1/6GT/PBNTLq3hndth8J3jKycmLxx4c8z/1JPxx/Oq9opa8s79Xen1Sf/PxbX/rRByy/nj02VX+7/c+a9EaNxffKq43SSP+7boZPMx9qlHP/LCpWvlhaNY5P3ipL5kL/vJPLk49+n+eaox3Xhdm8z/hD/Eits8lvs3ijQZPL8z/AJaRf8T7m4HvTZpdHVl+y+CfFVxHIn7xn1zRo5PMj/1X+q1ibn3qfaw7/wDk1Py/6eef5d9DknpZp7fCqjt8O/uab6enlrqLqC+XJHHJt5+9jy/9b/zyl/z7VMuoRtvVW8vakSKX/wCeefx/Hp0/Gse3/s2Zma48D+NlXYfL8nULC46f9MotS/8A1Vc8nSZl8tvBPxFVW8sSbI7WT/2tNx/nPSl7el0k3/29Sfb+WrL8bdu9hU6v5f8ALvE/3f8Apx/WnZl5dQw27b8+Y38x/wDnr5XlSiLr5/7j/wCt3qFtWkWST7OvmXUyRuo/1lv8n7r97L/0w7Z/+vXPySXTOzf8K38fqu/5WS4jk8yOKX91L5Xk+/t0qHT4byG6uJJPCPxFt1vJt81w+j/aPs9vH/qrWLyYf+PeDj/GhV6L/wCXken26fZP+fz/AA+5eyxC+xJ7f8usQuz/AOfPz/qy7SO48uFY9r+ccPM37qT94f8AWyyk/wCvuO/1qw2pD7u1/L2Hf/y0+n0rBj+zsJFuLHx5GvmcSN4Lv/X/AKZQ/wCfYVJ/xKWVY/8Ais4Y1/v+C9Z8uPZ/0yis/wDPPpT9tR/5+R/8Cp//ACwnkrtxXs5K/lJ/y/yqXfy022udBHfr/rNu1mP+f8/l1qZdSxlm3sxf5t//ACz/AOeXld+Kx7e18Ls0f2jxRr1izP8AvGvPAfiP93H/AMtf9Vpv19KvalY+CdPsZLu3+IU2rXCtbww6TZ+D/Fv2ySOT/lrL5umwwfZ7f/l6/PpWkKtNfa3t1prt/wBPPP8ALo9Fy102nScttrrt/NGP4X+WheXVIfljj3zXBfftTv5X/LX0/cH0+vPNbFrdRx/MzeZMU+Zvz/1UX+cdevFeX6frXheOTy5pvGcLD/l4ufB+qR20nr5X+h+fAf09q7BZvB+zdF42dmdI3ZX0PVI5PM5/6c/+WFaRrU5q8ZfjF9v5ZS79bCcay+ynb/Eu380V+F+uysz0Cz1JPMXa2144fTy4/wB5/wBMv58/nxXo2geLJLFvOjk24/ufu5JPL/Tt6/T0rwvT20PUmuF0fxZZ38lnD9put9lLbmzj/wCfq5ll8n/R/wBzc/8AT52rLXxIsl5JHpv9patZxv8Au9STT7+3t7iP/lrLFFLD/wAe/n9B+QreliYJpKSTVr3aXa1vv16b7mdT2i96UG11tzSavbZRi776ttfml9y2Hxe1K3jCx6lMu1N+7zPy5/8A1f0qlqHxc1K4Ty2vpn8zzM/vPMf6+pr45t/FVxJuaO3uWj+40z2d1/z1/wCuOM1YbxJJGv3bkqzYZnt5vM/65e/+PpXesY3FWqQ9OaLt8K6N9+ttvW2LnJWvCSv/AHanl/078393me5av4qa85upvMf7+3/nnH/y18r/AD6dea4G+1Lc3meah2u7xbP+ef8AL7R78Z9etedzeJm+Xc025v8AVqiS9f8Apr+5PP8A9f61mzeJI1Zvm+787D/0V5n/ADwwM1z1Kqk7KUenX0tp+n+ehCrKKi+SS26duVfroztJr5dzLIdyyH+N/wDV/wDXOsubUFVW+bCr8kapzJJ7f59OlcXN4kt12ySTJGn7yRmmk6flx/j9ay5PElvIzL9shjj/AOukUcj8f8s4v+ffpXI2lvoaqvJpPkkr/pb+vu7HbS3kcbbd25m/6afvJP8Apl6dP8aZ9qV2VZF2q3yBP+mf/TWX/wCt9Oa4KTxFZqrN9ohJz+72XEXmfu/+mvWqsniazkRv9Ih2t3+0eZ1/9uPp+dYFKt6rbfTttr5f+knon2pfLX5fLZk+ZU/1cfl/89fK56+3p9KY14vzPudmb5/n/dxny/8Anl2+z/rXnTeJrVvvXFtj/r5ik6//AFv0qGTxRb/89U+b5Fj8yKSSST/Pt9KCo1L2d/wfkv68tO1/RGuizf6xFkH3v+Wnl037UxbasiL/AHf3f7z2/dfy968/j8Qrt2+ZDGv32k8zMkn/AD1/+v15xU0esW/mRfcZlT5ZPM8yT/v6fy4oNY1N9ebbrt+H9etzspM3DM0kn7v92+2OTjzI5TLFL+f+ehqRWWGORYdisz7/ADX8qP8A1n+tl80f88PW5/l04/8AtaJxJ+8Tb8n/AE08zy/+evr5H59+lTLrEbbd027+8w/56c/n+FBUZyuvu+/T+v8AhrdZ5ysdvyNFJ5Yb/tn/AM9Yv8f/ANbftCx+czyfNHj94P3cfl/r1x/9euXXWI1+bzUbr+8fp5f+cdv0xUzapGxjbd5Kxvhh/qz/AM8v3X4/hQP2jWya+f8AwDeeRd2xv3X91U/dyfu/9bL/ANN/5enrUjN5O7bG64SPaf8AV+XH/wBMv+W/+RXOw6lCittbzmR44dz/AOsj9/N/5bgY/wA5q0t5G0h+ZJI98rtsk8uTzP8AnrLFz/nmgqM3K+r08zVUr5iyLs85X5l/55/89fK6+fcQGn2cMVrGIobaG1htc+TbwxxRx/vJfN82KLJ8j/Xcfn9acV4vzCPYv8G7H+r8v/pln9/x+X0qaG6h3bYfmbZv2pH5n7yQf89fX/8AUTR6r+tH2/rRlQqN3um9uvr5F5ZN3l/MjeY+xWk/1f8A1yili/X1+tTM0cMLMzIv+sTzJv8Apn24/wBf/n61RjmZvmYpbtskTckfmSf63/vx9n5+vbjpRbQRwrt3XNxJNNJc+deSfaJI5PN/1UXmw5gt+9rQU5t2snH1Xkn+p+gjWtw3DSTM395/6Y6n/PNV2s7hVO24uf8Ad8wf59PevRP7Kb+5/Kl/sdP7pqHVrTVvaVHtu722+W6+7yRwqEbJJWVtF93+X5/LxLXvCdr4ojjs9ZbVd33IdS03WL/R9Us45OnlXVhNDB9n9PtNtedh2r821h8Z6f4o1fSW8ffEKw0fR/Hl5o99FLJdXPmaPZ6z5V1LLdCz+3f8eP8Az7dvxr9jJNFXdHuj+98irz19+n+f1x9c8Gw6kq+crq0f8SRxelcFegqrctXKXxNTqQ2tbSnOEf8AyVaFRfJaKdl0/C//AANux8ySeFf2b7wyf8Vd47cb43Vv+Eo+I0cckY94of8AIxzXy1qXhGVfFGuR6PdePLzwy2q6gmgyS674o8v+y/NxYS+bLNDP/qSP+Pmv0Km+Fdrcf8vF+v8AuSH6+lUW+DOnyN802pjd/wBNB/npxWVPDxpyTVKVRRhyuMppRb01ajSi9l1/TW07fb7fZ9PN+f8ASV/gP/hB75Wb/SPFrbvuq+ua9+7Of+vz/I7esJ8DzN80jeJ2Y53RjxBr/wC7H0+2cfz9PWvv1fgfpJzltS/7+VP/AMKL0dt3/H+3B/5aduf89a0UNn9WpxvbSPs/J9KIWt9v7k/L+9/Vu61/O+4+HMM0ckNx/wAJDJHMnzb/ABDr0f7uT/W8/wBpf40L8JYLpVjkt9YZWSNFb/hJNZ8393/y183+0q/RT/hROgthWW//ANpBJ/8Aaf8A9VRyfAnQo2VljvFZfuN5np/2x/n/AC6tQT/5hKdlaydSOnwt2vSn5321XV2snbv+Hp5+f3+tz849Y+DnguzjsG1DXNN07zp5EmutY+Ilro9nJHHKf9Fil1TxJZ+fc+R/x9Vvab8C/g9qDEzfEL4CWcDJE8ces/HzwbZySf8AXXzfG3v/AKVmub/4KTfBHQNO+E/wpki0q2nA+Kmv5+3WdtcfPeeCRxH5sXPNkMfTPGBX4y3Hw08PN8s3hnRW8v7rPo+l/wDyH2rvwuAwrcq9ZNzrKzwsXRdGlyVOnNQlJ81l1s0l2s/wHj/xtXBfEuJ4a/sKjjJ4OlgMQsXPMJUJ1I47CUcVG9KWGq25PaOndVW5cvPaPMor90NS+Fv7GOlwzWerfET4F3OtW/mWeofY/jR4cvLeO4ji/eyxXUXiqaCc/wDPr9m//X4z4k+Hv7Jaw6XcaP8AE79n6T7dZxpc2L/FzQY7y31SPzopYpvN8SfuPP8AJ+01+Rsnw50FY9iaHpUO1Ni+XpdhH/7R/TH0rJvvhjo97ay282l6a0Mn3tmn2vmJJ/z1i/c/l7+2aKWWYWnUnUdWpUi1JezlGikuaane8aeso7KTT5bt23R8rT+klRqOnCfDNGlHng6tSnmdWrUSdnKpGDwUdusVNXuryP061Dwj+zXa7vM8d/ArcqA/8lQ8L3n/AKK8STdP/r1zc2i/sv2+Fk8cfBA+3/CeeHJIx1/6jE3v/wDrr8kb74axabeNZvpdhtY745v7PtYo5Lf/AJ6x/ucfT2/Kmt4Lt93y6bbKv8R+x2sY69eIf8/pXZLA4NctqTtZPT2aWtnv7L3ut9Fa59fHxkp1KdOpSy7C1KdaEKkJrF1pRlCTVmuWnC19fdlaaVrxjdN/qvNb/spxt/yO3wN+Xn/kbdBk/wDcliucu5P2U41kK+Ovggn/AHMmjSev/Tb6fy9K/MObwjbxr/x522f+veLt7+T/AJ5rJm8O20bbVgh77l+zxf5/z6cURy7C1NIwmnfvT8v+nKt2OiHi6525Mrw0X1f1mrZfD/LCH62S08/08luv2T13H/hMvgVtb73/ABPNLkz9P3/+R75rFj1D9lWzYRt8QPg4zcN/x+WlxGRJL/qvN8mf8Py9K/OGPw/H/wA8UX/tnj9P5dK2LXw+qj5Y0X/tn7fj6dD+vOcnkmEg4yU697OPxU7OL5bpr2Wt+VNdtd7kVvGGrTX/ACK8E79XWxH939X59j9FpNc/Zaj+aLxx8GSzZT5Lm1kk/wC/X2Mf5/M14/En7N+6SX/hNvgzEsb7Fj/0XzJOf9bn7Hz/AJ6V8z/s/wDw28K+OvjF8PfB/jqRLPwT4g1m4s/FGoTax/wjcen6emjaldRX8uvedD/ZPkarZab7XnNn/wAvlfQWi/s1/C/xtHa654X+Jln8NdI8Q2fiBtL8O/EX7LqmqeD7zwfqnhvw5ql1r2qWurw+ePHGualqWt+A9Cubb7Z/wjdn/pmr3n2P7ZTlgqCi3GjOs0+WMISoqcmnCMrKVOMUo8ycm5LdQipVJQg7w3iljsXQdWjg8jg/bYmioYrM69Kr/slHD1JTSqRlTdOrPF4XDU2qvN9Zrx9tGlhoV8TR6q18Sfs3q0jSeNvhL+8f5Y0MUg8v/nl+6038a2o/EH7Patsj8T/DrdsyPJ0+WSP95/01/sipPE37Nvwu0f4ieG9P8I/ETw8vhvxR4wi0ptPv9U+2W/hPw/p+l2d1qkWsePPtl5BBrGq6rDqWm2v+jfY9H/4STR/+JxeWdneCu+/4VD8JbD43W+g6bqD3Hwtv/CWsa9b3V/4ktZZLO4/4RLWNU0bS7/WbXUv9H8QWPiOHTdE17QftP2P+2P8AQrP7Zo959srz8Tg6XOn7GrCalRo/xcPFOpV5HG6+r1bJxknUmmt0uVni4/xnzvA1alGOWcLRUM3weUyqV849svaY/ldLFx+qyqOOApRlTniqtb2VagqkYVMPGtGrSh5//b3wT+1RyQ+IfBM0K/IwTT5fL8yT/uD/AF9s+laTa58HYVzb694PkZpN/wAml3Mmz3/5A/sK9IX4N+FfEHxo8O/D3wffXNn4f13w3od42sWFxFrkdnqkfw/HiPxP5sst55H2g65Z6lpt1a/2l9j0f/jz/wCXPNUPF3w18OeG10b/AIRvx3Z+Ov7QhuJry40qzlt9Ps/LlmiitYpZZpp57g+V/wATT7TbWf8A05/a7OvPjmLpxrqGBUqeCrvB161Wpyp16fsnP2XNTjKvTUa1NqtRjOlO9oTbV18/xN418a8N4WnmeN4e4Lnl+KpznhMTg+KsDj5YmnHFLCyccDg84nmdGrCUqdWthMVgaWPwmHr4evj8Lg6WIw863lj33wvWbdH4k8KyKzxvL/xJ7rZ/rfNli/5A/X/9XatA6z8JvtBP9u+EvJb727Q7+Tv/ANgH/P8AK43h2bH/AC2/7+cf0/DrTZNAeNd0k7xr/eeTy/8A63vWLz2++Dgv8NWXlvzQl0XS3zVkfCf8TW5zb3eHcglJWuo180VtI21ji169bLXuc/ri/BfxBHGzeMNK0ZrdJP8AkG2Gqaf9o9pfK8NzY7+orjV8J/A+43favip9jb7iu8niP/VnH/PLwr/T8BXYXUdpb7s3TzMo+7bebJj1/e/6gf59a5+6muPm8mF1/gXzpZZP/RWfy546VrHM6ui+oWi7Ozr1F/Lpfld/Oy0Oin9KPiWp8PDORJae9OWaRj06vFLquz6LQLXwP+zCzN9u+NXk7couz/hKI5JB7S/8IfN0/H2rUm8Kfsp2iLMvx2t/lff5VzceKJPL9/K/4QP39x+dcLdRapJ964mXPP7n92Ofw9qxZtJuJFbdNM3+/JL9OAf/AK9brMH9vCU47W5a2Id/hvfk7Pv5pbs76f0m+IG4t5Bw+k2tefM52fuvb67HS+vf0selafH+ybpcl5JJ8ZtKuGmhjWP+0tL8T+ILfzI5P+Xa1/4QmH7Dcf8AT16dqyb7Wv2Y45Fe1+Jvhu4VfnaP/hB/Ecccnl+3/CK9fr3FeazaLN08yb/v5+f/ANfnkflWfNo02xgzTen+s6k/rz1qHjIuX+7R0topRkls9E6T5duj/JHVT+kxnuiWR5I/5bVMzgn8N7/7RHb/ALe07des1TVv2d9SvPtUnxPOlqsPkJb6J4f1mzs/3f8Ay1+yy+Ff+Pif/Cqr337Lm35viNrbSKuxpPL16PzH/wCuX/CH/wAq4uTR5f8AnpL/AMA5/lj/AD+mXcaXN/z0mG3+LzP85zmnHFRTivq6SW1q1Rdr336pfkdMfpJ57N839i5FsviqY+Td7bv6wr9OiO8n1L9ljy/Lb4heIWaNNitCNejEnqfN/wCEP/4+ax5NQ/ZXDL5njfxbJH/z0S41793/AOWf/wDr/DNcLJpdwP8AltNu/wAPX/P8qoyabcYH7x+v/PT9P8+lJ4m9v3D/APB0/L9FY64fSNz1yVsiyB+qxcv5f+n6a7/8Hf0BdW/ZV2/N4+8YLJ+8+b7RrPlpJ/z058H/AE/zxSrffsrtG00fxE8TtHH5aM3map5fmSf6riXweP0ryibT5l/5aTfT/P8A+vr9KzWsrjd/rpP8/wCe1S60W7qhNf8AczU/Sx2UvpE57O1slyPW3Wv3i+6v/T7nca5dfs7tcR/2b481iSNof3jTR3Unlyeb/qvN/wCEWh8jqBxxVWzvP2fo4ZFvviJfxnf+58mOby/L8of63/ilfpXDvZz9BJN+GP8AIqjJb3HH76buf/rf5yf62sVZK1B/+Dm76r+aMrbdO+t7I3j9IHPJXl/YuSvW1ufFu1uXe3Pvt06rXp6B9p+Ae6Tb8U79V3/ug8efz/4o+myXnwL+VV+K1/GrJIjBLSOSST/trL4J7f8A1q81aG6DLmab/P8An8elV2jul2H7RMvz85k6+/6/56VSxOzVBNP4l7Ry/ltryadXtra62SNV4+Z3KOuS5PrbarjY9EurV+j0262PSGvvgjbyeZafEDTdQa5+Ro9e0vzLe38v/lrbeV4Vh/0if/l6/pW1Z+LPgfDbww3GseA7gRv80n9hyyEf9df+JB+VeLst1t/4+Juf78hx0/z/ACqu32z5W86f5QP45f8AP8q5q7p4lWq0IaNNODSa5fhs5U57a7b31WiOqn4+Z5BxUclylva31jGpSj7vMmo1Fe+m97apdUexat4g+B+oNatb+IvBlssP2jdFFocsfmeZ/wA9Yv7B/D/PHL3EPwTuP3zfFKz02Rl8lrOz0bS/s/7viKWGKXwrNP8AaJ/+Xr/SfTv04PF3/wA9pP8Av5JUbLcfJummHP8Az0/L6entWtCrGjTjTjQpyUb+9UnebvJy1k4a2u+34q1S8e86qSu8kymz6LE43lW1rKU5W0fTpo76W9G/sf4FyQ7f+FzW3/LRws2j+HDJ/wBcpf8Aim/8fapl0P4FsyySfGDw8Jdnyr/YejbI/biz/TFeYf6Vx+8m+Tr/AJ/z/Sk23WdzSP8A9/P/ANeav6xT6YOm7dpRj235aS3t1vu9rhHx3zRJ82R5W9v+YnEvov5lLvbppbfQ9ej0H4ArCxm+LnhKeTP+um8P6DHyP+mX9m9f096hXw/8EfMkZfix4DkEj/L53h/w4OsXleVGPJh8j+fX2ryXbcf89HbH+fqKmWOZuWf3ZvL/APr/AJ//AKqSrwdv9m27Toy7d8K7W/Gz7ItePGZL/mRYB7bY7E9l/LTj+N+r0TZ6R/wivwv2s0Pxe+HTbfuyP4f8L+Z5Z9IvOhI/l7VJH4R+HfzeX8WPhuzSf6tv7D8OR+X/AN+tYhHv/hzXm627jhkT8Yoh/OplsNy8Qw/8Dt4vrz+5/wA/Sr9vDRKhBR7c+Hfbr9T6a9OnoC8e8Xrfh3BSStb/AIUcTT7dFQ12S308rnoTeCfB7PGsfxe+F0e352X+w9GGe/8Arf8AhJIfwxUN94L8PrJCtv8AFT4e3Cyp96yt7DT/AN55vEUsUXiqauJTS4+9vbP/ANudtj8zBx/nrUn9j27fK1nZsn8X+h2uD7/6kf59qj6zG6Tw+/8APPDvotrYP7/k+opePtZX5uGME9r2zPErm23vh52+X6HpWj/D/S5vOEnxb+Htiv7va17cfaN//XLyvG0Pkf554rcj+GdujNJa/HD4dSKuPJX+0L+P/wAhRePM5rx9fD1m33tN01tv/UPtevH/AEx696tr4Z09s/8AEp0pv9r+y7D/AOM/59Kf1pdKMl/29hv/AJk9X8yF9IOKdpcJYS6tqs3q8y22ccJK3fXey31v6qvhW1DfufGFsv8Ae8r4kXUf7wev/FSVcj8M6szLDpnjpI7hn3wtN8UNZ+z28n/TUWviQz/Z68nTwnpb9dF0dvT/AIk9h7/9MR6dqtf8Ido7f6zQ9Eb6aPYev/XHp7DHrVLFRTSVOq7/APT3mta3/Ttdv61vl/xMJh3b2nClNR6/8KlOXSP/AFK52tbyvpu07e1L4Z+KULR/2f8AE6w27P3ix/FDxl+8l7+V5XiTr/OtS10342IqrH8QryaTqJNN+LHjLy/+2sUupTTn6+v6eIx+DNFbP/Eh0j/ab+y7D2/6Y/QVah8D6Gvzf2Do+7+LZp9rHJ/5Dh9e5rX+0aWnNQqPa376n/cb2T/4a3Un/iYbL7XfCe1vhzNP+Xf22Wy9Pd3s730t7tDpn7Thjkk0/wAceIbjy0k8uG2+KnjLzJOv/PXzv6/pWlpsH7Vz3TrqmvfEu30r7HcPDeaJ8TPFuoah9s8rzbD/AEC6s/I+z+fi2uv9IrwWPwXpP3v7Hs89MpFLH/6L/wA5H4Vah8I2asvl2Lx/7l5fpn/v1eDmq+vYZqzw1VXtZqTTW2zpvTotflpe5H6ReVvfhXEr/DmeHl0X/PzAeelt+vRv6Ib/AIaas7f7Qvjj42TSf88X8UapHHGf+msv04/xNTeHfF37WFxqEdvqHiL4o6fp6vI819D8RL+8uI7eLpLFYS6DD5/nfrzXgsfhG1X51t7lGbPXVNZz/wCnL8xVz/hD7U7XaO/VtnylNc16OT/05fX/AD1dPF4SN7U68r2+Kc+j6c1SO+vfTfbVr6RmS7vhjGJq2izCj1tpd4f7/wDgn2Bb6t8doY49/wAUPiiqp/pOx7yKTy5JP3skv73Rx/pH0/rWtb+NPj8rNt+KXxLWOP52kuZLX/WH/rtpv169+9fGcPhGFMeXNrcY/wBjxJ4j/wDlwent+fFXI/Dcy/d1DxCmedv/AAlHiP8APP8AaX4f55qOIwvWNbpu4v8AlX2a0PXrv03Omn9InIpb5DmMXpp9dwn922vLre3l1PsDVPix8edKjt5P+FqePLhZm2K00el4/d/9Nf7NH1qPR/jH8fNUa4Vfil4nh+y+W6j+y9Mk/wBZ3H+h+leR/Dv9nP4wfFjS9Y1n4d6L4k8Uab4cvDZ6xND48ls7jS7j7B9u82W11jXoZ/s/2L/l6trb7H71a1z9nP47eG/CcfjrWND8c6b4PmTR0XxEnjy1ktMeILqG10bzRa69NPb/AG6a8tv+Pm2P2P8A5fPsdpVycZxvCGIinblquhKcFtd3dZx/8Bm9N+l/pMN4xUq+Ep5jDgri+pl06NXERxtPCTqYKrh6Eoxq14YinGNOpSou6qVE3ClUvGco80XL2aT4tftCW6+YvxY1vcvmZjm8P6NJ5nf/AJ4/5xWTH8ePj5HG1x/wsh2WRPm8/wAH+HJJJP8Arr+5z+X4V43qXwK+PGi30NjdaT8S49Qm0qTW4IbPxpa6x5mjxy2dr/bJ+waxqUEGnzz6lpttpd1c/wDIY+2f8Sj7Z0Pno0H4l/avEVtZ618RZLjwjeR2HiyG21w3Enh/ULzXv+EXtbXVIvJm8i4n8Rzf2Ja/9Rn0rKLprnjVdRtu6XsoxlG9r3TrLfpb0diqvjTlWGahiOGOK8HUcqsFTq4XklOVCn7aooRqV6UpOnh4yxE9EoUIzqzcaUZTPpn/AIaM/aGuLya3Xx1YXUVv88kk3w/8LyfZ44/9b5vmywwY/wA+tI37SHxsXLN4t8MTbTsXzvhf4ck/9FXnJr598QfDj9ojw6t5Hr1p8YNLXSrWS81CO5ksLiPS7eOWaKSW/wDstneeR/qbn/Rbn/TK5rXtD+Pnhld3iCT4r+Go/wCxI/EjSa94btbOOPw3J5I/tmaW+8OQ+Rp5862+1faf+PP7ZZ/bKzk8Onr7SD092UFdfD05tPR/lc7ZeMOU0lKWIyDi/DqHLzvE5TKmqd7aTcsbGMHzQlDWXxQnDSUJJfTr/tKfGZv3ba54JkjZJMI/wq0vr/y1/wBVqXrTV/aW+KSxqv2zwBNMrmENN8J/3n/f2LXj/Lg818sarof7QGi6fNqWtR/E7S9Js0jmutU1XwPa2elW9vJ/qpZb+Xw3DBBbz+d/z89ulcN/wlnjmPcq+Lr/AOb5wz6XoP4f8wcelYuGHlJ3c5Wta9Pb4dvZx6tW18rbMJ+NXDdCShicBxDhZyjGcYYnLqdCbg9OZQxGOjJx5lJc8U4y5Xyyley+2v8AhpD4pLJHCLH4VtYrDIjSP8N7+3jjk/55eVFrE34isPUP2mvitpt5/ovh34WXStDE/wBoh8Da1bx+ZJ+7li/4/Zv+WFfFOsePviFp+nzXS+LPmh+f994f0GTzP3v+qii+x/8AHx/9evLZvjl8Zl3/AGfxRomz78azeB9BuP8A4z7jtzW9HCUa0XKnUSSfLLmUo+9pdLlpRvZ337q1rntZb4pcO5rTdXDLM4QjNU5PEYWKSnyxk0pQxdeL5eZJtNdO9l+klr+1P8WJplt28F/CiTzvMkkkufD+vW8fXzevnVsR/tNfExZGeTwD8IpNqbPM+z+KLeOT/lr/AMsunX61+WrftCfHKPk+IPCT/wC/8P8AS/fn/j8pv/DRnxwXcv8AaXgOQMnO74f2sf8A6K1L8M4+vpXSstqSSSrx0/Xl/wCnH9fNnuQ44yR2bqYhLTR0LX1j15vPzP1Iuv2pPHlrC803wt+F1wFT5fJ1DxHbySf9MovOh/yMcZFOtf2pvGl18r/B3wBHHs37k8Sa9b5jj7f6j7R/n8vy1b9pT4zRxspj+G9xtj+7/wAIPNH2/wCw9/hn9Klsf2lPi1C3mtpHw0kf7jL/AMIvqnl/+Qte/D/DqKWW4hrSvC2l2pTdrqP/AE7Xn/SVtVxnkbjze1r/APhPU8uy8/M/VWH9qTxJHGw/4U14S+58zQ+NNU8zZx082zpzftUa0q+dN8IbD92+xlsvHlzxJ/36/wA5r8v4f2qviYsh87wb8L7rn5v+Jf4os/rjyterQb9rD4gK0gPw2+F7M3lvu+0eN4/3kfbyv7Sm/wBH9Px96SyrFWv9Y7fbmuif2oR9NL79NLbR4wyN7V5RWll9Xku3aMb9Fquum5+lEH7XV5Iy/wDFnb//AJ47YfFk0nmen+th/TitqP8Aa0eORluvg/rcJXy/LkTxDFIZP+ev/LH/AJYcW3+efzV0X9qL4iXF5p9v/wAKx+F3nX1/p9hG0N34yj/eahfw2EX/AC+Td5vxr9ONS+Fupx6lqFnP4V1W8+x3MlhHeQxyx+ZJby+XdSxebD/x7zzw/wCjf9Odc1ejXw0Yyq1+VSdlyyk7u0dHaL+W2/d6eplucYHN3W/s+p7f6v7P2vNSlT5Pa83s7c1OnzOXs57Xs4p6XXNpWP7UlveL9o/4Vj4qeNXCGH+3LX/ln/0ym/zinN+1/pMMcO74f+M7NbjzfJaG4tZMeR+6l/dGGb/U/wA/SsO3+GutW/mRw+F9VVd/ys8Usknpn/U0jfC+8az+w/2Hryt99Zns4pJLeSSXzR5Wf8+tcftL2ti6i235o/y7XSv09NPU9lU5v/lyum1n/L2lp/n6adbp/wC1lo91cfZ7Xwj45WbYZGiT+y/3ccf/AF2s/wD6/wCGK3I/2qtJjkbzPDPjCHYm+aN49Lk8yP8A56/6n+teW2Pwp1Czma4az1iSSRPJVZtPij8r/pr5sXGZ/wBfp0kvPhbr15/qbcQybJIW8+Py/wB3J1/e/vvI9u/U/WHWd21jZpq2klHld7dJJpvTp+Jp7KSSfsIq+6ve60bXw/c+/Q/qMXTV+X5ck/5/XtxVxdNXbwh9vb/Peusj0/sB6kH+g/WtCPT/ALoxjZ/Dn15/z+dfQOnbb/Lsv68tPX5u9nZ6f0zi49LVmVtv3fzx/n/6/WrEmirJ/D/wL/8AV/Ou5j03lfl7entWiumbv4SG68/yz6/4U/Zr+l6f5fl2G5d3955mvh8Bjx/M4z05+lXF8Or8uVHP9Ov+fyr0qPSf4Sv0z+JPSr8ek/d47+/r/n/Jo9mv6Xp/l+XYvnl/X9f1f0PLl8Oqdvy/dxx/niri+HY+u3/P/Aa9Qj0nA27fr9P85q0ukqTyvT8z/T601TS/q3b+vT7x8397/wAl9PP+tfI8o/4R2NW/1f8An/PoKZN4fX+7+H15A/r7fWvYl0lSeV6fmf6fWo5tHXb939Pp70vZr+l6f5fl2Icr7tWW7XS9vzsz8jf+ClXg9Lj4C+Fr7y/+QT8V9Hf/AMHGg6xYf+0v51+FN94W+Zvkz2/1WP8AOf0PtX9PX7d3g+PWv2d9QhkjRls/Hnge8bfH/qv9KvLXMX/f6vxN1H4axwxtJHD9qh/i3/6yP/tln8v/AK9eJmedYPLq9LC1qjhUqUI1aaaahJOpUpJKo3y8zdKaSbje1tbH+eX0mVXwvifGvTi+TE8L5Pialt3KjiMxwLklqnanhKUN18Gp8Ot4bba26M7VT5m/55/59Pr+H178H/2FfFnxC8O2vxI+I2uf8Kd+E94m/Sdav9Dl13x548/7J94Di8ie+t5/+XXXtb+x6P8A8+X23Jr6h+BPwX8I6Po8fxy+JnhG58d+H7fxtp/w6+C/wbsLfzNQ+PHxs1D97YaD5XP/ABR/hXjUvFF1zZ/8/n+h2d5X7HeE/BPiy3kbUvG2p2HiL4qagn2XxDqWlRxf8In4D+z/AGMxeDfh9p/7nyPD+lQTf2adex9s1i8/0yz+x2f2OuaeZ42tTpwwFCPtq/K6cq0a1WnRhUi/YTqUMNKlWxVevKnVeGwNKtheanRni8ZmeVYeOHq4r7TwS8E6XEmWYbjPjRYmnkeL/e5NkVGo8NWzehCUVLH43FqKq4TLJtf7LRoTp4jE2jinX+ounDHfjLo37EfgW6jjt/CP7DvxY+KVjF/qfGn7Q/x80b4P6frmet/o3g3RYTfWNvP1+y/Zvapta/4J6/B3WI5IfGn7JnxX+DdwybF8TfA346aX8XNH0cSf6q/1Twtf/bL77P8A9w3+dfvOvgmaGZrya1mmvpPM8y+uf3lx+8l82WKKWX/SILf+ua4P4gXHgPwHoOpeMviN4m8PfD3w7o/2OHVvHHiTVItD0vS5Li6hi0uO+1mX/UeffC2trW2/5/Pyr6OnkWc4rDwpYXMMXUzSrVjToUKEMrqxr1JShCjRp0f7ExNeVapXcaVLCQxNRvlpxp451mpv+qaXCvBGGw/1Wnwjw3QwVNO3LlmHvTty3mq05e1Uno3iYyfNNzk6avZfyrftCf8ABO/x18LfDviL4ifCvxB/wvr4Z+F7aS/8WQ6Vod3ofxg+H+l/9Bnxl8NP30994fg4uLrxR4S+2WdnZ/8AH7Z2eDX5sw6St1HHcJtuI7pPOjkhxJHJHJ/qpYpf+ff9a/tw8bfDu4+IFn4b8W/D3xpaeF/iVZ21nrHwV+NGj3lrcafrkesCa6sLDxRFazD/AISP4b+I7Ga2ttUtbn/lzvPtlfz8/tifAfQfssf7SXgHwDD8LdP1b4i6h8H/ANpr4IWFv5en/Af9pSz867+36DFF+4g+G/xig+0634X/AOXOz1j/AI8/9D1is8ox+KvUwOZ0VRzChKUJTVGrhadSdHlValPCVquJqYPFUFy1KuEWLx9OrRnDFYTMcZTnWp4L8o8RvDyhkuVYjiTheNZ4HDQ9rmOVyrSrvC4ecv8AfMDXnz1KuGhJ/vqVScp0ItTvBONOX5WweG2b5fL29OX6/wCPt3NdRY+F0XazR7/9/wCv8+f0r1qz8OKzDaif7Pp/9f8Az0rqLXwzsZff/wCv9e/T9ffrxOKbvrv/AE+nnptt1P5Yx3FEld+0cU93e9tvJd/nr0O48F6F+zLD4Z8ByeNPDvibWtWkhvLb4hWOlaxf28kmsR3+pfYL/wCwZs4LHwv9hm025/4kmp3l5e/Y/wDjz/0y8r0rRdD/AGV4/Enw7jm8P6xrOh+d4gsPiZdXNx4o0eOOO4lmi8La9YGOHz59P0qCH/StL03/AEy7+2f6Z/x58e//AAK/Yv8Ahb8YNN8CWdj+1/8ACnR/ij460u4vk+Cx8P6xqnjzSbizF3d32j3MQ1O0M9/YWVodRurq2xaG0BwCME/RPjL/AIJy+B/g34cj8YfFn9rbwH8O/Ccmq2egx+IvFXgfVNP0uTXNU87+y9Ghl/tiaefUL77Hc/ZbX7N/y5jPNZTo46cYKnlSmpRpTjJxi+ePMmp80sVH4rNWS91W3uj7rDZD4mZjl2GzHKuDeDsfgJU8vxFLGV8TwfVh7LDPA4hfWa8s3T/2qnRprH0cZF1VHF4ylyUXiJ2+OtF0n9lMrpbWvgjxJDdM/iSHXbPWNU1630vy45YZfC8ul3Wl/bJ4NPng+02ubm3xZ3n+mXn+h10fg7Q/2f5tH0O11bwzr2n6s3ie8j8RX00l1eW8fhv7BeS2F/pcVh+4n+w339m6b/ZdzbfbLz/j8/48+K+iP2ev2SvAfx58a/GHQPBvx2sfEfgn4V3Phez0v4k+DPC8lxpnjy48S2st1KLC1129tBBYaHPDc6bdXQN59svP+PP/AEPmuL8WfCeHwd+1Uv7Kei64msatca94A0eHx1rGl/Y7Ozt/iBpdnqlrdXWjWE03n3GlQS/8ettc/Y7zHHNeHiKOYzSqwyjCckak6HwxalUclCUXFYlyXLOnL4lG99FufD53lPipg8Bgc7rcCcFSwNfNf9XqHJgOF69DF5lXzGllMfbxw+NqTVGvj8tlSp4+lVw9BzxFetCpTw+NpSr1dJsfgTpd14F1CGz16GFdH8aJ480+2t9Z0+TT9U1D7ZJ4X+y6za3kM+ufYRN/Yn+jXNnZ/wBj86xXK3/iz9nnT7fR4V8JTXF0t5Jba0uifb7y4t7SPWZvL1S6OqXlnpU9vPof+jf2Xptz/ofPH+h17t+17+xbqH7Ovwqb4sah8YpvHljD488H+BpvDc3g/wD4RuPzPGt1eWun39hLa6veQf6DPZ/6VaXNtn7H+nwTNpa2tjcXm3d9ntri52f6vzPLi879B/kVSy+th3yYzB4SEpKMlTjQvypUaNG8ZynNw5/Y+0qcnLz1ZznJu6S+S4ulxnwHjVlnFvCvB+VYrF4SljaVLCZFk2YQ9isJlOXzrUcwpYrHx55/2PCviaMZUZQxOOx1ZUqLxGHWFr61rzXWoaq2i2cOm6S2pahJpcbj7RcJpcl/N/ZcX73/AJeILH7NXJzWtxdfNcSTXLb/AJvO/eD/AD/Ov1y8ef8ABOPwn4J/Zz8UfHD/AIXJ4qutY8K/ByP4r3Hh+58J+G7bwvcP/wAI5Z+I7nRvt/2z+3LfTxBe/Z7XVP8Aj8r5X/ZR/ZlvP2p/FWqaLpviq08G6H4d8J2fjDXtem0+XXLj7Hql/Dpel2GjWEU1nBPqF9fTf8fVzc/Y7O0s62WVVaEqUVhHTnWcnSjTUXKV5c1lJSctLr4pN9rXZWZ+FvHmTZ5kOS18iwsc04s9rUyfD4LMMsqwrOnTeJxEa2J+uLD4N4bDuVWs8TUpxp0otwnKEOWHxTJpPy9M+3+fx9KryaS235ou/U//AK8f5zX6tfE79jn9lP4I+KrLwT8Zv28NE+G3i3UNHt/Elv4f1v4b3Nxqh8N3cs1pa6z9l0ebUf8AiXzz2dz9l/0kXl59j69ar3X7C/hdf2N9S/aqt/it4hm1K2+D+ufGDT/Cf/CJ6Xb+F9Q0/S7+8i0uwlv5bz/hI7GDVdKs7bUvtX2YXlneXldH9k45WvhaivHnd5UdEuW9nGpOMreUm/hPaXgp4oRrYiisryydfB4XEYzEUKXEvDtevSpYX2XtIVaVHMpypV5KcVRpVOX2rU1GXuSt+T8mk/e/d/p7f59se1UZNI+Vl2nP+f8A9fSv1q/ak/YN8Lfs6/s9/wDC8rX4p+J/FF7b3/wwsdR8Oar4Y0HT9Hf/AIWJNZ2skthfWF5NqsH9lzXh+y/aSPtdn/x97u1b9n7/AIJ/eKvH2mN4u+Lvwx/aCsvAfiPwtoniH4a6t8I9F8Ja3c68NUk86W71i01TWDfWWn/2WbS50wG2H2wEnPADZPLcRGpTpSpONSqoyhGTpx0dvenJ1OWEVpdylfXbVkz8JfEmjxJgeGKmStZhjMH9f9tTxMMdluDwjliKUauY4/LVjKeBVSvhZYaksRGMq1apSjBNT5l+Q02j/wCzu6/5H/189qzbjSm28r8v8QPsf8/lX9AV5/wTP+Efk3XleBv2+ZJltrj7OsPw08ByCS48qb7NEfN1iGD99P8AZv8Aj5ucH26j5Q+Av/BOnx1468YeOfAv7RNv47/Z+8ReFfBvhfxtpGjW2l+F9c1TxJo/iTXtY0GK/wDNl1K80qCwsZ9IuLa6+z3IvP7YP2TpjM1MqxUZU4eyTlUbUVGvg6v8t3KVHE1IU4q/vOcotv4VJJ8v0OJ8EPEzL8XlWDeXYPFzzWtiKFCthMXW+p4arhcLPGNZjjMZhMHQwUa1GlVWGlUm1Xq03QgnWnThP8lpNK+9x7H+R7fT9axbnTfm+73Hv6/59ulfaH7S3wT0n4D/AB+8afBTS/El/wCLbPwvoPgvxDaeIdV0+w0vVLiz8aaD/bMVrf2FhNNY/aLE/wCi/arb/j86Ct/wz8Ff2Q9S8G+Gdc+I37eHgb4T+M9a037Z4g+Heq+A9evLzwnqH2qaL+xrq/i/cX1x5ENtc/arb/Q7z7Z/odTDLMVOrOhCi51oJuVKMqamuW17vn9n10/efifN4ThHiatxFmfCjpZdQzfJo1HjKOMzvKMBSlGnWhRvh8TjcXh6OJ55SUoRw06s/Y3rVI06alJfnxNp3LfL/kn2+v8AnNZM2nt83Hy9B/j9a/Sa4+Bf7CO2Rl/4KY/CvA+9v+H/AIj/AE/c/wCeM19D6P8A8En9J8a+H9F8SeA/2oNE8RaL4u0q01nwb4kT4fy3HhfXNP1SLzdL1SK/sdemvv7Hvv8An6t7b7Yf+fOtHk+ZQV6mCrRXS/Iv5X/P52/rT7bBeEniDi3JYPLsrxk4crlTw3E/DFacYylGMW1DNny80moQTtebUVu2vw2utP29B/wLP+c4/H6d6w5LNg3Oe3H4V7NrHhu60fXvE3hnVFhh1rwj4n8QeEtcjtpPtFvHrHhvVLzR9U+y3XWe3nntBc2t1/z59e9c/e6XHbwzXEjfu4Uknk2dTHHF5sv0P+c1xypOm3GcWpRfLJSWzVm157q+i7bHw9XE18BicRhMXSlhsVha0qGKo1Y+/QqUpctSMv70ZJxa01s79Ty2SzbO3bjb/nt1rPmsW3buV5wzH+f+f59P2L0X/gmPHD8I7X4ufFT4/wDh/wCGOkr4Jt/iF4ob/hE5dU8PeB/CdxpcOs/ade1661iz8+4sdKntrnVLrTdN+x/8udl9srO+G/8AwTf+Gvx08Jnxt8Df2yvB/wARvDMmpXmg2/iiw+Heqf8ACN2/iDT4oZbrS9U/4nFnqtj9h+2W11df8S3/AI87z7ZZ/bK645fjeXnjg6/I/tWprtb3XUUleLi/eUfi0vZs/W8J4V+INWNHlyaip4igsRSw1TOckpYqdLlhO7o1MwjKLhzqNSMvfpSbpzjGpGUV+Oslm3zfX5mFU5LNum3/AGe/+R/Kv1S+BH/BN34lfE7VviJpvxgi8bfAeHwTc2+m6DqFz4PtdYs/iJef2pqVhdap4X1C/vLOC+8PwQabbala3Vt/pl5Z6xZ/SvkP9oT4O2/wM+O3jr4K2+vXPjQ+D7bwpc2uuf2PDpd/rEfizRbPVLCwl0aKa8g/tiCe8/s3/Rrk/bPSs3hK/s1VlSl7K8lzpXjeEuWaW17STT227M48fwbxXkuTRz/NMnrYLAPEPCyWInCGLp1b1Yx9pgZNYyNKpKhP2dWVBRqxnQq0XUp1ozPl97Nv7vU/5/ziq7Wbfd2/N+nHsf8AP51+vln/AME0dJ0n/hV/g/4s/tAW3w9+N3xotvEj/D/4f6V4Gl8UaF/aHhPw3D4o8R6Nr2vfbLO4n1Dw5oc1tc6ndW32Oz+2f8SfR/tl7Xz38M/2J/GXjT9pLx1+zH4x8TaV4B8WfDvw9qHiTWPEFtpl14k0vWNHjj02Xw5rPhe187TZ59H8V2OsW2pWt1c/8ef+mWd5/plnRPCYhKDlh6nvtez0i+bm1Wim5QvbapGE11ikerW8PuNsL/ZscRks4zzTFUMDh4/XcA/Y4zE4d4mjhse44pxwE50Vzv606cKavGpKNS0H8A/Yn9P5/wCNQmzY/wAP+f5/rX7JaD/wSj1zXvHHxA8G/wDC9vD1nb+CZvh3Db6p/wAK+1S4uNY/4WB4cvPEcQurD+3ofsP9h/Y/sw+zXN4Lzr/ofQfnXofwx0vUvjJefB/xB8QvCXgO10n4keJPh1r3xO8Tx38fgvQ7jw1f6lYS69qkUX+nQ6ffT6b/AKL9pH+iXl5Z/bLyh4KvHl56Eo80owimrucpbRgtOaTtotL99WZZtwXxZkVLB1s2yv6rSx2OWW4Wbx2XThLGSqSpwp1KlPFTp4anV5OeniMROlQdJxlOcL2Pn97Vvl+X/wDVxz/9bp9KPsrb/mX/AD78/l+HSv1G8L/8E9fDPj7Wl8M/Dv8Abd/Zp8eeJGsLzVf+Ed8K2+v65rn9maf5P2/VJbDS9YvJ/wCz7Dzrb7Vdc2ddJ4p/4Jb+IPA+iyeIvG37UfwE8E+HY7yz01vEHjPS/FHhfQ/7Q1CXyrDS/wC1NZ1Kzsv7Qvp4cWtr9p+2XlaPL8ddRlgsVzfy+wqc3T7PL9+ultT0V4b8eSozrRySlUowvzVaee8Pzpw5bc3NUjmjprluuf3/AHbrfp+S32T2H6f4VLHZtz/d/P8AE/j/AFr7e+LX7Jvh34T/AA51/wCIlv8AtafszfEz+wW0tI/BPgPxJLeeNPEEmqapDpcUXhyw+2Xn264g87+0bq16/Y7O8/0yuX/Z1/Zd+In7THirUPDPgNtH0ux0DTrfVfFnjDxJJdR+H/C+n3dz9lsPNisIZr7VdY1WeG5/svQdN/0y8/0y8/0O0szWU8HWpzVOrQq0qkmlCE6NaM53tZxUqaumtmm+t7XPAxfDXEmFzPAZPLLJVczzNSlgcLhMXgMc8QoSmp2qYPFVqNP2caU51XWqU4UoRc6soUf3p8qpZt/9l6f5/wAjvVyOz/i2/wD1v5f0wfpX6oL/AME+/hc3xef9nO3/AGyPBMn7RMPhX/hMJPhnN8MvEf7vw/8AYP7U+3/b4tS8j/kFf8Tv+y/7S/tj+x/9M+x96+b/AIlfso/FP4O/GDwf8F/GcOgtrXxCvNLh+H/izSry6uPBfiyw1jXofDn9qWt1LDDfWNxoeqzW1tr2g6lbf2xo5P8Ay+fbLOqng8TRUXPD1oKTSTcG7t7Jcjn7z6RlyT3vFG+ccEcZZLhZY7G5NJ4WOIo4SpVwuNy7Hqjiq9WlQpUMQsFi8TLDyqVatOjGdeMKCrVKVKVaM6sIv5PjsW9P+Ap2q0tj/ej/AC/z/n071+gH7Rn7BvxG/Zh8Bj4jeMPHHw98VeH/APhM9D8D3EPhW38R2eqW+qeJJbyLS7qOLXrOGC+0+efTbm2uvs1z9ss89q534E/sd/Er9oTQfEviLwP4i+FGj2PhjW7PQb618f8AxA0vwdqk+oXlh/akMthpd1DNPPp/kf8AMU/5/P8AQ+2ax+pYn2nslQxDq2clSjhsRKpyK15cipc3Kr+84qXLo38SPHx3CnGGCzmhkFfJMTHN8Vh54rD4JV8FVnVw9OM3UrRrUMTVwvs4ezlGXNiIzjNSi4K2vxnDYtj8v16+/FaUOm7dvy++7359+v1zX6dW/wDwS3/aauF3WN98D9UVfkabTfixa6hb+ZJx5Ustro88EFx9PTPtWpH/AMEsf2sFVWWz+DjNJ91X+LmmW8knl/8APGK60eH6flT+oYzmUXhMYn1X1PFX+SlRjf8Aq9iavh74iWvLhLNmn1hHDVFyu1mpRxDi763SbslufmPDpqndlen+cfXrWlDpTN/D8v8Ah/n/ADnn6U+MX7Pnj79nvxtp3w9+KFr4bs/E2qeG7fxbp8PhjxRYeLNPuNDvL+8sIpZb+wx9huBfWdz/AKLc23X/AEyz/wBE5G58F/2cfil8ftc1rw78KfD9hrmqeG9Ej8Q65/auuWHhvTtP0e4v4dLtZZb/AFX9xPcX19i2tbW2/SoeHrc3s3Rqxqren7Oo6i23p8iqLv8ABrrtY+Hr5fxBHO48OPJcyWfyq+xjlCoSnj5VZUZYiNONCCblOWHg8QnByhKleUZOzS+ZbfRz8qsuMp0x/n/P66Eejr825evb1/z/AJ44r6e+Lf7OvxQ/Z/17w34b+LXh/TfD+seLtEvPEPhtdM8QaX4ks9U0vS77+y9Uliv9LlmgguLG+l+zXVrc+3rXffCP9j348fHbw3eeKvhb4L03W/Dun65J4buNQ1XxZoPhvzNYt7WG6urW1i1S8hnvrexgvLX7Vdf8efJ7UlhqvMoRpVOZ7x9lUU0lu/Z8vtNP8JxyyfiupnVXhynw/nVXPqVJ16uUUsvxVTMadCNGnX9vPCql7WNH2M41PbOKpOEotVHf3fjOPR15by3/AM//AKuKuQ6P833e/wA3/wBYfl9fzr2DWPBOq+F/EPiLwn4g099L8SeEdb1Dw34k0abypLjS9c0uX7Lf6fLLFNNBP5E//L1bY9854rQ6Kd3K4/z/APX/AM9QLDytZRlG38yaett4v3o2v9pK+trnymLzHEYPE1sLjKdfDYnDVqmHxOGxMZU6+Hr0Kjo1aVWnOMZwqU6kJ06kJJShOMoyScTzgaOvdfy/+v1qyulr6Fv89cnGf8+1enrouV+Zdv8AtZ4r3rw/+yD+0p4q8P6L4q8L/AX4keIPDniSwt9V8O61pul2ElnrGl3n/Hrf2MUupQ332efyc2oubbpj1qo0Zq9k5bXstvXXzf3Pyv1ZYs5zurVoZLlOa5zWoQjVr0spy7G5lWo0nKMFVq08Fh68qVOVSUaanU5IOc1FScrRfx9/Zafc2nHr/T/POaYumqv8HH9eOa9Y1DwzfaXqGpaXqVlc6bq2k39xpuraTf28tvf6Xqmny/Zb+wv7WX9/DqFjPD9murX8x60P7H/2R+tVyS6aro++19PmcksxrYepUo11UpV6NaVOrSrQlSqUqlGXJUp1Kc0qkKkZXjUhUhCdOalCS51JL6H/AGe/BLePPg78Rvh/Y6tquk3/AIm+IWh6x4i03wlZ6NcePPHHgzwP4Xm1m58L6AJdS03XJ9P+3TXNzqml23+h/wDL5/pl5XW/F74T614d/Zx8D6ta/DmHwRDH8XdLm1X4U6xrdh4g8UR/D/xRJD/wrnXvEeg3V5Lqv9sfE3VYbm2+y3X/ADB/sej3n+h3lfPXhX4N/E3xxbyaz4B+GvxC8XWunvJu17wf4X168t7aS3x5sVrrNjD5H2iD/l6/s25+lcRqGh6hY6tqFrq1vrlj4gsXjttXs9ej1TT/ABBZyR/8ekWqWuq+TqsH2f8A5hf2n6WddkcVD2CpSpVfaKhLDxanTUFapGcZJTi7xWsZU01ze63JcqR+tYXjmpguF8PQxfCOaQhicjxeQ4LiB16mGwNbCYnFVMwoTws8ZkeJ96ljZYh1MNgcwo4THOtVli6brxoV6f2D4ouvGn27xtfeHZPH+paVrGlR+HtJ8J/8M9694X8WaH4Dj8R+G9Z0bRv+Ey8Oal/wjmq3Hwy0rR9Stvhf/bem/wDCN6Oby9s9HP8ApmKq/FTxdpf9meO7j4e+Dte03xtr2peG9b0S10T4R+PPC+seLPBdn8S7TXtdl+KF3qmjw2N9p99Ppttbapdabc/8jJeXlnadK+T5NL8bCx/taGH4ixaWySTf25bW/jf+x/Ljl/ey/wBsxwjSvs/n/wDH1dfafsdc79s8SJcedH4k8Tx3DwSQ/ak8Qaz9o+zyS+b9l+1fbPP+zzz/AOk/Zf8Ajy9OtbPHQtKPI4NqSi+SM5UnLmtKlOeIco8vP7qd9ndtSmpe5U8WMUqOJhLLsfhYZrQneriMdicTKnHERxqni8trY2iuRxWOm6XspTwlL2WGVLDUlTkq/wBEWviqwt/hz+0VHD8M/Hnw38UfFzUrzXv+Eds9P8W+PNP1jXNQi/tSLVP7ev8AR4YNDt/7Vmuv7A0G5/0P7HZ/bPtl5Z4rO8b/ABi03x54e8b33hWw+M/hTWdS8CePNB0B/E+gR+L/AA/4g8SfFzxR4Vl+I+sWGq2E2sT2GoT2GjXNzpehW3/FN6Po9nd6Po/+mXlnnwpdW+I1jCtzY+IPiRa2apvhvLC48W/2fJHb8+ZFdWv+gz28HP8Ay9Gzs6yY/E3jrT7OGzsfHHiux021+e1tbPxBf2+n2/72WX91aRTeRAftE1z9KzWMUkoRqTUXCUZy9lTUvflOfN+7xnKpN1puT5Y81lpvboh4o1lQoYeo8XRw88DWw1WMcHgaM8W5Y7E5jSxca2F+oU8NVhi8fia7q5fTy5OqsPOrRnyzVX2D4l+JfgvafDn4i6R4D1DxnZ6pqnhW88Nxafqvwn+IPhez1CO41D4by2trrOp6zNNpWl28EHg/xJqVr/aX/L54j96/Pm4g2q0jLu/2U/1nP8//AKw7V9MapqXj7xZbtZ694u8VatYyR7JLfWNQv5I7iO3lhl8r7Ndc33kT/Za4m48Iqv8Ayz9ff/8AX/njFeZjMww7qRjGVNuKUGoR5XzOTk+Z+1r3ScrR/eS2d7XPNzniuln2Nw2Ilh6GEw+Gw8KCw9DC/VG17arWnJ4f67joRc5VfihVUZtN+zT5m/mfVNLn1BpPOj+Vk2JH/wAs0jP/ANf/AOtXnM3h9o5GVo9rK+xl/wCefbOff9a+xpPCf+zt9/8AI/z+Vd18If2VfE/x+8dt4b0HUNN8K+H9B0qTxV8UPiNr3/IufDPwRp//AB/+J9U/1P27UJ+NN0HQRc/8TjWBn/jz+2VvgcYpyUE9/h8rRc5bLbli3d2irXnOEbyX0fD2bYnGYvCZRllKpXxWLqxoYHB0I81SpWlrGlGH2bxUpym2oQhCU58kU2vz1tfBuo6vqlnoug6TqWva9qj+Tp+h6Dpd/rGsahIP3P8AoGl6XDeX0/b/AJdf8K+tNH/4Jx/tNX2nw6v4u0H4e/BuzuE3x2/xs+Kng34f+IPKkz5Usvhe5vNS1yDz/wDp5trOv6EP2f8A4I/CvwX8OfM+B2l+Ifh34C1qzwvxYubOL/hevx0jil+wXXiSXWZbOa+8OeB77zv+JXa6b9j0e7s/+QNZ3lnZ/bLv0rS/2O/2f7jUW1PUPgj4D8RXU3mPL4i8eW9/488WX8kkv7q6ur/xHeXlibef/j5/49vtlXg80xGPxEqWAwTnQ5ac4Y3E1JUI16dTm5MRhcNRoYvE/U5ckrYvMKeWUcQoOvlrzDCSpYmf9RZN4b08PhoVOIc0r1sY7OeDyv2cKFGa3pzxjtLEVI3SnKjSioSU4T95I/mn8Sf8E2P2qNN0G41rwh4T8DfF7S4U3zf8KW+JHhzx5rHl/wDPWLQY5tOvp7fyP+ff7ZXxfeeE9S0TWL7w7r2j6roHiDTX2aloOvaXf6HrmnyR/uv9K0vVIbS+g7/6X9nz+Ff2iSfsm/BvQ75tc8KfC/QfA2oRi2ePxB8Lr3VPAfiS3j/5epbqLS5v+Ecvrfj/AI9bnTbzPbmvGf2lvgv4N8aeAZrr45eE7/41fDDSbA3OrePNH0u10v8AaU+Bdn5s1hF488Ja9a2ZuPEfh/SjD/xNNB1L7Zo/2PH+h1VTO8Vl2LeEzTAv6tarVlmGEqyxEKFGlUdOeIxeGqYPBYl4XRTeJy2GbUsLTq062ZvLcO5Vl2Y/w4wuKw0pZDmWIoYjlbjhcwnTq4evU93lpxxEYqVGpNqSg5OUpz5YQhNvT+RWLw+WkLLHu3P8vp/hVhdB/et8vG8e/Hbj+dfdHx+/Zd1z9nXx5pPhu61vTfH3gPx54et/HnwZ+Lmg2/2fw/8AFT4d3kvlRapFF++/srxRoc//ABLfGPhf7Sf7H1j/AKc72zrw2Hw2J5mZB82//P8AnmvqKfLUXNFqUJRjOEoyjJThJQlGScHKLU4zUotSd4OM17s4Sf4bmGYYzKsdi8ux1KphsXhZ+yrUqmkoN2cZJpOMoyjacZwcoShNNSd3bnfhX4NbWPiN8NdN8vf/AGh8SPh/Z+X/ANdPGWj+bX9cWofD+NtW1Rlh+VtS1B1P/XS6ml/z7fiK/nX/AGUfA39uftOfs76S0ZZb/wCMHg/zF6/u7O6/tT8/9Dr+tSTwv5kkkjR8yPI7dT/rPQ9//rn0rzMfDncI/wArnq/Pk6fI/WfB/GSxmAzzFOSs8woYdPe/sqDqS6dJYh/fe71t8qw+AYtrfudvo3/6+vH+FNbwBH837v1/zmvrZfCq7f8AVp83fyx/9b07cfzqGbwqq/8ALPr/APq9/wCvavOjh9Pdi/l6ef8AW5+yKrJu/Nt5X7ea/wCH9LHxnq/gNfs7NHDnb97+np/nPevBvEXhdrWaTdH3/pj0wOv/AOuv0wuPC6yQyx+XvT19x+vWvnPx94L8hbiRYX//AF/5/lWFfDPkk1rtpZaf1fTz9UdNHEWai36Nr7+/9eun6hxWf8J/T+fH+emPSr0Nmv8A9f8Ar+X9OtfOOrftO+H9Dz53gXxDceXxuTWNLj/SWGs3R/2urXXG3aP8G/GFxYrJsk1abxP4cs9Lj/7epbP9/wD9u3+FfrFLww42q0nXjk37lWvUqZllFFK+yXtMeueT6QhebtpF62/K4eIXCGIqKlRzdVavSFPAZrN621fLgXyx7zlaEftSV0fWkdmPl+X9D0/L0/zmtKOz/wBn26frj/P0r5F8RfteWfh+zabTfhLr3iS8j+9pqeNdB0OSSP8A6dbq/wBNmg+0f9fX5Yr541b/AIKtaF4dvG0/WP2XfiXpt8r/APHvqHjzwlbySf8AXKUab5E//btzVvwx42pQVSWSyjGWilLG5elzK1lf6zpe71t02PTw/FeQVm6dLMac6msnBUcVzqKsm3H2HM7P+VS7u2l/1RjsR+Z/T8fp34q4tj9z8P8AP+H6V+Nerf8ABabwXoe5pv2W/iFcbedqfEzwan1H/IHz+dcvY/8ABd74f319/Z8f7JvxFhuFk2bpvip4N8v3/wBVoPr6fX3rxa3B+eYecaVfDUqdWcuWMHjMLe+mj5asrPU9SlmmErRc6cqkoRV3JUqmiW7+E/ciOxH5n9Px+nfirkdiv4fy/wA4r8p/D/8AwVi0PxBb/abf9nHxLars3YufiRoMn6xaDX3h+zN+0Fa/tJeFfGHiaHwTeeBR4R8Q2Hh9tPvNctdck1D7Xpf9qfb/ADbWzs/I8j/j2Ft0rvxvh7xTluXvNcbgKdHAJ017dY3Bz/iyUIfu6dadZ3k0tKfnqcNHibJsTjFl+HxMquMcZS9j7DEQtyRcp+/UpRpvlim9JPs7Hty2O7/9Z/z+FOksfkb5B/k9Pr/nFdRHafd/3Pb8vp29PxqRrP8Adt/+v/P9Px5+N5Ozf5/5Hr/JfJW6JfofIf7VPhm41z4D+LrG1h+0XC6l4XvI4fX7Pr1mf+Wvb99+fNfmna/AzWLyzaa4vLCxxD/q4Y5byTzPx8mCv2M+NGnpJ8K/Gmf+WOm29zj/AK99Us/8mvjfTZrW1sZJJFRlWHzFXt+7/wA9Pav5k8dM6zPKcyytYBQiq+UXc3SjOd6eYYunKK57xXuqOrjLy13/AJd8YOGcnzjjnLsXmrlyvhjBUVFVZU4ezp5nm9Tmbhy1HJe2SbjUhe13/db8OfA9hH8fLnTYbYXXhv8AY7+BXg/wH4Ts0j8s/wDC1PjpazeI/iX4yitos/8AFQQeDv8ARrW6/wCPyz+2Xg+n1svhmLUPC+raLfSTQx+JNE1jQb6a08q3vLfT9Y0u80GWWwltfO8jUIIJrm5tbq5uby8tLz9fFfAdqy/G79rjT1s7+6vNa1v9nf4r6WmjXEUesf8ACMa38MJtAi1TRopv+Qr5F/plzpt1pf8Ay+/8uebzFe/al4XuPH3w11jwjofibxD8PNU17QdQ8K6f4u+HWo/Y/FHgPXP9XFf+F7+6hmgn1jQ5/s32oXI/4nH+mWZH+mV/RPC+HoPOablUlh6GHpYqGGxMVXcYQpZpPK44rkhQVOvLC5dhMLhYRjVxE4Rw8Y0qFOdbFey/ppUKWEy3A4XCU6UcLhcFgMJh6MElSp4algqU6FGmvhSk5ttxiuX2lrSjCKP5wf27P2H/ANln9lHwFonhP4e/Ez9pbxt+1R8QNU8N+G/gz8Hbz4uX/ijWNQ/tDUILW613xR4csbO0voNPng/4lug/abqzvNY1i7/0PNnZ3l4ML9tbwJ8U/gn+yxpn7N2sftl/CCTwx8O/gz8G9F+I37GlzGNY+Met/FG41CbxR4o12LxHLaXlxcWEGuaxb65a/wDE6+xf2N4b6/8AHmK+sfhbr3wV/Zx+PPj3wX+x/wDs0fHX/goZ+1v4Wa8sPjF+0v4w8SWP/Er1nzf7L8SRaDrOqfbLfw5p/wBu+0aHdanpv2LF4L3R9H1i8+yXYHm/7Yep6L400fXtf/bT/wCCbnxA/ZavviLfeGNE1H9s34ayeH/ip4v8JnTJLeLT7bULbU5ItMvbe90OyOiXOl/arS8vNHZv7IW+vAu3/RHIcfxBLOuCsBnFfNeI8FgcdhuJFjuI8bwHPjLOsdjpZd/Z2IyfgPiHOcRxHlmSYfLViquTwy3CT41xuJxzxmEhhcRXoUY/Mzp0VRqulGlQlNKm3h8Ji1g6VOhKUeSWJoUMNTnU9ppXrz5sOpUuRp25j9YvgfpUk37K/wCz75e9ZofgV8L3XZ9lk/dyeE9NtZYvKuv3E/7ib/j1+02d5/z53lfJ/wC0V8LbPxV8RvFngm4s0s9D/bO/ZL+JHg/XrN/9ZZ/GT9m+w/4Tz4QeLZYv+WHiibw5DpttdXWftn2Ov0A8N6T4Z8J/AT4c6H4T1zT/AB54Ttfhv4D8HeBfElzH9ns/iBpcmg2Vr4c1SWK1/wCPG48R6VB9ptfs3/HnrHrXzP8AEoR6b8ZP2XYb61ubCbwfoP7Xfxx8Qf2xeRahrn/CH+H/AISnw5daz4olj/cWOoX2qz/ZjpY/5A/+hWf/AB+fbBX8DcWyiuLq+Ko06t8RjoVavtoVoOk6/EkMNRVSjLCv6viauExlfDVKNevQlL2lWM6DqQop/XYejTxGBxGGxCjPD4jC47DVoT1VXDyyrETrOTfuyhH2cZS5oOyslbmbP5f/AAfatqmj6TqU0e24vtPs7m4j7xXEkUUssX188+2e3FekWfh9Vb5o97cf56fp/Km/DHRXuPCOg3jL5YvLGO8VX/1nl3h+1Rf+jvw5r1hrGO3tZpJLhbNY4ZNtw8fmRxyf8sv3X/Lfv/ov4V4OJqPmaT5nzcqj1k9LKK69evbc/wAdeJczVHMsywlGtKSoY3E0aai7ufJWcIpR0tJxilGN3flbv2+5P+Canwd/tj40a98WJNNT+zfhj4R1DR4NS+z/AOs8WePLX7BYaXay/wDP/Y6HDqWpXX/Tn9j+tfaH7W3wz1X9orWPhn4b8F6F4b+O3w//AGafjTca3+1V8D/DHjS10P4uap4guPBHm+EvAegw3/2PQ/8AhILHQ9YufEn9g3Ot6PrF59s+x2f+mfbK8F+C/wAVP2gv2gfh3rHwH/YT8N/Df9kvQ/hr4b0O88cfGD4haxqHjT4h65rHiiWbT9Uv/h9YaXo95Y6H4g1y+03U9SuvGXiT+2dY0ez+x2ej/Y+K8g+FsPij/gkz8XLjR/ila/8AC6tH/aC+Ht54q1j/AIV14kuv+Ek1TXfDfi2WL/hLb+68eQw/bvFH9q6lqVtql1qVz/xOLPWPtn2z/Qq+lweGo0sBDC1G6n1iTliqqUlhqTk6bdOdZ2pza5IUKkVKL0qRfK00v7l4GxOS8H+GnDuXzqYzOeF82q4nEcS8b4anH+x8FisZiHSSjh8bSqY6rl+GzHC4PI631jKatCpRpzxOJwqWIxFOl9w/sH+OP2cfiFN8Zo/2ffgX4/8AgfL4Zv8Aw3pXj6x8f3EQuNY1COTXrWwsLXS/7Y1ifRLjw7cWepW2qWtz9jvPtn6/EvxaWys/+CvVvcX00NlZx+M/2aPOubmTy7eLf4S021j8yWX/AJ7zzW1t/wDWr6s/4Jr/ABGuPjT8ZP24PiZquj6V4J1z4tePPBfxC0v4cw6pa3GoaP4bjtdS0bzfN/cf25cQeTbXPijVNNtvsf8AbF2favz4/b2m0+8/bi/aGm0+9s9Wg0nRPhno97JpuoxXlvba5o/gPTf7V0aW/tZpreDWNKn/ANGuv9I+2Wd32+2VvVpQhl9P2VOnClCvF04UISp0Wo1NXCL+FS5E5Wb96UpX1SXLx/xBgsJ4N5Pn+X/2VicHlnGmExmEjk+Fo5Zl+Oo5HxTmc6caODwcVRwlTHwwkJ4inRoz5MRWqVp005+yf67/APBR74J/FL4vfsy3ngX4X/D/AMQ+PfGsPxp+EXiKTwxokFr/AGx/YfhzWdYl16/iiv7yyg/4lUF3bXN1a/aftn0r8ePF37HH7VPh3wR4n8Ra5+z58StL0XQfDOsavrWpTWGjSR2Gk6XYTXV/fXMUWsTT+RYWMNzc3QtbbP2Ov1Bb9h/xH4J+Fv8Awn/xO/4KIftdeF9H8K+AI/HPjObwr4k8zwn4Y0K20GHXr+LTItUl1jxHfafodjN9mtPtOby8HP2PtXyJqXiT9h/xR4fvtI8Q/wDBT/8Abs17wz4g00abrWm6roni6TS9U0fVIvst3p+qWv8Awj4M+n30E3/EztOM2Zxx1qsVho4mUa3JjqV4RUYShl1NP3m3yxlm0ZdbP3drdw8VeA8m8QK+W5rxbTzHhjMYZXUwmDwkuLuFMLG85TajiKeMwGY0686OIqpVfqmJ5JzvGMH0/W/xZr2m+B/2T9b8eXnhfSvHuj+Ef2bNH8W3ngnWHi/sPxxp+l/DnR7qXw5qkstneQf2PrkH+jXX+jXntZZr84P+CXOvyfED45ftS+P08FeHPhtpXjPwR4S8QaF8OfCMjyeGfBGn3fjKGE6Ho8rwWS+TCYftPy2liBe3l79isrKyAFfTf7UH7PXxh8O/scfErw/4b/a6+IGqeCvBPwmS6vPDXiP4b/C+2vPG/wAMfDthaSy+BL/4i+HNMs/GFjBf+HIoLa2u7Y5vLO0s9H1gGzJr55/4JH2sLePPjc1v/wAey/CXwH5K9/Lk8bzf5/MCtKrbxOAh7Hk5Euac4U/aX9nCnyRqJzkoX1cYuKeiu2tPquJs5x0PFDwdyGrl88NRxMs+x9V4iGCxDWKw3DWd4blw2Ko1cTKFSnGU6VeEpJVYSjzQcXGS+b/+CmumwyftxQtNDDJ5X7Ovwv8AmeMSf8xTxh6/5GK/TLTfh74m+I3/AATHsvhx4F0V9e8bePP2S7zwl4P0CG4tbOTWPEGsRXkVhYRXV1NDY2PnH/l6ubn7H61+eH/BTyFV/bkmVf8Aln+z38Iz/wB/LrxhKf8AI/8A1/o7r327Tf8Agk/qmoabqF/peqWf7G1xc6fq2lXl1peqafef8srrS9UsJob2x1CDzc2t1bXP2z1PrNGP/ChjJ2fK6MldK8tYUuml2uuvU8bhWbl44+L6qucsPS4Wy+HsY1JQVnUpynyX5405TtOzjDTn1UuVHA/8FQNLa1/YP1y1kUrNp/jD9muwuF/553ml69pthdxf9sJ4bm17e3vwf7B/7JPgvxp8I/AvxO+Jnij4neNLzxxc3CeF/B83xY+I2j/DfwR4T0/WbzQbC0tfCXhzxVo9jqusX09ncaldfabn7HZj7HZ2dnjr7R/wVMt2H7CWsL0km8f/ALNaM3/PXzNes5ZZvp+5+hr5R/4J++Pf2sdP8E67ovwq0v4GeP8A4XeDvFgWPw38W/ibP8MvGHhTxBr1tDrl9L4J1iz0vWje+Hb4sLptN1zTRYrq4vG0lgoviNJW+u0Perwj9WXL7F4hRqTb5l7WOG9+VOEZTl76dJSjGVTZJ+7n+Y5ZgvG7h2hmGX4jMJ43gfM6GCVGh9bp4TFUs3p4t4vEYVv95Tjg8Ji6MKsYVamHrV6c6UFL95Dsv2SPEXwd/bY0v46x618Arz4UWnwt+I0vgzw/feCfjx8Y4/EGueG7ibXrC11i61mw8VaZPofii3n0G5/5Bv2zR8Xn+iE/ZCa2v2RfgrcfBH9qr9sz4d3HxA8dfE6103wN+z3rfhfxN8SPEmqeLPGFn4H8aS+MNe8OeF9T1TVJpvPuPDk8Opab9qthZ2esf8hj7H9svLyvWvCfg/45/B3S/Gdv+zr+yH+xZ8NdW8fa9c+LfE0mpftdajqGgap4su/N/wCJzf6Xo/g6G+mt4Z725uRoGm6lo2kH7XeYFobvjzb9nD4Mfty/B/4j/HD4ufFbTfgv8fvE/wC0A/hy48UX/h342aX4POh3ngr7ZaeHNL8Jk+D9Y8O2PhDS9Ku/7EtfDB/5BH2Ozvftl7efbCdXzt0PbOt7T29Tm9lRxscLGKdXkU4yw9GjpS5LXWvvbdftKEa1Ovw1LHYLE4/MsHj8wli81yvAzw9CGHrYTOqOGp4qlR9hiq1JRxOBpyi8PVjSq0nVSjFKsvzy/wCCnHij4Gt8etY8F+Ffhb4wt/2mtN/4Vnf/ABI+MFzrEUfgPWPhnceDZpfDnhK10H+0pp5/EFjBNptsLsaJo/2P7Hef6ZefbK/NTWrXT9y/bFtvMbLqJhF5n+FfWv7XOofEHXf2uPjpr3xa8G6P8O/HDX/hPR5vA+g+JIvGemaP4b0Twlptr4SurXxbFZ6bB4i/tzQ/s2pXWqW2m2Vn9svPsf2Oz+xmv1i/4JaaNpdx+z5401KXR9Eury8+M2qQyXl/oel6heSR6X4c0GK1i+1X9nNP9ng864+zWvv3rxMRh3i8XKFNQpqSfvqNbll7OLlKpKLi6nM9L+5re93ZI/lnOsgfit4257w/QxdPh36hg8ZKrmFDK41MXVjltbD0owxODjXy/wBpiXLGewqYqdV1WqUI1Pa2i4fzez2ugxr5sn9mqrQ+cv8Ax6/6uT/VS/171/Ut+xzptun7Mf7LMduqLbt8K/BfkrCD5eyS6vJR5XldP9d+vvx0H7JfhnQZLX9oKRfDHhVfO/bk/aUsId/hfQZPL0/S/EfhuwsLWLzdNm+z6fY/6T9ltbb/AEO0z0r5j8L/APBSr9jj4ZWeoeC/GmseOfBvij4P+MvHHgnXPBOifCvXvEEd7eeD/G+vRRf8ITf6FD/wjt9p+uQ/Zv7Ltbm50f7F9r+x3gs/sddGX4CWGqznKdL94nTSUox1hUi7805KP2Nm1a/3/tvht4fYbwtrYjNM64wo4uGc4GOBhSxWFjluHo1KNWGM5qNavmmK+sVJUYv9x7PDzc4yjB1ORtfzm/ECJv8AhdH7QDNv2yfHv4t/+OePNe68f5zXG61Gv9k6p/B/xLbwD/wFmHHPvXcahqTeLPFPxA8cNpdzosPj74i+OPG1jpF/JFcahpen+LPFGpa9YWF/La/uP7Qgsb22tbo23+ifbPas+4t4T8sioyn7y/8ALKSPHWX/AD/OvGxFFSrVbK69rUtJXcX77Wjur2Z/JPGmKpYziviGtRqRq0cRmmPnSqwfNCdOpWnyTg7LmjONpLb+XzP6JP2otNmb/gnb8ZLe1s7m8uG/ZC0tI7Ozt5by8uP+KN8LS/6Na2kM08/7j/Sf9Gx3PNeG/wDBJPR1tf2XbiabSbyGG4+Mfih/sc+n3VnJqEdvpfhWKXyrW6hhnn8//j2//XXzb+yP44/4KTfFixXwD8A/i14D0n4c/C+20vSrzxp8Y/Aeg+LLPwRZ3EU39jeErDVPsc3irxHcQWMFx/Zfhe2+2Xllo/8Ax+6xZ2f2Svor42fFz4vfAPULXwR8ev8Agq58Ivhv8RtY0K31i10f4afsX2GqeNND0PUPOisPFFr9l1LWL7wpbzzw3N1oOqalbC8/0T7ZZ2de9TdKtVp16c5yhTpTpzX1WtrJ8nw1pqFFW5dbztt2P7myDP8ABcR0ch42hh80y/AYXKcZl6jjXlWCwNeria+HdapSxWNzKj7eGHrYKdGhXw9CpSrS9onOnUp1KUfYP2X/AIf/ABU8L+Ov2lNQ+JH7Uvhj9ovR/EfxBkv/AAD4N8PeMJvE8nwE0P8AtnxJMfBGs2BmI8N6h9gm03Tf7LGB/wAU3d55s81+XfxH8L2viz/gszD4fvrdJtOuPH/wPe+t5o/Njlt/D/w0s/EcXmxf9d9Ntvy9q+vv2M/2XfiB+zt4F8Z/Fb9jH4sfs5ftfeD/AI6fZ9Yvo/Hknjf4V6h4x8YeH7/WPtWqRfEvRodegsfFH27WNbtvFGl+NtEs/wDic3n227+yV8E/BH4g/EDxt/wU88JfFD42eGdN+HvxG8QfHiz8JeLvAFhHdR2nw7vNH8L6j4I0vwl5t/NNfX1xpXk21tdapc3P/E4+2fbP+PO8tKxxC56dKE/bRqPER5qWIVZ1YqMn8VSVGFNJR5XCmpPkg4w5mo80seK8zovJeF8Jj8HUwbzDjPIPZwlWo47A16cs49u5Qx+FxWNpuGJoVlXVOpWhJQlPko0qdKNM/VT49WrXH7a3/BP/AMz95Iz/ALVmpOX/AOen/Cr9H86XP/bb+feu0vP+Fb2P7ZWg6H/wq2JvjF4w/Zg8QeKpPjlHqHl3Efw78F/EHTfCMXwvv9BM378z32p/23a69/y52Z+x1V+N1nI37dH7AsP/ADz8Jftd3rDnjy/AfhuLnr6/0716FeeAY779sTQfiUvjrwM03hX9lrxD8N7r4U/2h5nxQj/4Sz4o6b4ttfiDLo0U37j4fzwab/YdrdXVt/pmsf8AHnXTyJylanz2qU3tfk/d037Ty5P5uifVH6XFP2+NbcX/AMK+Ctzez1tluUV5cvtH/EVOE+T2f733f3e8jS+Hen7vjZ8ePl/5jH7OadfX4Xzf/Hvz7V/L7ovhX4X+Mv2hvj5pfxi+NXhn9n/wTJ8YPjZqVx488W6HqniCyu57Px5rEUXhywsNK66xewG5ubW61L/Q/wDRPxr+rr4Y2G743fHbtnxV+z3D1/55/Cqz9u3nf57fzH/BD4veMvg7+058YtQ8J+JPg54Ih+IXxv8Aih4G8WePvjr4Di+Inw/8B+G7j4ra9fy+KNU0uWaG+sfsM8P+k3Wm3P2y8s/9EvP9DrlxlNTVCEmuX2q5ub2ii4tpWbpXqK8nGN47Xu9j898U/wCz55Zw5DNeT6hW4owqxbqc/s5QviYQjU9lmOUVFTnVcFOccywns4NzlU9nGcZfeH7Jvxm/4Jy/CHxx4V+A/wCynfeJ/jJ8aPjVrdv4VvviJD4P/sOPxJcWdrqWsxRa98Qdes9H0nwr4P0r7HcXVr4X8N6Jef6Z/pn/ABOLyvQv2pvF37QXwt8FeJvi5+1J8DP2MPjp+y74b8VeFIbX4QW2o+KLjx/4Ln8Q3/8Awjlh4s0vxb8QdA/4Q7xV4onnvD9rtdS0XR7PR/tn/FNgWQrWX9oLXbe63Wf/AAUg/wCCRcN5bv8AubxP2d7/AEPULeQ/8tYrqw8bQzwYxx9mueK9D8F+OP2iPjVeah4V+HH7aX/BLv43ahY6bHreseEdE+C/jzxpJZ6PHcw2sWs6poP/AAnmpQf2fBfTW1ta3Vxbf6HecVccNyUHSVOnRppWdKGX42rQqRklpVlisvxkrStaTpypVJWTVRO7f1GCcKeB/s3B1I0nShKGVxyyvkmGp4SKpwjRpLAUeJcR/aHLVbqzhiajjXbtUXNzTl+enx40f/gk98QP2XPGXx++Df8AwqX4N/FbR7CNfBnhXw9JYeD/AIoX/wATbm6hitfhV4t+EsWp3n9uHXYBc/8AE+0S2/sezsh/wkln4k6WdfTX/BIe+0HUPhj8ctDhjSHxVY+P/B/iHWLX/l8k8N6h4X/svRr/AP7B8Gq2epab/wBfl7/0+Vc/bGb9rT9n/wCCOufETxh4X/4Jy/EDw7rV/p/wl1a48K/s16/4f8aeG/8AhZlrqOjWGvaPL4jvJrG+8if/AJ9rn7Xo92LPWP8ATO/5m/sU+Cfit4i+Pnw18GfB34war8GfH2o6drlnH8Sra3l1j7P4e0fQZ9U1mw17Qf8Ajx8Zafqtvpv2b+y9Stvsf2z/AEzFng1zRjQoYqjKFGFO6aqUsLHE7y5PfhRxGFwnLFtO0IyqyVnz1Ph5vy/iXNP9XfEHgfE1MBRxmb4ilXyvE0MLgcHltfG/2rKOXYfGQ9nmePwU66xM5wdWrXwsYQoTw1RxVSFSn9/eGbW1n/4LhfEC1ZU+2WPwZjmWM8XEdnF8FtHi+1eV/wA+487/AI+scn8K+v8A9rXxp8APCfxa/Yy8F/F74Uax8U/iF46+K15c/BefRPEEfh+4+FF5HqGgaNdfErXopbyz/wCEj8Lz65/Zunf2Aftn2y80a96nGfKv2lLr/gpl8AfDPg/xJ4N+JnwT+P2reLNbu/BOpah4B/YrtY/ih4T0+z0abWbbWtZ1S11PV/P8Lzzw/wBm/wCk21nZ2esf8udfnb8Mfgv+2N8Yv2pvh348+ITfFH/hcmseM/Df2H4yfGP4d+KJPBfgOPwv52s6NFqml2ukabpWl+B9K+x3Nta+F9EGj2V59s/5/Lz7ZWsq1CipUZShUq1MQqqpOhUUlGdSkkpxmoycrr9z7NThKsoWmrH0uccQ1eHquOy6hkmf5pmHEOeUsxp0JZTRxODoQzGWX4WdB4qlXx+WTjQhhnPnxFbDwpTqwlU9h7NVJfpZ/wAFerdov2T9NhdvMkuP2jvhGkknl/6yS3/4SqWWXn/PtkV+WfwX/YN+M37Vx0vUPCfw7T/hCZL+40qT4qeLY/s/gzT5NPm8rWYdL8rztc8VahpU/wDzAdEtv+PzFmbuzr9CP+CpGi/tNSfBv4ZXHxW8Tfs6yfDVvjNo6alo/wAIvDfxL0vxRrHjT+wdeuvDGqapf/EHUtSsYPD9j/xO/wDiQ6J/pn2y8s7y8vLyzsxXgPwR/aC+BGk/DnwT8C9Y/Z1/bS+KHji4/th9ZsfgH8fPEfhvw94w1jUL+W6utZ0LwR4c8SaPfaJb/Yf7NttUtba2+xm8s/tl5d5vMVni6NGvjFzYh0qdOkv3tvq0pWfwxeNeFcOZ7txduVaao+G8QMJkmeeKGRYHiHF4vKaGF4cdWjSji6mDxOYYypmNWOHwdDEZbgs6moVacsRKp7B4XEc1BrDYuFeMKdb9OodQ/ZL/AOCYPwG0H4fa94usPDtvY/2pqsPhezji1j4yfGT4gahFDLr2s2vgPS5p76DUNVnhtra1utS/sfw34b0ezs7P7X/odfHek/Df9jH/AIKofEq+8et8SP2h/g7+0ZdeD9Ls/wDhTPi3VPDl5b6f4T8JWs3lRfC+xihh8OeKdHsfOudS8UHw3rf/AAkn2y9vLy8sx/x+V1HhH9kn4D6tcz65pf8AwRv/AG/21K88p9Q1bUvix4W1DxBcCT97F9vv9e+Kkuqzj/r57Zqx4u+GP7Mnwva18TeM/wDgmb/wUq+Hsnha/t9bsfFmieK4bzUPCeqaX+8tdZsNZ8EeNtS1XSrix/5+7b/0jronUjJQp8uDjhoxTvLPadGurW/eQq0sXSptvf2dSVXnslOcrI+8zR5/UeFwdDLOHJcJU6dKlisDjMLxfSqywlKMY05UMTHhSUcPicPZOjUVVaqEnGc4c58B/tEfsgal+x38RtB8I6xr2leLtP8AiJ4b1Dxb4F8YWH2+31DWND0TVP7B1mw17RdUvLy+0rWNCvpra2/0bUrvSLz/AI/NHvP+XOv0f/4JH6D53iz9oLXNu6GHwT8P9B3d/tF54n1jVPK/CCz/AJe9fBX7TXxZ+Anx68Z+DviL8IrD9qHUvHdxa3elfEPxr+0n4/tfG6X/AIQs7aKLwnoXgi2tb28t9DnsdV/tC51P+zbWys7vk3pvtYP2xf2o/wCCXvgHT/h/+y/4o+Kniy6s/Duk/ETxV4g8f6j4h1L93b6V8M/hpo02jReI7qb/AKA/kab4k1uufDYWMMzvCbqqClNOVejiH71OOjr0KlWnP4rtqrUty7K5+DcL5JlVf6QVDEcN4iOJyTLsqxmdqpSzDFZjSwyq5XUymdFYnHKOJh7PMc0hL2OJlJ0IVVTjUqRh7vxh/wAFGfh58S/jj+2N8O/h/wDCTwF4p+I2rfBr9my38QeMtN8JWkV5Joln8UPHmp3+jX2p+bPZwQQX0Gj21ta4uTeXgr9B/wDgnT8J/Hnwz+Atx4Z+JXgvxD4D8UXnxa8Yaqvh/wAT2cVnqn9kXlroMVhqflRTTf8AEvvvJufsvt0618t/Fjwb4r+MHwpn/wCCnv7DPxM+MHwx8VfFTwBHc/GPwLpuseZrnij4Z/DfVNT0C11Tw5a3VndwaVrHgfSdCPiTVPAX2b7Jd6PeXur6ObPWLPWLO8+1/wDgmb4u+InxT/Zt0Hxh8UPiL4h+LHii++LvxA0238ZeKriwvdUuPDen3+gxaNpf2qws7OCfT9K865+y/wCjH/j8ruw1GH9o1ak3VjVcJKNOVJckqEuXkqwrRqtSjo4tezVpRlG75T9awWWZSvGCee1o5x/bOb8OYqeT4mnLB1eGMbkNCnlVJyw8o4WGMjmdKTw31nD4jEStOpCpGM8PVw1Sf89XxetGuf2kv2qLxvnWb9oP4mbf+2evTWp/9E85rj4bHdJt4/w9K9A8fGS6+Nn7RV0fm8/4/fFx/wAI/G+sQ/8AtL86w7WzaSaKOOJ5pJLmzhjt083zLySS6hihsIpYv3/2i+/49rX7N/pn+mfl4NSkpVZtX96pN+lml8720Wm/zP4G8U63tPEfjVJ/HxNmsUtNGsTKK0XvO/LflgpT6RjJ6HonwZ+AfjD9oT4gab8L/BNv/pV8n2zxRr0kcg0vwP4P8zy9Z8Uazdf8u/kQD7NoNr/x+axrAs7Ozr+nDVtY+FvwD8D6HrXjDxN4Y+Hvwx8F/wDCH+A9H1rxzqkXh/w/JqHlWeg+DfDl/qkvneRqPiOeG2tbr7N/x55vLzmzsq+D4fit+1D8HfBsngf9mH/gkb48+H0MyQTXGpePPEml6hpVxqnleV/bOsxeErz/AISrxlqEP/Uya3Z/9ufWvzy+LfwS/wCChX7Q3iax8XftJfC/4zeOJtC+2J4X8F2HgK10P4b+B49Qi8q/i8JeCNMvJtKsbi+g/wBGutV1L+2NYvP+gxivYwjw2W0pSlWp1sTUac6VOVRKMI7JValOEYx958z96ptak9T+s+B8sy7wR4ax+Kw2VcU8a8V51HDVMXVyvg/iejgoQw1Of1PL8OsfldCvHDUJ4qrVxNetToVMZVnB1aeE9jChDpfHX/BNr9srQ77xp461rTfBPxg1zxd4q8T+PNaj+GPij+0NcuJPFmqXmvf8SHw5r1no99rmnwQXlta2t1ptzefbLOz/ANDr5x+Bfwjj+L3xs+GfwrvFvLGz8WeObfRPEqvby2eoaXo+l/bL7xba3VrL5N9Y6h9h0fUtMurW5/0yzvMfj+n37IvxY/aI/Zs8H6l8L/jB+zL+1B48+G+jpHefCi48H+A5dc8V+A/9b/anw+li1S8s/t3gi/n+zXPhf/iZ/wDFH3hvbTH9j3n+h+L/ALMnibxZ8RP+Cm+rfEbx78PNV+EmtfEDxf8AEfxJD8L/ABBHLbeJPCBuPhzNa6Na66JorQza/fWNn/beqapb25tLy8vLz7GTwa5JYHC1KmFrUqyqfWK0VUo1J0alVc1SNSd/ZS9FezhPVwlLlkfFcRcCcGZ/juCOMsLQ4nyXH8Wce5Hl/FHCvE2ExdOP/CnmsP7ThTr4nA4WrB1PZzULYzEUsdhqyqUKWGnQlTPqr/goj4q8dfCH4b/sp6H8D/FWq/BzT9W/ao+HfgmSx8ByRaPZjwHp9qbr/hCPsohEH/CP33/MUtfs3/E3/wCXziuq/b6/Y3vv2lodB1v4ezeD/Dfxc8DeJ7zTYde8W3kujaX4g+GeoS3kWqeF9e161hvJ/wDinb6DTdb8G/aba8P2v7Zo/wBss7O9rnf+CpVq39g/sV26r811+2T4X6/9O+l2f4n/AF369K+hP+CjngnXfG37In7VHhHwr4X17xj4k8QeGJLDQ/DPhjT7rVPEGsah/wAJ5oN15Wl2Fgft1xcQQQ3Nz/o3/Ln9K9evRhUji6NWLlQpQpOFPmsoKNG7VOy5acnZXlGOtkpKcLxf9UZrhcHnL40yTM8K8dlP+ruTqWWU+eEJx5M8lKnho0VJ4arOWGw8cNUoQU8LXp4WdBx9lGLwdQ8G658Nf2M9c+H+oX1rJqPgP9l3xp4b1RdKvJbjw/Jqml/DnXvt8th/qYL7T577/SrW6+zH7b/P+Unwtp95deB/D/lq91fXXh7TIbWP/lpcaheWsNrYRf8AXxPfTW1t/k1/WhD4ZvtD/YP/AOEfvtPv9J1LRP2OdY0rUNL1K3lt9U0q8s/hBqUV1YX9rdf6RBqFjP8A6NdW1znp9a/F/wDYH+GfwP0fwr4Y/aY/aO+KHw+8E/Dn4azaXD4R8H+J9U/4nfiz4gadYWd/pes3Xhy1hvNc1bw/oc81tc6DpemaZef8JJ4k/wCfOz0evNzHDKvLCQi4qPspNSnaEKdOPs+eU5KKiowinK8muy3bPxrxp4axnFn/ABCzhrLFHBRxH1ym6mOr8jyfKMPl+U/W6mIqVXGbeBwsYKVBWrYnFRp4ehGVSaS/ajw/obfCb4M6LpupW95dW/wo+DNv/aej6bp8uoXFxceE/BH2nVNGsNGsIZp764vtVhudM+y21ti8vLz2r+Z/9kHwPqF18UPgb4g8XWb2WoN8VPC+pX3hHVdP+z6hpcmq68LqKw8R6Nfwwz2P2Geb7N/ZdzbdLPpX6UfGj9t74r/G7xx4Ruf2b/8AhLfhP8K/hn4z0/x5N4u8T2X9j+PPjx4k8P3U0thpeqaDL53/AAivwnngluba68L6lc/2z4kvLwaxq/2P7HZ2desftdftNfsm+JNL+DvjjQdes9b+OWn/ABd+EfiTT9N8MeG9euPHngrwfb+KNNuvi1YfEu6/seH/AIkGh+HDqVta2ut6leXl5rFnZjw57+HmGZYHNKssPlOa4CNTJa+ErY72ijGnXwzqU6tWGFxTqKLnCNFwrezhUg6koUFO9RSX03Gi4d44rZdk2UcT5dhcf4d4/Lc4eGxfsq2GxOApzoxrYOnjZ1LUq1Ghgf3k6EMRThJ4eOKVOlJVoc//AMFUtFkt/wBmnQ9Wt7WzjutN/aB+F9s11DZ2sdxHZ65/wkml38UV1FD9oFvP/o32rpX4s6j4dH3tn8Hb9fav2m/4KXfHn9nnx9+zw3gD4f8Axk+Hvjrxx4j+M3wr17wv4T8Jax/bPiC80Pw3r15qmva1dWEUPn6Vp+laVN9purrUvsePtn2P/j8r8qdQhhWHa68lP84/zj6V4XGc1DNcOqPKubBU3KyXWpPlvaMb3i1NN7wnF6XsflP0k8bRXEPDlXD1aNWpXyqpGpOlWp1naljJKipyi5SXuTThzt80JKUfiaXhN9psNnbzXE2FhhhkmkY/8s4o4f3v5elfpp8J/gn9o0b4W/sz31v9i0PUvCuj/te/tnxJJ9nuPF+n+IJZrX9nP9ni6uov9do+qwWf9t69aW1z/wAgf+2PtmftdfEPh/wv/wAJl448D+DVHy+LvHPg/wANyL/z0g1zxHpthden/LjNc1+1XwPt38Tah+058TLXT0ul+I37Uvjjwlbr9s+x3Hhvwn+z/pej/Dn4fRfas+fY+Frf7Hrf9p3Vt/x5/bD/AMvlceCt9QxdeUHUdo0o01TrVvaQlyucHDD061Z06tWeDoYuUaVSMMDiMVOrFUYznH6/6L2T08ZjeIuKMQuatlmGweU5bO/8KrmXtsRjMRTX/P8ApYXBRhTlo4wrVY81puL9e1S40Xw54Z8VfFjxkXsfDfhHQdY8Yag1to/lyeH/AAv4f0v7ff8A9g6NazefPbWOlab9m0vSxbWX+h2dn9js+lfjz8cP+ChHg/4leLNF179mX9vrVfgH4HtfCtnYa14N8T/sl+N/GF3rHiyS/vLqXxHLqkVnqX2G3n0qa203+y/+nPpX64ftbfHH4b/sz/BmG88Y/FzR/gj4g+Ilrqngz4N+OtV+G918UPC8fxA0fQYfEfla94I8m8+3eF57Ef8AE0/tIj/Q7z/l8vLPj8P7HxR+yv8AtE+JvDesftxf8FKv+FveH/Df2zULH4R/BP4D+KPhfo9veXlr5V1FF4jsPB+m/wBlW/8A1FNN8N3usXn/AB5/bLKz6f2N4K8B4aOWYniXN8gz7MqEalSKxWT8OY3iCeZ4lUHQzGeGyzG8B8U8O5liJ4mCw1Ovmmf5RPKpUo0XzRpUfZ/0/mGK5qkKcKtKnKVo8k6ns1CCS5LzjXo1IJ6/BGo5W15bLm+jP2bf+CjHwp8A3ni61/am/by0f43Ta0/hez+Hdv4e/Zv8efD+88L3kl1eR6nLrPm6BZ/2r/bn2zTba1/58zZ/Sv2T1LQ49Bvo/EFvD9n8m5judSj+xy3kdxb28U115V/++m/4l97532a6tbm2+x8/6ZX87Xg/4oeDf2d7yPw3+zX/AMFNP2YPEnwd/wCEh+06f4R/aQ/Zj1Txf4g8EaXqGqebql/HFf8Aw31iDVdYsYPtNz9l0TxJo9nrF5Z/8eej1/Rl4J8ffD/41fCHR/il8LfFFn8QPA/iiw87wr4umjuvCcHiy80vVBoN1dWv2qGGfw7qF9rlnqVtpf8Ay52d4bOz/wBMs68vx24Gw2CoUM6y7JM1wOFxTxFbD4rMMlzHJoYfMcLgqEcBS/sqHAfBOCyfMKmHpY765gsqxWdzzBLFVKdTldSvjKy3FXqRpOtTqawg1GqqsXSlJRnaSxNepOmrp+0qKlb7MZ3lyfkr+0d+zzb3Xhv46fst6XpkP9lzeA9c/bw/Yzs/M+0yfD/xZ4L/AOTkfgZpd1/y4+F9V0qbUrm1tftPS80c/wDLnX4P6HYw31rZ6hb/ADW95bR3kbdP3dxF5sWP5571/Xb480mG4+Mn7AOpDT3sZNS+Ovxc+HU0epeV/wAJBqHgPxx8FtYuvEZ8Rxf8sP7cnh/tv+y/+XOz+x/Sv5XNB0WOGG8sbVf9F03WPEGm2f8A156XrN5YW3r/AMsIbb/GvwLI61sBJXapwdCdNckqShTxGEw2IlCEJUqMoUo4qpiVQj7KEIYX2EaUIUlCEfxH6QmFo4ankWeRUI4jEwxGWY2oladf6vU/cTk05KpUXtqqlKMm2uRSasr/AE9/wT/8Lrq37ZXwBjZEZdN8Vapr3eT/AJA3hLXrqLiv6ml0NT8u3rj9Pyr+en/gmR4ZW8/bE8DyLHuXRfA3xQ1tj/00t/Dn2CKXk/8AUSPp/Kv6Wo9PO5eOPX26/Tpx9KqoueTe2r8/8ux630f26vBmY4l6utxNj4p94UcvymH/AKc9o/K9uhw66GoH3fx9fyzmq82ir/d+v4e/T/OPr6d9i9l/z+NVZLFPm+T+f5ent6/jUQTSu+v6f8OfuabW2h5VJoaZb5Pm/vfifb68VwHirwO2q2sywxo0jJ/H+p/p/hX0FJYj5vlP5e2Pz9vXis+SxHzfKfy9sfn7evFNxTVrf1/X9XCMnF3Rj+FfgD4V01odQ8UQw+KtUjfzlt7mPy/D9vJj/nw/5fvIP/QS/wDAOvZ5vCXh3UI47a88O6FdQquxYX0ew8uOP/nlFFFDD5P/AOo10MNv/n/P/wBb8O8l9Y31xpOu2+l701i40HXItIaH/j4j1iTRrz+y5Yv+nmC++zfZf65r9RxWaZjjq0a+LxletVg703z8kKW2lGEUo0YvlV40VTi3q1tb4PLsmyrKqDw+AwGGw8JWdVxp81TETi7qpia0m62Imru0q1Sbim1FpaHmt98AfhHq/wDx/wDw50Tc3HmWf2/TpP8AyVvIc/X/APXXm/iT9hf9nfxdavaap4T8QrbyHCww+KL+S3jk/wCmUV/DeeQP+vbNfP8A8NdH/aUtfh74BtviR8J/2n9a8eQ6rJonjzUNK+Jl1byXGjp+9PjK7ii16GxuPt3nf8euif8AE4sxZ/Y7Oz+x17Nq3gv4iSW6SaL4e/alMlr4et7yZZtQ8R2f9qa5Z3V59qsIpf8AhMP3FxfQfZv+Jpc/8Sf/AJ/K6sPxPnuCg1huIc6o02rclPNK8qclpeM6Tx1SnOPlUhLrytPmPD5ctxtKnXq8M0HNwoVuTE5XUoYmk6tOFRRU5ZXSlGtTu4VFRqPkmuWf2L/IPxe/4Ix/DvxNZyXXwj+JnjDwzqi+Y7aD45trDXNDuI8D91Yaza2cOq6Vce2pW13Z1+W/jb/gl18WvhX4gabxFrFtpcUj7LW61Lw/dSaXqGP+Wth4j0u8vNKuDP8A+BnrX7aeOvB/7UN9qHiyD4d+Cf2n9OuDN4XufA3iCbx5a2/h62uLe78N/wBsaXLoMviSa9gt76D+3Lm61TW/tlnkf6HZ/Y/sdfqVd6da6hZzafqVjZ6hpt9DsvNNv7OK80+48uLyrrzbW6hmgn8icV35dxJRWIjLOsBHPqUaiqScsVPA4+m5Wd6OLweKlh5e7Fy5MbhasIuNqFTDxUbaezx2YRxlHK8Rj+H6uFUaUatXDU8VgMW5yxMOWWHzHCU61SMJYePPPCTipQxNKSda1ofyg+Hfgb4t8M2q2twtneMqbPMs/MSMf9NfKkh9a/Zb/gmnoV9pPgH4zWN7bvb7vHnhe5j3/wDLSP8A4ReaLr7+T/nnH0d42/ZD8A+IfOvvBUj+B9Ub5xp/73VPCdxJ/wA8vsEv+naV/wBwy5/7cxmt79nP4V+Jvhba/EDR/Emn21n/AGlquj32m31hcRXml6pbwaXd2sstrLF+/wAwf8vVrc21n9k7V+m8UcTcJ53wLjcLlOKrUMbR+oWyzHqNLFckcfhXNwanOhio04p1H9XrTqQp+9UpwT0+RyDKeK8t4wwuIzihRr4OtHG82ZYCEXhHP6lXdNVFajWwrqStTi6uGpUpVLRhUnpze/LbdP8AP+fbipGt/lb2/Tn/AD6/46Cw/dx/P8v/AK361Y8n5fu8dPfp/nj9K/lWSStbz/Q/cm7tvuzw34y2/wDxaX4kN/zz8K3k3/fiWzl/Pjr/AF6fmfb64v2f7/3l+7n8e/8An6V+pXxgt/M+EvxQjVfm/wCED8SP+Edh5v0/5Y1+J8Otf6KrCT70Pf69v8/1r8I8XckWaY3KK3Lf2eDxOHkrXvyV4TTvdbe15eu1766fxx9JTPJ5HxNww0+SOLyHFpvmipOWGzJ3SjJq/L9aVrPRa7y0+rrTxxp2k/8ACC/G/Vo3u/DfgXRJP2fv2mrVIruS4s/hP4j1ka18IfjH5Vh5N9/Z/wAOvG//ABLdeura5+26Po95eEdCa+rNH8bW/wAPfEGrWmoX1ncWNnpsniRbfQdcl8YXGn6foml6l4jv/GX2qWz02e+/4SPzra5tftP+m3lmftmLyvzD8KfEfXPA2pDxFoKaXqM8mm6homt+GfEES3Phjxt4T1mHydZ8H+J7QgrPpGqwc/aiD9kvP9LtB2r7V+DWpeEPH3g8+B/htq2teKfC2jWEr6R8Fdd8WarofxT+EFtcGbzfB1/YW2pabP8AFr4UWQmuLfwxqem6kfsWj5she2oUNXucK5/Up4TCSq05yxuX0oUMXUjhpYqu6FLD06M69WjSjLG4nLcTSp062OngaNeWX5p9ZxmLw1TAYqONwP6/4J+KeS8dcP4PIMZjYYfibKsLSwlbB169OlPNMDQ5YYXG4F1Klq2KoUGqWMpOUajdOEk401BHgN9+w9+0B8JPjB8T/jZ+wB+0X8OvBei/GLWJNV+JHwf+LXhu68UeD38SfbptduotP1S1s9RgFhY6prF1rWl22tW1p4k0f+2b2z+23mj/AGMVzXxU/ZX/AG7P2iPD48FftkftYfA7wD+z/Jf2+seMvBvwH8By2nijxxH4Uiu/FH2W0v7qzs4JtQsoNMuNStRqVzeWej/Y/wC2f7GvPsdma+3/AAl8W/hH8J7nXLP4mfFiw8I6xrD6W+oaX4y+H/jLwHbafceH9Lh0HS/7Lurv/hJYNV/4kdnbaZc6pc639svP7Hsq57xx8Xvgr8WNU0m3+Hfxes/G+rWNhqmg2PhfwZ8L/GXxL0/VLTxZHFa+J7XVLrS5vDX9lXGuaVZ22i/arbUv+QP9ss/+Xw1/T1L6QGZ0cswOcf2hwFi87y/CYPCYHiPH5XwZjuIMLHAKhhsHOHEeJoVK9THYHDUaMMFja9WtmVCvSoUaeIVejCa/XFkkXi3R9jjHRk5Oa5caqM1KXPJPDQUYKMpSblBUlSe3s1ZXBJ4ba18KfDDwraaV4E8D/DzwroFh4Z8LeL9d13w2dM8F6HoHhXXtG8WXWvaZp2pXv2nQ9D/tK11P7Pc2V3Z/6Z/ptld3gNfm1+158WbXSPhf8RvGugWU2g61+1J4fs/2V/2WPDIgl0/WPDf7MHhTU/7Z+NHxou9Pl8690O3+JutT3OnaZcXV0LzV/wC2LE3gN4buvt746/F74Lfs/eBW8N/Fi48SB9at4tS0z9l3R/F+qeJfif8AF3WIJBNp9h4rsb/XtdHw0+GxvTbXOqW2tanZ2X2TqdYvRaWVfkf4gv8A4hfHXx5r3xi+NEmmt428Q6dZ+H/D3hnQbfyPB/ww8EaZ5x8OeA/BFjL/AMeOj6V53+k3P/H3rGsC71e8/wBMvAK/Dp5viMbjJZ1jqdZKpWeIpV8Zh62Hx+Z1pczhXlSxVOGZUcpwMqtTGKvmEMPic6zOlhcZh8JQweGjmGZ/j/jp4w5D4a8K4/LsPi6OI4nzPC18vy/LsPiIVamDhiYrD18ZXjTm1GtyuUFaUvq1B15OUqk7Uvn7TdLs9F0qFZClva6fbRw7v+WcccUXlCKKL0+veuJ1bUDqU3z/ALu3T/j3tf8Ann/01/6+O3qPat7xdqAur6bT4W/0LTppIW/6eL2P91LL/wBsP+Pa14rkdqrww/kf519PgMutCOIrJOpP3oLaMIPWKW6d4tSb31sz/LSgq9ZzxWJbniK7nNyutFVk6j5m96k7qU9uW8Vruffn7AP7Tnwn/Zs8TfFBfjDea3ofh3x94e8N22l+JtI8P3/iS30vWPDeqaldS2us6Xpfn30Gn6rY6l/oup21tef6ZZ/6Z3r2/wDaW+M3/BNH9qbxl4A8beLv2mPi14T1b4c+Fdc8G6bb+EPhH4juNO1TS/EGvQ69dy6pFr3hWaeDUIL6D7Na3Vrcj/Q+tfksqLIvzf54Hsak+yw/8815/wCmfXtz/wDXr3abiqLoVqEalNu+s6kXrNVGtG4+Xuxjo7u+iX7twz42ZhkHBVPgTHcPZFxBkVF4lU6OZUqsXUw+LxlXH1KWIdCvR9rbGVq1WnO6moyVOTlyqT+377wn/wAEpNQCrd/tcftJ7lT5ZbD4QX+n3kfmZ82KK6sPCkE8Bn9Dc/418n+L9P8Agxo3i/xd4d/Z68ReJ/F/wqt7OzPhvxl410CXw54g1TVLyw83XjfaZLZWU89vY6r/AKPa6pdW1neawf8AwNPKfZov+eaf3/8AVt/nPt0qSGNU+78q/wAWz/P+fzzEqFJxUYUpQSaaTq1ZxW20JT5I36uMVJdJKzPk+JuPcrz3I5ZLgOCMi4bpPFU8X7fKamOp1OeMJKUVSq4yvh3GftOapzUl71OlJJuNj989a/4KFfsSfFb4F6z8M/id4+8d/DW88f8Awul+G/jTQ0+HninVNc8PveeHIdC1m70LWdL0zWND1TyLiH+0dL1QBrO84N5Z84HwHY+Dv+CVVnp1rpzftd/Hq4itIbeEt/wpiWOSVIhD1MXgc4Fx06Hrx6V8JrHH8rPGjf7X+eCR/kCraw2+3/Vx9/8Alnz+H+etdNRU66h7ahzumrJxxGIp72vdQqpdFsls97n2mc+PtfiehltLirgPhXiDEZbTjGlXxkMdT/eNUlUqxo08ZTp0/bTpxlKnTXs4NWpxhCyP2t/ar/4KT/sueLP2dvid8Mfg7rHjL4i+PfiL4Avfhj4e0/8A4V/4p8OaRodtqlpZ6NL4i8Ra94iis4LfT9K0uG5uvs2nfbdX1i7/ANCs15yPgz9jn9qOH9k7xdrXiLU/BWq+PfDXizwdp3hLxJovh/ULHS/EdpJo+pxaxo+qaPJrBGlXHkym6ttTtbo2Yu7Xa1mCRivkfy4Q25Yvm9PL5/pUke7d8zf5/T1z+FKo5VakJ8sYqmrRi+Zr3lFSu3K+vKn0a11ex5fFfjvxXxJxFw3xRRw2CyjMeFnWeXewp+2oyeLhKliY1qdadSNWnXoVa2HqQqRf7ipywlGUVNfpb8V/20P2GfjZ45/4WV8S/wBiz4++I/Gv/CP6X4Pk19fiF4d0S4uPD2hyXcuj2E1rovizTLEmxN5c/Zbv7OLvsbzPJueNf+CgvwVvv2CNd/Z60fwh8TrP4u6x8HtU+EWheD73QjeeFdLW41eYaLqWqfFCKcWE+kaV4f8Aszaox006veXQ2fYCTvH5nb22+33/AH/znt61Um9eyj9MUnbmc4YejTlKLjPkeIfMvd5eb2mInZR1souN7u7sj1sN9InjCOLx+Yf2Lwusfm2Dq4LH4/DZLg8Lj8TSqRpxpvEYzC0qeJxE8PyRlh/rNSvSpuVS1P8AeM/S/wDbf/b++Cv7Rf7Nmi/Br4a6F8SovH+s+KfhJrviS28TeFDonhzwZafD+UX+s23/AAkZ1KW38RXN9PAdN0saJatnP228NljB/LfWtP0fWo4o9Qs0uvLXZG3Xt6/57U6Zv4gP939cj+Y6enFQGT5PvH749fb8Pp+lYzg6soyTcXCKjeLfN5e+26i6KymtFd3ep8Zx34kZ74hZnl+c5rDDYPHZfglg6VTLY1MNdKrWqOompuUJSlVbcYSUF8MFCmoQhyTeC/CKyf8AIJRcf9NJf/j31/xyK/V79gf9sj9nX9l/4R+Lvhj8WLrxn4Va++IWoeOdC1bQfB+s+ONH1Cz1jR9NsL+wli0bzr7Q9QsZtN+0n7TbfZNX+2cZvOn5r6L4f1zxVr2j+GfDOk3+u+JPEF/b6XoOh6bH9o1DU9Un/wBXa2sX7n/r5+1XP+h2dn/pd5/odma9QH7OfxuuLrVNPsfhvqWrNpOj6Xr0l1pWseEtY0fVNH1y11i/0aXwlr1rr02h+OLjVbHQdbubXS/CWpavrH2PR9Y/4k/+h06Up06ilaVRWUXF8yhJza5YycWrylyPlTTveTvCKlJex4ccV8f8O5xS4iyDBZxxDCnHE5bWw9TB5pmWBr+1w9LF1aMng6TdOvRpUqWKjUo1PaUUqftEqdWVOfH/ALSvxk8N/tAftQ/Fn42eE9J8Saf8PfFGpeCtN0G18QW8Wj+JNY8N+D9B0fQb/VJbD/S/+EcuPEX2PUrnS7W5/wBM0cfY/tmK/Q74V/8ABSf9jP8AZ98M3XgX4U/s5/tLaL4buNeuPE91bX+ueEvE9xJrmoWtna3V3/amqeKpp/s/kWdt/oo/0P6dK/Pz/hn34zXln4S1HT/hpr19b+OptPg8Lx2EmjXF5LJrGg3nijRv7e0v+0v7V8D2+ueFbLUvEml3Xja28N2V54bs7zWPtn2OvIvGXg/xF4H17VPC/jDRbzw74i0j7P8A2lpd/wDZZJLeO8tYb+wuorqwmvLG+0/VbG9ttS0zVNOubzR7yzvPtlneUoScK06/sac6k9nKOIShez91U6tC7lFxbu5a25fdtKf2GA8SON+GOIM+40q8LYfA4riLERjWx2Z5DUgsPWmp4j6pgMxxuEVSiq1BQrV8Jh6svrEqEK1VOFKLp/rp4P8A+CsX7Kvw5h1638I/AP8AaW01fFHxC8X/ABU1xLz/AIQjWJLjx548v4dU8UapF9r8VfuNPv76ztrm10u2/wBDsulnXxTrXxu/4JU67r3ibxPq37LP7Yza74u8Q654t8QXEPxEsI7e78QeJL+bVNZubW1i8VeRY2899eXFza2tt/x545r5h8RfCX4keGfCul+Ode8F6rpfhHWv7Lex1y5k0uTy4/EEU114cl1nS7XUptc8OW/iqCG5ufC914l0zR7PxHZ86P8AbKw/B/wl+JHxSutUt/hz4K1jxhNoUNnPrC6bJpdvHp8mqSzWujWAutZ1LTbGfWNcmhubbQdB025vPEmsXln/AMSfR7ylUrQqKnGeDwjWkrReYJte78Kp4t80XbSTt1sj6zGeMPHOcVMPkubcIZZmlarD61hMrzHhanj6s4qjVksThcur5fOU4KNGqp1aNCalSw9fmceSTjzfxL8RfC/xF8Q/FOofBLwh458D/CJn0+Pwd4d+I+sW2t+M7Mx6XDFrUuqapazzwC3vtW+03OlWpuby8srPi8vOuPO5mVn/ANr/AD+VdkfB/iqTwvqHjaHw3rbeDNK8TWfgnVvFj6fLb6HpfjPULC71S18JX91L5PkeIJ9Ks7nUv7L+zfbLOzsx9s+x12Hhv9n34peMpbGHQ9J0dBqHgbQ/iX5+seILDS49L8D+LPEc3g7wbrGvRTedfWJ8ceI4vs/he1tra8vLyzvLPWLz+x9HvPth4p0eeblGnGMZNuMKcJz7XUY3qVJW9X8rH5ZPA5pxBmdbEYTIp0quNUsdDBZbl88Pho0sROpyVMLh40qMaeFnOFaUZU4RoU40cS4RhTw9ZQ+yv+Cfv7a3wn/Zz0vx58MfjU2q+G/CfjTxVp/jPw/8RtK0O61/S9C1iPRodB1XR/G9hpcM2uWOjzwWdtqOl+Kba2u/sf8AplneWeP9Mqn+1N8B/wBm39pL48eKv2hvgz+3l+ydDF8SNK8Lp4u8K/Ejxxf6feaX4g8L6LZ6DFqnhzVPsfn/APCP6rpVnpv/ABIdS02zvNH1j7Z9iP2O8r4Z1r4K/EjQ9B17xFrHhtLPTfDP9u/25H/aml3mo2dv4X+IM3wl8W6p9g0u8vPtGj+FfiN9l8N69qlt/odn9s0e8/487z7XXjF34Hk1bS9a8SL4TudQ8P8Ah2bS7bxB4k/seWXQ9CvPEF0bDQbXVNZ8n7DY6jrl7D9m0u1+0/bLzNdTcXSp0K9KouVxUfY1fq7k7+5dV8Piac6m6XLThfXmWsUv13KeP80wHC2F4H4p4XqZlllHCLEYGFWnmOXZhSy+i62LhVnPC1sNU+r4eKxVqsklHBU5OpUVJe0X70/Af46fsK/sE/Af/hXvib9rz4b/ABO8TXXifxB478VWPwct9Z8caxrHiTXIbO1k0bwH4N0aK8/4l9jY6bptsbnWtS0f7ZeG81i8+x1+FvxM+M+u/GT4/fFj9ozT7G8+HepfED4nf8LF8G6X9oiuNU8Hx6P/AGba+DZb+6tf3F9rEEGg6bqWvfZv9E+2G8s8fY652b4d6xpL6TDN4H1vTbjxBo8fiTw/Y/8ACN38eoa54bklvIovEel6XFZ/br7w/OdN1L/iaW1t9j+x2d5ef8efB6P/AIVH8T28L+H/ABtb/DnxhP4N8Xarp+g+FvEVnod1qGn+JNZ1i6msNGsNHtbAzatOdbvrO503Qbr+zf7H8SXlneWej3t59jrGrUhKlTpU4ckY8k1Oc41W7Jcr9pClQitntT21ex2cScfZrxHkmC4ZyvhvE5VluULC16VDC0cbicRhoYGnRpYatUqP6ziqao0qtCVTFVqurxMK1Wfta9KpP9TZv+Cn37NnibxF8Ifjn8YPgz8dV/aI+C/hX4iaDpPh34b3Hhy4+GfijUPiZo+m6X4yv4tZ1XUbP+ytP1X+xrbUtB/tvTftng+8vLzjWLP7HXz/APsj/toeE1/bU+OH7VH7VWpWfw5/4XN8N/8AhBtButN0vVPEnh/4b+H/AA3rOj3Xgj4fXV1YWd5rn9j2Oh6bc2v9vf2b/pniT7ZeXf2MXnHwX4u8I+LPAuvX3hXxt4b1vwj4m01Lea+0HxDZy6fqFvb3kXm2F15XEE+n30Gbm1ure5vLO87Vyq27O0cIheWS4mjtreJI5biS4uLiX7La2trFF/r7maeb7Na2v/P39K19rUlyTdGkoxlztR9ovaTUZRUm5VJeztzP3aXs4a6R2t2VPGLjSnicsjjqVGOJyrHUa2LpVMG8LWzDE0qCw0o5lQUKEpTdJwT9pTjOLhTl7NShFn9FHwt/4KafsR2vxX+PXiLW/ixqHhvwvJ4w+F9/4T8Qax4D8ZRWfxE0vwf8OdN0HXrrwRa2Oj3l9PcQa5Z3Om6XpWt22j3msf6HeWf+h3lfh3+zX8RPAPh/9qzwX8XviNb/AGP4UyftG+KPiJ4gbXtH/tT+z/B/iTxR4q1TS9U17w55N5540r+2NE1LVNL+zXn2P7Hef8fn2OvN/Eng/WPBviDXvBvirSf7F8TeF9YvNB8RaLNJa3E+j6xp8pivtLu5bCa8sftFjP8A6NdfZrm8+x3n+h+lO0Hwf4o8T/2svhXwr4j8TL4e0e417xAvhvw/rPiD/hH/AA/bj95rOs/2NZ3n9laPB/z9XP8AoeDU1pqpGm504RUJKUnKUnGXw+7Pm5rQ3ulv6IOI/FPPeI6uW4Grk8IY7Jc7hmdHDUqOJniJ4nL8T7V4XEYaTjWnGjUw9SOIpwceXknKTcYOS/py179sL9hnUNH1m18N/tS/seab4sutH1CHw3rXiLS9B1zQ9L8QyWs/9l6rrOg/2Dpt9ruj2N99muNU0q2ubO8vLP8A0P7ZZ1806f8AtDeILNVm0v8A4KWf8EjrO+aGOG4vNH/Zw17w3cXEfTypZtG8eWc/2eef/Sfstzc/lX4Nx/DvWL268F2tv4RvL2++J0Wh3Pw3tbOyiu7jx/b+JNem8L+HJfCUVqJv7V/tzxHZ3OiaX/z+axZ9O1V9P+F+sa1rWpeG9G8A63rnibR7nVLDVvDeg+G7/W/EGn3mh382l6za3+l6XZ3l9BcaVqsP9naoPs2bO8/0P61z0IuMo4aVNxv70JYRvWMVvLL5Sj/25KN+t7RPtKnjxmlZ04VeF8VzylToRhQxWd0HUr1cPDE06MaeEx0JVas6U41IU2p1HSmq1OCoT9pL9Sv26PiZ4w+J37Ot/o/ib9vj9gz4teHdF8c+B/FUvwl+APgfxb4f+KHxA1nS9UltdGh0vVNZ8V+I4YNP8OT6lc+JNTtfs1nZ3llZf6bedM/LP7DPxN8B/CD9qb4T+PviVrkXhnwPa/8ACUaDrXii8jll0vw3J4o8Oalo1hrOvfZYZp4NHsb6a2/tS6trb/Q/tn22vmmb4P8AirS/sd1J8MfFULX80ltp/k+D9UuLy8kjsLPWZYrWwsLOa+/caVqWm6ldf6N/odneWdLN4V8Safp7apqnhnXtL0ldVj8PS32saPqml28euSaX/bMWg3X9qQWc0GoT6H/xO7W2ubY/8SfF5xZ1jNxlXp1oq84OL5J1KLm7W92PscNhqajrolTSj53Z+d8VccZjm/EeRcSRyTF4HFcOzweKVHF/XsVQlLCYunmFJVZYyrVr06b5oxlKnXhTp3VSm1UcpP8Apl/aW+Ji/FDwf4N0/wDZP/4KNfs/fs4+MNL8W3Gq+LPFE3xE8JapH448F3GgzWtr4XEUU2pTWP2HXPs2t/arm2z+VeX/AALm/ae8N/FLwXr3xm/4K1fs+fGL4Q6Xf3Fz46+G9t488EW95400uTS7y1tdG+1XVnpvkf8AE1m03UvtX9o8/Y+e1fzmzeBdBWb/AImXhWzt7iaGO58u/wBH+z3ElveRfarW7ijuoIZp7e+gm+0W11/x53lmPtlnWtpvw38N6lN9l0/wTZ6lcMkj/Z7Dw2NQeSO3i826l8q1s5h9ngg/0m6/58/bFdf1lXT/ANsjG6k6cMfRVOT0bvF5fL3XfWKetrtvRH12K8caeLx9DE1OHMxjjKLpP2OFzjN8NCo6DUlGrgcPjadOtHXkqqrRn7RSnTqc0bp/uX/wVy+N3wh8UfDH4M/CPwL8SPBnjrx1dfGC38eaxo/grxJpfiyPw34P8P8AhfWLCLWfEd/oN5eaVpX9q6rrFtpul2tzc/bLz/TLw2f2M0z/AIJJ/Fj4M+Cb74veCfGHirwr4F+LXjvVfC914J1nxVqFh4bj8WeB9P0u8tNU8E6D4o1SazsYNQsfEc39t3Xhe51GzOsWd5Z3n+mfY8V+N2m/De48P2PiC8sfBd/oum+FdSj0rxddQ+H7rTtP8L65OIYotL8US/Y4YND1ifzre2+y6l9jvKn17Q4bW1uLHxlpL6fYx6hJo99b+J9Pl0+zt9Yt4vtUujX/APakMMEGswWOdSutLuf9Ls7P/TPsgsxXO6lOWKjX9leMVbkVVylq01KNb2atLlaafs/d5uXU+NzbxXzOrx7k3HEuH3h1lWBr4KGExcKsITw2Ip47DV5Rr1J/u60Kksdy1nNOnVoV4zg/q+IhH92P29v2U/2+/jF8crfxZ8HLj4m+Nv2fV8E+F7PwX4T+DvxBl8L/APCJ+LbO1mi8b33iLRtL17Qf7duPEeq/ZtS0vxR/aWsWd5Zj7H/xJxZ19sfsH/DX9qD4E/BfxFB+1l4u1jS7hfFsepfDlfiX48sLjXPh34Hj0aGLWdG8R+PNT1KGCCC+1zGpaZoOpeJNYvNHs/tn+mf6X9jr+Vm10vVPCsLLaeJviX4Ls4Xt4ZLew8cePPCen6fJcQ/arC1ltbXWNNsbG4voP9J0u1ufsf22z/0u0/0OrWpeGf8AhJI4W8Xax4z8XW7JHeJb+NvFnijxJp8luP3sV/Fa+I9SvIJ7ef8A4+bW6+zYvK6oV6ftHP6xj6lOV+XCyUJU435br2lStUp8ui5UsPGyvq9Le9T8aOGcHxLieKnl/FizGrh50Z5VVzjDf2JRvTjhp1I4RZZCqp+0ozcFWxs6dGvGfsoU3D2VL7m+Nmu/s8fGr9vPx8vhP4heG/AP7Nnibxz4X0rxh8YdB06SPwhaapb6DFF8VPHfhKKxtPs/9j654js7nTdL16204aN/bF5/wkmfsde1/tuftzeFfjJ4Psf2Rf2TtPv/AA7+zPoNho/hvx54+ks7rRJPiZ4f8L+TFo3w08B6XcxQ6rY/C/z7O21Lxn4o1K2s9Y+JF5/y52ej/bPtn5saLYw/Y1/sm387T402eZYR/aLOOO3OZfNuraGaGCCDrdfaf+PSukt7OaEKq2s0asm9dlnL5ckfP72L9z+/t/8Ap69K5oSjS9t7OnGlOo+VO/8ACpPeFOKjGKl054qO2sO35XW8Xcfhq3G2LyLJ8DluL42xv1rE5pSp1I4qlhJXovBUqqk6Lw9StUqYmpOhL2tbE1pVK+IxEY4eEf2c/YL/AG5P2bv2df2bbj4b/GzxJ4h0nWPBfjDx5r2j+F9N8Ga94kk8eeE/GHk38XhzwvdaXFNY/wBoT339paJqml63c6PZ2f2z7Z/x519Wf8Ef9e8LN+yPptrcax4c8P3Xhv46/GDX/EHhvUtf0e0v/AfhbxB4otNe8Lxa9FdXkPkaPB4V5tdU/wCQPe/Y/wDj7r+c2zubSSaa38yG4mtf+PiFJIri4t/+usUX7+DFWNU0Hw/rm/8Ataxtp5I7bybj/ppZy48qK68rHn2//Trcj7HXXRquLo89J3pU5U3OnKKqVObk3Va9FRSjrG0b330sd3Cn0iMzyKPDOCzbKMLmuD4dy7HZVTrYecqGPr0q0cJyTdepGtFVqVPBYenUcVThX5IzqQdSEZR7DUtYsNe+IHxi8QaTeQ6lo/iD4zfFTWNH1S2kElnqml6h48166sNUsJf+W+n31jLbXNrdf8vln+NXIWXcdvybfLdZP9XJHJH+9ililiz5FxB+dYVjZw2NvHa28KQ28aRpGkP+rPH+P+fXRhk+ba3T/Pr7/wD1q4/q+rduW7b1v1lzdul7X7pM/nrijNpcQ8R53n0abw/9r5ni8xjStKTpRxdaVb2cnJ83uylJJN6atb6evN+0F+1KrSSWf7Vn7QNioT93DD8QNUuI0EcX7v8A4+vN/wAK/qS/ZXuNY8UfAT9m3WvE2qX3ivXPE3wx+H9/r/iPVbj+0L/xRqF/aw/b9V1S/iEP27UL6fm6uu30r+SONV4/zj29vr/Q16JpHxQ+Nvhzw+3g/wAD/Hn4xeBvBrpeJJ4R8JePNZ0jQIo9Q8430Wn20U3n6Vb33nXP2q10S6s676NerHmWIrYisny8rlOVVwkr25VKrTtzaXs2/d6df2zwj8csVwdmmYz4xxmeZ7luLyynhcJBVpYqWCxOHxEK0aip1nLmjVoRlSqS5pTjCL5IT5mo+reIv2v/ANsxfiH8VrfQ/wBrf4x6Zouk/Fr4oaJoek2ep+HLjT9L0fR/HGvaZpml2Hm6DOP7P0qys7a3tP8AScfY65jwB8bfiL4Y/aA8H/tI+O/FPiP4qePfD/jDw/r3ibVddktX1vxR4f0e1/sG/wBBi+yQ2dj+58LTXWm6XbW1tZ2f2z7H3rxTSdHs9Is4bGxj8u3h4XfJ5kkkkn+tllll/wBeJp/+Pq7uf/19lpXhzWNUZWs7F/J5xeXP+j2f/f2X8v8ARvWuGvWlTiquJxbVOnKMk61VKK5bKKvK3zte+mi0PzzibxU4tzbPMTj8PnuZrK6HEH9t5RgMbiPaUcBWw2Nli8uapVXCLnhZcj+FXhzwaUasj93/ANqfwBcftr+Df2TfGn7LniTwJ8R/DXw+/aP8P/E7xVcTeNNH0S/0fwR9gs7W/utT0i/m/tWy8QeHJ7MW2u+F9StrPWRef8egvDXA/wDBRP8AbI13wfqei/BT9kv4iWf/AAvvX/Fg8SeOvGPg+XQfElv8IPAGn/bJY9F1m+uodY8OQeKPH99Na239gk3msaR4btL28xZ/a7LP5HWvwV8G3Fw2oa0t1dardJH9sk0q9utEt7j/AKZXUthNDfapb4/6CVeneF/CvhHwXbtZ+GdF03R7ffI/l2dvFb+ZJJ/rZR5X/LxP/Wvmc14xo4elWWWUa1bGTaUsTWUYYSElGMXKjGdOniq1Rb2fsop2Wqlp+z5n9KeliMmzWWX5BiMu4rzbLsHl2Ix1HGqeAoVsHSxVOnicvhKFGrh5XxlZ01PEYqaikqa9rH2z/eDTW17xh+xy3iDxZqqeIvEXiT9lrxZqvi7xM8drHb65rknw08SRa9rUvlww2MHn30Nz9q/487Oy4FfhH8DdVm8P+EPg/wCPPD8OlW/jLwboOh6n4T1bUtDsdYt9LvI9L8n/AJBd/DNBPb/vrn/Rv8c1a8RNrmveG77wQ3xI+Iul/DvVZpJtc+HeleMNZ0/wZrn2mXzbqK/0G1vBBPb31x/pN1a/8ed4R/plnVdbqz02xhsdPXy7W1hSKGPp5cUf+ffpx6V8PxXniz5ZNOlRr4bE5fCVSpUagofW5exftcO6dSVS0ZU+ZSmqUn1p66fJ+KHjdheN8l4G/saGZZXxJw5V+t47GTq06U6WPWEw1L2mGxUJ+0lzV6HPCUnCpFNU+WFnOfsGpftefttRzSND8TPgz5O+TyVf4B+EvM2dP9aZv/r8fn3X7Pf7U/7W3jr4+fC3wL4/8ZfCXXvAvibxDeWHirS9E+Dfhzw/rdxpceg6xf8Am6XrNrNNPY3MF9Z21z/x7f8AHn9Sa+OdS1KaXdtL/wC1/n/PtXH/ANqaxpl5Z6xoWuar4b8RaPeR6loXiLRLyXT9Z0PVLP8A49dQ0u6i/wBRcQVjgeJM8pYnDSxWYYnE4enXpSr0vZ4Xnq0PaQ9tBSlCHvOnzWtOPVO/Th4d+kH4i4fN8nr5vxDjMblVHMsDPM8MvZqtisvo4iE8bRpzqXj7ath41Em7bX5ZWsfpp/wVKutP0/8AZf0m+h0XRDrVx8e/hHpuk6omj6XHqln9suvEkusxWt/FZw38H2/SrO5trq1+0/6XZ9eOv4s6h5knyr/FncH/AB/z274rvviN4u+MXxa1Lw/efGr42eP/AIsWXg+8vNS8J6H4kuNLt9D0PVdQi+y3Wsx6XoOm6PZT6vPYk2w1W5try8Fn/wAedcnNG0jb1XK8fy/+v0/DFelxBjMJm2YUsTgqc4U40IU17SnTpTnJSlJvlpuVkuZKLbd7vRans+NPiLkXHmfZTmGQQxLw+CyuOFr1cTh/YValZ4qrWUeXnn+7hGa5NdOZ/wA2lfwTrSeCfiB8PfGk0aPD4N8eeC/E903/ACzjtNH8R6bf38v/AGwsYbm5/wDr1+13wh8L2/h3Vv2ovg6dLh1m++Gf7QPjD4qeH9msQ6HqesfCv9o/S7Lxv4S8UaP9qms7LXPC994js7nw3r2l3NzZi8/5g959sr8UW01ZFkWaMyRyJskheP8AdyRyf62KXPXt/Ov0g/Z7+I2ufEez8Hal4ZNh4i/af+A/gm88A658NdektZIP2x/2RI5vt8vhKL7f50Gu/Fj4PeUbrQbU/wCmfY9H0i8s82ZvANMHCE8LWw8qcqsVL28qUKVOvVlh4Uk6/sKFSjiVVrUK+HwmYqNPDV68qeDqwwlKeMeHZ+sfRX45wGDzbOuDsfXp4Wtn0cDi8mqVasaNKtmmXUa9Gvl/tJTpxjUxeX1pLDqclTvRkp1IOSb/AEk8Zabr3jz4N+NrXwf4b+GPjb42eGdE1jR/Atn8WvDfhzxB4Et/jBp+mabFLql/a+I9OvLCx8Pz3F5c2t1qltbWZ/5cx2r8cfj5+xp/wU6/aH8At8OvGnwd/YJ8O6T/AG1pevN4g+CyfDT4V+NPtelxXkUVrF4o0bTYb3+x5/tv/E00z/l8/wBC9K/UzT/EUen2eh/EbwPrVzJ8P77UvDZm16HQ/CXw/wDC/hvw3H4o/tnx54R8R6LrPjb7fP44voJrm21TQf7Ns/8AicaPZ/2R/wAflfUnw38QTeOPA+i+K5IbNbq6e4sNWXSpPtGmR6pZ3+pWv+iy/wCv+z6rY2f9t6Xa3J/487yv3jw18UMdw5DDVMsy7hzMMxpyw+Z4LMs0wMc3qUnRq+ypYvLMfg8fRpSo1GqVRSjzKu5RqyjSm5UYf2fj8A/fcp1VRcpU506cqlC05crlSq03yy5lK/Ld6QajFSilOf4A3vjL9pj4I/Hz9lf9nv8AaK/ZR/4J76Tb/HLxD4T8MaPc+D/hP4I8YeINU8H2Gs6b4O17VJdatZ/IsfFHpdXNtefbLz/S/av2k8cWPh3QrGx+FPgXwzYWfh/TLnS7nxB4P8H6foWh6XpfgfVL/wASWvl6NF52j+HND1Cx8Vabba1df6TZ2dn9j+2XnP8AodcT8bNU8G+IviDZ2cPg3wBq/wARPhzc+A7LwH48v4/BFx8UNDvNQ8R2fij4gy/CW/8AFusabDpX/COeHIbbRLX+zbkXl5488SXf2P8A5Fu8oi0PxVb3y2ug+B7Dxx8VtQ1LWLvwP8OfiR4DsLmT4cXGua9rHiiXxR8QfFEXjDX9KsfB/hy+1i51LS9Lubb/AISTxIbP/mEWf2y8ri8T/EXKuIcvy7D0sowWQYjD4LEYDiGrl7r0MtzTMcRmuKjRWAy+rUzDFVcZPLp4bA08FThmGMzXEydLDUatPMb0tsvwNWlP206s6qk416FKpKLlFezp8spzk6fLGMnOo581OEGuecn7NKXi/wAXvGNj4K+KFx4r1C3trHwz+w7+zr8W/jr8RGi1CXxD9n/aM+PGgjwd8K/DkviKWKAeI/GJ0m80251TH2M/bNXH2Ozs7MWYr8EPAfw3tdN8L6HHq63N1qUlhHc30jyeXHJeXGZbqb91nPnzzenp06V9yftR/FLQvFDx/st/CLxe3xH8F6b8RpPiv+1T8ekkM/8Aw0P+0NZ3Mv8AoGj6pH+4v/hx8M7jNva3VtjR9Y1izsrLR/8AiT6Nurz7TdBM0KwtCnk7I02v2j9f19a/NlXWWZderB0JV5qvVwv+z+0wsIUaGDw2EqU8KlhliqWGwlKeOWGSw8MdVxFOivZ04t/wH9LLxQo5hnuUcIcP5jKVPI6deeZYrDVb06uNxN6laFOXNUlPklzKnBz92CUden1d/wAEyfB+mw/HbxhrFrYwwzaH8KNUSOZI8yR/8JBr2j2EsXm/9N4IfT8+37kR2p3L8v8Ah/8Aqx/nsfyz/wCCbvhEaX46+M2qbvNh/wCEG8H6bDN/zzkn8UXl/LF/5J4/yK/WyG3+Zfl/D0//AFe/H6V05XVp4vBUsRTk5wqyryjLa/LiKtNq2u0qckf0L9GOlWp+D3D9WvKc6uNx/EOKcqk5VJ8sc7xmDp3nNuUvcwkXq9LtdLvNa1x7f57dBVWS1/2f9s8/l1H8/wDGuqa3zjv/AJ/D+tU5Ldf7u4f5xjGPyr0eSPb8/wDM/fzkZLT/AD/I8f098mqMlnu/hz9P8/n17V10kI6e3+fX39fwqi1v/s4/r/X/AD0olFSVn/XyA9Cjt9u35fxx+Pt1/TrxXkHx60nxtqXw/uYPBouZrWK5trnxVpuieIL/AML+MNc0u3v9O+w6X4T17S9B1690q4/tX7NqWqXVtbfbLzSLO8s/+PO8vK9omkvYZrOO10r7dBNDqD3l5/aFrb/2XJZ2vm6XF9gl/f6r/bl9/wASw/Zv+QP/AMfl5/odY1vq3jD/AIRnTdWbwjDa+Jp9Sjh1Dw79rluDpenySzRS38V1a+d59zBBFbXOba5+x/6ZX6FhMR9VxNDE8kajoVadWMJuShJwnGVpckoy84tNOFTkqQanCLXyko+0g4ttKUd4uzV+z/PTXyNbwrZ+KLXRdLt/HF9o+reLLdPK1/VPD0f2fR9UuI5Zv9PtYvseneR9ug+zXN1a22m2dn9s5r5yu/B/xot/jL4d8QXl5rknw/8A+FzQXWsR/wDCSf2ppev6PqH9sf8ACEX+jeF7WGafwdo/gDQ5v7E8ZWupXOj2Wr6xeWd5/wATivpqS41iPXtJs7fR0uNBuoZH1PWvPzJpd5++8qL7J/z7/uf+Pr3qz4f1DxNfan4mtde8Ow6HptjeW8PhjULbUPtn/CSafJ53m3V1jP2G4txDbf6N/WunB5jUwlXEVKdHDSeLp1aM4zpWp04Vr3dCnSlThTlT5v3V1OFNwo1Iw9vQoVqcToQqKKbl7jhJO/vNwvbmdlzRd9Y2V0lFtwc4yh8Z6TrWseCvFWj+HLqTT9c1bRL/AE7T7qE20d5HHfxfZrr+yrq+mhsdK1iexlubbQtT1LNlpGsfY9XvLO9+yfYq4L4KWHjOyufiFB450nXNK1W3m+HOmW7atqematBrFvofgSLS/wC2dK1PQpZdEnuL42Vt/wAJPa6b/wAeniM3hGReA17jDHhsf/W/zxk/551FXcq9Nq8Kvf8ALv8AlWdPGThhMTg40aE44iVOftpxqSxFKVOrQqRUaiqxU6UvYU4zp1oVPhUqcqck27cE5RnefNFNay913U73jbX4+/fvpTjj+p5/P/63/wBfmrHkttb/AHJf5fn/AJ5xVqNV/X8vf3/+tx0qVk3Ky/3k/nj+VcRZQjj+Vf8Ad+5+Gfr/APrqXy/9k/rUqqFVUx/kc/0FS7SwOPp/nNfHnsHmfxEs2uvh/wDEK1C7vO8DeNF29f8AmXNSl6+34c1/Odp+ueZp9mzN9+2t36+sX5+3+cV/S7rViuoaZrGmt8q6po+r6Uzf88zqel3lh5v/AGw83oa/Erxl+xf/AMKxuNN0XWviXquuTS6bHcrdeG/hvdSWflxy/ZfKllv/ABLD/pGYa+fz3KaGYxoTq8v7h1EpSfKkqrpfl7PtrfpY/jr6VHhv4g8c43gnE8C8PzzuOWYXiGhmso5nk2XfVliKuRVsC2s2zDAe29u6OO0w/tfZezfteRzp+0+Y/txaNW/vep/l/wDWq1qVnZ6p9huriO5t9Q0t45tL1jSry60rXNHuO0ml6zYTWd7Y3H/Xtc17P/wo/wAOwr5cnijx/Jt8v7nw+0uP0/56eKvw9Kv/APCqfDCt/wAhz4kMv/Yj6N/81X+fWvz/AB3C1RVaNTB1MPGdOp7WNWjj8PSqU5x5eRxn7aMoSXvWnD310cev845R4HeO+AqwxFLhGvhMTT9n7KrQ4j4WjUg4NSbU6Oeykr6aXjprd204WP8AaP8A2svC9rBpeh/tAa5r+njKRWfxN8H+DviP9mt44v3UUWoa7pAv5yfW5ubw9+9YetfHf9rvxnZvpOr/ALSHiPwzpNyu27034U+F/B3ww8+CT91LHJqHhfR4dWHn5622pZ5969Qb4S+EWZd2sfEttv8A1Jfhzt0/5mTJ+tWI/hj4Ph+b7d8Tmb/sU/C8f8/Enr6+3FetGXENKhC2LqVcZycssU8zwX1tQfKoweLrYtYpxjFKEYqvKMUm7R5j9CfDf0u503hVic9jgkoU40pcUcNt8lNJO8lmzqc0r+83PWy7NngPwj/Z98N6r4qt9D02KZdc8UXnnal4w1v+2fEGqSXkn+qv9e1SKHWNcngmn/0a6uv9L/pVH45eCfiJ8AZvDMPxC0rR9NX4mabqEPhO10q/tbzWPD+sWd9BYfYPFFrYXmpfYf7V0q8Gt6XdfacfY/tmbz/lyr6s0rQ9B0KDxBHZ6p8ZtNh8ReFfEHhLVr7w9pfhzR9ct9H8QWE1rdX+japFr3+g6xpX/IS0u6/5c7yzr5U+F37HHwl+AGufG/TNH+Nfxq+Nvj744/DX4OJ478YeMbvwb8S/HHgDwo8t5r+q/D+5v5T4bh0qfXPFeg6brVrpenXOr2fhCzH/AAjll9kujdlvkqGWcTPiLAYjFVqqwEMZhK9aj9dwNfASorMcA82lm0447ENzq4V1aeE5XTxNSpVqKksRVhCVD9X4X8EMFmPgzx/hfEDg/wCu+K+Np51UybOMZjMDmOdzxUMqUeFaWQZxhcznh8uoU80hUWY08Ti8Dh6zqV6WZUsTgFSVT4W8Uae0GoLMq7YbpN7f9fEX7qX/AD+Fc75K7cMvX/P+fxr9Gta/Zz8A6hbrbvrXxmjaGYzRyJ4P8Bn/AK6xfvvEnv8AmPz5f/hlz4e/L/xUHx1b/c8F/Dnj3/5GT1/+tmv6ClmeVuTdPE0pR0+3TVrW/wCnjv1+aXY/mvJPo8eNFLLMLQx3Cap4rDx9jNQz7hyopQp8saU+anms48zgowerv7NSvq0vg9V+9tX/AOv/AJP5/hxMsLD+/wD7o5+lfdA/Ze+Hv/QW+Px9/wDhDvhp/wDNHR/wzH8P1/5f/wBoWTdn/mU/hf8Aj/zHsUo5hgLX9vTV/wC/S7rrz/003019NfR38Wmmv9WYdP8AmeZEuq/lzGd9+68r3Phlo13H5dx/yfUev/6qtQ2/y9vx5/z0/wA9T9wx/sz+AF/5bftCMzY3f8Uv8L/5f29zjFSr+zb8P4/u/wDDRrcfweG/hV/8uP8AP0q1mOB64im9vt012/v+f4MiX0dPF1xi1wxSTSs1/bmRy2tb4cwe+vRa7XW3xGsLL/fG3t6+vpinbOhU/jn+WBX21/wzr8Pv+eP7SDtwf+Rf+FUX/uS/+sKP+Gb/AAC3H2X9pM7fu/8AEj+Ev/yy/wA9af8AaGATV8RS+dSnrt/f80/n2M/+JbfFx2l/q3h3bpHO8mnvZauON08u+tuqXxKyt8v0/wAn/wCv7e+KFj/j+nT8xn+v4c9K+1pP2c/AaxtI2n/tMybeWVND+EvP5al/j+ded/EbwD8Jfhp4gXQtS0/9orXAsHhu5l1rSrj4LWelwW+sf8JJda9Ldfb/AN//AMUB4c8N3PiTxRa/8fl7/bHhvw3o/wBs1jWLOuTE8RZFg5U1i8xw+Hda/svaSk1PknSjNKVOM4qUfawtCTjKpd8iko1HDqofRk8ZMQ37HhfDvk5XNrPsiUoqWzV8wUumvLGXnZ2v84svyr8ufxx/nj8/wqnIvP8Ae7dM/TjH+P1r6StfAvwzm0Xw/rFx4V/aZ0281S/ktvEfhG8k+Ev/AAmnw/s5LWa60a/8R6DFo/8Ap1xrkH2a5Og6bc/bdH+2f8Ti8s/sZNOg+Hfwx1G61K103wv+1RfXFvbb9Ls4dP8AgtJqmuXjzQxRWv8AZcWpTT6Fb+R9purrXtbubSztPsf/AD+YrCnxXw3WbVLNMNO1T2V05K9XR+zgmuapJ/3ItP47+xkqr9GP0W/GiCjF8L4ZXjzr/hdyS/JpeTTxyjHf7U1fp1PluTaF+7+n+f8APNUZNq/dXb8+fXnt/n3r7mX9mvwncRrJJoP7Tludm/a/h/4SyeX/ANtYtY7f56YruLP9hvw7faHpuuXmvfFrw/Dqlt9st9N1jS/hp/bkdn5s0UUt3YWusTeR5/k/afstyMmzqsbxLkGW0oVsfmNDDUpS5IylzT5p8vPyqNGNSWkE3t6X1aeH+jR4xVqjo0OFqNWcVzTX9uZHBKOnvKU8wjGXvNRd5R30vsfAfgGbwSvjjwm3xMuvFtj8O49Yj/4Te68ByeX40/4RvypvtVr4cl86zng1DVf9G027ura5+2WWjXl5eWf+mV9iL+0F8H5LjwVDqmva9/wj/wADPin4T+NPwY8L+APhB/whfhSS38J+Erzw7Y/s+2Gjap4w1i+8HW8GuQabrd18ZNc1LxJeeI/+Ek8eXmr2f9sXlnjN8Sfsu+C9A1630W3uPj34kW40r+1W1bw34f8AhVd6fbyR3X2WXRruKXxJDfQahB/o2pf9PlneH1zWXN+zT4VO3/Rf2jY1/vTeDPhpJ/6K8Vdh/k10YLiHJMdQhisJicHicPWi/Z1XW5E4KTTUFKtSlCLqQTqJRU5unFSn7tL2P0+S+D/jfwnTxGBwfB+WxlVxkcXiKmIzLLa9SrUo+xnhaWJlhs7hhcVhMJi8PSzHCYfEUa0aWNhOopeyqVKEr2l/Gv4FeGNM1Lw74c8VeMLHwt8WfBPjDwx8d2T4YapL8Q9T8b/EjwTqejXPxQv/ABlqniqax8VeD/hJrmpXOi/Dr4NeGtN8N2f/AAgl7rN59tvfEl5mvmn45a54D8YWvhu88F+LHurbwD4D+HfwB8N6Lr3hPVNH8QeJ/Cfw38ET/wDF5NUi8680PQ9I1zxHqWp6Jpfw5udSvPEmj2dnZ/bP9DxX0B/wy74dmZo4bb9ouRlTfJGngP4fXFyI/wDnr5UXjCsG4/Zf8Kszbpvj3Gq9n+Hfgj/5tv5/zronmmXuPJ7bDJPma5cTaznyOcmnVcZSlK85OS1m5veUm+nMvDPxpzrA1Msx3B2ULCVOWywmZYGg8Mkk4U8Inn86dCj7ZvFvDRhLDSxk62IdLmrVOaf4g/F34I/Ez4eXHgOHxxpvgmfxhY/BCzXVdY+D+vWfifwHH8D/AAlqNrfxfHz4s6DLqWrftJwa5fZ8N/Ca203Tj/wh97rGj6xrA0az8N8+AfALxF8JfCsur+LPH/jK88LfEHQtU8Ma18GLLWPh54o+Kfw08P8Aiyw+2XMvxP8AFnhLwlq+j/8ACV+N/AUxg/4VhoWt3X/CN2esXl34j1gXwtP7Hu/YLj9l3wy3/L58dR23f8Kz8GSR/T9148x/nj0rJm/ZZ8PtuZNU+Ng/3/hX4Wk/9FfELj1PPrUPNcsVr1sG09JRWJpuEk+W8ZR+sbS/5eRbcK1pOtGdSdWpV9Kt4b+M2OzbL88xPBWWVcwy2hUoUJrM8BGE41JVq1ObpUeIl7KthMZisXjsDUwcsG8DicRGGEVLBYHKsJl+Tr3xe+EPxQ+BMfwHutd8bfC/VJPG3g/WLTxZ4tvIvFHw7j1i3sPHmqfFr43eLv8AhHNCPjCbxR8W/GOvW2pappf2a81izvLzw3Z2d5Z+G/CF5Z3nafCf44+B7f47af461T4vab8H/BvjL9mDwvo+sTQ2drcah4Q+Kng74fab8KovAdrqkXhvXtV8OahYz6bc+LPDGqW3/FOXn2zR73WPtn/HnXEzfso6KzKq618Y1Mnyov8Awp/RpJP3n/TOL4hVkXH7JejxmVW8UfFeGRHkVo5vgna+ZHJ/zyl/4uF/+r60f2xlrkubE4Sy5Lp42ioy5ZRd1z1KklKW0pqXPtyuNnzevhODPG2hicBj63CGEq4zL3lzpYiOZZXhnUjlP1yGAoYingM/oUpYfD0M1zXDQp040JVaOOnTxVXFQw2DjhvXP2iPjR8G9Sm8Sal4L+I/hLxtY2v7H/xI+BWm6b4V0e20P+3PiL8aPiXo91dXUujafo+jwT2/hzw5oNz428Zan9ms/wDic/2R9j/0y8r8+NB8c2+n/BX48fC/VNa1gW/xA1L4J634V8KpJfXHhe81zwX431K/8W6zf23nHStK1iDwrNbaba6pc232zWLP/iT19LTfsm6S27b4y+Ja4/v/AALkk/8ARXxC/wAec1lzfsh6XJ/zPnj9V/2/gHqkh9f+WXjv/D1NJ5tlrfu4nCUo2sovF0Xa/I7KU6rlyrRKLb5btp6syzfgPxizrMv7SxPCVPD1Z4HMcvqU8Lj8udKpSzTCVcvxMmp5zVkpLBVaNKlDn9hF4WjV9i6jqOXmviT4vWXijxJ8B/EWqfFT4t6LrXgX9mmz+GPjD4geFY7rUPiLZ+MNPi+JEUXhfS7rWdY03+1fB99pWveG/CWvap/aP2Oz8H3mr2dnZ3n2M2deo/Br4v8Awf8Agzp/wu1PS/ibqE+ta74b8KeHv2gr7/hE/iDqnxI8L6fYaN4q0vwv4J+Cwv7OLwBofwn/AGe9d1/TPG2l/wBm6n/wmHxIvNH/AND/ALI+x2ejnGP7Iekru2/EXxsu3+/+zv4o/wDaXjzP+eR2qr/wyLpud3/C0vE8fP3X/Zz8b/8AtLxhN+VP+1MvTu8fht+a312i03ywi7qVWW/LHazUW7NS5Zx6st4K8Y8uxksdDg+lWx0fZVIYjE4vB1JU6lPD4DCupRVLPaNN4ith8BSpVp1IVJYinWxlHEOrh8VOgfPPxcvvCsuj/BP4f+E/E6fECz+C/wAH7f4e6l8QrbR9Z0PS/FGsXnjLxV4zu7XwvpXiOGz8Rnwv4Og1620TQbrW7ayvLz/ic/6FZ2fU+Acnhzw/8Rrf4ieLJtN/sz4P6D4g+K+l6JqVxFHJ448eeE7WH/hWngjS4pT/AKdqGq+P7zw3rV1bW3/MG8N6x1r6C/4ZJ0vofi5r8S/3n/Zw+I3/ALS8STfrx6VCf2R9FZR/xeq8Ur/qxN+zd8Wo/wD0VqU2Me1Z/wBoZbKV/rmDle3uvFU7y0Wsp63lZq7sltyxjrfyn4b+KUc3o5zLgqsquGq4OeGwqxeXfVaSyzD4fDZfR5Z5vUq1qGFp4XC3jiqtepifY2xVasqlTm+IZBf3k1xeapeTahq2oXl5qWranN/x8ahrGqXc1/qmqS/9PF9qs1zc3Q/6fPwr6u/Zv+L3gb4a6a1j4x8RfEXwfJ4d+Nnw3/aB0a8+HWl/2pcfEy4+G+g69ox+C3iiX+2NH/4RzR9cuNY/tLS/FGpHWPDej/bPEn9seG7z7ZZ113/DImlruZfjgit0Hnfs9/GSP/0V53T8RTf+GQ9N/wCi6aUP+uvwL+NNt27/APEtm/z0qoZhgLxn9dw8nvJKtFXl7t23GpGSu+ifS3Y5cu8N/FbJsfTzHCcK4mriYQq2eJxWVYqE3XjOEpVbZo6k5JTc7urDmq/vEvsx9S1j9ob4e+KPi58FfFF5ptzoOs/EL4S/CPwZrHj7wx8RPC9n4k/Znj1z4g+PLDxva6N4juvhj5Gh+KND0PXrbUbrXtF0PwfrGj+G/sdp9s/5jFQ/CX43eCdS/aZuda0u1s/AvibT/B/xQ8N2Pxu8a+JPBGqXHizxJ4LlvNQ+HPxB16KXw38PfB3jH4oeI/7H0228L694t1vR7P8Ati78N6x4k1jWBo/+meYt+x/aorLH8cPCsiyZ3ef8I/jTb/h/yLc3+f1jb9j9ZBtPxu8AMrdrj4ffGS2j/wDIvgmatY5hlylG1eklzcyary1215JqdFTV+RSdJ2pP2fLa7f0zy3xkeJoYqrwjiKrpZjhcwqxprJKU8ROgqHPCVajiI4qFSvUp1qzxdGX1ujOtyUa1OjRo0T6j8XfFTwH4Zh/Z/uPGXxc8T+FLPwv4J+OngmO68MReEviJ8VLfUNc+EHhr4c6D4o8UX/wM+IU0E9v4j8RzXPj/APtTXNb/ALXs9Y8N3mj2dn9j/sf7HxnxU8afAH40eH7O8uPFela14Fuv2lo9e1yb4ga748+D/jTxxpeh/sv6D4XtdK8UX8X/AAuDxVoenwa5ZjRNB8UeG/Ddno+sWd5rFn/xJ/En+mHwuP8AY9kjX/R/jR8KF3feD+H/AItWf6/8K9/Dinf8Mj6grtIPjF8F2fbs8yZ/iXZyeX5vneV+9+G9DzLAzUoutQScr8vtpSlG9rLmkpRlp9twdd9a0tEPFYTxarxxVCr4eSxGDxLw9WdHF+zxjq1sNgcJgIyrz/tKOHq0J4fCwhUwsMJQouEp0oqNKVSE7X7QWueGfidodj401jxJ+z9qXxS8Pp4b8E6fJ8EPFfjezs9Q+Efh+1/sbwR4Nl+GnijwHZ2P9ofCvSoLbRLbx5beLbPWNY8IWf8AxUmj6zrH+mV7/wDAP4meBP7F+Aui3nxeRrL4a/CL4j6D4n/Z013R/FvhPw14j8b+IL/x7KfFEfxQsJbPw4bm+0TxXpum2ptroeJLv/kD2gORj58X9lHXlOyP4vfAeT+6H8UeNrP8zdfDf/8AX0qb/hlvxTt2/wDCzP2frhc79r/EjWU/H/SvAUP59+1EcXg1NzjUavyt6xg21KDaXs4QhGD5bOEacel23o/Bw+UeKeDzuWergDFVMTXoYXD4mnGjjYLFLB5jhcxp4itVw+ZupVxjqYTDU6ksX9YwuIp0v3+DrXaX2Mv7QXhex0/9ob4V6h8RtH8L6p4g+N/7QmlabPqVvdappeuW/jjxvNF4X8WjxRo3gnxXfeHNP8K/8TL7Lpfhu51iz8efa/tniS80ezr2DwX42uJ9Q/aWuIfAfi3xBpmqftReLbHxZ4P+A+ufCWzn0vxR4f8Ah9/wjnhLxv8Ab/FvjyG48VeH9c0rFz4y8ZW2h/Y/EnjD7ZZ6P9j5r821/Zl8XRqqx/EX9nvy1TyVhT4ueX+7jx+68qXwrD/o/T/PWGb9lvXplj8zxd+zrefZ08m33/FjQZPs8f8Azyi+1aPD5Fvn+h9K1jisK3G8Y1FFKMefna5Ula/LToT021nKyttb3vQp5p4uUZRqV/D7OZwoV6k8N9UpY6FaFKdPMadOnW+sYfNcJOVKGYyjJ0ctw9DEQjiJYjDVK+KqVofoR4J+J/hHxJ8fvjV4J8SeIPE/hP4iftCeP/CeseIvD/jb4f2Gn2/hPxB8M/hzrEsVrdeKNB8YeO/Cv9j33hyG55uba7vP7Y+x/wCmWf2w2dfGvxW+KHw1+KX7QHw3+KWn61NrXged/gnZ+KrfUfA+teE/7D8L/D/VPDel39jdaXql5eT+I/t3g/TbnUteutNttHs/9MvNHs9HrjYf2Z/FkcK2sfiz4FfZ402LDD8X/C8cccf/ADxjhEMP/Lc/l78VfX9nHx+Rlde+EVx/1x+L/gj+UupQ9ar6xQnFOMIJ8z96CktpOSV5znJRfP70FLk0XKoLmv8AIZ/HxQzrLVlWI4Cz90YZ5ic4c55Tm2KrSqVcfLMqVKu4UcLRnWWMxub1cXiI0YQxbzOTo4XBPC0Gfdt9rlj4i+C37Z9+vjz4cfEzWPGGvfGR/APij4e6pYeH/CfhfwXJ4N8B6X4c0HXvC9r4O8FQT2//AAjmsaJol1df2ZZ2fhv7H9svNY1i8+2Cy9f8eap4N1r4f6TpvhW++FH27wH+zr8eYVsfBOueCNU8UeA/D8nwL1LQdU0KS10bxJrEE+rz+ODc63/xa/TR4D/4QP8Asi81j/io+a/LyH9nH4lbvMjf4dTSbPJ8y2+Lnw5/eW/m+b5Q/wCKkh8+38//AJdf8K1oP2b/AIuJJutdH8MHcmzdYfFT4XxSSRj/AFsUoi8YQ+fbz/8AL1a//rq19XjCS5ZtcsVGXtov2bS0fLCjCO7v7qh8K1sz1nxF4kUmpVvDPiWbqUqEMS44LPqrqxo5xUzp1YV8Xl2OxtOdTFVZwvWxeJqUqLhDD1KX1fDew/Rn4V694Q8Rax8EvCui3fwRbU/Dt54f1Xw74a0T4l/CrxJZ/DP/AIQf4JeO7DxlpfwWsPC/hyz+JnjCf406rN/wlvxGtvijqV7/AGPe2d2LP7ZeWdne0v7NPwb0fxh8I/2TvFmk+Df+Ef8AD/gjW4vin4R8VeIYvEeqeKPGF4NU8r4tWvxB1TS/Dd58P9V8Ea7e+Fba2+F9tpttZ3vw3/sf/icXusf2xrFfnrF+zv8AG6Flks/CkKzL/q7jTfiZ8NLe4j/56+VdWvjyGeA+Rx/o3v06Hf0/4J/tOaXHHb6To/jPS7Nd7x2OifGDwvpenx/89fKsNL+JFnYQ+f621r9KtRwl23GrTVm5KCozadknK6owjGMtOZuE4wt7kYp2PJwWe8YUsRlss88KuI80hgMPisPTjDJc0w/N7TEcM4jB8k/7AqTpwwTyCfso0J0+SdfL5YeWGp5JgaJ4ttaSS4m2vGbi5vLny3/5Z/aLqab8fI849OasQ7d3zH5l/ufT/P5V6pH+zh8dvmaT4c6lhv8Anh4k+H0n/orxgPatS1/Z1+NEKru+FuvSdOms+E7j/wBFeJP8j6Vx1cRRopWhWquySVOk7O1tVKfKle99bdLXsfhVfgPjHmnWnwpxQlUqOWnDucybdSXNKyjg3f3nf7PxW1tc8nhWaZlWGOaZuPuR+b/KussdBurhh9quEtY+vlp+8k/H/lhXp0PwP+NUahf+FX+J1XoyodGkT1/5ZaxNyfwrYi+DPxiVufhj4wLf7GnxSD/yFeTfXnjtya8bE5ljnGSo0lTV7c93Um7W/nfL56xflY82twZxVTUkuFeJIWSvKfD+bJcztdpLCL566abu5yOl6XpNiyyrD9omX7slz+8H/bKL/Uf0rsl1bCou7odn/wCrFWF+EvxcjVg3wz8cqzfJ8nh+/k/9Fed/9eoG+GPxYj+98NfH6/3tnhPXpO2ekVn6V8tioYnEOU6rrVKmnv1JOVnpe0XLkjfqoqKdle9keTW4V4ki0qvD/ECsk71ckzSEVdRuk5YRdtbdLeRKurbdu1uD0/Dj6/55obVpN/8ArNvv+Hv/AJxUi/Df4mR/M3w6+ISr6HwX4o9u/wDZvP8An605vAXxAX5pPh78QgP+xH8W+n/YH/pXi1MNNOzgrvvLty/LqedU4aziPK3k2bQ0UuZ5djEle2j5qMfwv3dlvT/tCST7rP7N/k5z6/17wtMzLuaT/P8Ak/rn3rS/4Q/xwF+bwH4/Xj+LwP4tz/6aOc9P5Cqs3g/xpJ/zJfjlOfvP4L8Uc/8AlGz3x+NefLB3v7r16yjKKW27kl3136rQj+yMdTiubB4tX0XNhcRC8tNLukr/AKK3Vq3O3Vwu1trbj/nt/n8+K5O6aRm2/e3Hp/n/AD+VegSeDfFf8XhPxh/c+fwn4jjH5/2b/nPSnWfw38YanuWDwn4kVF/1l1c+H9Yt7eL/AK6yy2f+f0qJUKVJc9SUKcFa8pyjFLZbuS6LpexcMJiY+77DEK1tXQqq+y+zGW3XU8hmtZG/2/8AI/z+dWLPRbu+bZZ281w38TJH+7j/AOusvEH8/wCWfeovhjJp6q2p6Xrd/N/rGj/sfVLezi/7ZeV589WprG8hj8uHS7+OGP7scen3VvHHxyP9T+n8q4J5pRjaOFp+1kpW9pUfJStpeUXZ1JNX1X7v1d9N05Qf8OpdNXvCUUr23b9OifXbS/jcfgvaqtqV1t6Zt7P5/wDv7dS9K0LTT4dJutP1LQZrzQdc0S/t9Y0HxNo95Lp/iTw/rmny+bYazo2sxYnsb+xnx/pVt/6R1115azbtskNyrMf47eX8/wDU/wD6ucGsGdVj3L90D+/+76f/AFqdOviq1SMp4iULShOMYP2Ki6clOLg6fLKElKMXfmdrbasunmFbDVKVahWnQxFKpTq06tGThUpVKcozhOFSDjJSjJKUWmrSUZO/LZ/YHhH9uLQbOZo/2kvCuv6XrmoPsk/aC+BWj2FxqGr6hHEPJ1T4jfBu6hm0q98QeRDm68UeErb/AEz/AI/LzR6+6/D3xX1LXP2bvE/7Q/g39qL4O+KfCmjfEJ/D+l/FPx/8I/E/w/8AB/gzw/o+l2lp4ttfiXpejRabf634g0q9ltdFtdU07TMaPdkWYJtPtoH8+mu6lDrF9ItrfWyw2/mW9nI8kUkfm/8ALW68rH7/APf/AI1+pHgf4x+M5f2Utc8PR6PYaX8HfCOj+B/D3hD4bXn/ABOINc8LW8Wv2HxA+IF1r/7nVbG28ReKtZ1O51TxPdad/Y15rB/se7vP9Es/sf6RgaOXZTSjjMXjaWUZhmHtJ4iUcf8AUaGMxVeM6kZTy+beVVs4cbVHiqeAnmFetCftPrMk2f2/4DePfEvFtbiDIuLMXg8xocL8K5jxBQzCeUZnjM1lhMnp05Y3EZhWyyhKl/ZuFw+uMqVZQx+IxFfBYfAUMXVrVFRv+MP25vg5pUEc3jz9p+w+OV9ZmVtJ8D/sk/s2RaXHeT+b5stjJ8RviLZmDw7bz3GP+Jnb6kp+1n7ZkEYr47+LX7Vvx2/aK0PU/hx4c0WD9nD4Da6fJ8SeFfD2t3XiD4ufE+wkGJbX4q/FCX7HPNp99yNU8L+ErfR9HvMkXl7eWec+PQrot1fN9lm02O1h/c26/aLXHkR/TA/rXcWOm2tkn2prqFrVUkmaY3EX7v8A6ZTV5tR4PD16eL9i1m8qclTzDG4zE5hj6XtYxjOnga+NxE4ZbKpCMYyjlFDAQmk1OPJKUH+Jca/S2464owFbLclpZbw1ga0XCvPLlFVp05R5Xy4io1USl8SlJ1OenJNKPMzk9D8M6bobQ6To9nDZ6bpsNvZ29vDH5ccflxY/1UPH+elerWNjiPlccfN+H+en4ehrF0H+z7iQzNeWx8yTe3+kQ9uf+e/+efpXokcdusO6KaGT12SRSfXP1/X1rx+IsX7PDQoRlrCEaeu7ejld6/aba7c3ld/y9SxssfjamIxOLeIr4ipKrWq1a0atSq5TclKc5VFepPmaStHms9dEfop/wTz09l0/4xagy4VtY8F6bu/656XrF/5X1Hnf/Xr9JrWHdJwv3f8APtg9q+Ef2AtP+y/DHx7eMv7zVPiLb7m4/wBXp/hyzii/L7Z6e/1+/rZVDf3dy8f59iPavruGKbjkWWNdaM5+vtMVXrX8v4nLbf3b9eVf69eAdBYbwf4Gpqz9pluMxUpJ/FLG5xmWKWnT93Vp2776EbQ7e3v17fnVWSH1+h4/z+B/+tW0y7fcVVkX0X2HP15z/SvfUF1d/wAD9hU311/A5+aH/P8An9D+Bqq0OPp+Y/pW48fy8f5/z079aqtEF6j+f60lBXs9fw2a/wAy4O6tbax100epNJa/YJtNhh2ah9u+2W91JcySfZf+JMLDypooIDBff6Tqn2n/AI/LP/jz/wBMwKx1s/iCPD8EP9oaJH4sGsSTXU1tZxSaXJ4f+1Tf6Laxah5PkXH2H7N/pVz/AIV0UlnNcNbTR317Zw2aXj3VvDHayWeoR3lrLaxfb/Nhmngt9Knm/tK1+zXNn/pn/H5/ofTmbfwvdR+D18MyeOJlv5LyS5/4SZLyK41D95L9qisLCW71Lz/s/wDy7Wv+k3n+h4r7VKT25uj93pK6s36XenXyZ8rBbvR69Vfaz7o6xo9a/tbTWtxYf2CtncJrCvn7ZJqGYvsstr/07wf+3v1qbTbXxNHq2uSalfabd6HcfY38N2sNn9nvNP8AK877fFfyxf8AH99o/wBG+y3VZ76XNea9oesWvia5is9Fs5LPUvD9ncRSafrlxcRf6Ld6p5U37i4g/wCPm1/0b/TPyrWsbGaLUNVvG1f7ZBqT2729jD/q9Pjj/wCeX+mXnn+d/wA/f2a05x3ptWt8WveNu22rvv8Al3K16OC/wq/Rb/1vzGtLHqT2twtjNYR3sibLOa4jupLeOTzf9bdRRfv5/wBwP/rVXmtfFm7w21veabHDDNJ/wlkMlv8A8hC3ki/c/wBjS+T+48ic/wDb5TtQsf7Q0zUNPbUrzT1vLaSH+0rWSK3uNP8A+WpurWX9z5HkeT/npXPweC7zzre4j8ba+Yzc/bLgfaPMjuI5NL+wRRRS5/f2/n/8TK19sVctHe8le20b7NLuu/6bXKikn21Wy7fM7G1h1qPVNQkvLyzm0WZMaTaw2/l3lnJ+5837Vdf8t/8Al5/D8a2ETd/LiuU0Hw5caLeSTSeJL/Wo20qzsPs+pXAkuPtNv/rdUuovO8iC4nPHNtXXKx+62ev+fxx37/zzfz+as+m61tv3Aai9yPp/j/h/+qpKan3R+P8AM05V+8R9f/rfzr5CTu2/7zX3Jf5nsETw+Z830/l+P8u9cp4g8F6T4kWE6lC/2i3SRLe8tpPs9xHHJn913gnt/wDr56V2in5f93P8v8ipKzlFTTjJXT/TUTSe6/r+keBXXwXVmZrHXPl/553+nxyfj5trn0NZTfBvWl+7qWgyD/cuozn/AL8/59hX0lUG0/3fvf5/zmsfqtH+Vr0du3k+3697rkj2v/X/AALnzc3wd8RL92bQW/u/vJY+D/2x+v8AnrXb4P8Aij5vl0HJxx9o9P8Atj2+tfTSKv0Pp649+/8AOhl2+4qXhKXS/wD28qb7be4u1/UOSL6f1p/kvzPj/wAWeAdc8N6LNdSR6VLeTpItjY2csVxqEkdv5Mt/fxRfY5vIt9Kg/wBJutUuba8s7MfY/avO/h14E0jWtat4fh/a+CWWP4X6dN4r1DRJNL8vWPFml/Evxto1/dapqml2fk6r4ggspdOttUurn/jzH/PnX1T8QdauLnVJPhvZWtzJdeKvh74juJNUsY7W41DS/tOoWegWgAv5rOCy0ixhvLnxJql1c3OfsekCzA+2V8m2H7R/7Pv7OOu2i/tC/GP4F/AbVr3wZ8TLO88Pa14w0Dw0Y7zwt8Y5pr+/h8OGeDVITq1jLbeI/wDSdO4/tjFp9r5x8PgnmGM4/wAfhMLi1WyWjkFPDYjBSyrGVJxznCZnGtUqYHMY42FJS+rZmqePw+IyitLF0ZYCph8Thll+J+t+/Uo4Slw5QU6VGnjZ5jKrGt9a/f1MJVoQoxjOlKPvYZ4nDNUeTEQdOvKtKor4qnGHr83wf8VbW/0fQcdR/pkP/wAZ4+vT6cVHb/CDxZ8u630RSvreRf8Axn/P8/RfhV+0T+zz8fWaH4GfHj4PfF+9SwTVZNJ+HfxD8OeJPEFvpzx+bFfy+HbO8PiK3t7mCYEXJ0/7JjJA4IHsNuo3ccf/AF+P8K+4eAVKSjUjOEope7UhFSV0ukqa/Vb6I8GPLa6s09pRejt2dtf67nzT/wAKb8Uf889EVun+viA/9E/zp0PwZ8aXDeXa2uiTOp3+WknmS+V/2ys/881+f3/BVz9qL/grx+zTp9rqf/BPD9hn4Z/tN+Abjw9BJ4g+Isur698Q/id4N8Rv/aY1C0P7OOi6t4L1bWtJggtbW50jXdE1vxf9t+1m01jR9Hultftn8Df7UP8AwWd/4Kt/tF674j8I/Gn9rj4xfDuOwupNK8Q/Bn4W2cn7NemaH9ilEcuia94T8J2XhvxtEIJgpvB4m1q8vDkZz0reGCw898S72vyQjCdVbauLpwp211tVctrRdzT2c2k1BW68042/8kU3p1tF+qP9Gr46/FH9n79lrS7nWP2lP2l/2c/gXa2ltHM9p8RviXoOia5ciTHlR6f4Y/feKdWuJ+otdO0W8vDzjOK/JFv+Dg3/AIJNf8Ll0f4SWvxz8c3nh3VnuLO6/aJf4K+LNP8AgD4f1jAisbTVNY1U2Xj+fSNVuD9lHjK18A/2PpHN7dt9iBvB/nX3iPqWp3Gt6lJc6trd9PJe3mu6xcXWsa3eXMgxLNdaxqk13qk9yfW5ueRx0pFWRfm/28Kw/wA//W/A1vHCYRe7y1Z3b96pUUHtFqcYUoU+R/8APtSlUULy0lc0VC9m24ve0ebyte85dt9Huf7D/gDwtonxW8HaL8R/hT8R/hj8Tvh74ltvtnh3x38PfFFj4v8ACGuW8mMzaV4j0EXmlXA5x9mFyboH5eoxXar8FfEi7v8AiYaCv/gV79P3P+Oa/wAlj9kH9tz9rb9hrx7a+J/2R/j544+COpeI9a0fTdf0XRZ7bWfhv4iOr39locl54x+F/iOLUfA3iO5sbK68/TNV1TRDq9ldkmy1ezYAj/Rr8Zf8Fpv2bP2KfiX4L+AP7Xd18Y9Oi8beF0+IGj/Hd7O7+KHhvw/4XTX4fA+qXPxFttPEXjHStJ0rxFZXWp6jqXhvQ/ElnpNp4is7u8tLGyJYfH5txDlWU8W8L8I1oYv67xbguI8ZluIaw/1ehLhyGU1a+FxE5WlzYqlmcnhKjjBSngqlKrCFWvh4VO6jlNatluOzSmoSw+AxGCw9WL9pKpKWMjValBNuKjT9g/ac0o/HHV3dv02vvhLqGk2N9q2qeJNB0+w022kvby6e3uriO3jjH/PKKH9//j7dfznsfhHofibS9Q8QalN4w8YWbS6gjahrH2rVPEGh6pb3+peb4juvEcUOj+HPC2ofvra2/wBJ1vWLzR9H0fR7Oz/486/W34afE/4P/tAfD6w+IXwf+Inw7+M/wu8VW3kWfi34f+J9H8b+D9US4tILuXT5b/R7y8t4bj7PcWwu9M1E2l3ZnIvLQkHHOal+zd8EdYvFvNS8DWd1IJvO+zzXl1Jpfmf9NdKM32H/AMlz6VnxHwviM3xGBnSxXsKWDVSU6FSNaLqVqlShKM5ulVhT9nGNJWpOi7Vr1ufVwJy/G08Kq0XTfNUcHGqo05uChzWilUpz3cujV+uyt+e/wv8Ahn4m1rR/FXjrw/HNa+G4f7PXSbTVZLXxZH4g8QSX95f+MrqwutZvNYn1zQJ5/s2m2uqW1z9k/wCPzRvDf+h/bLy8+hfAtn4Z8QahD4P0YQ6B4ouLaS/uLX+w/wCz9Pt7ezh826llmsP3E/8A06+1fRPiD4Tslw2qeA7y20eZba3s18J3/mx+E/s9na/ZYotG+y/v/Dn7jH/Hv/ofqeK8z+GvgPx9pvxQtbzXvBdzptqbPWIf+Eih1Sw1S0/eWs0UXlWsUMN9+/nm/D2r5TB5NxNkGaZfhKNFYzJZ4ihQqYmi4zjQwrrKU6jp1JOtQknPV0nPm+1UqTg7dVSth8Z7et7V0pcimqMvtThGEWm9Piavt7trWknpydvdaPqEsem2ej6xJN53kzX1zcRRx+XHJ5cvlWsX/Pf/AKebketZPxSXwL4F8KNr3jfWrDwvpuqarp/hzTZryO6uLjVNY1i6gtbTS9LsLGG81XVbg+d9puvs1t9j0ez/AOJxrAtLOz+2V3kWlftC211e6V4a+EngXwnYxXl3bR+MfHniDVPEEl3bx3M0cWs22g6Npug2NubgEXVrpepa30I+2e/TeC/gRb6P4oi+I/xE8SXnxO+KEdtJZ2PiDW7S1t9I8J6fJ/rtL8EeF4of7K8OWH/P1a29t/pn/L5eax1r5p8F8Y8W5jTr8R4mWX4DCyqulRvRlNU5T1jSw9L2mDhUnyR5q1SdWbtG/M0enHH5fltGSwkFUqVHCU6jV3L93BNa+9qpSi+aMbXTV3c/NV9NvPAfjK417QY/Jmt7PULCZJv9Ms7j91N/pV1++8ie38+D7Ta3WOvNnWPqXjb4xfEzx7eeFfDHiB/BPwp8P6VpcN/q3hvRLW4+Inxg1jVNGs7rVLvS9Zv4byD4c/D/AEq+vPs1r/Zum/8ACSeJP+fyzs6/Szxt8C7PWpLtvA+pWnhK61j7RbXmj3+jxa54bkl1Dzorq60uw86KfQrifzv+PW2uvsf/AE51+Kerfs3zfGLwR4m0H4hah4GvrjwDqvijStN8PeJfiJ4t0P4F+OLOPXpvDlh4t1TxH8Kte03xH4j8jSofs2g6Dpupf8U3eZvLz/l8r6LL8iz3hehjsDLMI0qGY4zC0cJj8LGVerToxo46tiqlPB1XFUMTUhSw1CtUoVJSo0XOv9ZvRcY65d/Z2aYqFatgvrMcHh5Vp4WtzQpzqSqUaFGNWWGhW9rh6ftZ1IU61CVGbj78VozY8Zfsn/DmHUL7xNaN42s/GVq5Q67Y+M/G9vrFvqH+ui/0q11KGeDUe/8AKvD7j9qL9qD4S+PtD8MyfEDSvE/w7vMWd0vjnwHa6p8UPCd55v8AyFIvFsX2OfxTo9jYw3NzqlrrdtZ6x6azXufjz9mF7z4b6H8H/GmqeNm+GbaP4kufBd94k1T4l+F/B/xE8QeH4tHtvDfhzxH448LzQ+MbHwx5H9o2/hf/AInf2y7+yf6ZeXlflh8SvhT4s/ZX8H6x4g0nWv8AhJJtLmk8VN4N0Txn4t+JGj+AryTydGl8N+A9e8Zed4qvtA12C8/4mmmXNz/xJ7zN5/x5/bK1wsMZSnC+cZhWhia9OlicHjIVkquHq1KcZVp4p4tywmI95+zqUfZ1nONWnRxEZR9/6XMcPlWMoN0cnhh3Qw0alPF0sLWw06NeeH9tCjJPB0ozjDkca0Z1W6E/3eLoUa6VB/1O6d8PvG+jeC/GvjL4h+LPhXqekyeHdAk0/wCIFq9j4H8KaBJbf6VN4olufGN3FY6UfEWlT2o1Mf2leWlpmzwDjj8c/wBt3/gvT/wTW/ZM0zw34P8AAHiuP9sr4t6JL4osPHGg/sy3mjSeD5NYs5Iv7Fi8W/HPXYZ/BGl6fxc2xtvCNr4x1fNnd5tLP7IDeeO/tN/8EsdU/wCCrPw18EzfHP44+I/Cnxa8JGz0Xwlf+DPiB/wkHw48P/DAaBF/wgWhax+z9rH2P4d+IvEHge+n1L/hKPFGmXPhvxh4ktLwE+MNY/sbRq/l2/b7/wCCF37e/wDwT90vWfHnibwZpHxx/Zy0BJLm6/aC+BH2/WPDHhPRE8oxX3xU8CX0MXjf4S28FvLbfatU1rTtX8H2l6TjxeQM197lmX4anGd3mkXP2FqWYVpVqMPZwpJywtV+0reznKMo1JV8RCdX337KnzWX5tVc5fEqCk3NSdJctROUlJqqrunza9Kco2T5Kk7u3vH7ZP8Awci/tzftG2WreDvgL4e+H37D3wv1SzuNNmt/hHHL4y+OmoafeRCK8h1T4+eLNNh1XS55sED/AIQDw34PvvsR+yfbbzJvK1/2C/8Ag44/ad/ZysdJ+Gf7WfhiH9sr4OWcIsrLxXrN5Y+Hf2pfBdvFaiGxi0H4qX9neaJ490iym3XN3oXxQ0S+vDaEWdn4vs1ULX8710scLfNIqyN92HzP3v8Aj/nmqO8fwtu9jzXv+wo+zdP2UOVy52kpQXP/ADKMJRS9EttDCMby5vtpJKdvfSWy5tGf6hX7H3/BTv8AYO/bJvvhSvwZ+LvhzXPEHivW7jQfEHwU8Z+A9T8OfFvwZqmr2EVrplz8T/DsMV7bw+D9J8Ravoltpnj3TNavPB2s6ve2WjjWTe3hs7L7O1rxN4RtNJ1rWdF1rRLyxuNV0PwrYw3Ph+1j8UWeu6p4ju9BuorTw5fw+fY/Yb6zuRdXVz/x56Oftlf51H/BGm4m034u/tS3djcTW+sR/sneIX0mazuJLfWI7j+3hLbXWl/Zf9P/ALQg1WHTbnS/7O/0wax/ZH2I/bDZ1+0H/BND4i/8HE0vgLQfFvjb9hTxr+1x8HvDfh6ztNFk/aJ1Hwj+z58f/EcdxNFc6XdeEviN8QdT0fxj8TLbRJre7Iu/GvhPxMDo939iGsH/AEM1+ST/ALWxHE3F+T4HGp0sjo5HPD4fE4h0qmKXEVPF5jVca7vGnPK6lGhSwkYxpxngKUsJVqx9rKo/oquEp0csyfHOMp/XpY5VHThTap/U6scLFu8qSlKrTm5P3lN1Up04Ta5H/WH40m0vwbqGg6T/AMS3UtSuZrzUvG2m2eh2Gof8If4Dj0G7v7DxHf6pLD5+lahquufZrbS7W2tv9Ms/+P2n/E/xr+z7+zT4E1b4n/tR/FP4KfBTwE+m6Q9hq/xN1/R/Ddxcf2lfS2stz4c0y6h/4SHW9R/f2p0kaLp2r/bucZAvcfyZftf/ABq/4Ohfi/q3ilPAf7Cnxn/ZN8F+JVuLbUNE/Zs8IaD4z8dajZSCTzP7T+M9/wCJPFPjOe4nhYadc2/hy38NaQ1lbJ9ksEOQf5J/jBpnxfsfij4w0b9oA/EX/hdPhDW7vwx48sPi/qGva38R/DPiTRpTDqXh3XpPFF3qOq6XqFjOSLnTDcZs8kdzX1mAyjMcR/aEswxsKEcXJzw1HA144mvg4+0cac1UqYeNGjzR9lUrQpLE05VlOSrvntHyZ/uvY8tGSUU1N16coQqe7ytKCmuaKT+Lm6/Cj/QMb/g4V/4I7RaprXg2f4q/ESV7PUrdLX4qD9mDxlJ8PNUt4Lr7LdReHb60E3ioaPe+QdR/tTUvBOj/AOh/8eeM19H+Bv8Agq9/wS4+ImqeDbD4V/tHfCr41eL/ABZ4s0PwxoHwb8N6D4t8P/EPxfqGuNNDDax2vi3wf4bg0PT7GGC61HXdeudS+x6PZ2RGc3lmK/zHJIpF4bf/APX/AF/p1r7j/wCCY0az/wDBQr9kaORnVW+K4xIv7zZcf8In4p8qX0zBPz24FHE1F5Dwnxlm+BrVJZhg8iz7OsHUxco4ihQxmByerXw8Y4dxjH6qq2FhOWHpypJ89XllF1JSOrLKEcdmmVYSs2qFfHYHCV1TUac50q+NpRqNTjFctRxm1zuMvTVn+nX4W+LP7H3iPxh/Zv8Awt/9nXTWuvAWreI9U+Hvi34ofDnw74/+H+tx6Zpt3HY+KPDmp6/ZeI7AWN5eW9za3ep2ws9X8OaxaXnzWdmLtt7SdJ8A3EXh2Rbr4e+Jl8UaxpHhW1uPCt54X8WaWmqXlrNda1ql1r3he81LQ9Kt9Dgh/wCJmbm4/wCXuzP2T/TK/E1P+CCP7IX7VvxL1X9t/wCPei/FP49+KPiQnhiG2+CUPjjS/hB8NNEsvBGjWXgj7Vd+J9Cs5/G/jf7bD4ftdTuLa41rw0c3gtLQ3loFI/bj4I/AHw7+zp8P9L+GX7Lnwe+GH7KXw60u5vNak+H/AIb8CeGPGml+IPG95DZWt18Qb+/l1P7dBrE1hpmmabcnUtTvdZu7KzsxdawBZ2Yr5PhzH5txHwhwhmKo1sPjs94f4ZzfMcbKWFp4SlPG5Vgsfi4YKdP22ItKs5ctKtUVR0pzj7aoo6deZ4TCZdm2aYaGIU6WBzDM8JShKLlVcaGJrUKbqy92Dl7sknQg6bcHZRTRYvvDPhvwXDq2oeOPA/hVvCdjpWsX914ohni0/V9L1DS4v+Jfp9hoM1nNpWt2/iO+/wBGtftOpWd5Z/bLPP2w81zcei+E7fSdWj8beD/BXhnxVfQ+G38I+G7PzNUk/wBHlml8b3X2+Wzs/t3kaULa5+y3Nt/od7/x5/bK9N+N/hrxz8XfBl5oH/CG2NjrN/feHr6426zoyaBez+HtUsrr7eSSYdLN9Y2f2k6ZdXOTedTkk1jeNPhz4i8VePPCutW+guuh6LpuuWepX1zqFhZ6hb3F5a/6BLpdrL++vv3/AFurb+VeniMLm7x1fE4enjVCVPInRpv3aCnLMb5lGWGanRVOGCp4erVsnUhSc4U6sOacpcMJ0o06cJOmrSr3nvJpU4+zjzefv62089DyHwbZ3HiBbfxFa/s3+G9Z8DsmueX9v8Sf8I5rniGzkuvK0XVNL8rR9SsbLUbHybn7Va6lc2ej3n/X3XZ+J/A/w300+Gda0fwTo0vh/wAT6bearJpPiSzi0vX/AAxb6fFN9vttd+zTSmC40r7Hck3X/HneWg+15OMnZ8Pn9pTwTcX3hnTfCvg/xt4Ha8trnwjfPe2vhvXPB0eoedL4jsNThuryzt9csPt3/Ex0H/j8+yfa7uz7WddbqnhPWo9S03Vm0HUta1K+tryw1iHSo7W4kEeoWs1hFdXUt/NpsE/2GCb/AErv9jH+h2dcdWlnkMsn9XoY15v9SxLx9atSjKksb9VdOjHLIa4SovrCp18JDCUa3Lh6L+sNV+Zy2msP9YinPDzw7lTdJ0qzm1D93UtWc06irR/h1YztapGahz04xqT8ys/hv4H1JbxdN8E+G9UW60jS9V0WSzs/Mkk/tHU4YvN/dTeRfW8+lTfabX/9dcXq3hv4f6L400XwbN4D8Nytrz6hDDM+n3XmWdxpcUUt1FLfxTf2VB5/2y2trW1uf9MvLz7ZZ2f/AB58+9aD4f1z4dx/2bo/hPWNaj022/sTw/qWlW9r/wAS/wAP2/8ApWn6XqEV1eWf+j6VfT/8Sv7Nb3n+h/6HeDFmK5zxF8L/AIja9ocl1N/YlnoMz6XeN4DvPDcuoeLP9Hl/0+W68UWGveRB4gnn+03Nr/Zv+h6Me3/H5WDfFbjiqMcFP61Tx/tVXhSwtPD1cHgcBh4qOHnWSjGnm2MTlWoOUa1OFTGUFOLjCUYUMIlG9T926PKlPdTnJySs2vg231vstDM/4Uf4JaHXLH/hWumza1pOsaPbNHDb/vLfS7yL/T5rm1/5bfZ5/wDRjd9M1n3XwB8H29rcXH/Csbb9zbXFz8+ny+X+7j8396PX8q9e0P4iaxouralqHiL4WfGa6vNWhs3mtdE8J6Xqkf223sIbD7VdXUWvf8fE8EP/AB6/afsfW85zmvoSZrjUNJuo47Sa1uL3SrhI7W5x9ot5Li1/dWt1F53/AB88fZrq1+019Lkc6mMWPWMwtehUji6lbDwxWClSjHAzhhfYwjVdP2fNDmleDlKceSrzVJciRy4qmqaoOEoyTo01LlqRv7T7dlHmvbS92t1Y+AZvgv8ADmHUtFbUvhfpUei3l/4bs7y+02S6uI9Rs9Y877VdaDdSw+Rb6hB5Nz9k0vUsf6Z/od3xTl+A/wAH57HVlvvh/puk6ja+Lb/RNJt7+SW3vNY0+3v/ALDFFLYSw/uNZg/4+dU+zf6F6mvTvCP/AAlGk6fD8NZPAXirUtUXx/ceM7PxJeWl1ceE9PkuIoRdRa7f/wCp+zwTw/2na2v2mz+2f8ed5XQXnh/XNV1jxdqWj6drEfijwD4zuPG3hXUtb8Ny/wDCJ65HcRf2Xf8Ahy11SWbyNV/tzSvtP9vaXbW3+hn/AEz/AJc7Kvn+bPK6w8cNg61CdPEYKli/reW3hz+3x2JxNGdV4anDE4aNKng8M8Zgq06cIuEo1JVoSOxxwqnNT9m1KFScEq0lvThCm4WnKUZVJe0nyyir/Cm+Vs+ftG/Z0+FOt6p4bsb74Z6RpNtrWl+J7triW4ljudY1Hw4k0kWmeEvtUPkT3+qTn7NbW2pXP+lj7YbO8x15zSf2efg34i0EaxH8M7OG6sU+weItP8z7R/Y/ii3i8260aWL7HDfQafB51tbf2pqVr/pua9k1668ZeKPDek3d54J8W2t1cfGO3s/DPh6z8H38cdn4b0+10G1tbq1sBNeeT4fsZ/7S/wCJ9c/6HeXv+mWf+h9PVvFWg6h4f+PGrS6LHqTaP8YbOztr37Bp9zqGl/2hp915l/8A2pJafuNKt57eztrn+1Ln/Q7y8/0P2op1szpYb619QxGKeHlhvaYaphIU6mKjjKmZRp06dONNSpywtX6hCryzn/s6VSWsH7SZUsNNuk5U4qSlyyjKTUPYypRnzczfx04zty2tZ35rXPzQ+JngL4Z+Ffih4T+EvhD9lvUvid4k8XeG9Q16xj0rXLXS7j7Rodh9u16wtbCTQbye+t9Kgmtj9qtv+Py0/wCvOq0fwn+EENx4f03xt+yz4w0PXda0241XVPDujyaXrGs+HLeyuporq6urCXR4Z7/T7CCH+0tUurb7H9js/tn1r6G/bKstHs/jz8J9U8ReHfidr3g/w74VkttWm+EXm2/xA0e8vNLvItG1TRr/APc2P9nwT/6Nr1rc3P8Ax5/8udd5r2g3X7QniLwjY/DTUPFXwl8z4Y6OfCt54w0/U5PFmoeF9Htryw8q/l8nyINP8R+T9m1661LUv7Y/0z7ZZ2d50rKss7oQr4WnN4nH0cbluFo+zwmBX1qFaWAWPxDj9Rl7GjGpUxPs6s5e7TbSUo05SRTo4Gc4zqU+WjKjOclKUlBTcGqcfaQtGpGcnyS+T7p+Kw/se/swXDa/cnwvDr2n6Ho9prayeAdLi8Uap4lt9Ql+zafF4O0aWz0641y4uL7/AIlt3/x5kXlnxXN65+x7+z7pOi/EDXI/hrqWoR+CdN0PVrXT7PS7S31nxBb654o/4RyKL7DdWfn6VqNlBjW7q1xef8+de/r8WPAWueEvDXhv4j2vi22+J/gPStY0Twn4v8A6Xf6PeHUPtR/4py5todIh0rW9I8+Ef2pdc2er4N39j+2EEec/tYf8FG/hj/wTx+Gfwn1j9oS4m1r4sfEvwb9p8BfDGG3l/wCEg1DSPDeu6vqusaprst3j7Fo/g6xvNNtrq71G5+13l7eWdlnORTp1M2xteEcJTqN4n+wYezWXQprL5zzDK8Nm9PERxNGcpS9lUzCtRnHEVsO6FKt7OElRpVqmTwuCpxTq4e1niaj+F1JwUJVKCi03eP8ABipOy2aj0POvFH7LP7JvhnwLbePtN0zxD4qsdXh1y58O6LoPgvVLPXNftvC+sw6X4tMdpqmnWf8AYdxodv8Aadb+y+I/7HvNXs7T/iT/AGu7+yVvXv7GfwF0+TVpFsbmbS9MsLPVYdasPKks9Us9Yihl8L/2NFFD599ceI/O/wCJXa/8+X+metfgr8bv+Cun/BXr9o7wPqGr/sm/s8a98D/hzrmq6h4h0fxle+H4v+E01TwfqF/NdRSaDo2s2f8Ax7308tz/AMT7+zf+PP7HZ/8AT5XJ/sc/8FxP22v2R7vQvDP7b/woufFvwm8H21xYR2fjfw2fAfiP/iaSfudZ8CeO9Vs4fDk+sWME1z/xIdbP9j3mj3mNH/se8r1MDlmYV5ww0eKclxGNljsTQxeEqSy+Vahg6eLj9WngpYPCwp1sbLA0uTEYbFRVONTESqRqJ4SWHm8TlrpUFipcPZhTwrowqLELD1pRm5Q95zVRVUqPvKSdOcpVIOEnCzSj/QRH+yD8H/lZbfXLdmT5o0vP9X6f6rP+eacf2SfhbH/q7zxVD/1x1i6T8P8AXf5/OvvL9iT9t/8AZi/4KEfBj/hd37M/iS38QeHbHXbzwn4y8L+INHsNH8f/AA58X2Z8yXw7428N/wCmGxuL2xNrqWh6nbXLaP4i0dhd6RfHrX1y1rbfxWdl/wCAdr/SKvsHlcYtpximrb1J/wB13upuLi+jjJ397bS/hKnRceZRutP+XMF/Lo01zRkteZSirX0bufiiv7J/w8XzGXXvG1usaSTSyJ4o1S3jt7e3h82WWWUXnkQW8EEP2n7V+dfHnxA8ffsu+DNSk8O+CfGnxe+MXiyNHebR/hl4s17ULPT44/3X2rVNe/tL7DBbzz/6Na/Zvtg+2etfTv8AwXk/a71H9mv4FfAv4NeD/DX9qeK/2tvi1/wiN5c/aP7H0O08AeB/seqeI9G8SS2Hk6re6f4p1zV/DemXOmWtzZ/bNHtLyzvLz7GBS/sW/s+eBfClnptrc+HY9Uv9Unt77XJbGztbjWdUvPssMtzLL9hhh8i3sePsul23+h2dp26V87xHmOC4co4OVTCSx2JzCs6OEoxrVqVLmh7P2kq1SLnJxXtIWppR53ze/Hl1+q4Z4UXENavz1Vg8Lg6EcRiJqnGdVwnf2caUZzUeaSpz/eO/s7L3Zc75fi3w38VPCd9qn2fxZ4B/ac8E6VIlvJaas/jTxbcfu5P9bL9llmhgn8j/AJ9bW49cV9peG/g/8P8AxRY2N9oPxe+J11Z6pDHdaW0PxB8URyXkdx/qhFF/bGftH7n/APXiv03+KOi/Dy60O2PhnwM+n2dlFJ9qez0+X7PFJ5X73/QJfJhh8mGH/l3/AOPzpjgmvwe+L37RGt/sL/txfs432j/bNS+B/wC1B8RdH+EvizQXk+0R/D/xBqGs6Ppdr4j0HQbqCaD+x73+19NubrS7e5s7yzvPtl5Z1wZVnUMdnU8kxuGpYetOkqmExmAxmJnhq03T9r7B0cQ1Up/u4zSqRvBVYOlUUeaEz1c64Ho4HJlneXV8XKnRXNi8DjqVGOJo01UjCVSnWw06tGpbmpVFQvzujU9pBtxnE+1G/ZvsVz5fxU+MEePvf8XA8WnH1zrH54zVGb9nfb/q/jB8Y1P8P/FeeKMf+njr/kc1+015Y29vdXVq1rZs1vdXELf6Ha/8s5fKx/qefWsuS3t+f9Fs+f8Apzte+f8Apj7f5NfXvLmv+X1VX/6isR5fy1l363208/gZYelbWHM3u7X2tbt2/qx+K6/AG88ySOP41fGBVX7pHjTxHJ/6N1L+VNX4C6wrYj+OHxd/2Vk8UazJ2x/z+fn+Xav2Y+zWvmf8eNn83/Tna/0h+n5Y9TUn2S0/59LP/wAA7T/4zUPLmoq+IxEeXtjsYr35Xr+/9fvb6krC0G/4Wul3yb6xS69D8YZPgX4khVvs/wAbvi7/ALSprl/ccdf+Ws036df5RRfAvx5M223+L3xjmbf/AASSyf8Ao2E/T/69fZH7dn7fP7Mv/BO/4UWvxN/aC8SW9nqXidtU074W/DLRLKK88f8AxU1zS44ZdTtPC+j20M050jQ/tlsde164+yaPo/2vm8F5jP8AIN8a/wDg6k/a68VeLriP9nf4R/B/4W+C5IbeHR9H8W6PL488af2h5sMv+lap51npeqwf6Hc21ra22m6PefY7z7Hef6bZ1vTymo1Gf13EQg+s8djlzW5dYxVXmt2lJRvsvhdn9Uw7XK6EZXtpGnTV9lr7r9FbZN9j+kqH9n34iW67m+JHxgYffVvselyc8/8AUHm7fz9a6vw38N/GGmw6xDqPirxJdyeIdKt/D2k+MPEOh6XL4ss9H83zLW18OXUWmwmfR9D8RzfabrS9StrzSP8Ap0wK/mO+Dn/B2X+1V4QjOjftE/s5/CP4nI7agG8WeAbTVPhp4w0xL/U4f7Lv7XwnHNe+Ftcg8LaVNqX/ABLD9jvPEl5Z2eb3R/tl6a/o58d/t6fsDXNv4P8Ajt4U/bM+EvhrQ/Gfgew0Ww+HHi3xh4SuNc+KXxTsLyGPRP8AhHdB0/Updcsdf1vOoeGPE/jP/kULWz+xXlpk2hva/nv6R/DHH/EfB+ByngCrD+2cJnOT8U4XNMXj8bBU8Xw5meDzHCYDBSdRrDYqu6VavicXiHRp0Y4ehg4LF4fH5hVy777w/q8P5XnGIxOc06ccNicDjsqrUvYwmp4fH4SVCtUxOjg4J1IU6EZKbjUqOu40p0afNnXXwt+L0Ee23+NXiuPb/Bc+G/C9v/5Ei8N/WuXuvA/7QMe5bX41a9MvPy+X4cTzOn+si/sLmv1i/wCFfw61Y2OteG9atrrStasbPWNN+0/vPMs9QtftUX+lWv7ifyPP+zf1rn5vgvqV4zfam0Rc/wDLT975nfj91D+vvzX75PDVKzc6WIx7pz9+Dji8RyyhUtUhNP2nvRlGcbM/Ov7KwcbReHoJxSTtRgrPdrbv6fkflevh39py3YNH8WNUm2/89tL8G3EfXt5vhubp0P8Ak17l8AfAfxE8VeNryx+LFz4Y8eeG4fD+oTNpeveC/BH/ACEPNiitbr7VpehaZffuP9J63PFfblt+zvpbMWvvEl/H8/zW9hbxeX/39us+n867rwz8MfD/AINuJrrRY7mS+uIfs015eXktxJJb/wCt8ryv9RB9cf8A14hlspzi61TE4inFpuliK061KWzXNTre0i910Vtb30tMslyqrCUa+XZdiYWs4VsLTxENbX92uqkVt/LruzI8I+CPDvgfT5tJ8K+GdE8K6fc3kmpXlh4es/sdncahJFDa/b5YvOm/0j7PDbW31ru7OP5m+X8v/rf0/GrH2ORW+6fb+v4/U1Yig8vczN3/AM/5P88V7FKnCjCNOnGMKcUlCEIRhCCX2YRglGMV0ilprq7nZh8NhsHQpYXB4bD4TC0I8lHDYWhRw2Hox5nJwo0aEKdOlTcpSn7OEVBTlOUUuZoj2N6fy/xqqy9iP8+oq8y7vY1VkXafryf0/rWhum1toUXXf+Z+nNUZEwvr3+mP/rZrSk3/ADdf1x/+v+tZ8i+ny5/z/LFBrGPLfW9/I7K+t9Jmk0+TUjCs1rNqD6Ws95LZ+ZcSaXeW19Fa2vnQ/wBq3H9lTXP+i/Zrv/n8+yf6HXjtp8Ifgu2n6T4gtZrmHS9Fmt3t9STWJbPS7iS3lvPssd1a3UPkf6/WLn/l2s/tle1XU1jbyaWt1D5txcX/ANm0lv7Pl1CS31CSwvJf3csUM39lefYw3Nt/alz9j7Wf23/TK5u31bwiPBtxqUmjPD4Xt5v9I0u50/8AtCQ3EnkxH/QIpdR8/wD13/bnx/z5V9m7TtdLTvKS6p9Ldup8xGbeylv9nXtvt30MnR/Afw58M6hpNqt9eSaxq32O/wBFjv8AU5ftGqfZ7X7BFdRRWFnZ2M/nwTG2/wBJ/wC3P7Hiuo8M6H4D0fVNYs/D7w/21Y6bp+leILP+0Lq4ns9Pjl+1WEV1FL/qP3//AD7friq2rap4Pt/EXw3j1fSfO1zWPtCfD2+e3/5BdxJYQ/arWKXzofIuP7Kx9qtfs17iyq7o+peE5vGnjLS9M01Lfxhp9lpd54uvEs5Y/wC0bK8yNL/0rzh9u8jj/l2/xoSWjdrra9SUukf5m+q/4cUXfv03jbovN3/r0XQ6xY6LdaLrVrqEiQ6ZdaVqEOrXCXHl/Z9Lkim+3y+afOP7iD0+nerfhmPR7fw7oNvoc6Xuhw6Pp6aLeeZ9o+0aWbX/AECXzf3P/LD8u3oW301nHpepSX1t5unx6beTahb/AGbzPtFnHF5t1F5X7nzzPB1tevX0rm7Hxl4X0/TdPh02xv7XSY/CR8Vabb2Wn/6PH4ft/wDWxRRCb7R/aEH/AD6+9UnZt3jrb7Xb5FdG7N2tsrnRafb+H18Wa5dWt15niKazs4dU0/nFvb+VCYrryvJ/4+J4Ps3/AC8mus2r/wA8/wCf+FcPpWuaDqWvs1jY3MesX+g2epSag9v5cdxo8n721i83zv8AlhP/AMfX+jf8fo/LtI2LNt/vf07fp1+vrSUb9HH11v8Al/T8gHxxyTNtjV5G2bzs/wCeUf8ArZf8+mM18jfFD9vL9kn4NeJh4L8bfGPQf+Eq+xyXk2j+G/8AiqJLO3jl8qX+1LrS5poLH/t5ueor8k/+Ck37bvinxn8Y/iR+x98IfGGo+F9F+FfhO9T4l6v4auZoNQ1z4jahbWf9naPrN1bS2U58M6JNqVto1toNrcAavrB1jVtYJs7L7K3wf+zF/wAE0da8WfCfWNa+IHxcmkvvFifaby0s/D9rpeqeJPtEuJYtU1mXzr6xtvsX+jfZba5+2Xn/AE5k1+f5lm+VZKqdTMa8k606ro0qcZOVRU4OU2oxTlJRjBN2nTtflXPJxT+vyfIcyzuc4YOFNRpKm51atSNOEfaSUYXk2uXmlotJX8rK/wDSb8Nf+ChX7G/xW1dfDvhn42aJpevXH2j7Dpvja3l8If2x9nl8qb+wtUv5pdD1W4g/59bbUftmOfp9lxtHNb295bzQ3Vndp51reW0kVxaXkef9ba3UXnQT/S2/Sv5LbX/gjH8H9Y8N6h4Xj8ZeLdJVp/7V0y+sLiK31jR9U0+Kf7LLpUph8iDyZ/64rc/Yd+Mnx+/4J/8Ax4039nn4rePtY+IXwj8QQ3F/4dub+81TVND+Ing/T7+ztfFN14dtr/7ZfeB/jR8K4Ly28Sap4Xtv+JP488N/bLyz6f6H52W8VZDm9eGEwtWvQxVWM5Yani6bpLEunFTqxpSmo+9TpJ1Jx55ycFzRjyxqSXpZtwfm+TUPrFeNCtRi4KrUw9X2jo8+kHV0Voyl7kZvlgptRk43Tf8AVx/H/wAB/rTR/wAtPx/rUsirG7KreZGfnjkT/lpHJ/qpf+28HfHpSV7p8sFFFFAH4jf8Fhv+CgMn/BOn4UeL/i34U1RrH44fF+w0P4Afs6abqel6fqFnZ+Ozo95428efEDU7C7a7sb/wj8MvCH9ian9kuLVj4j8XeI9J8NkKPthr+HD4Y/An9o7/AIKPfFDxh4q8Awax4x8Saxc/2r8V/jz8V9UuRH4g8cD91LYRa9cw3l94q8QQf8ew+zf8SfR7P/Qx9js/9Cr+gj/g61+DfxN+IXxC/YJ8TaLaa9dfDa6uvjX8LJri0PmaRZfFfxB4n8E3OjRXwiixod/q3g/Tfs2ma9qQ+yXlpo39jjF5nPffDfWvCP7GHwx8C/DPRfB+lWsOi6Vo9tbXWqaf8QbizvNQjsIf7Ui8OeF/hzoWsarquoT6r9p+1694kuLPR+32yvh8fjlw/Q5cpoYL+2c7xuaYmti6kJ1nCisfUxMU4yVXncliadKNNRVGU/a1fZrmVNfonCfD+Gz6tiMXmssSssyylgqPsKUo0Z1qs6HsvZqUpR5KcVSqV6k4tSUKlKMXCpeUPxfuP+CHv/BRTwDpUPx60n4kfD3wH46+Ht9/avhP/hXvjzXtL+Jmh3Gnyw/2X4j8OeKNB+x33g64vp/+YXpupfY7wn/TLOv6Bf8AghZ/wVu/aD+MPxn13/gm7+3zfXHiP9pjwx4S8R+LPhX8WdU0+HTvF/jvS/BkUV/4o+H3xGhsbOz0rW/EGl+HLu38SeDvHmmW9mPEej2esWesn+2NH+2az7z42+PP7S+g/A6P4ozfBwWPgzVLuLw/rniGH4f+N/FFpbWyWtpdWkt14M0bTf8AhJJrcwXduBqumj7YcXvW8FfFf7MHwb8UfGD/AIKvf8E6P2mv+EbtNAk8DD9qGPxt4l0vQ9f8DL4n8MaD8GtTk8N6gNB8WQWniubzr/xv/Yn9h6mLy7Wy/wBNN39i6TkvE+aYnH0cHmNWnXw2NhWp03LD1MLUo4ulGVSNTDU3SUZ4ecaU6bnJUmlNS5qvLZexxRwfk+By2vissjVp4nATpzr2xdPFUJYepUp0eWs5VPaYfF0ZVFU9nGKv8LSupR/r2VmVldW2yRuXWRP9ZHIM/X/9Vfnv/wAFEf2Pv2C/2ifgZ8W/iP8Atsfs7/D74m6N8Kvhb43+IOqfEUWEXhL4v+HNH+HvhPWddY+F/i94c/sfxvpVxANOgg021GtXmjtd/ZLS+0i8GbQfoArbMZOCOo//AFV8Bf8ABVS80of8E3f2zrXWbS81TSvEHwU1Twfe6VYv9nvNWi8WavpGgS6faeVD583n2V7cE21sD9ssxeDFlnI+6tFtc1lFNSk5O0Uk9W3r5adT8mhztpQvzSaUVFczk3skrq/3n+TBpXw7+JfiXSY/EOi/DfxtdaLf+Zf2dxZeH9Z1Sys7S4Pm2thLrNppv2ee4sbH7NbXN3cmzvL28s/tg71jyeFfFEdx/Z7+HdbjvlfY9jNp8sd5H1/1ttKfPg6fh71/pCa98QE/Z3+FHgTwrpPir4P/AAx0GbSvB+j6PZ/EjR/FEfg/VLiTSobXS/DnhzS/AcMM8GoX8/8Ao1rdfZvsn/P5eV2GvfHLw/4b8A6T44uvhz8H7zXtattQSbVPFskVn8PrKPR7WG61TXtZ17+wbzxHpXh6CCa2uPtVz9s+x/jXxcONq8oxm8vwqhUc44dVcbiqdSSp1JQipSjlLw8ub920sPOrNOprF8qcv06HAlGXtU8yxMJUFCVZwwNConzpPRLNVXjLmjOCWJp0oPlbU170V/m0eFvCmrx/EX4b6Pr+mahoy6h8QfAvnSXdnLJLHpkHi3R7nU7/AOyxgzz21hZQ3FybXGcZwRnI/wBHPx1/wR3/AGXP+CoHxStfjT+0N48+NlnpPwZ8MSfDHwf4S+EviHRvAemePPCHxDi/4Tf/AISPxPrN/oOveI4Bq0Gp3VsdB0260b7FaCyzd/bM4+Cv2/IfCf7Qv7Kfxl8ReGPhf8B9Q+JXw4+GPiD4heFvF/wxjsPGHhez1vS9Lm1Tw5qnhLxv9itNVmgngH+lWtyLT/rzr+kz9gDwkujfs3/Dr4gQ/ESH4i23xm+Gvwc8a6Ze2Ol6fplho+nxfDTQbW60b/RLy9E9/B4in1s3IPOjj7Fo/wBiH2O8r4zGYLNeLPEXw94nhllHDYbg+XG2WZ3y5j7WdKnnWS4FYGth1Khgq1enWr4alhKqjQ58POSnUUacdebMsJh+HcjzPAPF1a8s0jlOMwM54WnSv7DFVqVWNVQxGLpxqey56lCftlCpCUvZucnZYX7E/wDwS9/YW/4J3TeJNT/ZH+CLfDbxL418Paf4Z8deMNR8f/EHxv4j8aaRp+qT6xbR67J4u8SanpQuINUnNx9q0zRLO8A7/Y68i/4KF/8ABUHxh+wZfx6doH/BOP8Abo/au09tEtNbf4n/AAP8DaPqPwSglvBN5mg3/jLS7zxX4psNY0sw41T+0/ANlZHINpe6sPtpr9VfM9v1/wDrVNFdSwBmt55oGblhDJLH5npxF3/M+nrX7PH3ElGMGk/hqe2nDpvatCo3pu6vpY/O3PnnzVby6aKmna+iXPTqKNv7kYc32r2jb/P/APjn/wAHgn7X15f6t4c+Dn7H/wAAPgNftcyWUcXxr134i/Erx7peZfJi+0eGWh+FdiNRx/y7XFtd2YJPpk/kR8af+C9X/BXz46vfxeIv22viJ4A0e83wx+HfgTpHhP4K6TY2cg2/ZrTUfB2hReKyeSCbrxLeXuCeeTn/AEEf+C1nxJ/Zr+Bn/BPX9oz4+/tEfs5/CT9o2fR/Cun+AfBHgr4i+DvDOpXXiP4hfFPUbfwH4KtYvE1zpEniLQ4dEvNZ/wCEk1LVPDmp6P4lstI0e9bRru01cWl5X+TfbXFnAkGnzailzdQwx20k0shje4kjiP7wZyf349ST0rthVru7hCFP3mlLD06dOVlZfHCEai6WvOXVrW7dKNG9km0ktaspTV+0ea9N8vV+zSd1orH238Kv+Ck//BQ74GeJrrxd8Kv24f2o/DmuX8v2vVZL/wCL/izxvpet3H+tF3r3hv4gXninw5qx9Td6aT6ngY/px/4JJf8ABez/AIKH/tf/ALQFv+zj8f8Axl8NvElrpPwi8efEHR/G/hb4aaP4E8f+L/FnhO78LRaXpfju50WaXwpe+F/sGpalcana+G/DXhu8u7sf6Xe4swo/i5vLi1h8uRriFV2fe8zp5Z9/8/nX7/8A/BA34mfD2z8Qfta/C/VPh74b1D4paz8MfDnxK+Fnxtg0ew/4TfwhpHhTXv7C+J/wwPi051ax8EePtD1jRNaGl6Ycf8JJ4b/0wH7Zmz/OPGPH5pgvCzj/AB2XY/E5dmGB4XzPGYPMaGKq4fF4PE4aiqlCrh8ZTkq9GvKtGnRo+ylCVSpUhTcuWTT+j4RoYXFcS5Jhq9ClicPVx9GlVw0ownTqU6nuTjKnFqMqai3OpzqVoUnbqf0+fs0f8HP37G3xz8Sah4Z8a/s7ftefCPxV4d16707Ur/wP8Lb/APaV8BW8mkalLb3VzFqnwngm8ZQwW81n9oP/ABQ94DacD7Z8uf3b/Zy+BHwz8LXHiLXLrQNIn1CDxJqel/D2O8s4vsGj+A5o7LxJ4cl0Lw5cxCy0vV9Vg8R/aNVubm2/tf7Zmyvfsl3aXtlXpvhMW/hvwh4XsPDVjpXhWxk8M+HL2TT/AAtp9j4c0/7ZeaFpt3cy/ZdCs7SGfz7ia4+hHy9hXwr+03+04v7M/wAWNDYSXXizS/HHgbS9e+I3gnRI5tY8b/DO30vWdS0bwb8VYtB86GCfwf44/wCJ34bu9BGpaP4k8Sax4PvPEng/+2P7G1ivsIyws6GExmbLDUqOHpxq1K6p1pUaMq8YU/rFb23tFClGrKnGc/ZUqVJyTlaF5R8ilUxMa2IweWSxKq4qTpqCxMYSxDpN1adKmqUqdSc40+eCjKpLmi5pODk7fop411aG11q4tr6QG3W2t4pLWWOK5jkt7kf6q6tbmGa3uLfj/j1ubav5/P8Ago9+z/4Ph8XaPq3wbt4bPUPjJeap4S8XeFUuLqTw3pdho9rpus6p4o0zS7qaaDQ7fVdLm1LTdd+zf6HeXhs/sdnZ/bbyvSPFX/BUL4U3WpR6pc+LrOxhmsMalDf6P4z1PXP9Dlmii/svw5YeHJr6+uJ4P+XS4ubP/r8r5H8LftETftSfFTxh8RNP0fUvC/gnwX4Ys/CXgDw74huIrfxJrkeqaz9v8UfEbxRo0U00FjqF95OiaLpel21zef8ACN6P9j/ti8/te8FXnNfJMdhaOCjisJicTXcaWHng68KuIpU4WqVqtN023SpwoxlrJPlunDmqOCXbldDOspqVMesPjMJQw9quIjiadWlhqtVSiqEKkJ8ka0nXcZO6ldx1VOPPM+vvgvpcGg6Lo+kaX50Nh4fsNP0TSZPM8u4js9HtYbCw/e8f8sIf8fSvOf8Agrf458Q/ED9i/wAAfsoabqd5out/tv8A7Rvwx/Zj8WeKbAR/2jo/wht/7Q+KHxYu7RAcTahrfhXwTb+G7e02m0b+2QdYZbMHPvXw9t5I9Hs9yorffZun48n39a+Tv27PDfjP4qa18F/h34J0+58P+Kvh3c6p8afDPxG02OLWPFF5HrEM3wv+IPw5+H3hz+zbyeDxBrng7WLb7V48/wCZb+2f8Sez+2D7ZaefisQsBgcRONSnhnHDTo4erKM5qnXlS9jhpclKFScnCShblg3ZWUW5JDyzCTzTM8NF0ni74iOJxUHKnGdWhTqLEYxuVWcIuVWkqsZxunOMnFe8rS+ZNP8A+CSf/BLfUfhXZ6BpfwX0rVfEUF5cWcniCw+MGvax8TI9P0+L7BL/AG9Lo2v+fY6hPqv+k/2pc6JZ2fBs7Oz+x2dfnn+09/wR7/Yb0WPVPDHg7SfFXgPxFY21w8Gp6P8AFj/hM9cs7zyv9F/tnw5rM1555/5efstzbWZvM/8AH5X6q+Fv+CZX7bTabb/ET9mvR/hf8Krq3s7ebwRJ4t8BWHhzVJ4/sGpy+I7rxnL4j8Sf8Jj4p/t2f7NptrqniX+x9XN7eDVwP7Is7sV8WftYf8E+P2mfBfhvw/8AEDxX4I8JeFfiNDDZX9n8SP7D+0eJNO8cSRfatUtf+E88G6lrGl+MLfz/APRtU0vW7az8N/2P9s+x6zZ/6HX537DNaSpYqWccS4ahGnTtVxMs/dN10rTxGKhGh9XlGvVb54qVTlp051ZSq0/ZOf6usRlValLCLKeHMTi6lSSnhaEsgdT2EuVKjhqkcbUrRnRjFQhbllOU4QpwhP20afyN/wAEdPCXg3wF8Bvi14Xk0vwXN8S/hx/wUx+FekXXxSg0CztPGmv/AA31T4TG+0vwlN4ski/tweENL8VeFLnxbpfhY3I0iz8SXl5ff8fZGf76NZvHl1jU5JZHdvt94m6WTzH8uKWaKIf9sPUcDpX8sP8AwSL+HH7Ovh/4ufHL9n34pfCOHxl8TfjL4q8J/te+F9We7v8AxZ8MNLk+GHhO8isNe/0mHQdV8AeKNc/4SXW9R8L6DdW3iTw1rGjWf+mawLu7s7Ov6b5tSkmkkmmk8yaZ5ZpJH/1kskn+tl/Gvsshwclm+fZ99ZoYinneG4epunSUlUw+IyzB4h1/bfuoR/frHUq1KN/aQhK06dOPs0/y/Po1MNTwOWzw2Iw8sJLMq1L2+iq4XGYtRoVKT56kZRjLC1qMnGTTnTl72ll22h3MMWqafdSyItrZ3KX95I/+rjs7T/Sr+WXpzBDDc/zr/IF+JHhb43ftX/Gj4/8A7QmjeC/FXijTvif8fPi/4y1XxxdWGoR6Hcah4j8d+JNZjik167hNjPcQ6Ybe3+yfaftdnaWmQOgH+txqWtXWl6L4g1bT9NfWtQ0nw34k1Wx0FLn7HJ4gvNL0LUr+10GK6/ffYf7cnh/s37V9m/0L7Ziv52Pgv8P/AInal4F0nwn4K1r+wdPukS9+EHgfwH8H/Buuax8M9L8UaX9v/sGw8G6pDNY65qAn1H/iaePNS/tizvPsefsdn/x+V35xnkMnWEi405TxlZRSq+05Y04Q5qko+zpVJupGU6cYRjKE5c75FOS5Hvw3w/PPZ4tuU6dHCQpuc6TotxnVtKKq+0nCUabpwrTcoqUF7L95KnGXOv46vhv/AMEg/wBvz4v2Njq3hf4O6Vpvhu8f934u8YfEDwR4X8Pxxxxeb9qu/t+sf2tBb+T/ANQ3PbvX0h+yx+wR49/Zk/bg/Zh8XeJ/jJ+zz42Phb4nvc+LfDPwx+JE3iDxR4TS38M+KLW6/tWwutC0yAeReym2zb3DAH/S8fYyGX+2HwX/AME1f2srvwvb3vin4geB7q+msdD0++j8Yado+j+LNZ/s/U4NRu5dZtfBNneeFNKnvrf/AEb7Npl19rsz8t5e3dqMV8VfGT9ln9o/4Ya1r3/CbeMbaGa61iTXvC958V/g/wDDm88D+E/7MtYv9F8G+KPCX2PVfHFvPB9pzpf2n7ZZ2d2c82dfE8UY7OcxyPPsux9KGX4DNsqzDKYYp4TGey5MzwlXAyrVY1MJUrOMY4j2ioRq4SvUS5IzUpR5fusryPhmOKwUssxjzHM8HiaOKrU/rmEqVfaYWcMRbCQp4jC0akvaUXTqVJRxNBRadlTqe0f7UfsV6xpviD9mP4d6hpOrabrVjDeeMNH+36VeRXlvHcaP4jvLWWwllix5GoWObb7Va3P/AB59ua+oPL9/0/8Ar1+U3/BJPwRp/wAN/hf+0j4XtdFudLuP+Gh7fXtWvra58vwNqFx4k+H2j39hpfgPQZZpptC/4RXSjbab4yubn/kMeJLz7Z/y52hr9WVkU/5/yf0r63hPLKOUcMcPZRRxEsXSyjJstyiGKnCNKeJ/srB0cBOvOnFy9nKrUw826anKMNoveUvzPP5VXnea1K9JYericdXxzotufJHHzeNpJS55+66Nem4rnla72dx2xfT+f+NN8v3/AE/+vU29W55/A/40Da38f5j+ucV9CopdPv8A6/r0PJbtu19z/wAx1vazXEkdvBDNcXEnyxwwxyySSY/e4jii+uTX50ftZf8ABW7/AIJ0/sQ7tN+PP7T3gyXxx9oktx8J/hDJ/wALq+KkUkck0csmq+FvAs+oweG4IfIuRc3HiXUtHJPygE8H8mf+DjH9rX9pHR7z9mj/AIJu/sn+IdU8D+Nf2tNC8VfEH4z+NPDmsXPh/wASn4OaDrDeGNL8CQ65YmLVvDvhbxHqllrmtePbrRJ7PV/EekaNaeGjef2PfatZ3v5efsy/8ENf2YbONI/ilJ4h8fal5NnNq02iTy+H9DkvIrWDzYbXyv38/wC/+0/arr/l8714edcR5Lw9CH9oPE1sTVi5U8Jho++oc3JGpOpLlpxUpqSUZVaEnyy5JvXl+iyPhnM8/cpYN0qNCm1GeIxEpKlz8sZ8sYwjUlUtGUW2qU+W6TSv739d37Cv/BRv9kX/AIKO+H/FGr/snfETV/FmqeA5rOPxv8P/ABf4U1TwJ8SPDFvqAzpes33hLVJpvP0DVP8Aj2tde0y4vbP7WPsnXIH3V5ckcjRyK8ckLyJIr/upI5P+eUsXr0r+JX4yf8EQfhja+B/G3jL9i34p/E79mv4rf2JHDoelaD418R6X4W8eXGhy/wBp2Hh3xR/Y2pWd9/Z9/fQ5tbr7TnR9Y+x6x9j71+tH/Bvj/wAFEfix+2h8APiv8DP2lQ8n7S/7FniDw94H8Ta/c5j1nx38OdY/tLRfDGs+KIpppgfG/g/xT4b8R+CvE+prc/8AFR2dppGsZJvL2ryXPsr4gp1quAjiaFWiqc6uDxULyjSqtxp1aVeNStTrRlJOEoxm505xcJxiuVzzz3h3MuH50o4uVDEUazqRp4nDyqciqQjGXsKlOrTo1KcuXmmp8sozhaUW/eUf6CFkkX5fMf8Azx+ftmpFP97738X/AOuq6tn61Y3L6/z/AMK9s+f5791+P52JlZmP3nb/ANF5/n/n1rN8R+JtF8I+Hdb8WeJtQTS/D/hnTrjVNW1GaOWT7HZ2/wDzyii/fz3E0/2a2tbW2/4/LwVoJ94fj/I1+bv/AAUz8YeKNJ+G/wAP/CPh9Uj03XtV8aeMPE01zJ5en3kfgPQbOXQdLv8Ayj/x7w6rrH9pC1/5fLyzs/asq01TpVKkvhpx55eSTVzWhCWIqwoxXvVJRgl3lKUYR6fzSS/7e+Td8Sv2+PElr4VkvPhz8MbyPUtaS5XQdY1vVLC8js7e3/5f9Z0uwm/4+J4P+PW1+0f6H/y+V5b8Nf2xP2xLGPUrzWPAvw3+NmgQ2H2+HT9N1iLwv4skk/1t/a2F/a/uJ7jyP9GtbW502896+CfhDY6lr0NnqWuapc3l1LbW801v5ksccfmZ/wBVFF+4sbf/AKdbbOfyr3zxd8Lbe68I65e6HpOq6LHGlml5rmg3F1b3FvH++ltZf+PyGD7R5/8Az7f6bZ/Wvz7/AIiBFYyahgK8sFCDtzLDuU4Qjz1K6o805KPJC6jOVOVlaSV7n61Dwrm8DTqTzKmsZL3nFQxKoRbty0lVXLe2q9ooSg7+7ezP1v8A2b/2q/hn+0tpmuf8IjFqHhfx34Pj0+Tx78MPFIsP+Ev8Lx6p5sOmaxFNaf6P4h8MXs8NxptprunH/RNXs7zSNXtNI1iyazH0rv3KyN/F9793F/8Ar+np+tfzufso6X42h/aq/Z2+NV7N9t1W21LxT8EfG/jCaT7JJ408AeM7X7DLLrItfJ+36hb67pvhHW/tOo22f7Ys/tl361/RB/h93j/Pt1xX6BhsRTxeGoYqiv3WIpxqw92yaqRjJON7y5eVxXLKUuSSlBN2u/yjH4SrgMXiMDX/AI2FrVKVRX5rSg+R+/Zc/vRdqllzw5Jcsb8qtrcMu1V2Lt+7sji/dgf88v3P5/XnqK/h9/4Ku3WtfEr/AIL/AF54K+J+mS+LPhx8NP2bvgjffDPw3fp9s0yPwxqemXnijWr86fKfKmGq/Eb+0v7StiAt5/Y1oLrIBx/brvHv/n8a/ly/4KtaMmvft9eIPFXwt8B3MnxF8Lfs7/Cz4U/FnxzcaxayXGr6PLL4q+KPgTw78NdBlNpPpfjEtrx0bXtf1PUR4b/se9sru8sze2WT5XEuKngMkx1WnVjh6tahUwlOpKfs+SeJpul7SD5XepQi5YiFNe/OVGMY21lH2uFcH/aGbUaU6brU6TpYqpBRhLmhRxWHXs3GU4XjXnOFCTTdoVJOz2f6JfA/UvEml+G11rUNNS3SSG38mS8iijjuIwYfssUtrL/y7+Ri2+y16L+034c8M/tA+ALHRPih4R+HfiDwxq3hmTR77S9OsNM1Yx2afu8a9YTRE2NxB532m0urb7H9iHA7V+Pn7PNr8UtD17QfCfiL4Xw/DObxhYeNLzT9c1v40f8ACQapqkmkeHPNtovFH2X+0tD0PT/tH9m/arr7N/bH+mfY/wDj8qb4dfDX9sCTXtQvNH0f4A+F/FF3Yawmm/FTw54g1641zw3qGn583+2dB1nR7zwb4q+H+rT/AGa51S61vW7PWP7H1j/iT/8AE4H2Ov5zw2U4Slh8blUMykof7NVnKCppVK+GrUa9OPtKM8RVc5R9rGMcNjFVU3GrT9vCLg/6HlXxTlhMyeBUa1L2tFazioUqsXSqOn7aNBckoxtUliMPKk4PllGPMm/jD/ggFqF3+zz/AMFlv2o/2VPA+nyv4A8V/AHx9D4zgnkmt/sr/BDxloOsfDHxPMgxBfaj9n8ba34aW4us/wDEqvQccGv7i2k43Nnn/P8Anuc1/NL+yJ8GbD4ef8Fi9Q/aV8avo2t+Lfjv8Fbr4K+C4/DMV14Y0fw0bTR9Hu/iBrVpo1tBeQ+MYB4r8NaH4T+1eI7mz1gWmrjxL2FnZ/0lGRe7fnn+tf0dkGaRzXKsJW9rGriKFChhcby+0ssXSw9GVR/vKdKUvaRqQqc/Ik+flV+Tml/OfE+VVMozfE0vZTo4fFSljMFF+zX+xznOhCPJRq1acJUq2Hr0ZJNOXs1NxjzKK/mD/wCDkXQPhj8ZrH9lLwFZ/EnWPAn7QHwT+K/hjxfaaifh94z8X+BNP+Fnxz1rTvA+q2vijVPCcN5PZa+dV0fQ/FulaXbW13ef2PZXhH2QHjlbPxx8SPBvxK8QeAZvGX7VOta94em0f/hD7P4Iad4I8P8Aw71DT7PRrOS6urqXxv5XiPx/9hg/0bVLrwl/pn2z/Q7OvsL/AIK//BLxFqHjz4K/H3wdoWt6/dWulnw5qml6J4X1TxJb6h4l8D/2xrWhR6pHpcMxguP+EWvdcubXVNbxpFnaaPef6Z9rr9J/2SLDQ/BnwT+GNv8AC/4fad4quL7SYNUufHuq6pDqGv6r4g1G2gutZOqa9HDNe6XcW88tv9ptbb7Ho/8AYxtP7HH2Pp5dXLMzz/NMTh5zwmFw+V4ivGEp0q7nWwmPo4ZU6tC1WC+sctGftalOrywnTUFSTlzH01DMMqyHKsrxdKOMxVXM8BRc6cMRhI+yxuCxOLeIp1/a4Wty4dTqXo0pUZVq8Kkp+0k6UXT/ADk+KmqftVaF8K/A+peIJv2k9X0zxB4euLnXLP4Y/D+11T4ieB9Qjl821tfGUviL7Hod9cfYf+Jl9q+0/Y+tnj7ZX48fFabXPi18d/2LtY+Lfxs17xR8Jfhr+2vonjPx5rnjn4b39n8S/DngT4X6DpvjeXSjoXgjTdS0rVLaDW9N07Rdeu/tDf2OdY+17byzsyR/a5P45+Ic9rf2OoaPomj6xo82zVra0vdQuUuNPuM/YdU0u6/c/wCj/wDLtdfaOBd9MAYr8xP20PhzZ/Gz4kfsx+DbPTdH0PVPFHxF1Tw3r2oaBod/5mseCLPS4b/XtGv7+1hNjBb2Nje63qV1dalx9s/5e+lZ1+FsXklL+1cBi6GKr4eUHCjiaM6sqssRKOFpRhXjWlOnRhKs5yp01GXKpP2j+z20OKcNxDUWWZth62Ew9enNVsVhMVRpU6WGw1Kpiq6lh1haUZ1atOg4KrOpJcygnTcpSnL9Qr2Y3F1dXmYWW6me7ja2k8yCRLv/AEqKW1lHE9vPDN9ptboDA7Csp+n4/wBDVmZreP8Ac2caW1jbpHbWVun/AC76fZxfZbC1P/XCCG2tsetZ8kyru7/3eeOP8e/A5r7E/Myuv3mbn/e/pn/P606qvmr5m5v+A+3v+fTp/OpofLmmhhaZLcTTRo0z/wCrj8yXyvNl9PI+vegD+QL/AIKRfCmx/wCCgn/Bd3w7+z/4q0ea5+Dv7HfwN+H9/wDEaz1W8l+x+O9U8SaMPGf/AAjGjR2ssIsdGvp9e0S2121B+2ax9iOccGv2s8P/ALDv7JnhnwhZ3V1+zz4Ah8X3l5J9g1a88J+HLdI4NLii+zRW2lxabDfQdBbf+Ahs+vH5p/tC/tU/sueDf2yP2rviB4w8e6J8BPj546i+Gnw+tfBPxg8ZxfB7X9Y0L4L2OpfD7xj4i8OfEr+wvFeh6Vo+tzWemajpl3/pniS90gZ0bRxecDxfwV/wVB/Zg8E+NvEmqav8dL/w7prW3iPy/DPwa+IPxa/bP0zxJcW8f/FKah/bXjfw1oU/g64mGbrUx/aV3Zm0A5F5zX5dxDgswzvMcRVpYfMsThKFClgsHhqGDnKnareWIxtOU5U3zQqe0oc9OnVjHl5FLlhCJ+vcM1cvyTA0qeOr4DC4mpVlicXVr4yCq0vYpRo4SVOnGpU5atOXt6cZRjzQnG9NtJn3j+0p/wAE9f2X/i58O/HUPiD4C6UuoW+iXk1l4m0fw3pen3Glf6LNFdf6Va6b58H7+a2+y5/48/8ATK/z6/ix8I9R/Z/+NXjT4U69DZXi6PrdxYf2lDbxW8moaPby/ZYvNuooYZ5/9Am+zDtX9i3wk/ag8E/tD+MNH8RfB/4oaP4+8aahrcmm+MNSP7Vn/Cr/ABh4P0/7L5ul3Ws/BX4oQ6DoeueF555rnRLrwvon2O8s/wDkMf8ACSf8ednX5C/8FjPgh4RvPHHjj4zeB/GXgbUtP+G+m/Dvw940/wCEVuIvFlnrHxA8capeWt/4Xi8W+F7zU/Dmh+IdEsdN/tK7tdcuM3ln9isrMfbK14UnisnxVDLcR9dpYbEUI+0jjKFSk6OJniKccIqkfrOKkq1XndLkqewqSnCHNBKcXHPjLD4bOsBisbg1g8TXwjnVg8FXw9X2uDpYdzx0k6dOio06FOk6+9Tlg5U241YuD/ta/wCCSfxQ8R/GL/gmL+xB8QPGGpTa14pufgdpfhLX9WuY4o7nUL/4b67rvw+iu5vK8mCfz9L8N6cftX/L4MXmK/Qx/un8P5ivyN/4IOeMNI8af8Eh/wBiy40eRGfwj4W+IHw38RR/8tI/Fngv4oeMLXXvr55vLa5r9bK/SYRUYxUUlFRSjFKyil0R+Rwd6dN3u5Qg27W+xGNt2/s/iFRu3Yfj/h/j/wDrp+4eo/OoWb+LpirKI26r9f6imP8AeP4fyFO3+3+7x9R/9bj3qBm/hHJP9f60ARnqfqf51Uk4+Xvn9P8A6/arEh+Xnp/Lv/SqMjN9Ofy/z6n8OtAEci/fLe3/ANc8j8QfxrNl7/7v+NXJmbay+v8Anjv9KzZJG+b/AD/X/wCv+NBUZct9Nz0ia8uLVrVbezmvFury3s7xobiG3/s+zkimll1S7+1zQ+dbwTw232q1tv8ATP8ATKyfButaxqun3d1rHhG88C3lvqt5Zx6LcyWsklxZx+T5Ws+bY/uBb6r51al0uoL9nWxWwWT7fZ/bl1X7VHH/AGP5v/E0+zfZf3/9sGD/AJBf2n/Qxef8fnWsm4j8YR6T4gezbR7zXo0kfwrDc/6Hp8n/ADysNUli/wCeHT7V/LPH2+l4t7Ld8kp9V/KtPna/yPleZxjyq3q3bol/w513yja3lws0f+rZ7eKSS36f6qWX/Ud/+PaqNvqF82sX+nyaHNb2cNnb3Nrr3+i/Z9Ykk8mKXT/NiInguLGf/l1ua5W9/wCFkxf8K9/smPw9cLJeRw/FL7Z9ljkt9PksIfNv/Dn77/j4g1X7Vi1tsfyroIf+Eo/4SjUlkbTW8F/2Pbvo/wC7/wCJp/bkkp+1fapfO8+e38j/AKdvSofKrWb3T+GS2t/NGPd7X2fki4yasnrsjommuFhmZbOSZ1ikeO3SSKSS8dIv3Npj/pvn7NWHda1q1rpel6lb+D7y6vLy/jsLzS4Y7X7ZodnJLN51/deVDN/xL4PJH+i23tWw32zybjy/sy3H2a4+yt+9/wCPzyv9F87/AKd/P/4+v6Vgxv46k8N2M3laJF4sZ4/7StZv+Qf9n83ypYrWWKbyPtHkf6T/AMfP+NOSTau0vVXvqvNW2/pI1WltXpbZ22afn2Nj7VfR+IJNN/sN10/7IHj8SJ9ljt5JI4vNlsP+e8PkVvQybZVb+KN433dOev5+9YLf28uvKVbTW8Lmzk8zf5x1iPUPKn5/6955/s35fjWou5W4+7/9b8/b/OaHC/ZekbfqB/HP/wAFEvBepfsff8FDPj9461ddQvfhz+0FpcnxZ8Hm3t444P8AhKPHlrZ6Bfy6pc3U032648O65Z63ptr/AMuej/2x+FfoJ4Q+Odn4F8Aw2/hvXvgvq2saXon2nxbdeM/iJa6X4X8HyR6XDdSxapqGlzTeRcQE/wClXf8Ay52f0r17/gsL+zdbfGGf4S+P/FHhsa54O8PeG9Y+Gen634d+y6N458AeJ/GXiOC+1DX7XxRMObCbQ7MXGhaXqNve6Pd6xo91Z/YxeXwu6P2Vv2JP2cPHnhGHUtTtfh1deHNL1WPStvh7wBFZeI7jUNLsIbW1tfHmma9DP4csrmawltrkWv2bV7s5F59svLPmvw7iWg84zvDYHD4Spi8flc8WvY1pYShCeGxHspLFXxMp/WKKjKcIxjSUI1qb9rViuWnW/Z+GGsnySeY4nG4Wjg81oUbVqKxletRxGGrVqEsD7PDxjHD4rWliFOdR8+FrUnQnFyqVKPO+H/2oNHu/CNxrWoXngDWdes9Nj1hdY+HWqazceC7zT5LWGSLWftWs/wCkf8I/Yi8trm6uvtP/AB53ln9j/wCPyzr82Pjp4g1T4+fDfxZcaH8XvHOqfFrSPEun+J/gHq1n+zXffCP/AIRf406H4oh0bS7DwRdXV5Zz6r4P1WC8udE1661L7YfEmj6x9s/0Ozs7y8r+ozwZ+zf+zt4HkVdO+FGi6/HJptzo82seOLO08QR2+jyGDzNL0awu7KHS4LCaaC2BtdN077GfslocZsxi74p+DfwP1PTJrtvhH4JuLqK8ie1v1jl/4l+oRyf6LLaxSXgmsbiDva2uPYc1eG4KzalKniKNLKKFaniKGIpRnKX+zzo1FOE6csHgoeyqRUIc8KFeNGU7yqU3CbpN5hxjg8VTeGqvMatL2FWg5ezoRjUjVh7OTdPE4qpGVoyaXP7S1204StI9q01dXtdG0G38QSWz+ILXw/4ftvEUlnzZv4gt9Gs4tZltfK/5d/7VgufsvPerSSfxbvvfX/P9e/WsX7c021mbczJHu5/6Zf5/H1qaOZv73+B/xNfdtWly+a19T8wbu2+7NncWAz/n8qYzbWO5vz/Lr+Bqr5nt+v8A9amtNj6/mf6VIj83/wDgoR8ALfx94Y+Gfxek8OXPiy8+GepeIPDnjjwrDcapcWniX4YeM9etPE+oaXNpdgLy3/5Deg6Zc3OvfZ/tvhz5rz7WPsXP1P8AAj4BfD/4a+GNOF5e3/xVup4LXWNGbxlaaNeaT4Zttbhh1o2ukaZa2/2Ga4Y3gnu9d1G5vL28uxmzaztGwvuXiDVdG8O+CfFHinxjff8ACP8AgbRfCviTVfGXie8kl0/T9D8Iadot3d+KNYm1Qfube30nSotRujddhaA+lfiT8Bv+Clknwf1jQPhh+03fw6t8M/FOhaF4t/Ze/a9s9L1WT4d/Gz4IeKNPh1P4fa94j8RWEU0FhqFx4cvNMtrnXrjTP+JReG88OeL7PR7y0+2Xvnf2VlGHx1LFY+Kqxq+ypYeri+WeFoYqlh6dFKdWpKMVLE0qFCNNVHGiq9BVIuFeouf6vC5xnuNyqpluX1Zw+pwqzr0MJzRxWMwFavWxHs6cKUXUqU8LiK+KqVIUJPESw2JqpxrUaLjT/fS816/j0W9M1rYSKtpIsNrMn+hyR+WY/KljH7me3PcdCvy9M18n6V4H+Hd38YdJ+JNv4TttK8daD4P1zR7OXTZZY9A0+z1yKGw1S/sNH/48dK1G+sYf7M+1W32M3ln1s65DxR+3Z8ArDwbe3Da5p+oWIhjvLi7sPHnw+/sO8sI/3v8AyHotYlx5/wDz621t9s9q0v2f/Gl18TPBtj8Yvs+m6b4b+KVnbeIfh/pOm/apLiPwXHLeW1hrOs3d/DBPNrHiOaH7T9l+zfY7Oz+x5/0y8r3sVRwPs4urRw8sTCfPhXJU5Vaco8tqsEuaVK0ZSUpRkviTak0fOU6mPpKq6dbFUsPWgqWJSlUhTq81v3VRO0at5KMoxkpJ2kmle7+jp5mTb/PH+f8APavKvjbpupa98H/iFp+lW1lfagmg/wBqW9ne6fFrFteW+iX9nrGqWn9l3X7i+M+iWepW1pae/wCFd7NeLuXt+n+fX6/lUkNwrfKzPGjnyXZP9ZFHJ+6l8rza8+pD2lOpTeiqU5027arnVrp+XVde6KoSlQrUq0bOVKtRrRTXut0akasYyXWLlFXXkfN3wv8A2W/CfiPwzoeofFbUbDU9FbSrdPD3hnwxcX9nb3Hhe8/0/Qv+Ei1m18m+vvP0ma2N1pem/Y7Oz6fbLzqPpHUfgn+zGfCsHhDUvhp8P/8AhH4Zbi4hsz4cw9vJOhjubqLUooRqcFzNbsBdXY1HcQBuZiAa4/4b+KNF1NZvhheXFn4R8deA7e3sL7wvDJFZ2+oeG7f914c8W+EjdD/T/B+uWP2a4/0b/kD6x9s0e85s8113iKzugrM0lzb29pD+8vbmS1t7fy/+Wst/dXUH2GC34/4+qnAcOZLRofucHSlOa5as6lKNSU5RsqlOTrUuaMYSvD2HJT5YqMeSNve9TH8QZ1icS1iMdiYU6bUsPShOVGnCFk6dSnGg4U5TcUpe2jz88pylzuyt+cf7XPwJ+Fnw3+DfipPhy3h60+F11bahrvxV8Mw6JLeePPEFnb2s0drF4c1gxY8R6xfXx03w3baDrYP2SzvP9EvOBZ19m/srfDu8+EH7NHwG+GeoaWmh6x4R+GXhu21/R0+5pfiPVIZfEWvWBzDDm4g1XV7m2ujxi7wMcZPi2t6r4a+K/j7S/hPoOg23xSs7XVtH1H4ra3a/8k7+Gnh/S7+z8UWt14n1j9yb7xhquqaPptv4D8G6b/xONXuwdZvTZ+GrO8va+3prvzppp2b5pppJpP8Atp+9/l/nHTkw+UZfluMrVMvoUsPCVPkqUKceWMa86lOdW6UIRV6dGj+7jKpyzlOfOlLle2Z51mGNy3DYTHV6mJqSrxxKq1XFTlQo0atPDRnGDXP+8xOKfPXi5zpRo2bi+Yc8m2hJvVvYf/qP6YFUbi4x/n/P4Z/H2yZL5V/i9MZ/+v8A4mvRSv1S9dD5s/Jn/gtj8J/D/wC0J+zx8Bfglrmg2/jWLxB+1n8MPF+p+DG8QWOll/C3hWw8SWmo+K/Eejy3llqviLwNok2ri21UaZ/x6avd+G/toxdivgfUvBXwF0xn+F+j/C34Pt8N7C2vNHt/gzqv7Cmg+KPBen6focUMV/ql18eBptnqtjrF9NeW1yP9JvLz/nzs/wDQ7yv1O/b68GRtp/gb4/2UdmdS+HKyeDdUa9+yv/xJ/EGpjU9GiiiusfaLfVdVGpaJqlrb3P8Ay+Wd3n7ZZ4r6c+Gt54Gv/Bfhy4XwjodxcNolgbmG00OLxZqElvJYC6izYi01K+vp/wDTD9m+03HT9fB/1dzXivPMZToVMNhaWS4OGtR4irVr0cxVSUMbhqVNcqlTrUsThcQpOclGhCEOb2k3T+pfFmUcD8O5XjMRTxmPqZ9j8Qpww8KFL6tjMslGlPAVqtepJunLBvC4nDJQT5sZObjD2FPn/nN8SfAn9mfwrHbyfDn9mH4e/Cm+vf7Dmm1D4V/sb+HPip401C01iL91qkUXjy9+w6V4X/5ebrxRpum6x9j/AOfPHT47+I3gm8+GPxS8M/tBfBj4Q+GPE+rf8Ir44+EXxc09/C+jfA/xJqHw/wDEH2OX/hI9Ml0rTYfDn9saVqum6bx/Zt5Z3lnrB/5fK/r18bTeHPFms2t9J4U8QW8Oj2Np4Ynk8U+BLpNPs7PMXlWFrKYdSNlb/vuR9mFmORk8V+JX/BWDxd4O+BPw70n4iP4e8H+GbGPUvih4eXVrOS00K48W6x4f+Gl5rPhfwbay/wDHjBcX3jG8026tbX7N/wATi9s/sdYcU+DmMXDGO/tHFZfnWCq4DEYTMsrxVDG4HF4+hmUIYH6j7aji6VeEnKvGTlTxtOpGDhiKM6dWMJ074Z8aco4kz7BZb9SzPKamKxTlQxmHxmXYnCYOOXwr42vVpRr4L+JKjhZr+C5Oq61NQnGpNL8AviB/wX4/4Kb+M9Jfwz4V+L3hD4KeG7C3j0LTLX4TfC3wxY+L9P0vR4v7M0y1uvHfi8+MdUmv7exs7a21PU7a2sxdXmBZCzFfqD/wbefEh/2n/in/AMFG/hB+0LrXiD4uePvjZ4V+B/xv1z4j+OdYuvEni/UNQ8F33iv4erc/2pfSNcQXHhW51jw1c6DaWv2PSNHtP9Ds7O1s7y8Rv48YbxmW2+1SbtQjTzpLr/V+ZcS/vbqU+88/61+sv/BFvxF4Z1L9vHwx+z94/wDE3irw38Jv20Phd8Vf2Uvij/whutzeGPEniDSPHHhs+I9B8O2Hii0EWreHP7V8R+Fba2utU0y5s73/AEz7H9r+x3l5X6NiMLh1l0sAqNOOFjRVH2MKdJQdCmoxjTlTvD23LBJWk+epq51Ob3n8rRco4hV6d/rMpurGq6kudVXaV/aSVSUU6i53J83LorPc/qK8W/sD+M/iv8Tr3w34CudQbw3pZD+Idfmitj8NNL0f7XLaReLvDnie158VW2tw2lx/YWhaaP7Yurv7ZaE2Qsry8r8fP+C3Hxw0X9g34gfsH/C39kvUrPw78Svhj/wtz43+N73UoIdYuPGHhvxpYaD8NItF+Kul+dD/AGr4f8ff2Brdza6Dcj/iTaPo9neeG/8ATLOz1g/cv7Cfwc/bT+Ef/BRTxR+xhJ+3T8V5fhV+x9Z63q3h241vxBo3jnwR8a/h9Pd2Wj+Dfhh4x8Ea5Zz/APCH6Rofg7XdNtvifpWmalaXnhzxJZ/8Jh4Ou7PNnX8rv/BSH9oa1/az/bx/af8AjnELabQtX+I+oeCfAyW9xJeWlp8PPhOP+FfeGLaxupAFvrC4/sfUtctroAC8/tj7ZgA18tkXC+VZTUxVbCutiazl7KhXxSpw9hRqxj+6pKE6iqShTXs6tWpHnq2p81oqUJe/nPEGZZrTwWGryp0MPTgqk6GH/wCYmpSvCNXEbX56koOlGz9n+8Sbk4yh+6P7NP8AwcNfA3XI9L0H9ob4C/Ev4P3sflpqPjb4V3kXxd+H8cn+q82Pw5ff2D8RrG3/AOfr/kZPsf8A091/Rz+xR+0x+zD+0j478NfE34E/Hb4b/FGTw34Z8VaLfab4b1iGDxZon/CR20EcUPiPwtqsOn+MfCnkzwYuru40P+yBdnN1eqwBH+cH8EfgX8Zvj9rmpeHfhB4AvPGOoac8aarcWDxaX4P8J28n+quvGPjLWfseh6J5/wDx8/ZBc/2z2s9HvK/VX4Sf8Eu/jb8MPEPw/wDi3ofx3tPDnx88JfE74WXmhWnw00/WLPRtM8KXfjvQbDx5FJ44lm07xH4juNK8O3mpXP8AZWm6bZeHNZFk1nq4vVu9w8Dirj3w34Ux+X5PxNxNlWXZzj8VgYYHKZYnnxcsRVxNCWAq4jD044mWX4aWIjCSxmYPA4SnRbrzqQhFpfX8GeFHidxngMfnnCvCud5hkeW4TG1cxzWlQVPCLBww1SGPo4OpiqmGWb4t4aVWm8uyh47GyqpU1RVRpS/0QPF3jbT9F09rLWL7Xo7fXoZLa0utO0+1s45Lj/VG1k8UWs80H2fqbq1ubYfbLMf6HeV8+33jLwzBqTaTcb4PD+lzW8PjXWIY7rS9Ljjklhl+y6pqsvk2MFwbGG5ubrS/s15eXn/PmK+KvH/7RfxT+BmseIvhl8XdX8O+BPEWg/bRJJ4yjkt/Bfjzw5FdTQ6P8RfCeqS2d5pV9YXsIthdj/Q9Z0e9zo+s2X2wYr86viH+1p4x+LV9o/w0+Buq6p8bPih4qv5PDPgFvDlvfXng7w9q+oS/vtU0aKWHTYPFOsaV539pXd1bW/8AY+j/AGP7Z4k8Sf2PZ/ZK9nEcU5VQwCxtSrKnzNUnhKkeXHKvovqbwqc6jxUqn7qFGnGpOdSyScWm/LwfBWaV8a8JSlhquHcVWhmVKrz5fPCO8ljFiJKnGnQdO9WUq7pezgpqpyVIShH9E/2I/gjoeh+LPjV+1xJqFtfa/wDtBa94s8PeC7WHT5bf/hG/g94f+IOsS6D5t153kT6h4q+yabc2trbW1nZ6P4bs7PR6/QFtV2/xf8Bx/nPrX5OfBD/goR8B/Aum+A/2d/Hmk+M/AepfCvRJPhV40+I13b2viD4b/wDCyPA+s6l4c16Ww1TS/O1zXPB/jG+s7nxta/Ea103+x/8AicfY7yz+2Wl5eV+iOsePvBOi6Db+LNS8ZeGIfCt9DHc6X4hh1iw1DS9Yt5f9VNoMthNef2554/6Bv2z868rL8/4anQzZ4bO8occlr4mfEFsxwnLlOK9o5455jVnVhRwsaNZzozr1qkcNCVCrQWIvh3CPTxBwRx7hMXkcs14T4moPifC4WXCKrZJj28/y32KWWLJ4UMNOpjatXARoV1hqdP61KnVhi50FDExr1vXrHWY47iKST5o45o3kX/WebHHL+9/de3NeafsZ+APEXw18SfHB/EHh3QbOb/hJ9Ls/A/jLTbiw1PU/+ED1yXXfEdh4Nkv/ACPPt9I0m4mGpWul3NvizvLz+xzd3lnZWdfAvxn/AG3PFdno2sQfs9eGNFm16206/bRfEHxT0u7uNH1TXEt5ho9rL4X0u8tL6x8PzX32c6pdXOpf2wLP/jzNnxXhvhz9vD4m3dj4Q/bA+F2r6R48sfhd4l1j9ln9onRdM0C/8F/Cv49xxf8AFRWHxB0Dw7daxrs/g7T9E+JmkfFHwB8CfHepamdY1geHL2y8S5HiX7Gfn+GPEHgTjmpnuZcMZ1Tz7D+HuIwMM7xeXqUsFTjn0cTh6WIws6tNf2tgcPHB4nE18flar0aTwbqYetiadva/Q8SeFHiL4e4XIsHxbkq4e/4iLQx7ybD4+tTli1X4feExP1TMI4epKGU47HPH4XDYXBY6cZ1vr3scXTwlWFb6v/SnJrWsN5kH9qPt/wCWexLWOP8A9E/59iePDP2iID4u+DHxO8Nal4bsviBK3hLVL7SPDWpRxeRqniPS7U3+jSWv/HncQT2N/Fb3X2r7TZ4+xm0/487wV8C6X/wWK/Y7k0lNS8RR/ETwzqk1tHNc+GU0v+2LwXkkP7ywtRdT2V9ZXEE//Tvq9n09Mn4t+OH/AAVN8bfF+408fBT4fXXhj4H+CvFPhDV/iFfeNddv/D3iD4x2n/CUaZYWPwmGu21mZvDnh/xFfTf6VbadbHWPHd3o/wDwjdn/AMSb/hJbw/Z5vxNw1gcvrVsbmOEnh6mFrTdOko46rLD8nNWrLDYdV5Tp4ejGpiMTLknSpYalUnWskmfHZHwNxfmuaYPCYDKcVDFVMbh8PQliZrA05YutXpUcNho4mvOjCFfF4mpSwuGXtKfNXqU4urSi5TX6p/ss/DnxF8KvgjoPhnxlDDa+NtS1vxR4w8WRw6ha6p/xNPFF/wDaopJb+w/0Ge4nsYba6+yW3/Hn/wAedfQiybdvzf8AAfp/I/8A6xXiXwz+Pnwn+Nm9vh34uTUdYaGW8uPBusW/9j+N7O3j/wCXm60GU/6db4/5etEuLuz5/L1T7Rt+8f0GP8axyLGZTj8ny/FZHmGFzXKp0KcMJmGDxdLHUMTClTp03P61QlKnVq3jeu/dlGs6kJwjKLR5fE2X59lGe5jguJsox+R53HE1amMyvMsDistxOGdSrUlG2ExVKnUhh5K/1aUVOlUoxjOlUnTcZPozIq9Pl7Hv9O2KkWRfVP8AdHvXN/aGZevr75+v+eKas6/Lub1/Qd+nWvVPBm7u1tmz+UL/AIKheC/EOgf8FqJPjZ4mtG1fw5/wxB8KrT4Qfa9V+22dhPYar4k8MeN/MsLE31x4c07StdvWOpjW7ezu7rVvEtjdWdjq1nd/a7P7D+FPxc0fwza6Tp/jbxJ8K7jWdY0q4vLXTfA3iC61zxBaafZ2E2p/atT0uKGfyNP+w2dz/pX2ay+x3ln+XsvxY+DPhP4sf8FCvHnw78TXj6HpPiCHwv8AGzXprPT4rjXPGGn2fg3TbC/0G11SX/jx8+CHTf7K+0/bNH0f+x7z/Q/tn2Ov2X+B3gf4I+AtM+w+APhZomnxwpqT3l03h/R9W8X+ICMRXMuveI7+0h1a+nsoZumebIgGzPSvmKmR0uIpZnXr5fGliqWIqYLCZnUxtKdOFLA1KlKdGWAlhpe0hOpevKftaNo1YQhieX2ntP0/AZ/geGMrwVFSxWLxNeNDMPY0I/VaShjsLTqL2+ITlz8vN7Lk/eaUXO9P2nKfiXefGbw+3h2z164k8H2/hOSa31C38QeHvFl1reof2fcS+VdXWqWHk+RBb2M//H1/Zv2z7H1+vwB/wQa+DPjbwH/wV2/4KgeILOW8ufhzoHwj0zw/42vnkurmz1Px748+Kem+Mvhy11dSw+RNrH/CN6b4k1H/AK8zeXdnxX9MXxY/ZP8AgX8To9Y1D4b+H9E+Efja+SSa7vtN8L2Gn+E/EFxp/n38UPiO10aGGfSv3/8ApN1qmimzvCc/bPtnAHyB+wn8K7Pw38Vvi98QvBcy+HfA2qWNvDr2g6PHdafB8VPiRrFrpul3/wAQfiNYS+bBfeKNDg8N3P8Awgd19p+2aP4PvLPRxZ2WdX+2c+Hyuhw9xJQo4PLsfQw2Z4OGEjUxGY4PFxr1aUo16tWnSoYDLlRpUKcZSqwlCbXPTiqtScoQlOeZrgeJMjr4mhiqkamBnDFV6GLpVfa0nOUaFOjTqxfsXHEVKiWHm1NLkqc6oU4xv+rSkj+Lb+GanWT/AIF7c5/M1iLN935vp/n/ADj2qZbj/a98/wD6/wDH8K+2SS2Py81vOKt6Y9v8/wAq/KH/AIK0ePNJ0j4b/DPwPpN1ba58Utd1XxRrGn/D+zkik8WXHw0+y2ej+KPHml2EsPkX2kaH4j/sTRNUtba5/tj/AInP/Ems7z/TK/UpZvn3bun+ecZ/wr4G/a++D/hXxt8dP2QPHXizwtqfi7QJPEniv4TeNtLsLfVf7Hs/D9xa/wDCxvC+veLdZ0uL/iU+F/8AhMdGGia9aalcWdn4ks9ZOkdSa8/MIVXhZ0qPJKpXnRw69pLlhH6zWp4ZVJb3jTlWjJrS+11e69fInhYZnQq4yVWNHD08Rin7FR55vCUKmKVFc84RTr+x9jFuUP3k4L2tO/vflp+zV4e/at8fjQtE+HvwB1/+yBraWb61f+M/BuoafqlvHa/b7+XxbL9j02y8D3Fj/wAe39l22t6xrH/LneWZrvvEnib9sL4T3MOk/Er9nbxn/YGoTXlt5qeIPBtvi8ju/wDRbuHw5fwwwa5p995Nz/xK9E1r7YbPF5eWlf0JeC9Qs7NrG00HS9E8P6Uvz2un6JpdrpdvaRSdfssVrDDBDx2ts+leia7Dpuv2kltr3h7QfEOmTI8V5b6vpFrfW9xbvEI5IrqK+ilh/fwy/wDLzwRxyK8h8ExhFVPrVP6zOlySUsJSeBbdvdjQrRm18q3L0ceRyhP7GHiJXlU9j9Rr/UFXjUhGOY4pZlGmr+48c5Rw8pPrH6sp6XVRSUZR/nV/ZV+Kt9/w0F8JdB8cfDub4e+C4/ilcXPh/wAeeINX0GPwvcaj4p0aa18EeE7HN7Dqv/CYfEXxV9p0TwvoNzpv228/4Ru8vLv/AEP7Hd1+/DzMrMrb1ZX+ZT+v+c/jX5cX/wAA/COvftY2PhXw14a1Xw78M/hb4z0P4lxwvb6peaPc+MLjQNN8R6z/AGNr91CLGx0/w7Y2WieEvAelWtybOys9Y8SfY/tn/HnZ/pbNfSTSSyM37yR5Hk/66SfvT/np/TqyGOJpYapgcRQp045dOGDp1KSqRp15QpQlWdOFT3lTpTkqClopSpztGEUoLwuLfqFbHUcxwdarOebUZ5hWo1vZupRp1K04Yd1nTb/2jERpzxFWMpzajUptznOU6k9hZs/X8j/Wvy8/aF/Ysg8XftO3nx0ufiTqvh/wd8UU8Hp4l0CwsPtviDTPF/gPw3/wjl1/YV9d3Y0qw0Dxj4P+z8C2+2aP4js7si0vLS8IH6Tx3TZ+99Pb/Pt0qj4k8O2/jXSYNDk2x3y6lp1/od0//LnrlvL5Vrx3t5/O+zXVehj8vweZUYYfHUfb0IVY1nT56lNNxjKD5nTlCUouFScXG6vzb6WfiZbmWMyuvOvgazoVatGVCc4xpyfs3Up10kqkJxTVahRmnyv4Ldbrzv4Z/Cr4P+A1ji8OeDdLvWu0jh1XXPGFofGHiTVLOMGWKGbU9e+2eSIJv9J+y6dbaRZ55xkV2Xjv4R/B3x3BenXfCLtNc20UD6toEk3hTUMW8nmReVFpk/2ImHHU6b9s5yc14j4L/aC+AuvWs8Nr8Zfh1Hqmj6lqmg61pep+JLXR9U0fV/D+qXmjazpeqWt/5P2HULHVbO5tha+3Sl+J37YX7PXw48IX+sz+NbPxzqkMMkGk+EfAkg1DV/FOsY/0XQ9K1O5ih0uG4vpzi61S2uby00ezBvLvjBOtbK8lw+CqOrgcDSy6nQc6jlQw0MPHDwi5ynOo4KCUVFu6mb0Myzyvj4OjjsyqZjVrRpR/2jEyrTrzlGKpcsZtqUvtwUo3sm3yqUocd8Kf2UvCvgX4tD4g2GsalqvhTwT5H/CvtN8TvJrHiuz8YajYTS+J9dm8RSxWkB0f7dqX2U6Xptt/pv2Ozs7wf6HX2U1x/tY/r/T/AD1r8SPH3/Bbb9mj9n/4JaB4n+OWm+Jbz9onXJbuKT9nH4S6O9zf3t7c2x1nR77T/GXiM2fhbw54AXw3d6HbHXvEuojV7y7tdW26Q2Dt/Er43f8AByX+2N4sjvLP4K/DT4F/s+6TcT3ElnrNzpes/Gjx3b6WJB5Ukt14ym0zwdZax5HN1dW3hK9s/tue2Md+QcJc+EdfKcNSwOX4ucMXTqYiU6EKkK2HoKhOnCqnXhRjhYYeFKkqUadKmoQpwVpN8mcZrjMTilDNK86+KwanguSKp1J0/YV6rrwc6bjSnKWMqYmrOpUn7SpUnOcpzi4M/tF8f+PvAHwr+Gfjz4m/GbxVo/gH4LeFvCusah8T/G3iq/8A7E8L6V4PFr9m1mO7v/8AlvcX0F4NN0vS7b7XrF3rN5ZWWj2n23Ffzw/scf8ABTWw+BPi7xH+z/8AHLxWnwnuvCWvax4Y8H/Ef4heEMeG/FfgPT7qaX4faN8WotLmgn8D/FDSvCs2iW11dalb/wBj6x/z+Wl39sr+Nj9rf9oT9qj9qzxHp/xM+PP7SnxO+M66TqWma3pGj+MPGF1eeC9DuYNZtL/TP7B8E6N/ZvgGwtzPEbki20T/AETvnmv6l/8Agph4Z/ZN8H/A/wAD/tF/GT4hXfw5/aZ8caDpfh7w/wDDXwZ4bl8ceIP2kJNHsNHiv77/AIQ21vNNuNDt/B0GpW3/ABdq51Kz0ez/AND8H6x/bF59jsz3Y/I80y6lVxmDUMTUwcqcKmHm/Y0sdhq8Lz9hKVSMVUpTjTnh51vZzkva03TT5qcscuxmWVcRTwGYOrQw2OUqlHGwj7Spg8XRqRUZ1IqE5LC1qc6tPEOMJ8l6dR8vJzn7n+M/+CmfwF0PwvL4m8W/H74Ux6bp9uZ49Q8JnTNd1zVIzHk6No2haDr2sa5rlxfZNzaWn2bRwBgXf/P5WF+xZ+3F4X+PHxk+Mnw18e3T/CP4y6t4a+FHxC+EHwN8f3eg+G/FHij9mPxhpery+EviXo2mfbIf7U8QeOPGMOt3Pinwvp32y88IWZ8HWebuy1izvL35C/4Jz/sTfsUw/AfwD+1u3inQf2jodS0C98UW+vnQ4tP8CeA7zwn5w8TeHbrwRrE17qk/xA8EX2mXVt4o/wCE/ubw6Nq9neG00eztPsYH8PH7cH7T3ib9tT9q74uftNeKpLa3vvHXj+4uPBNvYXEnl+A/h34X/wCKX+GujeHNUiEN9YwWPhbTtOuv7Vtrmz/0y8vLypw2XZljKNKtj6NHLcNJNxw2GqQxFeVV8ijUryVOjTgoNSlTw9KMleUKjrc0YpbYrFZWp1cPltSvjpwlFTx+Jpxo0XCEppUMNQg1LmlKKdTE1uSpyx9lTpRjOq5f6td15lvI0E0bwzR8yQzRyxyR/wDXWKT9/wBPy+gNYd1cbWZQ3+fT/wDWPzHFf5937HH/AAWO/wCCg/7PXh3T/D9j8epvjf4D0iIWWleC/wBoW0j+K2mWGn20Y8m10LxnJPZfEeyFjAPsttc3Xi3WAR144r93v2Zv+DiD4DfEbWtL8HftZfD/AP4Zs1jVGjs4fiz4S1jVPHnwIt9Rkl8q1i8W2uoWkHj7wBp88/F14oubbxH4bs+ftt5Zg/bK7sVwlmtDDrF0FSxlBrmSoSlHEJaXvQqRg5yjfWOHnXb+xzdPNp5hQlU9lNSo1Fa/Or09f+nlPntbzir9PL+h/wC2bWIVvw/zyc/57Ve+0KyruXd/eX/V/Tj/ACfauFsdY0/VrPTdX0fVNH17RtYsLPVdF13QdUsNc8P65o+oRebYazo2vaXPeaVquj38P+k2uqabc3lnW9Jdfu/vf4fh7+/PNfL66p6NNpp7prdNfdbU7U73tquj7n8J/wDwdFfDyDwP+2J+z58Q/tAOrfFf4N+LrvxVPbafcWFjr1zoHjdY9FvLbzlmj+06PYXV1oepWtreXakW1reOrG7Qr/OTb+PL6zXy9P1CSOFkkSZU+T/W546fTiv9Iz/gsB+yh+z5+1r+xJ8Wj8drez0fV/gX4R134ofCL4s/2gNI1z4YeM45dMsPKttU/fQz6B43nmtvDeu+F9St7yz1e8vdHOLO9AvR/nm+Iv2F/wBpLS9SaHQfC+neLtP86SG11iz1yw8Pyaj5Y/1Uuja9NZ+TqEHS6tba5vPasaOKwuCX1arVhh05Va1N1paVOeo51OTRe9CpKSqLXlvHfmsvWlh8bmcFjKdKpXcI0MNXVKlFzpexpQo0eaMHzOm6NOFqllCNnzuCacvB/EF1Z+JGjmvre0urqL7txNbxSSY/56+b/X+dfb3xC+L3wu0z/gnV+zX+yt8P9E1uD4gt478V/tK/HnxRPZ22n+GdTj8Zyalp/wANPBGjRnydVv8AVvDlhZrrWpXNzajRx9rtP7Hvb3ddiy9c/ZV/4JL/ABa+Lni7w2vxmjudB8H3mq28Nx4L8EyS654s8SR+bD5ul/2zFDDY2P2//j2Frpv2y87fbLOzr5L/AGn/AIUfEz4F/Hr44fBf4wXEN/8AED4dfEXxH4H1TUrKSKTR9Qs/C/k2vhyLQfs2LGDR7HwpDolta6Xp3+h6NxZ1gsTg80qtUJ/W6eWYmhUqV4KUsNTxk4TdCkqrSjUqRi5VJcl4wvQneXOormzGjmWS4OM6sJ4SebUquHVOdvbPAqdONedSEZOVGnWn7OlTdSPNUiqy5Y8tz+xf/g1I+LVx4m/Y1/aZ+Ct5cJMvwa/aM0vxboFs8g8yz8P/ABn8Ew3+piLv9nn8YeD9SuR2F5eHPYV/UX5r+v8AP/Gv4V/+DTn4mvo37WX7VfwgnvfLg+KP7Nuh+LdLsfM/d3OsfCP4gWdzfye1xB4c8YXP4j3Nf3QeZ7fr/wDWrtPNw7boxT15ZTi33fNzP7uZEmS33vy6/wCAprNj61Hub1/l/hQzZ+lBsNof+L/gX9aZvHv/AJ/GmM3y/e+vHT/HB/OgCrIfvfl/Sqch7fif8/nViZu/44/QVnyHt+J/z+dAEMx+Vvfgf0/lWc/T8f6GrMkn4f0/+v8A/W4qnI/ysPw/z+P6UAfnjpfx4+MXh1Y10vx1qt5Z2/8AzD/EMdr4gs/Lx/0/wzz/APkz7V7N4Y/bC8aK0UPibwf4f1qP/lpe6PcX+iXsn/XK1l+2WI/z+Pt1v+yj8GYW+bRdbkX7mf8AhLNej9v+e3+TVhf2V/g1G2YdM8Qwj/saNUk/+v8AXpX9TZl4heDmaQl9Z4Zx3tZWftqGT4XB138O1bA5nRnpZayk566yl0/l7B8DeL2W2eA4swEYQtajiM1x+PoLb/lxjcoxFFvfVQjyr+HyXle94d/ab+HesLGupQ+IvDdw3ybb/T/7Qs4/+3/Sppv/AEn+lezaN438I66qtovijRNQbn92moRR3H/fq68mf8D6814iv7MnwzjP+jnxDD/3MF/J+H+f51cX9nnwWoVY5LxVX7sz6pfSXGPy/TivzjMcf4Z15SlllfijAt7Qr4TC4ikvhfu2xVOvJq75vaYl2uuXl1T+/wApp+KeHjCGaUuDsySSi6lDGZlgq8tOs/qDwq6WVHBwSad07xPpASMqozfdb7rf8s+v+f8AOakjm3ZVfmb+FUx/P1rxHS/hPb6Hn+yPF3i2xX/nnDrl1JH/AN+pRNB2/wAnNamteAr7XrVbO6+IXjzT7dU2SL4e13+w5LuP/p6urWz8+f1/4+fw7181LFZL7eMYZnW+rt2lWqZdVhUitNqEKtWM5a6RVfW2rR9tRlmsqMp18uoU66WlGlmCrU2+zrTwtBx9XR11stD0zVte0Pw/C1x4g17RNBjU53axqFrZyf8AgLLN5+f+3b2zXD+FfjN8O/GnihvB/hfWptc1aOwvNSknttPuo9Hjt9P8ky+Vql15InuB53H2a26ivF0/ZI+Hd5fGY3XjPVr+V8q9z4o1S/u7hx+9l/eywzTz8+v/AOv5p+N37TH7BX/BPV7z4gfEj45aVY+NLXTdY0Sz+F/gzxPF8WPih4glk8mK/wBL0/4faFN5+l3HnRfZv7U8Walo+jaQci8vAQcfTUVwDVwGLhhcz4pzXPHhav1GnTyPD4PARxNo+y9ulisyxH1eLV3VVWitHzNNo8Xn41ljsI6mA4dwWUxxEPrrWZYzG5hUwq/iewksFgqEcQ9LUuWolpd6I/QD4zN4APwl+JEnxS8TaP4L+Hdp4V1PUvE3jLXdUttE0vwnb6fF5thr0usX8M0FjcWOq/Zra1uvs15efa7w2dnafbLzNfmL+w/42HgnxZ+0J4Jvlv8A7Lot54XS8sdSt4rfxZ4H8WafLqVpc2vjbw5F532G5/sr/RtL17Tbm80fWLP7HeWd59r/ANDr+Xn/AIKf/wDBZ34lf8FCvAWqfs7+G/AWl/BL9n4eKdD8Qal4bTxJL4k+KnjrUPD8ov8AwvJ8RPEVp9j0PSdG0zVl/ty28L+HNOvdIOsfY7y91m8FkAP3E/YH8QaD/wAFNv2VfBvxc0v4heI/gb+258CdO0/4LfEr4u+BryK21HUPEng/QYItB8U+PPDt3PZ6H4x8H+MfB1nputXVrrdx/of/ABN7y0vP9Dr88zDg6v7XC53ThSrY/BVa8pUI1aKq1MBWpVKbpRxUX7N1YTrSnKlVl7F80E8RSjzVY/pGAzj2OExWW161ejgcVCk1P2cpU6GKp1KTjiHhqbcuWtGnGi6lFOcb83sqrtTl+4jfFa1ubWS6utU0d7NUjS4uLrxRFJdxyR/6r/QJYbOe3t5/+nb8K4q6+Ly6trmi+DfAt9o+seKtWvIv7S03wxbXWuXlvZ3H+t1S/wBZlmm0rwro+lQfadSutT/0y8vP+POz5/0yv54tb/bA/bM8O3Woaf4u0P8AZp+OXhPT9V1DR/Dvxu8B6H4js/Bfjj+y7qa1utUsNU0a80eC/uZ54P8ASv7S0Sz7/Y7zWbP/AEyuBvvFH7WnibXvgz8c18V6j8Pb3wb8bNHv9B8IfDfT5fCej3Onap4b1iwtdZ16wimmvfFVvY33/Lr4kub2z/se8vP9Drw5cSZbQxUMvrfXaGYzr08L9TxOErUsRh69VqKlXpVIwi6cbXdSlVnDqm4uMpe1T4ZzOvhZY6k8HUwEaNWssVRxMKlCrClFSahKF3d3so1I05q+sVJSiv67LePyo4bdZprpbeGOH7VNJ5lxceXEYvtUv/TzP/x8/lxWpHuXDf3fwz/+rvX8+/7TH/BaLxb+wh8Y/AmlftKfCLwh8Xf2f/jFptlqPh3x58BfEEPhv45/B/XPsFnqus+Cvip8JvE95N4Q8Y28NjPca14O8UeFNb8NjxH4bUG7srPxJaXlpe/rz+yd+1/+zJ+2/wCE7Pxx+zV8XfD3xK0ZbnT4fFGg2/m6H8SPAlxdyWcctr47+HWs+T4q8KXEE832YXNzpo0e8wfsesXmK9DE5VjcJGU6tJ+zg2nUhrCO1nNPlqU1PV05ThGFSNp05yi7r5WnUU2lzXbWkd5a2va14yt15ZPzs2fP37aX/BVP9kH9hDWLTwL8WfFeu+LvjVqnhyHxZpPwM+GOl2uueNx4d1OW9h0bXvFGp395pnhXwTo+tXOmXK6Zc+JNSF5q9mDd2ekXdoOP55Pj1/wcf/tUeNJLzT/2fvhp8Kf2ftDeaVLDXNbt5fjH8SI7c/u4pJb7XYdG8D6Jfwf8fI/s7w3rNp9szz1Nfzzftu/tC61+0Z/wUB/a9+Oeoaj9tTxp+0J8RNK0VzJJeQWHhD4bazN8L/BGmWMoxN/Z9j4V8H6bc2uMY+2XnAFeFw+Ippr5l87d5nmTR/vPM83y+Zf3vft/9evcy/C4GnShOph4Vq0uXnlWcpxvOMZPlpSfs4xT0VoOdv8Al5slt7OTXNzPXotOtvO/4W13ufSX7SP7QX7T/wAd/Es3jf4s/tD/ABu+KWo6lCLbUfC/i34n+KP+EPv7cS4kih8B2Go6b4HA8g/Zv7KtfDf2M/8APnwMfuV/wQW/b98B65q1l/wS6/aw0zSPGXwc+K2pahefsqS+NNPjvLf4e/FTVJdR1jxR8Dvt0vk33h3QfH0y6j4k+HF3ptzaHSPHY1jwyM2fiTRrMfzX6tri3Vv5d8r3NvJNGkm//VR+Z/qZZf8Anhbi4/5erbpj8ufuLzxVoviDRfGHgjVrnQ/GnhbWNH8T+GNcs7iWz1DQ/Fnhe/s9Y8L61a3UY8+DUNK1zTtN1K1uv+nOunH0aOMpVaNSEa+Hqx5XRrwjVpa2svZzXJ7O170klHRKPKuZS6MPKWH9nUoSnh6tOanCrh5ewqRlHWMozppSUoytKLu+vfT+9b9s/wD4Jp/Dr4Z+C/FvxM+CX2KTwj4Buo9S8YeEtX0PTJPEGkeXfw6XdTaL4y0uzh/tu30PVby2trrStbt7TWP+Xz7be/Y6+dP2mP2qf2+P2Kv2H/2RP2mP2fpPCWk/DXwRrmqfs4ftE/Bj4m/DDTPFfhP/AISG31zUpPhL8WtH1MXumeN/C+jfEWA/8Ilr1xp2tWlj/wAJLq/g42dluurs3f7/AH7KvjDQP2zf2J/hX8WNPe1+y/tD/BbQ/FV/bReVcaPJ4x8QaKI/GUV/axfuP7QsfHtprf8AatqP+PO8tMXn+mZr+Vv/AIOKP+CgH7LfjPWfh9+xL8KP2hvFXi6T4UeNYNV/aU+F3wl8J3+qeBLrxT4X0v7Bott4z+IFhNDBqniHwrqtlp058G6Fd31n4c1kfbbwp4mtfLsPg8pyDD5XnUsRg6cMPlrw3LicLKCqUI4l4pKKSqyl7OM6UHGMHPlWvs480XGX0Wa8R181yelg80q1MdmlHMYTw2LbtW+qLDQjJTlTUZVZQqVmudqU3FQhJ7SP15/4JRf8FWvFn/BTfXvEvgO8/ZM8bfDfxH4A0xLnxz8ZPBWr/wDCWfs0WGoSEeV4YufEfiI6N4q0rxxqn/Hxpfgy1XxheWlpaXd3rH9j2n+ln9udd+EfiZtb0HUNE+Jd9omj2NtLB4g8JXHhDwvrGkeKJZMyRXUusyQQ+MPDlxb88aLrn2MWg/02yu8V/DD+xx/wX0/aD+BVh4U+HHw0f4A+MvhP4Gs7fSbP9nOT4S6P8C7jR9Hjx5sPhe/8HWmnapYX5/0i5bU9a0zx5d315/petfbby8vLyv7Kf2Ff+CjH7Of/AAUF8BXWt/CTWpdB+JHhiwsJvil8D/Fr2tn8SPhxeXmYvNv9Phl8jXPC15ew3C6B470T7Z4c1hVA3WerreaRZ+5icPUoVI4qnRwyo8ycPqzdeFNpq0pqtBb3VlCHs4Ne7CDl73zUJ053VNVFUineNVcspW5XKSV9N1pe6t1PQfin8F9F8fWFnH4itJrDVtH89/CvjzwxeS6X4k8OT3H+t/sbXov38NvP/wAvWg6iLzR7z/l8s8V+QH7Yvwu/ax8CaJp4k+LvxA+IHw/1C7ntdJm0G4sbfX5HtIzdXP8Abvh3yftnkWMAP2vXtDN7aAYJ+xXjDP8AQVN83mRSf7jK/wC8jk7HzYvw5z/hX81n/BXz9mz9onwV8VJP2zPhP4v+LXjj4Yax4V0T4dfFnwr4V1/VLfxJ+zZ4Y0aXzdH8ZfDnTPDk2mif4U32ty3OpfE/UybzxL4E1e7Pj26u9Z8NK3/CNaTwGEz6osPiMfiMixNZtPM8BXqYaNWfI1COKpRnGjNznZ880rytCnUw7cJR7MNnM8tcK08BRzSlRlGX1StTpVNE9XQdWLlRto3Che0E3Gk+Vp/QX/BOvxtD8O/hzq3hHT5dE8d3HiXxPqnxB8dJ4d8S2GueLPC+p29//wAK+1Cw166jvLyD/hKNCn0zTdN8UeF9aurLV9HvLyzsj9jwLOv1V0vxFp+vRNLpF8lwypJNLZvH9n1S2jt/9bLdaXL+/wD3H/L1df8AHn+PT+fD/gjT8K/B/wAI5Phzpejw36+Ov2nPgh8cPi78QmvNY/tGO81vwP8AFrwfYS39hYf8e+lGeDUvDdvr11/x+eJNYs/7YvP9L6fot/wUk8I+P/Df7EH7TfxB+FfifXfh78Yvhh8IPFnxX+EfxB8J3hs/Efg3x/8ADKKLxlY6nYyiKWGbT7/StN1vw1r2hajb3mkaxo2sXtlq9pd2hBHHWy+nltT6hTc3Rw0KNNTqfxpP2UHUq19fer1akpVKrund633DHYl5jiKuPnyQlir4iSpa01zWgqcNrRpcnsVp73s+ey5uWP6AzXEjfeb/AD06fQVkzXH95tvp/wDW+npmv52P+CR//BePwb+2zbaD8Cv2q7vwP8IP2q5bfT7Lwj4ts5bTwn8J/wBo7/RIiDo8WoTjSvh18YJyPPu/Ac+onw74wJF54Du/tWfDlj+v/wAXf2lvC3w9Nzo/h77B418YxTT209pbaiJ/Dnh+8gPlXEWvappk8sE2oWU//HzoOnXP2u0IxrH2I5r5Hi/i7hngTJ6+f8W5vg8jyrDvkeJxM7zxNdxcoYPAYanzYrMMbVhGbo4TB0a1eahOThGnGpUh7PCfBXE/HGc4fIeFcpxGb5jX96UKHLDD4SgnGM8XmGMqunhcBhISlGMsRiqtOnKpKnQpuderRpVPfPEWqeDVgHh/xlrnhLS7PX7DVEW18U6p4cs45NPjtZor/WbWw8R3kMM/9hwfabn7Vj/Q/sf/AB+V+ffwN+LGi+ItPs/COg3XhXxBq3g7RLf+z9J8PeKPEfhOPxB4Hji8rwv488EXUV59h8Y/D/xjocOm63oPjK2tvsf2O8H9sfY/+Py8+Q/HWrT/ABK1rVPEXjvyPE2ra3G0N7carbW08S2CiWK10axtpYpYbHSLKCY29rpdqPsvNdx8FT8DvGt/4K/Zz+N9ifAMPhuwtNE/ZZ+Pfgi8/wCEO8YfDCeKSaLSvhXfazaeRZjQDPeC38GjUgdI/wCZau0tSbOv528KPppcPcQce1sjp5FLIcNj8T/Z2RY3Oswoew4gw9SrTisFjZ0MNFcO5zXrR9vlvNi8xy/ET58sxThVxGFxD/pXxE+hPmuC4AqZlDOcXxJj8uwLzXO8DkuW+zxWRYjDU60sTmeSUquPcuJcrwdCrWw+bZfUoZRmFTAr+2cI1HB1Muj9X+I/HGj3F1ql1JY2d9qWhwxzX15qXxP1Czk0ezt4vNitZYvC+sXl9feRB/zFLm6tNH/5/Lziv5Pv+C2n7SXj746aT4H8D+AdHudf+AvgvVdU8c/ELxd4Yt7/AFzw3b+NPtf2Dw5YWuqX95eeJL7wvpUFnqWpap48+zf2PrHiT/Q7TWPsej1+2X7XP7CX7SPw61rU5vFXiL4jfHX4ZXXmf2Vqul3+qT6XrF5HIp0vw74x8L2H73TNXvZ7i1tbW31g33hi8Obr7dkEDxf9sL9lXWv2cbr9mN7qO2XXG/Z21DQ/HN1pvlf2PefEDVPHk3i3VLW2ii86xvtAsdK8VXPhu1/4/NHvLPR+nr/S/ij48ZxlXC+c5llvDM6WB4ahlWKzvCZxXkquLoYnNsBgI4TA1cLfC4Gyxc8dDGuOMSeEjFYaVOTqS/nrwP8Ao58M8QccZHkmO4rlWzHiuWeYbIMflWEpfVsvxGB4ex+cTxmPw+Nn9YxqqzwVLK62EVfLqsKeNnP61G6S/iJkm3SxyRt5m395Hs/1ckcn5/h1/OvaP2f/AIjSfCD4+fAf4vQ339nr8L/jH8M/Hl1qS+b/AMS/R9D8W6bdeI7/APdfvh5Hhz+0sfZjnmv1o+PX7Afwd8ceHfFXi/4Z6Hf/AAn+KGn6VrGvafpnhWT7R8K/GeoWdrNqg0vWfBt+Zv8AhDrjVfJuba11TwTqVlZf2xeWf2zR/sdfhbZ3tvdRr5LfubiFJo43/wBZH5n+ttbqI/6i4g/z6jk8O/E3hfxNy3E4/IKuIp1cGsNRzPLcdTjSxeDqYuE6lBN0p18PXw+J9lX+r4mhWmp+wmqkKNSM6cfX8UfCXjDwiznD5bxPQwkqWM+tVMpzXL8R9YwGZ0MDVoxxEqfPCjiMPiKEcThXicLiKNOpReJpcrrU5wqz/Z742f8ABVrxnqf7bX7Tf7XvwCvNSu7H42w/tHfDL4WaJr0etW+qx+CPjF4dh+GHgzxna6FpZz/bGleHdG0Pxbpelkm8PiT+x9GtDe3l7rNfmTqH7MHx0+F3hvTdY+JXwR+NngHwv9gt3tNW8YfCvx5o9nJp9vEPKur/AFnVNBhsdK/cQ/6Vda3c2f8AOvNNUmbQ9D+H0ml3D+H7qHSo9bbUtE1yYeJJJJNZvPstzf6pYXn/ABTmoT+TbfZbXQxo95o+j9f9M/0yvZfgZ+01+0t8IFurr4WftN/HjwLJPfDVZ9N0/wCJ/iLV/D9558gEtrrPh3xZea7omqwT+T/pVtqNtknkk9a/UqFHIowpwxWLzLBzr2r01l+U4LMIRipSw9SVeWJz3KakZydGteNLmjGmlLnnKUoU/wAunLEJR9jTw1aMIqElXr1KKklJzapunhsTf3pyknKMYPm96ULWl+sX/BLr9qHT102H9l7XbjSobKMav4w+DOpW0drGniK2mM2q+MvCN/dWpH9uaxY5uvEfhbVNSN3q95o7axo5vCNHs6/YeZllDp88sU0TpJEjmPzEf93xJ1h9vs+D6j1/m3tf2m/gj8UPE2l+IP2lPhJD8IPiVp+pWfiHT/2x/wBifw/pfgf4l6R4ws7rzbXxv8UP2c5f+LO/FO3hn/5Cn/CN2/g/xJ9j+2f8TjN5X9AHwx8Xw+OvhR4c+KHh74gfDX4y+D2eDStS+K/wZvLuTwFf6hIfKt7rWvC+sgeMPhJrPiO3xc/8IN42tgdHvLxtHsvEfiP/AEW7b/M/6ZX0d83yTMa/jNwhh1nvCOZ1af8ArnjOHaeNxuH4azqo+SGdZxhKuEw+bZFgM6lH2dSvm2DwOX4rO6OJnl2Mx0Mwpyh/qv8AQh8fsBnuU4fwb4rxdLBcU5RF0+CXmFahh5cQZJTpqayPB14zeEx2c5LJyp0MHharx9XJ1RlLCupl+Kq1Puz4tft1+HPH/wAIPgz+zN8avgprPxO8cXkHijTNH+P0viDSPDWmeG28P2UZ8O29jqstvqd5qnxQ8ZeHIrkXfhbWrLRfAviRvDV6dZ1s3ZsrEfL2mftqfAL9mf8AZ1+KOlfCrwJrfwo+O+raxfeBvHP7RXxKk8ORSaP8P7i2nE//AArA6XNeT6Vr58r+xf8AhDdEtwP7Xuv+EkutX8SGzs7O08v+JOpxaZ4A8Sap5L3U/ha2/wCEm0pYhieS70OX+2bPT8S58i4vr2z+z2t3bf6XZ4N5ZkXfT+bPwx/wVT8S+PYtL8Jftd/sk/s1/tAfCq2nuo7caV4N1P4efGPwBZaxdL9oufAfxP0DxHD4jm1mwsg1vpl3qV22r2lnaLi7G02jfqngfxniPGHwrwOURjHJ/EHhzE/2BxN4jL6zWzKXDM8MnlWKySlVxNalU4xx9OGLyutmuIh7DJ6eBr5xCjjMZmVGhT/GfpH8K5J9HLxRqcY1sgxnHPBvFtSfEXCHhHgKmBwOVVOKsHiadXPK3EsMZVyyFfgTJsTicrzmlwjleM+u8S4nMY5JVp4TK8nms1+jvix+25JeSLonwP0n+x9Fs0kjm8Y+LdPFxr+qXMhPnXWi6NdTSwaXmc/aTqmt/bNXvLwD/Q7LnP66/sG/HgfHX9nrw5NqtzbS+OPhlNJ8OvHMMUdrbiTU7eJb7RvFEVha+TBZDxxoU0GtXX2e2x/bNrq+egr8bm/Yz8O/Hrw7J8Tv+CdPj68/aY8ErBd3viD4FeIdU0HR/wBqf4T3FvELqXTItGuj4b0r40+F4LH/AEm117RLbw38SLP7H9j8SeD9YvLz+2LzK/YK+PV3+zf+0+fCfjlNS8LeFviU+n/C74n6B4n0zVPD+ueA/FNxfzH4c+I/EnhzXodN1XQ/sXiS8udE1T+0tNs/+JP4lvLz/jztKrxo+jxwtifBzN8q4GySNHiLIYw4iy/FVJVcbnnEEssp1a2Y4HMMwcpVswjj8DPF4jBYOio4JZvh8vlhsNRhTjTPmvBf6YfF3GHi/lnEHGvGrzfhrOsTPhfNcohGrleT8HYvNOSWBj/q3UjRrcO5ngMUsPRx39uYehnscsxOOqZxiMT7O8/6a5bZpOrbWb+Lv/kfh9K+lv8Agl38LNN+H2iftXx/E7xJ8PtS+HnjG4sING8C3Wnw6N4F8AfBzwOfHnijXrb4gS6xP9hvvEHiTW/iP4j8b+KNd50e08OWlleWmLyzvFs/m27M1tJtuUcKHeKb/pg8Y4jJx19OwyPpXoXw01XQIdWvPC/imGe68DfEiwtfCfjKxt5RGl5p9xfWflJfxS+bBPo1+c6Zr1qR/pmk3f2X1r+QPob+J+C8OPF7LMNxBWhQ4X46w/8AqfmuJqzpww2X4jH1qVXIcfXlUcISwtDN6WHwuOdSVOjRwGOxeKq2WHuv7a+l14Y4vxQ8GsyhlFKtiOIOEa8OL8hp4WMqlXHPLcPXp5tldFQftKmIxmTYjG1MDRpxVSvmuGy7DxlCFabPgvxx+1r+wZFJ408XfCbx9c+BPgrH4il0rwv4l8c6F4o8UarqHge7uorDVPih4I0bwdo+veMYPhhYCa51HS7XxJ9j8Yf8IHZ/8JJ9svLP/Q7P1r9oH4Ba54Y+Pvg7wHpfjXTfFH7PHw5+GPw78f8AgS/0fVbW4s/i58VPiFpesX+vfGjVLbS5pre30/w54AvdN8E/BHS7m5vbPR/DfiTxL4ws8+JPGF5rFfKX7RH7OXwT8Lftia/+zH8N9K1jT/gL4q8c+E/+FjeA/CsdydP8N2f/AAif/Cb/ABV8B6Dqn2yb/hFfhvPP/Zum6p9m+x/8I3/wkt5o9n9r+2WdlX2rZaHoXhXSNK8PeHbJNK0PQtJsNB8O6Ml3d3kGieG9DtIdL8N+HNPmvppp/wCyND0mC30zSwbhja2VjadQK/s36a/FHCXhFkb4R4OpUsHx34h5dNZpRoy9quHeEqnuZrWowk6kcDV4inQrZNh17qr4OrxBRorB0KMYH8kfQi4L4g8ROJcLx3xO6+N4O8P69KvkU8VBcme8Y0qcJ5VXxNSPLDFrhihUWbTlK8KOb/2NW5auKVevCzZG7sbi1u9LnutPvbObzrG+0u5ey1C2k/6dLrT5Y7+E+n2ecjjr3rxvw5/wcQSfA/8AaR+IHwP/AGiPh5ffF74DeC9YsPB9r8bvhncRT/Gfw34o0+xh/wCExutV8L389p4c+Kng/StbmudMtrbTNS8OePLQ6NekXerg4GJ+0v8AHG1/Z1+B/jz4qzeQ2s6Np6aX4J0uaQY134h63/oPg3Soh1uFGqznUrruNI0i8HIJr+TXQdL8SeKPEmk+F9FsfEPjz4ieNdSuP7L8OeGND1TxJ4w8aeJNUupr/VJdG8L6NDearqtxfX15c3N0dNtv9D/4/Lz7HZ1+OfQc4azirPjLjTGYvGU+H4ww/D+AwDxFSGXZlmzlhsXmOYVcKpUsPUr5ThVgsNQxMoSs82xMYVKcYVYQ/R/p/wDFmTzhwVwHQwuX4jP41avE2Mxyw1GrmeXZYlXwOAwFDFOnOtQo5zi6mMxeIp0asIVZZRRliU1KEj/Ua+CH7RHwU/aZ+Gen/GL9nr4o+Fvi78NtSupbD/hI/C17L9o0TWI4/NuvDHjLQb6Gz8R+B/GFl1utB8SabZ3mP+PT7Xaf6XXpkeqL5m7duA+n+fT/AD1/z/fgBa+I/wDglh4pX46fG39tLV/2Tvi94gtrKwu/2V/gFonhH49fFvx/4XtJjdf2X+0P4Y1XU9S+Cthp0FxjTT4Ouv8AhL/GGjk/2v8A8JJ4POLM/cHir/g6e1bXNHuv+FJ/sS2Fvr9teR29xr3xm+Keof8ACN3FpJEBa31j4X+H2j2V9b+IL2aG6urrQbnxIbPR7PH2O8vOo/0GeGVSpGNCcfeajyVZ8s4vRPW3vx1VppJS1cbrU/y0wPEWUZhiauFwGIqZh7F1I1cfgsJi8Rk/taTdOphYZ5Gh/Y1fHUasKlHEYTC4/EVcHVg6WNWHrv2R/Up+1V4yt/hT4H0f9pybQX8Tab+znc3+t/EDQbC30/8A4STVPg/44/s3wv4yuvC91df6/wAUeD76bRPEmg6D9p+xeJLP+2NH63lnX0R8G/2gPgH4k8L6D8UvC/xc8Df8ID4uSPUrDVNS8UWGlxyRSReVdfZYr+bz9K8Q2OPs2q6Drf2O8/Kv5Jv+CVf7an7XH/BWT9u+bRv2rvF3h7Uv2XvhD4MuPFuqfs3/AA58LxeA/hJqfjD4gf2l8Ofh9J4otbWa88VeN7/w79s8R63ban4t8SXn2PWLLRtYs7OzvLO0r9F/2iP+CX8fwR1zUJdH0u21f4ZX1+bnwb4l1X959s06T97/AMIl4jubXTZvI8caXBDc6da6p/zMlnZjWLTn7ZZ2flZvmOL4YprE1MH9ewVT3ak6H7uphsUpWjOUlQnelVpqKlUdKUliISjyJVISl9tk2W0M7n9S+tvC4ynNOmpxhWWIw7jGbpU4yqqKxFD36luePu1JO7UHb9Uf2hf+CpP7N3hyLVvhf+za0v7R/wAf/Fch+HvhjQ/B1pf2/ge08UeJJotG09vF3xGlgg0TStIsb3VLbUtfXwn/AGz4jurME2do15tYe7/Cv4eWfwZ8C+H/AAD5Og/8JHpOlaXbePtc8PaPL4f0/wAW+OLOwhtde8RxaZdTXk8FvPffabbS/tNzeXn9j/Yvtn+mfbK+BvAP/BNMfD/9mP8AaF+JHiezu9I+Kd5+z58X4/g1ommyzWXiH4b65L4A1yTwv43kvrX7He2Xj+x1SLT7rQba2b/imiFurtW1k40b+MD9n3/gs5/wU8+Bmn6DeaT+1N4w+KWiy6Vpd5N4J/aK0bS/jZ4b33FrDLc2kU3iKGHxVY3H2jP+lab4t/8Ar7cOYfMc6p1swzClh8JUjyxy+hUpVFVp4avFOpUxNWpH2lOtVlThHkVOl+6o026cW1FZ55DA4OUMDllarXpxfPjq0qsZQrYuEkoqlGg406lOgvaLnUpKU5zSqVIRhUn/AKPH9ofNnd36e/8AjmtCO+3fxf5/rX8lX7On/BzT4e1a50zQ/wBr/wDZpufBZmeO3v8A4n/s767deJ9Ks0xiTWNZ+E3jaWHxHMMj/kGeEvFl8ef9Ds8YFf0Q/s3ftY/s8/te+H9X8UfsvfGfwf8AG3S/DJ08eMrXwlLfxeJPAkmqxTXOnw/EDwlrNnpviPwqbiCG5xc6lpv9kf6Hef6YfsdeviMBi8MnKpRbpr/l7CUZQ+dnzR305oxb6J9PAjJSSto3tGWnbqrxe/STPrrz/wC634D+v+fwq4jQ6hHNo97M8djrCR6bebI97+XcS/upYouPPuIJ/wDSbU9PtlfkD+1v/wAFpv8Agnp+xhPqfh3xz8a7X4ufFXS0uIZfgp+zglh8WPGltfxg+VYeLPFGl6jF8OvAJnuALY3XiXxaLyzByNIJGD/M3+1p/wAHN/7aHxh8K+NfCP7LPwx+Hv7Jmg69oWuaJpPjBtQv/i38fzFrFheaXazaf4tuodB8H+APFB+2f6JrvhPw3rF5Z3n+maRrFneWdnd1hGjOSTfLC+ynLlfS/utcy36pX6dbaRg29dF1bX6dT+vz4df8FAvg7ZeIPiF8OvHtxpugfFr4MeOPEHw9+IHgG41jRvD/AIsj1TQ9UlsbXxH4c/4SO903QvGPg/xVY/Zdb0u60TUvtlneXn9j6xo9nd2f+l2fjf8A8FP/AAB4D0i10nwF4T/4WP8AFDxU7aZ8P/gx4L1e18f/ABP8e6nK3+hxS2HgQ6ponhXwyswA1/X9a1QXek2m5rOxu7wgL/PD+3T40/YY0X4xfs1fs2aBoPirxV+2H4P+CHwc8AfElfGGh6fafAT4yeOfD/w/8I6NbeEZfiz471GC31T47i9mXTdd+KOiXV54E0jWLw+G/ir4k/4SUXv9kf0M/wDBMjQ/2ANC/Z11/wDaD/ZlFhpWleHv+Ez8OfH/AMa/EDR9M8NfFf4QeM/ht59/8UvhL8T9DtxLb/CW5+GkwubvVfBmhg+G7uzOjeJLPWPGGjazZeJr7lm+JXFTnlWGo4J1q9HD579beJw1adKUJTgsupXqU8fCjUpTqYavWoJVFTr04VcLiKcqvuuPCVPD0q8MyxmLzKpChVr8NrDPD1aKqR0nXzSc1TngKtajU9jUw+FxU6tKnUoSnRxWHrQoY/7IHj3xp4d17xB8Lv2rdd0rQf25/wBoTR9Y/bA8RfCm1EcNvpfwP0vV7T4T+DdC8JraTT2G34W2GjaZbeJ9CN1d6vaHWB4kvCb1tW+yfdS3UjMqx/OzPsVE/eeZJ/nt1r/O1/aw/wCCifxM/aS/b/8AFX7efwt8X+Jvh1rnhzxVp9h+zBq2lyS2er+BPhH4I+2aN4EiurC6+2QT/wDCf6VqWt+LfHvhfUra80fWP+E81nw3rFmbKzr7k1r/AIOD/wBsXxd8JNa+HfiTwz8MfD/jTV/7Phm+Nvwjs9U+H/jew0O3lH9vaNYeE7q717wtpWoa3BD9mHijRNT0bWNHsze/ZLMm8F5Zeth8okqeHp/WUnaCxFXEuTcXKUfa1nyKUqluaU63LHn9qpU4xcUuTx8VWniMRiK/soR55ynGlQ5Y0qUY04qNGlGUub2VOMI06MpSqTdOMYybcLy/qk/au/4KEfsq/sV6ZJJ8b/iQjeNpoZJtH+Dvw9s/+E4+LGtydIv+Kc0+aGx8K6fjP2rVPG2paPZWfev52v2nf+DjP4+eONA8VeB/2Tf2evD/AMGU8RaVeeEtH+JfxF8WX/j/AOLelah4nmi8OaVqnhfQfCX9g+CND8QwT6l9o0u6udT8SDR7wWd3/pma/nk1r4mN8RvEWralfa491r2qTSPJJqtxLJrEkl5dfvbq6lv5vP1W49br7T+fSvoj9mf4c3XxI+OHwl8G28kK3GqeLbe/uJkj8y3t9L0MTX8t1LFKc2/kQWX2n7V/y53lfZYbhzLadBVFP67Jpv28nFUuZW5kqVKXLHdaVHWasrVp+9by5YmopW5PZWtzJrZaW166J9nfofpr8EfCvg+/8SeKPC/hS40f4m+F/BusReD4fG3h7VLrX9H8eafo9rBaxeI9M8Y+HNSsx4j8UaVqum+JPDnjL7Sby8/4STw3rFnef8fn2y8/RPw/8J/BPgHQ9W+IXiJV0P4d+GdNvPEnxE8catJdWeqWfhvS7D7f/wAIb4NiuZtSvrHUPEc/2b+1NU025/4k1n/oZ+2axeWVcD8If2NrH4Ow3Vp+zzosMMOrW2jw3nhe5vJbPwfqnl3U0UviO6i1S8mg0PxRB/z9aJ9i+2f8vlneda8V+PXir4i+EvDepfsx69rSapp/xI+K958VNNmhvJby38P/AAfuDZ39/wCDLD7fNNqulaP4j+Kmm3Ot6Xpepf8AHn4b/wCQP9js7z7HX5flfhGsy4wq4rMsSqvDM50MxwmUwq1G8Xi6laVbFYHG0ZUoU6WBwlSEqrmqcp42hXoYWioVHXhH9Dr8eywfDlLD4GjKnncFLCYjMPYrmw2EpU4U6OLwtW060sRiKbp4aFNtewqKU5xrKWHqHMTeC/APxy03xF4k+N3w38MeMv8AhPL631u38M63Z3Vnb+G7e3tfK0H+wZbCaz1Xw5rGlaF9m021udN1L7ZZ/Y+ea+XvHn/BLH4K/EOZtQ+EPxg8afCySN4/J8O+NtOtfiZ4Q/0n975X9vWk2g+OIP8At5/tj7HivUPGXxC8faPdeGdF8D+H9EurfUNS0+w1bxRrHm3l5ofheO6hjv7rRvDkX2OyvtQng+0/8TTUtR+xaPZ/8we8r2bS/ETaLYwrHfbVhubi5uZn/eeZHL/9or+oZ5TgMRQlBUFCdP2VFSoxlQvGNOCjBRjyU5xpRtGMZQlGPM1ZRajH8bVfEwcZKpd1JObjN+2j+9lzXaqX5ZLVSirPRXburfgv+1h+wX+0d+zb4D8Wa3qfg638dfDax068msfiR8HLe/8AEHhPT5JIppYpfFHhyKyh8VeB7ief/Sf+J3on9j/8vn9sV99f8FcfHHh/4ofGD9mmTwHpena3r3w//YJ+DnxW1bx9YRf2xqGj6H8W/B3hvWfC/hy1uv31iNOPk63qVrbfZufEmsf2xefbLz7HX6YW/wC0BdeE7nT4UvJv7Svra43W9n9qe4/s/wAr/SfNEUPkQW//AGEv9D7elfl3+1VofhPWP2i/Cvjq10/TLfUviB4Ds7CbT7PR7+40/wAcXnhvVLPwvo3hz+y9LmhsfDmnweHLy2037Lp1tZ2d59k+x2f+mXlneH4XiTKKuHoQlTrqWF9tRjOlKMeaNm1RndOFN8kpS95KnGnGU6ig4qVvTwVZSm51KfJUVOp7/P7r53SlUs3FygnCk370ql+X7Nnf9XPjp8aPgN+xP/wRb+KOtfsXvD4c+E/7WPgnwfo/wQX+3NU8Qa3pfxc+N+l/8Ib8VdYv7/WZptVvvEH/AAiuja1c+O9Uubn7ZZeMNH+1/Yz9ts6/k7+Avh/9nObwr8WLf43Wvxdt/F1n4Jt4f2eG+G/9gyeEo/GlvFeebH8UItZ/5lf/AJAn2rsNH/tj7J/xUn9jg/Sn7Q3jrxM3wJ+Bf7HVxePN4T+BvxY+Nnxg/s3y7qz/ALL1z4uX9na6N4Sl+1f8w/wPpVnrf2W1z/of/CSf8/n2yvmmO3tbdY7GO3/0W3SO51S48yGPzPL/AHthYd/+P6fFzdf9OfvXkYLL54mhCNWdXDU21KmqNXkdvac9oy5X+7q1FNaJKpTfNFKNSMn2SnGmm4Ri5uXNOVRc3PNwjFSlHS8pU4QlJ396blJ72L2m311pcdrpclrYWF1dJcXjWdnHL/xL9Lt5R5UssX/LvcX3/L1/SuT8ReNZY7jVrHT4d101zHoOnrbR/aLiXUJIvNuv7Pix+/uLeCb7N/0506bUo4dd8Ua5cTIkdjpVnMzeZ/y7+VNLL+9/67w8f5FeX6bqS6b4ZuPFkMfl6xq1tcPbaleyfaNUuNQ1i6ml+weF9Li/48beeeb/AErVbn/TNY6c17OKxcoQjSp1lTgpYr3m7unhMPGzcIaWlJudk2oP2fv1I6XypUot8zjzy/d9bN1ZxUrzf8sesraXWivY/uW/4N1vi1cXX/BMvXtF+IvjLwrovhH9m39of4sfD3Q9e8VeKNB8N6f4U8D3+l+G/iX/AGFqmqazqdnpWlaP4c1zxVrf9g2v2n/jzvfy9w/aN/4LzfsA/BfT9S0n4WeLtd/ay+I9u1xZ6Z4c+Dmn3WmfDuTUI/3QGs/GPxbZWfhuHT4J8/aj4b07xJeXeP8AiTg9v89HwPYzN4r1TQ9QuJruxXQY7nVtImuJZNLuNUjv4f8ASrqw877DPqEE8w/0r7N9s969qupo5JGtfLTbb/Z5lb/lpHIn72GSKWL/AFH2fntXw1DKsNXlVxVX2sr16iWH0hTUlNJRlKMfaVZStdz549FZHrJyikovZRalbe8Iy28r2316pbH9M3wj/wCCpn7RX/BSj9tL4N/s6/EHwD4D8H/ss+ILf4kSfFj9nP4b/wBs+INO+KHh+08Ea9c/bvih4y8Uf8TzxTYeDp4bbW9B8L6bbeG9HtNYs7PWPsd7q9nZ/Y/s74n/AAV/Z7/Zv+OzfCXSv2hPAWoXGrf8I/a+IPh34t1yw1XxJ4PuNc8i68OReN4rWz1LVYPEE9jNbalbWum23/CeXmj/AOmaxo5+2f2xX5df8G5fw7/4TT9sD47fEVr3+x9U+Ev7PGoQ+EfEX2S1vH8P+KPih4p03wxLrNhbX3+g3Gr2Phyz1L+zBc/6HZi8weM17j+2R+zP8LfD/wC1g37IfwtkfxZ8Qtfh8J/Fq3+K3gCzurj40fsZ+KPGnjL+1PEfjz4v/FDWbubw54/8D+MZ5rnxt/ZfxA1vR/GHwT8eaxo/iTwf4w/sfV7PwFedWa8NZJnGTU6eYZW6lDC1MVXljcHi8Ll+Iyqh9XhKtjcRWxcsPQqZbQnQpVc0oVsZSqTwftK2BnPM8HgcHjqyvNs0yvM8RVwOYToudCFOeGlhvrNDE1FzVFzU4wnUpVYe1aw9TD0+f20qcakZ0KlWC/pO+EXwT8BfCfRdP17RbjTdchudEj8Q6x8Trm4tZNM/4ReS2/tSW68L3Vj51jB4XvrH/j1udMuP9Msx/pl4a/zqf2iPip/wvr41fHr4panJ/az/ABJ+M3xI8YI95bxRyfY9U8UalFo11a2v/Ll/xIodM+y/Z+v61/dF8WPh/P8A8E+/2Av2jNL8Fw32m/DLwN8H/iX4ksPCk2qXXiTS/DfiTxBpepSarf6VrGszfbrD/hMfG+u22teMtLtv+KbvPEd5e3mj6Po/2yv89210+4i0/T7G4V5Ly3s7eG9P+rkkuI4v9Ll/6+J+v5Yr2a2Ay7Ksoy/Jsuy/B5fhKUZTq4PC8taiqrp03OUq04KpiKtWdSUq+IqN1MQoUnNqUWlwUa+Nx+KxuOzDF1sdia8oU416796dKEueKlC/LTioyhGNGK5MO+alDnpxhOf1Z/wTt/arvP8Agnn+1t4P/ag8G+BbP4jXXhvw3408B+Jvh/eeKLrw/pfijwn4/wBLh0vXYrDWbWz1ifStYsfsem6lpf8Ao15Z/bLP/TOK/tZ/Zz/4L7fsIfHE2OmfER/iH+yt4kvfkUfF/T7DxH8PEkH+qFz8T/Ah1Gw0r7R/x7Wv9uaNowHc8Gv4LdO8M6bDHMbJfLFqlvbSL/yzjuP9bLaxD/ph53+len4cb82sLpems00zrub7NGySf8tJP+eXP/PDH6duK8VZRgakJyrUFTum1OhUlCcX7ut17ultOeEnvblu2+py9mn7P3ZOTvGUPclLRXUVLTd9evWx/qdeEfGngv4heGdK8afD3xl4V+IHgvXkuH0Pxh4J8QaX4o8N6p9nl8q6ittZ0a9vbH7RYz/6NdWtz/pln/y+WddE8in8PTnP9P1r+RT/AINZvjvqWsX/AO3P+zrqFxcQ6TZRfCj9ozwro8o8uLSrzUL7U/hP4yNla/6i3GqwWXhHUdU/5/L0rd981/W+7dV+n+NfJYmlGjXq04Sc6cZ/u5SUVJwaVnJQUY8295JK6todC5uVc1lLZqKsla2yu/PqWPM9v1/+tUMkn4f0/wDr/wD1uKhZu5/z7Cq8kjfn/T/P6dKwGNmk+Xp/n/OO3rWe0mff+X+f85p00ny/5z/nt+NZ7v0z+Q/n/n/Ggadmn2ZI7dh+P+H+P/66qzSfe/z/AE7frj3pssnX5vT+nX+mfwqjNN+X+ce/X8/YUG6d0n3PZqk8z2/X/wCtWamraG33PEXhV/8Ac8WeHP5f2lUy3emSbduueHm/3PEmgyf+5Ht26+3UVvq9oz/8B9PPz+7U8FQqdYSXrGS/9KjH8L/cXt397g/n+Pejcvr/AD/wqFZLVuY9Q0eRh/c1zS5B/wCQrznqKk2q3yLcWee3/EwsP/kzGfp3/Knfyn/4LqeX919393mXFSTtbf8Ar9f6Q5Wz9ac01vbwXF1eXlnptjaW1xf6jqV/cRWen6fp+n2s11f6pf3Uv7iDT7Gwhubq6uv+fOnLZ3DH5VRv925tv0/fV+dn/BXn4i3Xwf8A+CZn7YniSHV5vD2r+KPhd/wqXwzf2dxsvf7f+LevaP4IitbSWL9/B5+l6nrP2r/pz+taUac61SnTjGXNUqQpr3Km85KK+wtm/nYdrScrq3K27u21vW/6H81n/BSX/gvL4k/aGn1f4U/sqeIfGPwe/Z90691nSrjxtpeqHw98Qv2j7ZLuewg8Tyappnla74B+FF5bRef4Y8H6bqVl4k8T2l4dZ8YXaK1nog/nluvHFjdXNzts7ZZL6YzXUyRxeZeXH+u827l/181x/wBPVzXjPi7UFkvFtbFUt7WzSOCzjh4+z2dp/otrFF/2wh7VHp83zQtIeFThn/wz1/Kv0bCYiGDprB4SnGjh4y973ffrT05qtWbblOcvtOTfRRUYJRWSpXXtJc0qjWt3fl8o6fCvsx3WrvdnoRazvVubq12LqVrLHuaX/j4kt7gZtfKuf9f9n/4+f9F/5/K/VX/glF8cvE3gv4pfEf8AZRt2+x+Gf2/PD/h/4G6hrP8Aalzp954Q8SWd9qV9YaxY/Zf389x4x8OTa38N7rFzZfYzq9ledzZV+RzSQwtZ30bf8e6bLzP/AC0s5Of/ACBOftPWu40Hxpr/AIJ8ReGfHfg+6+z+KvAviTw/428MzQyGOSPxB4P1mz8R6N+9/wCfee+022trr/pz7V0rkqKXPeCkk5cmid2mp26K6fu3em7sy5RbtdKa10a9Ot+v+fQ/ve0X9k7xh8P9H0/QfDOip4q8Pw2tnYN4N8VW8ulxvb6fLDLa2ujarYQ/YbG4sfJtvsv9t6b9j/6fDW0vxK8MeG/Glp8KdO/Zr8c/Fb4o6peW8mp2N5qGjeD/AAH8N7iSLyorXxH43lh1jGseRD/pVr4S028vNIs/sn+mf6ZX6E/A74veFf2kvg18K/2iPAV9Z3nhf4w+A/D/AI+sZLa4823s7vXLCGXxFo+Yv+PG48OeI4tb8N3drc/8ed5Z/Wun8O6DDp+m3GisUX7HqWoahazp+8uLjT9Ulmv/ADbq6/189x++uba655+x+teDXyDLcdj8Fm2JwsKmYZbRqU8NOTm4QU5OaVSHMva1MLOcpYedST9hWlWUYKMvZrrpZ5jcPgcXl1OvKngsbVjWxMINxqc8eVe7VS5oxqwilXUUva+zpuW0uf8Az9P+C12l/tb2/wC2lHY/tZXXh6W1u/hvo/iH9nGHwBb6hp/w3t/hfLfzWOvWGg2t/wD6dN4o8O+KYv7E8ZapqX+mXl59jvP+PO8r82v2ff2nPil+x38dvAf7R/wN8Rp4d+K3wv1b7fpgmkuo9G8UaPcRy2viL4feMrC2mh/tzwh4q0qa503VNLuT/wBRiz+x6xZ2d5X9sX/BxX+zTpPxc/YW0v49aSsNr42/Y38YWfjOzuvIH2jVPhJ8RLqz8JfEvQZJIoPPn+xX03hzxbplrkWn2zRrsY5r+BHxdoeqalqV8uj6bealcQ6VqGvXVvZx+ZcR6Po8Xm6zfeV/z7aVB/pN19m9q1xk6tGjUc1zyTlTm3GKjOg48kIrljCPK4NKSjFc3Ir2e3Nh5KbSSUWldqUpNxkrWvzSlLo95PytY3NHbz1udYWHymvNV1TVZIUklk+zyapf3l/dRRSy/v8A9xPef6L9p9OlXdS1pbebT9Qj2NDDcxpcbB5dxHFc/upfNii/1/fP6elUvDfmNpK/ZWRmX70cn+rk8w9fUVl655TW9wvkvBcTQyIv7z933/1sX+Hp+FeZqqMGn9mKt9/+Z6Kd2ktfR7Hp32hZod21Gjk37l/6Zydv8+tU11BrWaS1aTd9nMbws4/e3Fv/APJEHNtddegrldB1SSbT7dZN257aPd/10/z/APWzWX4g1bUonjk03R9L1CSGHf8AatV1jULP/ll+9i+wWsMJuLf/AK+bmrniOWlGdpSkkn7seaWtuml/1/EUd2tEla13bdr/ADuf1A/8E9/+CufiL9k7/gjb+3l8JtA1G2/4Xj8MfH/hfwt+yWj6hINVgu/217/WNHk1m0to5GnFj8JPGOjeP/iQPs1rgXh0jSLzm8Ar+ai20a28KWVndXfk2scd/bzX1/r15Hb6hqjvdXkOs69rMt/NDfarqF7NNc6jqn/L5d3f6eH3Xib4sXlveLpYudP06CG3/tKHwfZ2umW3l+b/AKL9vltZpr6+Hn/afsv+k8U7T/hX4m1S1h1bUrXVbq+uh50ivJ5lxb+YP9VdXV1NPPPcf8/WfWvDq1VKrNwpT96XM4TfKueVnJ6xd+a1353d7SSjoqbbbejtFbdIp2Xyv/Vj13xBN4f8SWlrJb614Y1LxNpaWdzHc+HvEEXlyahb+Ta3/wBgv5f7Nvp/t0H2bUrW6tv+XyzvLPBr6U/Z+/a6+O/7NXxM8C/Fnwh4y8Q+D/HngaaO48D/ABg0a3ivNc8PWl5+6v8Awv8AEDS/Kl0Tx94A1SD/AIluu6Frdv8AZNXswDef6b9jvLP4QuvhXe26q11Z3ir/ABfu/tEf/kL/ADjHeqd14L17RdNm1TRdU1W3W3/11rDcS2/mR9/Kiimh8/n/AI+u31qYV6sLtxfvJKd/ehOOl1OFlzb+7qred2RKKbTT1VrO1pK2ujv12fof6lf/AASs/wCCyPwj/wCCi2h2/wALvGh8OfCf9sbw/ok+q+IPhRa6hL/wjfxT0TT44JL/AOJfwHv9Um+0eI/C/kH7Tr3g64ub3xf4C5tNZ/tfRvsfiTWf2ThWNla3kjRlZJIWjeOKSOS3k/1sUsU3+vt5/wDn1HPSv8VHwP8AEz41eFte8I+KPCPjLxD4R17wf4n0fWvBfjp9U/4Ru4+H/iyzuvN0bxFYeLf9DvvCtzYz4/4mltc/Y/sf/H5/oYvLOv7R/wDgmr/wV6/4KvfED41fD34dftiftM/sc+HvhL4lm8MWeg/G7xv8Cbnx54P+IGoXGs2djf8Aw4Hxn+AfjDwR8Pvhl8SNV0OWefQNe+JMFn4au9ZzZn7Xq7Wuj6sNKd501LkVueLp1Z22sk6VOolD4rKSjbXlctbeXjswyrAYrBYPH5rluAxmYynDAYfGY3DYSWPqUnadHBxxNak8RiI6v2GHVWpNe9CLjGTX7m+HP2EvGf7M3/BTD4PftA/CLS4p/wBimT4C/td+EfF/g621mwtrj4GfFz4yeKPhv8ULqawtNU1KC+vvhf8AEW++Hh07wdpWiW2sf8IJ4uu7zR/9D8N6z4cFn9Y/tO6ze6l+xv8Atba541j03S9L039l79oq71LTR/qtHsz8IfGERjv7qX/l4tx/ox54r7Z1e30q6k09da028vYY7+31Kys0s5dUt9Qkt8y2Mv2q1/0GHyD/AKR9qz9j/r/PH/wXs/aQ1zwZ+xfYfsb/AA9Wz1z9oj/gor4n1/4W6bpMOuaP4eHhT4G2F+dd+NvxG1nVdTvYNL8O+F7Dw1Db+E7vxj4luLPwfo9nrOr+JtXvBaaNeWd5VKNbFVt6tetVqUYRil7SrUapwpU6VJU+Z1Kr5VCnD+NWlJRh7WdkbYmtDD0W5yp0oUoVIa+5CLnJRWk+T3W6nNKV+SnGDnUlGLvH/Pn+CPhuaHw34d8Va1C8cn9laHNoOmzcyfaLO2s5YtZuov8AphP/AKTpf/gZ2FffH7N37X3xT/Zd8ZNrnhHUJ/EPhTWL0v46+F/iDU7n/hHPGEcsvm3V1YSyzTf8Ir44/fXNzpfijTf+Py8/5GT+2LOthvhz/wAE/fD95L4T+IH/AAVL+FEPiyzQWP8AxZf9nf40/FP4T6PqFpDBHLo3/C47r/hD9L8VfYc/ZrXVPCeif2Pd2f8AplneVdn/AGJdV8d+HLzxV+y7+0j+zh+2Ho+nyxwtp/w48UXXw2+JF49z+6htbD4c/FD+zft1/CCDc/8AFXWZtOv+mduvOPDetxfkWZZHnXCE+JclxuDqxzTLJYGeaOFCPLzzxmEwLq5jlNXDtxr08RiKWCxOGqU1jMNVpVMPCqvSyPjWrwznWBzrJM7rZFm+GqUJZfmMHVwUatRzj7OjSxWJpRwOZ0a8pVKdXCQliaWKo1qlGrQqRlyy/pa+EXxl8AfHn4d6H8UPhrrA1jwzrCyW9xbXHkx674X8Q2wH9p+E/Fem8nSvE+h3G77Takm1vLT/AIm1n9ssb20J4v48eA/iH4+0O3h+H/xbk+Ft9ZxXiTLcfDTwj8RNL1qecRfZDf2viKa0vrL7D6aLqdmbzvjFfzP/ALPn7RvxU/YW+NUw8SeE/FOhjVzHo/xR+CnjTStU8H6v4v0TS5TjWtBsPEUNlBP4w8Of8fPhjxRpv2vR7wZ0b7Z/Y17/AKH/AFE+E/H3hP4peCvC/j/wNrcXiLwb4x0u31vQNYt8JFeWbjMltdR/66x1eyuPtOm6rpdyBeaRfWV5a3YAUiv8YPGrwTznwE4wwea5Q6Gb8GZpicS+Hs1zXLMszulhKjjVniOH89wOY4PG5ZiMdhIx9rhq2JwSp5jSisZg6NLFUcfhcP8A7D+Avi9lPjVw/PA46pXyji3K6WHXEGX5ZmuZZRipU70o083ybHZbjcLmdDB4qUZqpHD4qnicBXbw9avODw2Nxfwz8Y/2kv8AguJpXgjwj8L7L9sn9mvxj4Ot9c8J/CWx0/xF8JPEfge71+y8eTzeEtFv/iL4htRrH2zQdL87TtF8QXepa3d2lrZayt5fDWNt5eV+IfxR/wCChv8AwUW+CdxqP7PfxG8TfCa+t/h34q8Q366FYaRafETQ/A+ueJLmzude8OeHPE8WozwaHo9vf6db3J8CWx/sfwjd8WdlZfbDZ1/Sj8Y/FNr8N/C/iD4mXt7Fp9h4I8Na54hkkuJBBZ215p9rLd2Ms1zLwLg30NtBbZ5+2NxyRX8vlr8OPHHiJr7xNN8Nfi7rja1f6hrGu65/wrP4japHqGqapdTX+qX+qX914bm+23E895c3P2q5r++vo4+KOYeM/hdnfD/H2X4PHUchzfBYL2+Ip5VT4fzvL8ThsRiaOAxeQQw1LBvNspr4alVnjcPKGExGGxWEp0MOq0K1St/HH0oPDLLPA/xK4V4p8Mc5zbKcZxPleaZrPD4fHZrV4gyLMsHXw2BxWY4fiJYipjngM4hj6/8As9bESxFHEUMwf1uphcTSpUed07/grN+15pt9a3l4vwl1m2iuY5vsN58P/wCzrO4jj/1tr9rsNShuIIJ/+Xr7NdD/AA+H18Z+H77VLi+uNL8Q6S2palqF+9vpVxYapZ29xql/NfyxWv2r7HfW9vBPefZrT7T/AMudfWHiTwb4RtZmt7nSk0m6b/Waff6fLo9xL/11sL+GGeDsf+PbFeW6x4Z8J280awyaJZTyP8qvJaxyeZ1PEs3+fwr95yPgvhzhiWJq8NcP5FkksbTw9PFvJMtwWBhioYX2qwyqQwVOlTrexeIrezlOU5w9rP3vebX80cRcecY8YwwdLi7ibiHiOOX1cTVwKz/MsdmM8FVxv1b626FTHVK1SksQsLhvaRjNwfsKbUY2s/MdQ1bw7daSttZ+NNNuNWkmvYdQ0vVdHv8Aw3/ZkmnX/lWEtrrN1Ne2Oq/2rY/abm6tba2s/sd52vPtlaXhdtUs5Lxo1hvo7nTPv2eo2F3H9ojl83yv9Fmmn/1H+fXjfEkdro+vaxotxvW+vrzT9VRZv3kclnJa/uvKl9f5irGn2sclnp/l28LXEf2i2DJbxeZ/39H+fyr6CVacp2k3JQiqcG1ytQhq043lvUnOe/2rdLv5aCTUktLtPv8A1t+J7AdSVWsZIcbpId/7nGY/3Xnc/wCc965H4CftQfGr9jz4sXnjz4IeML/wxfLqlxD4l8LXMcWoeB/HmjXMv+n6D4y8J38N5oeuafqthMLa5+1ab/y9gdB/ocmmq8d5b2rfeV5IWbzP+Whi/wA/h6V4n4+jt4fFmtSRs8kc01vNDv8A3fmeZaw/vf8Av/CPxrowmZ43LK8cbgKzoV4xqYeonClXoYnCYunLD4zA43CYinVwmPy7HYadTC5hluOoYnL8xwdWtg8dhcRhq1SlKYwi3F6qVOpSr05RcoTpV6FSNWhXpVIONSjiMPWhCth8RRnTrUK0I1aVSE4qS/rK8Fftv/srftWfCP8A4THw58RPCf7PWu+G7pNc+JvwV+MHiuXQ7DQ47OL/AImmseA/GXk6xN4j8L2/+k6jpXgTUvtniTSLS8s7PR9Y8YN9kNp/N78StL8E6X4y+I03w88QJ4u+HN14z8Qar8PfFX9l3+h/8JB4T1TXobDwxqkug6p/xNdD8+xmuf8AiV6j/pln/wAvnGBXx+trb3k0f2iNGbyZE8x4/wB5HHJnzfK/zz6V7RqPjDTdZsbfR9PtX01YYdPjW3mki8uOz0v/AI8IopYs9+f557/G5HwD4acIZhnmbcA8J4vg7FcTVcLic7yfC8QVMZwbRxWGjXv/AKrcP4nLfr+QUMRiMRUxM8Ji+IM9w2D554TJ6WWZc4YOn+o8f+MfiL4oZJwZkfHubYHiP/UaGaYfJs/xOWRhxXjMPm6wUK9PiDOI4l0s4qUoZfhI08WsvwmMxTorE5xiM1zCUsZLc8B3GveG/E0Pibwfr2veDfFmi3m+x8TeFtYutD1yzks7/wA61/0qwmh8+3gnh+0m11L7ZZ/9OdfqbZf8FHJvixoek/Dn/go98FdF/a88F2P2i20P42aJH/wgf7UngS0u8RXU2i/Ebw5NpuuarBn7Pc3Vrc3OsWd4P9D/AOEQvO35caHdL/aV1Jt2rfW0dyrHn95/y1i9v3/4V1Ak3TWMbfd++w+nHA/z/KvplpFWuvf5/muW3TTqrq01e8Jwep+I5rw3lGb16ePrUa2EzihR9hhM+yzESy7PcHS5uf2FHNMMoYmpgJT/AHlbKMZPFZNjJJLMMuxlJKkv7Xf2XfiL8H/2jfhH4bl/Z/8AjTL8ebzw3o2naLrmi+LbfRtC+OIi0a2+z2t/q+g6SLTRPFmsfYobY68PDenaN4kN4TeXngTF5g9ZNK9uFtVllMKagizgfuJ/9b5clvJ/qpobjzh9nubfi66DrxX8DeneNvGXwv8AiVfeNPhr4s17wL4u0vWPtNj4g8M6hLYXiSW8sMsX2qKL9xqtvBj/AI9dStbyzNf0Y/sn/wDBbjwV8R7LQPh9+3ZZ3Xh/xjZrHp+n/tJ+EY7aBNZitP8AjwHxL0+X/QdcuYSfs32rxFc2Ws2loBZ2njA7RZ1/AXjF9DfCZpicfxJ4V1YYHG4rEYjHY7gvNMRRo5Tia1ZSqVp8N5pW9mssxE6s6lSGU5rUrZepVZRw2aZVQoUMLL+9fAn6cHEPAVLA8LePWHxHFvCOGo4fCYPxQ4WyarW4oyqlRhClh6nHnBOT06zzujCiorFcV8DYWGIfKq2N4JoYenis3j+qng7wZceFPiH8WviBrHiFPGXin4peP9bu7HWru333+gfDOS00zWrXwncSmGLyLiDxhNrl1dYY/wBsWf8AZAvObKzx6xpFrf6vcwotvdanqGoZ+xaZp1rc3l/cRx/8+1haQy31xbxA/wClfuB9l65xXxn8UP29P2EfgLYT6l48/aM0T4k6tLaf2jong34OabdSa5rmn6rF5thdard6pDqP9hfbh/o1zoVvpusavZY/5DGAbyt79jz/AIKj/wDBMX9oXwT4v1v9sr9q7Wv2IfDdj481jw54V/Zm8F6F8QbTxP8AEPwNZaF4fv8AR/if8QfjR4H8H+MPGWuHXdT1PXvDq+FxrejCxtfDefsY+3WmfhMD9Grxr8XuI6vFHinmdbh2rXw2WYDG5nmtWhnfE2Z4bJsBg8pwsMLk+Dx8adLkwmDpKris2x2Xzqtf2hTwmPnXqwq/sPE303PAfwt4dhwj9Hbhyt4p4tTxmMw1XIaWL4V8N8uxGbY3FZpiK+N48zTKK0MaqmNxU3UwfBmT8V43Dzg8FjaGW0qftafzd/wUD+F3hrxp4t8P6j+1R+0J4X/Zt/Z/+FJkfQPAvhi70Dx/+0H8X/GeuafAde8RaXoX2u88A+AbDS7I2/hLwvc+Lp/F3iTV8eJL208BsXtMfnB4i/by0P4O+FfEHww/4J//AAm039nHw34hsJLPxZ8ZvEMl140/aM+JMdtFNFFLr3xB8Rw/8JH/AGf++ufsug58N+D7OzvPsf8AwgfNfff/AAVCn/4N8vE/7M3i/wAUf8E8viJL4x/bAXxl8ONQ0HxDrHiD9qvxT4h1zwj/AMJaLb4l6Fa3fxpEvgeytpvCsz3NrpmnWujtaXdpdf2PjBFfztNNuutvz/NDJJs/z7V/odwJwTlPh7wpkvB+SUatDL8kwvsKU8ROjUxeKrVak8TjMfi6lGnSpyxePxlWvi8TOFKnF1KrhGMaUY01/l/x/mPFfjJxbnfGvilnNDMq2e4l1KvCPD+HxuU8I4XC06dOlhMrxX1zE4rPOJcHgcNTo4P2Oa4+jkeYU6Pt8VwzTxc6lR8lYySap4nm1HWtQvdW1TVpribWte1u8l1DVNVvJIoZfNv7+T9/nz5bb7La/wDHnaf8ueOtJeaXHoskej28iL/xO9Y8Q3PkymX93qHk2GjRS/8AXDS4bn/Rf+nz8q6tZ2MMc11cW1uYfM8zzpIv9ZJL5svXPTmpLrWtN1bWLWbTbpLpvsMcN5s82Py7iPPlH97xNmDHf9K+uw8Ye1praSvy+d3H8nbvuEcPRhHD06VOFGhhYxhQoUoRp0qNOnRlQo0aMIcsaVGjTcI06cY2hCChFqPKo/10f8Gp/wANdW17xP8AtrfEvS4bZ5vC837OfgyOa/x/Z9vPeXXxC8URy3UX+vvvInhtrn7Lbf8AH5X7Nftx/s9/G/4Z/ETTvjpH8e/jN8WPh3488UeDPBPxW+HfizxfdCPwn4o1nVZrHw5r3ww0DS59H8OaV4Hg1ybnwJbab9s8OfbDe2er6x/plfKH/BpX4IOi/sf/ALVPxGu7Ypp3xQ/aj0XwpFfY4kPgD4VaLa+XMR/x7wW2ua6QLq263jG07Zr9bf8Agp5NcXl1+zz4Ns5vLt5viRqHxF8SWz/vLe8tvBegfYNBF1F/z8Qarr1zc2uP+XzmqzObUK/PKUI01ZOMpR+KNN2lyyjeLk4xa2d1KLjJRa4cz9k8tx0qsdVTu+V8j9opRjRk5RTa/eSTtFrt109B/wCCcth8aI/AXirTvHfizUvHHwc8c+J/EkPw68J+KriS48V/Czw3pcll4X1jTI/Ed/NNfa54Y8U3w1vWrXQtSury88Hi8+xaRdnRwLOy/wA2T9pj4c/8M9/tDftE/BC53+f8H/jx8XPh2sbyfvDp+geN9Yi0DGP+fjw5Nptzxz71/pof8E9fE1xqXw18UeGbpUaH4d+J9Qh024T/AFkun+OP+Ko+yy4PTSr+G5+ze1561/Ar/wAHCXw5h+Fv/BXT9p+306F4dL+KWlfCf46WpdDH5t58QPAem6Xr35654P1L+veujI8R7NXjJy9thrScne9WnKEm23eT93mk+Zu3zbKwE41sswUouTUKNK/M5Sn+7jKjJSUm9nF22vt5n4va1rdwrSSK21cxxhf847fXrVTw/wCPvHGhw+M9E8M+NPGHhXR/G2laRpXjrT/CvijXvDlv400fR9Um1TRtH8W/2NeWf9uaRpWq/wDEytNL1L7ZafbOlnUc2k6x4jvtN8N+GdH1XxD4n8Qa34f8PeGfDeiWd1qniDxJ4k8SapZ6NoPhzQdLtYZr3VdY1zVby203S9Ltv9NvLy86Zrm5tL1rw3rfi/w/4l0XVfDfibwvrGseEvFHhnxDp91o/iDw34k8N3U2l694c17Rr+GG+0rWND1WG503VLW4tvtlneE104yrOyXPO8+VLXo7cy29PM9CjTja99vL7XR/K35bWLlja2dnHb2tja21na+Z+7t7O3igt4/MxL/qov3H7735PTrXpXwz03+1Pip8JdBjh8xNW+K/wzs2gf8Adx3CXHxB8NxXUUsv/TeCf/PFeawtxb/L80bxs3t0/wA/pzX0l+yq2gr+1x+zDdeKJnh8MaL8b/hn4t8TyQ+V9ok8N+CvGWj+MteitfNhmg+0T6VoNzbWv+jVwJXcX2nH9TarfllZXtCb7fCk/wAbW/zP6wf+C3viv4Y6yvjL4Ta3qejaD+z98E9Fs/AHg34T+EtA8L678bP2oP2vtY8WxeMvEXww+A3i3VLLU9b+BPw/+CGl+JLX/hpb476dbC7vPF3j3/hT/hyz8YeMbK8sdI+jP+Cv3xf+Gn7G3/BLvwH8AP2ffAlp8EdT/bpsvDfga/8AAdvp11ofijR/g1ovg3SPFvxg1fxifOh1vVvH851DRPhNr/jrxJ9t1jV73xJqxvbwYsTZ/lH8IPEXxV+P37Snxd/aAsvDvw90n9tH4oXeqfGzxD4v+KjxW/7Nn/BJj9lvVb/Ute8E6949vtYin0r/AIXhNpepnW7W21G2u9Y0jxHq93eWej3fjHWD/ZH6D6f8GP8AgjP/AMFFvA3wT8a/tI/8FM/G2ifEz4QfDG8/Z18G3fjL44/Dz4VeLvFngj4f+O/E0Uvxk8afDX4l+HPEmoeHPE/x38Ry6h8T7o6j4hvr288H33gL+2BZ6vZXtnZezjMDLAUqOElDE1MVTr06mOwtGHtKeHxEKMpLDVacHeWLo+0ccRSt7TByqVKFebqznRwvkYXFvEVpVuSEMFCMqOEr1JQVTFtyg3iacPcVHAPki8PW1ljLLFQpxwkcHXxv8qvijwamg+Hfh/rVx4y8E6rD8SPB9x42/sfwT4xi1TxZ8P8AS7PXtS0H/hG/i1pdrZw/8IB4o1X+zbnW9M8L/aby8vPB95Z6x/oX2yuGmmhh0+CSzkdYVT9yP3w/0eP/AFf+t/f/APgT/wDr/fj/AIKMf8Es/wDgmp+zL+y/4v8Ajn+zF/wUJv8A9oTx9ofir4f6PpHwcsvih+zx8QbPxAnizxbo2jahda9a/D7TdN8Y2Wn6Hok2pa3dXVt1vLOzs7z/AEL7ZX8+WpXCxh03/LszXJQnN05OcaqkpNfvacaM2nJuP7uF4qMYyUFJJOfK5SXO5N+o5Qkoum4zTS96LupSjGMZSul1srJL/M5K+1Ca5uo1ZU3K/mRsnMkfpKP8598Cv0f/AOCWPxI1SH9tj4U+G9YvoZrfUNK8Xw6bcajJF9st/s/hy882wtZpR/p1xfQY+y2p/wBMr80YPLmeS83f6x9kP/TRIv8Alr/+vFdR8L/G198Nfjp8FfiJpt19hvvA/wAVPh/4kjvn/eR2dvb+LdNi1S6l/wCncaHd6l9qrqwmKnhcRCrzT9m5RhWppytUpT/dzjKMZLmtzqcG37k4xa7PGvRjXo1ISV24txa0lFxandPZfBb5p3Vnf/QUtU1bVNNaRfFWpaDpvh238QpdaDo8el2+l+MbfxBo2m6XH/wlGqS2c2q2Nv4V8651vQf7EubP/TLy8s7z/Q+v4l+PPH0fxk/aK+JnxGhktm0n+0o/B/hGS2837PJ4L8FxTaD4ckzIf+W9jDc6l9Lyv0k/aT+M1n8Lfgf8WI9I/t6HXPGmia5pvgXxBpuj3Vx4cs7jUNU8N+F7D7f4oi/4lWlax9h1j+0tL0u5/wBM1ezs7y8s/wDjzNfmh8Bf2bv2mfit4Kv/ABP8A/gh4/8AidpVtqsnhseJPDdnpdxo+l+ILKKCW/tbm61TWNNJ1CxgvLa5u7X/AKfLPrX6Rk0cPhIyxNetQw9GjJ0VKrWp06KqVJQlOH7yUI8yVOKiuaN7t3VtfFxsqlSNOlBOcqsozaSu5Rj70bJvpJqW+0V304TVPGVj4k+KcngXTYXk0vwjokl54i1yOSX7Hb+KD5P2XQP+4VpU32nVLr/oMf6H/wAud5W94g1iSHw/ZiGT/StQ1WzS4tVk/e2+nx/6fLFL/wA8LiDSrO2ufrX0p4q/Ya/ad+APwT8QeMPFXwC8WeG/CvhCzvPE3j3xHrGq+B7i8gtPN+16hrGsRWHiS81W/uNUvpTb/wCi6be/8fZ/0PrXwT4m1yKx0Hw7a/aNusNDcfaI7qSL/T/FHiDWfsF1F9qi/cT6fBY/2lc/af8Anz+x+lfW4XH4TE05/VcZhcVGMrVZ4StRxEKMqkYTjSnKjUqQc4x13je+i0Z5UqM4uHNCVNWcI861fJyxk79byTla3uufLd2u/TPsf9qXWn+JNSm1LVJtaNmvgPwGlx/Zdv4tvP8AW2uqeKPsE019P4H0Ocf2ldcWdnrNeN/tSaHqH274U6hdTTawti/iDTfEHjR7O/uLjR47zVNBv7vxbaxaXNZwWNvPOLm20y1/5882ej/6Z/plc/eeNl8P6hqEPh2K5tdLmvLl9P068vJbi8vI7iX7VLYXV1F5M8Hh/wA//Sfstt9j+22f/H5yc1zH7X2ueJJP2dNJ8UapqHk+ItH8Q6PpskdhZy29nqEnjS1vNGtbW6iimhgsbfSoJvtP/Hr/AMftnmvnuIYOrl+K5W24SoVJKMpScY08RSqOyTp3vy8rb/8ASeaMujBpKtBcySlCcFf3Ur05a8mtuml3fvpr8QeCbrwf8Tv2kPh/bfEnxK+gfDjx98cvh34M8beKptQ/4R+TR/hv4g8eaP4X1nxH/al/50Gh3Fj4Vmudb/tTUvtn9j4+23n/AB53mf6xpv8AgkT/AMG58YmtT/wUSWJluZJpl/4b4+CB33G/97KZDpMvnEND2LDA6jOa/iT0u4h1a4a4Ledpek+ZZ6fC/wC9jvLzyvKv7+Xzf9fb+R/xLbbP/T50xirUmn+Hobaa5k8P6OwXzHX/AIk9hHH3/wCeUNfFVaM8RCm4Y7FYWNOlJWw9eVL2t+ROpPlpVeaXMnHpazafvWXp037GUlKnTndQShNJqny3Xu3lG3Ne7Sv8Nz75/wCC1P7Ov7GP7Kf7QPg74Z/sJ/HJ/jh8JfFXwW0fxN4w8UJ8X/C/xo/sf4gah448SaDc+HJPFHg2zs9KsRD4U0zRNS/sK5+2XtmLz7ZgfbMD87by3k1D7HpulSJZx6fbR/2r4g/1n9j6ebXyvKsP3PkaVcfYf+Xq5/0zqLOvGdektZNQsbW0tYbGG81W3uZLe2jit4/3f73/AJZe0HTHt7V9BrDfahpbaetq6sttJMtpZ+b+8keLzftUsP8Ay3uP+nu54rgy+LqTxUHVq1lTjTipzl7WrNxqSqSjKpaPLKo3GPPGHP7vNBxmrnXVfKqLajFvntyxaje0OZqN3a9ldX089Dg/Ac1iPFHiZtNtXtrGPSbO2s/O/wCPyS3+3zf6VdSy9fP8n7QPWvTFbfcXH97yI33f5/lXj2gzNpPjS+tWhe187RLfcs3+skkju/8AWyn/ALbf1zXqcdyPtW5v+W1tsVf+ucvfHv0x/Os8M17Kp8N1iKjairJc0oytbXvb5bG17tfE/dh8TvuvRH9YH/BsHo+n2ui/t3fELUhFHDpmrfB/wxNd3P8Aq7fT7PRfFfi2/wDNz/y7wQQi6uv0Fee/ErxR4d+Ly614w+Ill4k+BvwB/aF+M2n+OfDvwr0HWItY/ag/b0+IGqePIdG8OfEvxl4j1TTYYLH4L+Dp/wCzf+EN17W9E/4VX4P0e0Oj/BLwf8SPiP8Aa/GFn2P/AAb2+INS8M/sef8ABRq/0Gxs77xR/wAJt4Xi8KxarJa2+j/8JJefBbXrXw5/bM1/51lBp8GuTW32r+07b+x/sY/4nH+h/bCML9lf4Z/tBap8b/hP4s0fxB4Y+I3xb8f+M/gu/wC1d+1N488eeCLzxJ8J9H1zXYR/woL9n2wi17xJBofinXPCuj3Oiap4x022s/HniTR7z/hA/gn4P8B/Dj+2PEl56LxeHw1LBe0lQU6WKw9WnUqY2thJUKtWu6WExPtq1LE5JlVOpiaKoYTiDHYHNuIMHjJ0sJwTk8eJMfh89yDloU5N46aUmldNJRalCnRg5N01ONSvFXU5U+alh04Rliq3s4qjX/bv/grz+0L8O/2dfgj8H7r4t+FtS+I3w48X/tP/AAs8LfEz4aaJ/YNzqnxQ+HngSw1nxv4y8Hf2f4tvLPQ9V0jVL7RvDlz4ntdaurP+2NG+2WX2z7ZecflXqfw//wCDX39re2g1TSPEniH9hPxzqV3Gi2mp+JPHn7P9pDqupyz+V/xLPFMPjv4G6rdRTzC2FnptyLK6PFo5615b/wAHLHxiXVvi9+y18FdNkjjsfCfgb4h/GDWLOGT/AI99c8Z+I4fBnhz91x5H/FOeG9SNr2/0z8/5a9W8RXGpapDp/l/atO0l5J5o3jikjk1C5tZov3ol/wCXeCCbP/X5WWZYehWqKVaeJp1oKFFexrzoSVtFBQcqlKOiV2qfdpK5WE51RioyUee0rShGdNqVlG8H2ikrXWy9F98ftz/s8/B79kj9pbxd8BfgR8brn9o34ceGfD3g/wAQ2Pxaml8G3Eesah430ubxHdaXa6p4Dll8K65b6HY3umW11r2miy+2Xl5eWf2K0+xmvzi8Xa7HNri6Vbl5IdLsJZpNn/LS81CUReV9YLGH8+tUdW1i+sbX7LpO/TbNfM8u1sEsLe3j8z97L5UVpDB9nFed6DcXmrTX18sjySXF1J5kzyeX+7ssw/vZcV5tWuowpYeMqtScUlKrOK55qFrzkoRjFv3rNpK97bLXqjFu85WT0doqy08ru35dj+kf/g2T+JF74f8A+Cinj3wAIYV0340/spfES01nfxcR3vwc8R+G/HfheWxlH7+H/j91u1ugeLy0wfvWYr+7NpF69v5fniv82n/giX8Uv+FUf8FXv2MNWWR2g+IHj/xB8CtcVJDbxx6P8ZPBGveHJboyy587yNVh0S5+y/zr/SKZmXcrdFfDfp/njqOR6V8tmEXHEX6TjGd+7e+nTZGxI0i9znt7frx+VVWkUf5/yf0prfxfL/n+XPvVWR8r6f1/yM1wgQ3E3+ff/P8AL25zZJu+76f5H48A/hTrhju/z2/yKyZpNvP+cf5z079KDe/vNW2/4H+Zakm9/vf59PX6YqnJIv8Ad+nr/n8fwqi83935P6n8KhMzHpx/n8/1oGfyv/2fZrt26bCrdP8AVxfp+5/z9ad9kt1/1dn5bf3U/v8A/wCvg+1ea2PxA8U6lZ2F/Z/DXxhNa6lbW95Yyp4k8Gx+bb3kUN1FL5UupQzwDyJvbueatL438VfvFk+GPjn5X2fJrHgiX/3PDn+XH1r+KfZYmNn7Shb+9i8G7/Ds/rGnd97/ACP7djXjZPkqT1+zhsc7fC/s0Yb20vf5W19CSOOP7sc0ffd9olj4/wDrccfrTGkm3N814G/7CF0P/a3t757155J408TbfMb4Y/ELyW/i+2eDZPM5/wCeX/CSdfb/ABqn/wAJ94gZmVfhh8S22pv/AOZSk+T/AMKT/OO9S44uDTVakkr6/XcO9Pd5X/vXVJ/c9zSM6O7jNvS7+rYhfytfYf8AXrdekNqGoRqzLPqq4/hTWNUj6f8AXK8/DqfevjP9vLxReWP7O99Z3V1qUy65428J2dvHeapql5bx/Y5by/llitbq8mg+0GCDp/8AXFe7XHxI1qNRJJ8Mfiuinldmn+HJP/RXiT8f8K/P3/goV461LVvh78N9Fm8L+NvC8Vx4z1y/aTxVp+n6fb6h9j0HyvKsJbDUdS864gN59puvtNfc+GlDFV+POFoTqJ0oZksVOMcVGpBwy+lPMeWSjVfPGbwkabvTk48/Pq4ck/k+P8Th8PwVxLUjSSlLLJ4eLnSrQcZY2pQwClCUqaipJ4pLVrR7pO6/JWGH7VcXF5cNiPfzv/z+f6deKdxq1vb3TeY22NUjmZU/6ZZ/dRY/wqreTTSbU5jhh+SONP8Anp+Pf/8AV6VxevTeTNYtja0xuIT/ANc4/wB7/wDXr+3qlaVKHNCK0tzN67yhH5fE3+C7n8bRi21por2Tfez/AKX6npVn4hbUo9v2fyY2SREX/npHJz+9/n/k1raXfSbY7fc/mQv5P7z/AJaR/wDLKWX0/cV5vpVx8qt/n+ox/Lv6101vqEcN/Z+Z+7huBHDNJ/zz8z/j1l6Y/wBf/n11p15SUZSldJ2l3d7JbdVr3CcErpLo236NLbzvp2sj+4H/AINnf2jP+Ew/Zs+O/wCy5q948mq/AH4lWnxO8FJJc/8ANN/jR5susRYlGDb6H8RtB1P7NbEgr/wkYGDnj+h/XrpbfVNH1Brx4bVryPTdQkhuI45JI5JftdhFdReT/wAg+4vofs116fbDjHWv4Lf+CCfxiuPhP/wUY8K+E/O8vT/j/wDDHx58JbqN7jy7e48QafFD488Eed/z28jVfDepW9p2/wBMr+5jXGvr7SdQjmsPtkKpHefaLWXzJLeSzlhuopZbWXyZ5/8AVf8ALtc16lJeezu1bRPTmil6vmb6yk5WV7HmV0k20t1F/kdF8RvCvhn4mfD/AMdfC/xNb2d94Z+Ingnxh4G1bTbm3iuLO40/xXoN5o0sktrL52RALz7Ta/8AT5Z1/lH+NpPFXwL17xNpcMNn/wAJF4Nf4kfBnxBHrdn9s/0OO6vfButSxeb5M9jrE9jpv2m11Pi8s/tlf6pX2q+vpIby4m+x6bylrCn/AB+apJ/yylmji/1Gnwelz/8AWr/Np/4KleG1sf25v20vDrWiWcy/GDVNV8lI4o45LjVNH0e/luoovS+nm+09f5GuXMqXNhqrXLzOMrX0tyrmjZbe7Z+t/LXbBzvVSto1d69pQj2/vv7vM+J/DcrNpjRxM+5ra3aNfM8r/ll/z1qrqH9oMvzFPLjST99NcRfn+6qr4NmzZ2qsSrNbeTJ1/wCWf7rr04+nrWhrmn2MNjdXVxfJZrZwyNJJNJ/yz7eVD/y8V4CUpUaclfSmnZStfSKts7/oew3a2ml0m+1/67oxfD91t02zk3fwSe//AC19PX1Hpn1pt9M7bdrbtrP8v+f/AK9Z/h2ZW0HT/wDai+70k/1vqKbdN5YYbvl/u9cf4dz/APW4rnbbpwt73uJeeqXTX7vn1G49196O++Hun+dpevTNIY7ddSs4ZJOn7u3imu5R6/6+bt+te4eG9U0+8tduntdalZqn/H1pun3+oWeefN/0m1hlg5/lxWP+yr8EfjV8SvFngDxlp/hPVdY+AF1+0t8H/gzq15c3FhH4T1z4meMNe0e6i8Ly6XLNFrniP/iR/wCk6pa6bbXmj2f2yz/tiv79Yf2ovBPwZvJPAumeFf2friOz1LUNK03wFonijwv4X8cahb6J5X2/7B4NtfB83g7/AEGy+zfatButb8N6wLP7GK+GzzimOV16dHCYWnmFWUa7rL63KjDDPDcrqwqujRry5oxbc/ep8qtbnv7v1eR8K1M2hOtiMRVy+CdBUm8G6kqyrO0Z03OpS/duTjGNSHNCd7qXu2P4ONPWbXrmSz0XSfEPiK8WTY1n4c8N694gvI/+utro2m3k/wDL/HkfiB4L8UaG39oeIPhz8UdAtY0/c3mvfDPx5oen/wCq73WqaFaWP/gTX+jb4k/aZ/4QHwvofjCx+DepWMPjy2jfw7CuoeHPh3HH/wA9bXWdZlhhg0uD/j2/0rUv7Yu/+XOzs/tua+SvF3x+8UfFSxWOx1DwlqkN1NcJ53gf4n2vxg8L6XeafL5UthqmvWsMNj9vgvobnTdU0u502z/5fLP7GO/z1XxDryhLEUcroSw8bKbWPn7RSlZU039Sp+7UtLllZ3cJaLd/Trw6pQqqjUzWqqvJzJxwMJU01KEailBYypJezUo88klCHMueS5os/wA+eOGz1bUNPsftELWPiB49Hmkmk8y38w+dLa+bLF5v+vn/ANH69PavMNJ8V/Ej4A+Ktcsvhv8AELxH4PnV5LC+bwrqkttoet2FxDiS21jQrnztE1y3mh/cXVrqWnXgyBnI4r2340eH/F2uXXx4+LHh/wAB69D8N9D+NPiSHWvGFho8VnofhvxJqPii8l0uw1D7L5P9lfbp/sv2X7Nbf2PZ5s7O8vLO8vLOvD/iNbrfWum+Kozvj1Ly/tEnH7yS8i+1Reb/AOTPtX6DTrwr01Vpyjz0+XmdKrzSpVGlOVJyptWlyuDamozV1enHS/5TmGXUMRSrYHMsFQxuBxdOUKuEzDBwxGDxtBS5VKeHxMJ0cRRlNTiuaE6cknyyu7r9uf2Nv+Djj9vD9lpNB8KalrGn/ED4fWMllYXPhq/i+2aRb6FC26e10fQtUvIf+EWuJYSzC58J+I9Hs1PzDR8nj4W/aw/bg+On/BRH44fEz43fFHVJ1uviZ4hs/CGn+GdLt/7P0PwH+zh8P7abVPC/wc8L6ZFNMdD8LT65qVtrfii1trkf8JJrFn9s8SXmsXl5eZ/OGzkVbq3ZuVaa23b/APrr79fY9K9g+G/jLw74Fj3a9cX7eZf6hNHZ2Gn/AGyS3t54oYvtXm/uf9f5J/0WvSwmYV8POrP2sY1qlCvSjiFCnCunXg6M5TxCcatvZVKsU7yjCc4VHFypxv4eA4SyXKJR/s+jiaOFpWeHyypj8bi8pwc1KMufAZdja+Jw+XpKKp0qOBhh8NhqPNTw9CkquI9t3mqeF7Ww0nwzNbxwxwzPqF5DCsflx2VxJL5sRiHf/R4f8M1y7QNpt9a+ItFurzw7r1m/2yz8ReHrybR9cjt38+K6tf7UsJoZ57fzs/6Ldf6Hef8APnXaXnxM8B6xDHDLeXlrGr77dptPmt3t3/5Zf89oP1rnLy40+a1uIYtQsJo5PMubNoby148yH99F/rv3Ang+me1Y0Zyw9ajXwtWVCrhpU6mHrYapKlUo1acozp1qNSDVWjUhKKcZU6kJrW0ke81zRlCooyhNcs4OKlCcHpOM4yi+aMotx5X7jvecZ2SP1B+FP/BTv4sab4RsPhb+0t8OPhv+2J8HVtrdI9C+J3hvQbzxPZ6fBFD5VtFLrNneaHPbwQf9AT/hA7w/9Bjnj9Iv2Jvjv+wfFrviGD4EfGDxX8BtK8Yvca34n/Zh+Juoy6/4P0fxhJdeV/wlHwmtfFmpQePvDmoX+Bot34X8J+LPiR4c1fSBZEWf26zsjX8zul30zaHo+oK3zRWcltI3P/Ta1l/9E1y+qQ6TqHhbWtPvrdLy8kuZXtRLHFcR+Xxdeb5Uo/ceRP8A8vX88Yr1+KcwyHxH4fx/Cvi3wjlPiJkua0adLEYzFVKmQ8YUJ0VF4fF4XjHKoQx1fHYaqlVw+Lz/AA2f1Kc9dXqa8KY/iDw94hwHFnh3xBj+EM7y2o6lL6soZhkVeFRwWIw2M4ex/tcveExkIuni6OXrLXVTVRVIYiMK0f76fCf9kWfj3wD4j13/AIRXxl4RlvdcvvC2r2FxYeMPh/4j8R6HpepXVhEJbuGaxuNQ8La5DbalqvhfxHptn4k0j7GLy80cYro9U+Knj/wh408L6x40/a88W/A7QbqDTxo/hiHw3L4w/wCFm+INcl82WTxHLqkOpWP2e+n/ANG0H7L9j/6/OK/lk/4Ih/th/EHwb+0von7N3jLxRf698IviV4T+Jd9pGgalZRaxqdv8Q/B/gO98U+HbCw1W68+ee38RWPhvUfCQGti8/sizvc2d5ZYr+/8A+DnwA8IeJvh74G8YR/EK8tZNd8JeH9S0ybQdH1TT5LfQ7ywhutF0DVLWW8vIJv7DsZv7Nubm3PP+mfY+LzNfypl/gplHAWMxXCXhdPiLiXhurmOI4r9nxBTyKjxFl9LNsFluW08qx+JpQhlmZUsmqZRUw9DPcNg8FLMaWIeIjlmTVcVWwlH+nONvHqp4jRyfjDxJlkfDeZ0MlwvCCWTf2u8mxmJyTM8xzapjcNhqtavjMBiM1jm1HE18uqYjFRofVaNP61jfq9OdX558afEDTbz4Yf8ACSavp/wNW11CCR/+FteJ/C9j4ks7Py4v3usnwRdaDN4ingn/AOPb+zB/of8Ay+fbPsdfl7q3iS3+InhDxot94r/Z1/aM8Px+FfGGq2fi7wN8E/BGl6X4fvLTRtYmsI/7Ll0fUp4NP8iH7T/yEh/x5/bPtlf0Ear+ylDa6dp97p/xD8LLe2+q3F+mpar4X1yz3i8zHfW0ckV7ecGyH2b7Lc232Tkcdcfj3/wWE+E+qfBX9gv9pfxl4Ln03xFu+HV5o/ijxRomuaN4f1DQ/DesappthJFpel2um6PfT28H2z/Sv7N/4/P+Xz/Q/tddFHgXjVU1GrkWZ4fmxuGgsbSw2X4iODwjxFONSpUnhFHFU/q0X7eoqWKpxpwoyU5yUoyj8rLj3gSupzwfEmV4ycMJXccBWxOMoTxdf2MuTDqNaEaM/be9SpqcK0qkppRhGzUv47P+CvX7MHwx+FHjP4I/F74C+B5fAvgz4q/CPwe/xO8F6JHqEngvwJ8aLfRrO7li8JS3+pXl9Y23j7w5N/wm11oH2b+x9HvPtn9j3n+mfY7L8xvBN9I1ntuGeSSx1KPzH48z7PJ0/wDR3b0+tfqb+3x8e4F/Yw/4JxfBxdWTxR4k8RfCOP43eOTf28UfiHw/4f0/UNf8B/Dnw7qmseTDe63fzX1l4k1u11XUv+ZctNGs+bOzNflVoerWd9eXX2ffG0kPnSRvH5ch8r/PPWv27J6+JxOGdXEQjSqLE4qhBRbbq0cJXnhKWIqczfLUxHsZVuWPueznTcVZs/Js7w2DwOOdHBVXWpfVcFWqaWjTxGJoRrVaFO8ISdPD+0jRi5x506coScpQc5etLeeZpsd35aLLHPcGNf8Atr5X70//AFq8L8aRyLrCzXHzSTW0f/bPy/y/DP6GvUtJuN+izbpNzNNeIq/8tP8AW/5PrXlHjCZbplvBvVfO+zbX/wCWn7qHP/kf+g+vpztyuzvt0t1R40Ene67f1+BS8GaKfEXiK30trh7WOaz1C5kuEi8yWOO3i/1UUX/TbP8AkVP4g8N3ml6lNDC39pRW/wDy2to/9X5f/PWLH/1/wql4d1a80O4bUtPkjS6aGS23PH5mbeT97LEfx6dq6jSfGFrNcSTap/os0z7/ADUjmkt5P/a0Htx+XfNW5bN297tfojR810103/Aq+C7y4h163gVpmjn8yKaJ/N/0ePyv9b+99Z817U0+2+tR/wBMZOP8/wCfcd+N026sbjUreS3khmVpv9ZD/wBcv+Wv+eefStrUdSsdJ8u8uIdS1KXyrhY9L0e2/ef9db+/l/cQW/8A17W15ec1vB8kXzPRWu+2pi25S0W/4af16HkfiDdceItWjjjd7i51K48qGGOW4uLjzP8AllDFF508/wD27dsemadceH47KFl8Takmh+ckm3S7TytQ8USRyf8AUPjm8jRPP/5dbrW7mz/686dqHi7UJprxtNt7bw2t4+bqPR/Nj1C4/wCv/WZf+JrP6f6Nc2XT/j06V6R8KPBum31i2vapZpeNePcQ2sb/ALyK38uTypb/AMrrcXE8/wDx61zKPNUajyyu+ZuT5YxWl3LR3t02NW5JX2t03vt6f18mYeveMp9e1668Q+G/AHhzwTdXVrpdtJN4V8NxW8f/ABJ9Ls9LF/FFLDNpVjqGuQWf9peKLq1tv+JxrF5eXnXFcrdX0M//ACHPD6RzDzPM1LSo/wCxNQk8z/lrdWsMM2lX1x/186bZ/XNfZFj4Gmt5NtnHYSRyeX5av9qj/d5/5a/67yP8ao+Ivg7pt4rSafbw2urw/vo18v8A0O8/56xD/rv9Psn9d/Y1Er899tEuWK0W2rt/wxLq63ldt7uU5Sk7d5TcpP5tng+k+IvDcml6TpljqklncWL26SQ69HFp3mRx+f8A6q/imm0qe4nn/wCvP+tddJ5keoQMy7Y5LaR1mT95bSHzf+WVzF50E/Ix/wAfNeL3ngPVrG+vIbxks7WO/ktolb95eeX/AMsv3X/LDoB/pNdjoem2mgyLbWMlzsktt83nXEvlySeb/rfswxBB7/6NUxc2/fWne97adrf1+U8qSbTXTZWPJrfS9UvprhobC8k8y5uPLke3l8v/AFs5/wBbL+n69cV2Vn4f1jw/GurXUcMdvI8ds0aXHmXEdxx5Xmxf9N/8962I/G2lwoqsupX0g/vxxW8cfrF+9/Lv+RqvdeNodYjbR/7PeGO8ube5W4mn8ySOW3l84/ujD3/z7ukoxnCfPJPmsrXW73631SHKUmvhtq1e+ultU7aPX/hz/SY/4Nf/AA+un/8ABIHQJJI/3vib9oD9o7xDIw/5Zz2/i7T9GtJTj0g0e2r6o/4KF3bL8evhKJJN1tffBnVLsx/8s4Ly38Y/YZZv+36A23H/AE59eleF/wDBtTOkP/BKH4N6Yvzx33j/AOPly3/TO4k+I15/h616J/wUW1Jo/wBpDwnp7N+50v4G+G4W5/1f9seLvElzN7/vvIp5zHkozTesqqktNHFyTTvf0Z85ntRf2XitbJyw8L7+8sTh5R7b8r9N9dj27/gnPrCyXnx+0dW/dx3nw3vyqf8APOeLXrCXr3ngh/Wv5SP+DsXwfa6L+39+zr4ztYiI/H/7I2n2l7MU2f6Z8P8A4oeKdN9czf6D4ltsegwBwa/pe/4JvajLH8XPjzp7b/st18Mvh/qsW3/VyT2fjHUrXzYovXybwfh6nNfhF/wdyaIv/C0P2EfFnluq3Hw6+OnhKSby8R+Zb+KPBOvR2vnf8/Hkf6R9l/rW2Ta4fCtJ3U6tObW3vQcmttNWlfbTzaNMhbeV0E3pyTuu9q7qf/a+h8df8EM/2Xvg/wDDfwJ8ff8Agsj+1drEOm/BT9kCw8YaL8J9Ks57C81BPiHpegw2vjj4jXVr9s8/SvH9hZeJNM+F37Oml3P/ABONX+JHjAePNHsxaeHLO8r8A/2m/wBpjxl+2P8AGr4sftPeP9M03QvEvxd8W6hrEXhrR7eKPT/CnhizEOi+CfCYuo4ILjXLjw74V0zTdO1PxRqYvNZ8SXn2vWNYvLy8rzBvG3jLS/C/jTwDpfjDxPp3w/8AH2seG/EPjjwLYa5fW/g/xh4g8B/bP+EI17xR4cim/srVdY8Hf2lqX9g6pc2xvLP7ZXntqzW/h9Y/+ecOfX/WS/1/+t0wa68UvfvdvmbvfXlcOXlivKF5WVlfm12d/bowfPOcn73NZWVkqelklra+z32O0tYlk+990+n9e/avUPhGurzfF74Yt4f8ZeFfh3rcfijQ30n4keOPMHgv4d3lvqln5vjzxb5Vlezz+H/CsH2nW7q1tra8vLz7J9js7O8vL2j4W/CPx98UNo8H6KlzDvkVtQv7yLT9Pj2RfvZftUvS3g/5err/AI87P/n8r6K0T9lHVtJ1axvtW17wr46m0u5t7/VPh54Ys/E/iD/hINPt7qzub/wvql/4c/4mtj/bkENzpt1/Ylr9sFnef6HefbPsdckMVRo16blXjSnTqQqcyqVISo+zkpqo50oupTlCSjKnOCnJSinGnUl7j6JUKtWk7UZzjU56SShzqrzQbcFGTVOfMvsTtfR80Yqcl+g/xc8beHLb9lTxVoXwx13XfBP7I8PjXVR8LNS8YxHSv2i/+CnX7WV5deV4x/ao+NGlxGe+g+G/w/t5dR1vwzoWpf8AFIfCLw6PDfhG0vNY+JGsXd3o35TX18qxw6evk3E0yeRDHcxxXCW9vH+6lv5fN/54c/8AX5ed6+xP2z/ibffEzQ/gD4pmvNW8VWvgP4Xah4Y17V1+E+g/Bvw/4L8U654nvNUtf2ePhf8AD6w+2eMYPhv8D9Dh03wlpfjL4kaifEnxI1i81jxJ/Y/huz/5DHwiv2qNft91Ii316f8AStn7yO3jx+6tYv8Ap3g7168sbSxVKlGhhqWHpUo1IQ5MT9bq1o+2k44qvVUIwp1cVFqvPB0+dYKc50a2JzDGLFZpjuOhh6tD2sq1eVapKpzezVKNClhkrL6pRhzzqyVCXNCeJxEvbYmopVVSwVB0MtwOpa6P4d0eRrzT9L0q3vilzCdQS3tY9Qk+0D/Sv9K/1/7/AP5eq5nW9Smj0+6+Y+dJ+5j/AOukmIojjP8A02Jq9dXUjLuW5hVP4kSztsf56+tef6tcMsmnxyN5kl9qtuV58v5LfzZc/wCeefz5qklHZaWslfa9lvbyNr31k35yt/w3n1OwhMarDCrbVhSOJV/5aSGP04/yfyrnPEVwLea4uD92xs47lvpby/avbn9zz/St2zj2tuZt0n93/nnj/PfofeuV8QRrfR6zHJ8sdxDc2fmJ/rPL+y+Vz6fj3ondwum1a0rLr5MqKupL0P65v21PixDqHwr/AGdfBcN1DHpusaVqHxv1iNLz/V2dx4X0HQfC8V9YQ/uP9RNrepWt1c8H/lzrn/2WP+ClH7VX7JHw3m+Hvwp1T4fab4B17xhq/jzS9H8TfDyPxP4s1DxB4jsdOiv5bXWbnWbKC30e3h063/0q503/AEP/AI8rT7YK/MXUvjJqnxc0/wCH+seIrOzhXw78K/hn4NuNNtv3dvcW/gfQYbDRtLl4zP8Abp/tPiTXvtX/AC6fY7OuktdQmvJW1TULh5ry68qRpn/1nX91FF2gt4IP+XW2/rX7Lg8JhsXg6dPGUKWIhJrEOnWhGrTdWp76lJtOM3BS5bwku8rXSXyVSclODjLllSgqUZU+am4xVPklycstOeUqs9b2c0vs3l+k3xs/4Khfts/tDeCvGHwb+IHj7wHdeBPirpv/AAjHi7w34f8AhR4T0D+19IuLmG58v+3raKbxFYmCaH7R9rttSzy2PvNX5f8AxM8Uf8TfQ5I77ybaHW9H0jTYYfKt7e4jt7WaKG1tbSL9zBb/ALn/AEW1/wDrVsXl9cRyTSQ3DxySW0kO5P8Alnb3H7qWLzcfuP3H/L1+PpXyj8ZtSkuPEHwt0+3uoWVviFpf2ize3lk+0SfZbw2sv2v/AFFjbwTw+n+mVpOGEynDTeEwmFwsalai5Rw1GnhlUm6lGEXNU4qLktXzcq1drBRUq8/fqznaFaS5nKVm4e9bmk7czWvp1smfV3g2GbxJ4ot7XM3kxX/2RvJHmSXH2P8AeapLF2/cf8e3+k9KvftveKvDOl/s9+LNB1zVprPWfF72yeE7Ozj/ALQ1S8vPDd1Z38ssVrF/qLfyIbm2/tT/AJc/tnryD4M6hoen3TWdxfTr4huLaSHT/wDR/wDRJI5P3uqf6fx5NxPP7/mK8N+EPwb8af8ABQL9vf4jfCkeJvEPg/wD8K9Qs9B8Sa9oml/aNc8PeA9HtjFLa6D9q86xg8UeMfEc1zbXRuf+PSz/ANM+x8V8/wAd59h+G+GMVjcVNQVaXsedLndOM4vmnCC1qVFpTowgnKVerS5VeNn35DltbNMzo0KFOU6nMnCFrXn9m7/59pKUqmmkE5a8tn+U+m/GDQdN/c2OlXlxZvpsdhpsL3lrpf2O4/5a3V/5sN5ODB3+zH/TD/0513mn/Fz4d+KNNbRdQ8M3mm6okJT+2rbWLXT47yQxeVFLf+ZiD7RPP/x62um6b/1+Zr/QY/Zv/wCCLf8AwT1+G/hG6t7X9nLw14yvtXs/s2ueIPidqt/408Qaj5n/AB9S+bczQ2Olef8A8vVrpttZ/hzVr49f8EPf+CbvxI8NiG+/Zt8LeB7uDy/7L1j4aaprHhPWLeSO18r97La3k327/R/+XW56+1fy8/FenKc631TOnh48r9rB0o2g+vsoVlThFW92EZy0e/f9Zj4f4z3Kf1rL1Xd/3a9q43vHlSmqbvfzimrfavp/nY3Hgu9h8ReHfEFv/wATjwys0j3HkyRW+uaXcH91Fp+qWEvk+RcT/wDLrdW3+h3n6171dePPCul6bfXFu1hpM1xYfZpIbm48y/vJPK8qX/T/AN95Fv8A+TnXpX2B+3x/wT38ef8ABOP4hWK29xrHxE+Avj7xD/wjvgXxdqVvLe3fh+PUJfNl8L+KIov+Yh5H+k6XdZ+x/bLPn/TK/M3x/qmj291qEVrC6zedJC0lzHE9xJHHn/SpZYulxP8ArX6dwrxLhsyyytmWX1adaFeUX7So5U6sZ8qhKlyRaqU6lKcGqkXJXvFpuLUn8Vm+S4nLcc8HjYzp1acVeFKXNCUJW5KkJ25alOcUpQlHzUlGSaXB3WvabZeNNFurPUYdSmvNNuE1Ca2817eO8uLoeVF5sv8Ar/3Pr+le2LeM00Mm75Y3I6/89P3Xp6f/AFq+Q5Jmk17S5o+fMv7fbsP/AC7yS+Vx+v8A+qvqBW/0W4ZW+ZE3qc8ny+/6V6GBq+1eIulBKcJKMeZq8qceZ3nKUtbLeT/z5qkWnBKT1Vv/AAFJd+p/Qh/wTT+MHgH4c/8ABO//AIKM+F/idrfifw34N+JnxC+DfhLV9U8H2ejah4s+x6roMEV/pfheLxHNZ+HLHWNbsbO50S117xJ/xJ/Df2v+2L2zvPsf2O8+tv2U7HS779rj9i2bxxpL/AHQ4/H8nir9lT9jHwNeS3F54D0u80HWNU179qD9qXVPFEMOuz+IPiNoem3Nzpep+JNN/wCF2/Gz/Q7zR9H+G/wS0ezs9Y/Mr9gXxH49s/g14o8L/CPwB4M8ffFDx3+0PoWt+E9Q+IVvYXHgv4N2/wAL/g3D4ouvj5r0vij/AIoDRLD4ZT6l/aX/AAmXxHtrzwJ4PvPsesXmj6xrFn4b0e8/U3/gl7b+H9e/bC8OXHw50/WPj1psOt+KPEn7XX7dHjzQ9UuLjxR4k1TQdSvtL8B/CCXxl52ueDvC+uarD/aWqeMtSP8Awuz4wWdlZ6xrFn4D+D/9j6RefS06rlWy2jTlNLBxw+KnOjjqSlh/r1XEZVHEtYyM8vyL+1KVStk2CxldY7i/iiVTG8K8H5dlGBnxZn8/OnDkwmOlq1V9vaLpyftLU4c6io8lbESpWjVjHnpYTB8rr4l4ipHDUj8vf+C1HxitviN/wUO/aC1qOS5TS/hvpXw8+EWn2t5J+/j/AOEH8MWct1+6/wCWH27Vtfubo2ua/GWS+ljhkmkmdWun/fbJPL/eSfvcxf8AXDp/I17n+1t8UpvjD+0h8cvHHmOzeNPjT8TPGF4zSeZJ/pni3WbXQbWXv/oOh2dt6V836hI3kxjdt3H0/wA+4rzcfX569Zw+GNWokr73m0ultIxivO3Z2XXRjyRhHqqcE+vwxUPxtffrbzMzXta22dx5zfMsMm5v+WfHWX/PrWb4Rkl/s2xkt2dbqNPvd38z/pj/AJNcz4km3WN1H/e+Q/5xjnv/AJFaHgebztLjj3OtxZ/e/wCuf/LGWL68e34V4iqKeJvLVckrP/wG/n2trsbKySSW0k/ud7H2B+zX40bwF+1B+yx48DppsvhP9pP4D63cXzv9jt7e3t/ir4Viv7+6upf+PG3gsZrm5urr/nz6etf6o+seP/hjLrerix+KnwpktTqmoG3/AOLn+BIiLc3MvlDyTroI/cHoQCO4r/JC+0tNNptwzOs0OsaOG3/6yQf2pZ1/TReaZZ+Y7No+mru2Oy/2Xa/6ySL/AK4/Ucf/AF6/MPE7jd8GVsntlyx/9o08Yv8AfJYR0vqSwLTTjgsZz+0eL1v7Pl5Fbn5vd/S/DzgKlxtDNp1c0nl08seBS5MHDF+1WM+uX5nPF4Xk9n9VVkufm9o78qinL+0yPxX4JuFZrf4jfC6baf8Alj8TPAcn/uyf596P+Eg8Lzf6jxx8Pbjn/lj8RPBEn/orXvy/LHSv4pV0vTWb5tH0rdv/AOgXanvnvD1NVZNN0uOPMmj6Wo/hZNKtf/jP1579+9fl68b2t+G15pZ1zSW2y/slX89UvPqfoz8BqKenFEop2spZJB7cuzhm9+3xdWrdT+1K41LRzzH4m8GSbvu7PHHhKT8vK1j2/n9ayZLizkb5dX8NycfweKPDkn/orWPTvX8T95Y6b8zx6TZq2TylvDH/APq/M1zc1rZ7m26fDH2+T93/AOiv1/T21/4jZGVrcOTW3w5v3cXr/wAJXn+b6Ixn4FRi7R4ob73yZ+Vv+Zs97P77n9v3yM3yX2jyL/eTXNGk98nytSpzW8jfda2k75S8sJP/AEVMPx9a/h5WNY2DLBPD0+aG4mj/AB/yPzqwZvLO6OTVY2b7xh1W/j4/7ZTdv/r4NUvGmlG9+H6jtb/mbUl2/mypa6L5pp2Mn4GSVv8AjJ9/+pKv7v8A1N/734H0p4Hvlfwf4PLMGZdE0dG5/wCnCH0rqvtS/wCkfwtv/wAk/wD1+1eX/DuZn8G+E23O3/Em0dx1/wCeXlfl+5/zxXfMObr5vm37/wDPv/nPGK/GqsJc8rfzPpft5rufscaiSv3+W3/D/rsa32oyWY+b+OTHft3/AK/5NV451Tbtb5vJ+5/k/hWTDJ/ochZvu+Z7/wD1/wAufWqsM25Y28z5vJkP+H+cf4VhK6u02krap2vqvut0+80jJa6q97tdrk2oXO63j2t82/73+e/6evrX5n/8FKPtkmj/AAXuFV209dY8aWbSJ/q49UksNHmii/7b2UPr0+tfo5qLlrVdrf8ALb5sdOP8/wCNfCv/AAUEj874L+EZtu5tP+J1m+4fwfbPDmpRenbyf/11+geFmIdDxB4Xkop+1xmIoNP7McRl2Mo86/vRlONvXofH+I9L6xwJxDHm+DDUq0bLrhcbg8SovVXU/Zeza6cylrblf4w3m7ayq33P9Y3p/nr715L4uuI5NX0W13ur77ib5P8Alp/yy/xr0y7kWXzY/nbPzqqSeVjHP+fT9K8t8QRxyaxo7SQ/N/pCbu0cn+t/xr+18a5ShaO7lTf/AJUh+VtfU/jymtV5L/gHYWLfu4x+A/ka0pl8xWDZKsmx/wDtpiqNuuVX8vp61eQKz7v4vpz64NXTXOu1rLv0+RMny362f62PpP8AZJ+MDfBv9or9nf4yTLcTTfCn43/DfXtahhuBb3F5pdv4js9K1TypP+WH27RNR1L+tf6h+k614f1a1kWzutVsYbiH/RbfWI/scn2O5/1X2W6/48b63+zzf8/PPrwa/wAlG+urjTY7q+t943WdxDMqfu5I/wB1NLa3UXP/AB8WN99mueOlf6jH7JvxSX4pfs2/Afx5qlxZ3114r+Dvw71W4uIdPi0/7TeSeDdH+1farWL9x9oF/wDaf9KxXr4Gr7SlOm/enBr3fJ/C7262enS3W7tw4yK0a05na3zj959IWd5/Z+kwwtbo9xDN9mmLx+Z5cdv+6/ddP+ePHT05r/PJ/wCC03hv/hGf+Cm37QluzbofE2l/D/xPEz/8tP7Y8Lww/wDtma/v+1TUo7eGeRblIbe3trh47dz+7+0XEsN19q6ef9o/c/Zv+vP2r+G//g4M0aG1/bh8DeJoY1hbxh8B9Hmutn+tuLjw/r2pWFtLLj/pheH7L71ri4/u1Ll+0tL936b99PuZhhtK8Y/4tfkn+h+Eegt5N9qVqvytb38m3/rnJ+9i7H+f0ql48h+0W7bpIbdZE2TXk3myf9NTFaxf9N+/vxUVrN9n8Yatblv+Piw0u86/89Ipov8A2jxU/i+3a4t2uGbb5cP3Zo/Mt/Xzv+mHP9PTNfK1X+5rQlry1KkJL/t5O/X+b0082l7y91Qe+kWVvD3z6fb7fusn3fy/z0Pp2q5fRwlWJ+Zu+Ky/DskP9k2rLNz5MafJnzP1/wAPQVJcTRq0jeY/Z/bIH6/T2zWK/h05f3YSt+Fgbu7n71f8ERfi54F0X4laJ+yv8Vpjb+D/AIyfEvwn8YPhLqVzJNcWXg/9pTwfa/2X4XurCw/5Yah4jsfs32W6tv8ATPtmj3tlx/bFf6APhP8AZB8PaW8d1r/ii7WWS8ubnX9I8D6RYeG9IvNd4ivrqLU7qCbW4PPn5urq3P2y8x/x+HrX+Pd4X8cah8IfjJ8O/iQbrUEuPhr8S/AfxFRrW8uY7gW/hfxHpuvXUthF52PPnsobn7MO44HrX+zX4P8Ajr4C8feH/CPj/wAL6vr1p4f+JHhnwxr/AIXutWt5JLC80vxToWm6/osl1Jay3dvoesXthqVtci11K5/0wXf2y0JPJ+LrcO5TjM1q5hiMGqlScVKN6k401Vl+7rS9nTlThZxo0rxSV5c873m2fT0+KM4w2U4bA4bGSorDutRk4U6arSw8ZQq4e1aUJVIOFStiaUfZuDdCnQpP3aMLZ/iv9mn4QX9joNnb2XibSrjQ9NuNN0nUtA8R3TahYR3Ev2uXzYtUjvrG+uPPP2g/abbOQT0r8+v2l/2ONK8A/Dn4jfFHw14w8E2Wr+G/A2ua94k8TeI/BH9i6np/hvQ459Z1PVPs3g2CWy1zWYBi6tvtKi7vLw/YrI2n2yv021DWrOGyvIZtYm0+BfL+3XiSS2fyeb5sstrc/TP6dK/Mn/gph8XvDtv+xf8AGSz0nxF4nvtNk8LPretXU1xLp8d58P8Awvdf2z8Qbq6llEN9/wAIfpWh2f8AxNNe1K2/sfV/sd5Z2ZPFY5lwnkM8FiHHKk50aNavTp4Lmw86tWlRaowtScYucpRpwg+V62SSuzbK+LeIKeLw9KWb1VTr4mjSrVsaqeLhSo1cRF1ZynjIV5U4x5pVJqDjBxj8K5bn8Z37dnxI+CP7NP7DOs/s++B/CtzcfEj9r7xD4z1vS9S8VW1heeMNH+Gl743i8W/ED4g+I9Qtf3FvceJNc/s7w3oOg/Zvsf2zNnZ/6J4b+11/PbD4k8z4M6p4dmt7aW4sb+zto7h4/wDSPs32r7Vay+Z/z8W//Ht9qr0b9oj9oLxN+1B8XJ/ih4l03StD+z+EvB/gbw3oehPff2Zp3hDwPpcul6FLF9vmmng1DVTNc61rv/UYu7zjk18+2kn/ABK9etdx/eWHnbf+WfmWV0Jf8iuvh7LamV5fCFf/AH3EzniswlfmbxdeNPmipae7Spwp0o6bRvpey5eJ82WcZnKtR0wODo4fA5bG3LbBYVyVNuL95SqVJVakrxVnNx97lu+cWTbtZVRvLeN9v/bXv35/z6V2kXhHVtWuGXali0byW0kNz5v2iOSCXypYvKi/1HkT9xXnO5vLkjWTy2ZNisnv/kfl7V3GpeMtck1S4urO6fS47iWO8+x2fzx29xcRQy3XlS3XnTz+fN9puf8ASfw6cewpJ35tIrfr106ep4ZsXngnWrRtv+jTKuPmSTy//Rv4Vh3Gg6tbxs0mlzbZPkSRPKk8zf8A9cv6fr1rQbxx4kj8sPfJdL/0828Unp+v40L431DerSWtmzK+9vJEsH1+n/16b5NOV2tte2l/nrf+tTOMpa6N7fL+v+D3Oq8J3Un/AAiLW8qvG9nqt3blX/deXHJLDL/7WH+Fb2jyQw6hcTMnyrDcJb74xJ5flxeV/nt/IchpesR31nrz7fLf/R7mSH/Wf89ovNi/yO+McGvRdF8H+LNVt/7QsfDesTWKv8109v8AY7fy5P8Alr5115I+z+n/AOutYT6LW779yeV2belrfO55HoHiXXvh5448P+NPDN/qmleIPBPizSPEel3+i3EtnrFvJpGqRXMp0u5jmhn+0XtibnTRa/af9MN59j/487vj/W4/ZR+Mvw3+KH7LnwN+Jvwh8e2eu/DbXPAHhaSx+IvgrwJY634Xji+wQ6fLFrHhjVP7O8YeD/7LvoNR027GpadkXdpd7v8Aj0xX+Vncfs++LtWul1S41LQdH0u4SP7RdeZLrFxFcRf62P7LYeVBB/283INf1v8A/BIrUviP+xp+w38D/iF4X8T63r/hX4j/ABO/aDs/EGl6hJNf2enyWWs6Z9l0LR/C/wC5sr7wxq+lWet6nq2gaddC7tNYP/CSaOBd/bPtm+Ax2U5Fip5rm98Lh54eOX1cdKmqsMLRrVqE4yxFOUK0fqsa0IqdeWHrrBxqyqulOCkeLxDkWacTZZRy3KfZ4rE4fGvMcNl05un9brQwUsPKjRqxqUXHESpWdGj7fDwxVSEaEq0ZTgpf1/6n4r1mWX/hG/D3jP4XavPpe/VfEOv+I9IltdHs9LjtRdfYfsOj6gPJPk51G61+5uLOztAPshF4Tgfz8f8ABwD8QLi5/wCCdvjr+z283TvE39j2H9paJ4f8R6JpHie3vPEemHWb7TIvER/tTXPCGlWMVr9q10W1po1nd3gxeYxeV2dt/wAFE77Q7W60+4tfA3jbS7O8kuY/Cen3mveXd3lvL9qsNL1TS4tH8+e30qb7N9q0v/QuuPtlfiR/wVO+MvxR+OPwP+OXxb+LviR4/M0rwn4P8N6WlxFb2/2zxD4y0620Hw5pdtbedY2Ph+ynhuf7U8L6Kby0tP8ARLzxLe6xrF5Z3lfTZtxrwtltJZflOc4TN8yzahXwmDw+TSw9StzY7Dzw9bHYyWGpUqGEoYWlVnXqSlUp+ypU1h8NSqSqzrYb4bhvw44pxeLp5pnOUYrJMuyevhsfiqucTxVGhL6hWo16GXYWnXqyxGNr4vE0aVOmqcZc86k62JqwhGNGv/LR4ohXxNqCzaxfX+oXljYafoNjNc6hLcXGn6Po9p9l0bRrXzZpoLHR9Ksf9G0vTLb/AEOzrk7HQ5dH1AXUNx51qvmRTK8flyfvP9V+vt0/R2veFvEk2pXGqabZzTR3UnnbbOT/AEiP91/y1j/c/wBf8eZXVPEkPnRtFqtxGnyXEcmlXVx5fl8yxSyRQ/uLn+X8vi24xcf3fs1Bpxf3Xv8A0rebP1e0r3c3Ju13JXbt56f156nqmnzRQ2t1GrZSOSQ7v+ukX+fp7V5rrzbrf5uf30e3r/027f5ArtNLt9Vv7e4kt9J1iRZEjm3f2Xf/APLSLMv/ACx4/pj8K53xFpN5b6SuoXsM1qv2yO2hhmt5beT/AJbebLdeb/qP+vX/APWKk7xdtdvzIULtq+1unf5m54O0HS7zw1fXmoWv2i5kvLiG3lSSWOS3jjih83y/K4/1/wDkVg3Hg243SSafNDJDG/yxXMnl3Hl/9df9RN7Vzq3l1Y26yW9xc27FE8tkklj8zn6frWxpvja5hXy9Qt0u1Y/66HMdx/36H7if/IqU6fLGMr+6klfraybsvlZdNAacNnv+h0nhbTb7T9Uimul+zR3E22O2f/WeZ5U373/PTpXoUci/2xGf7trJ+P8AqfXH+e9c5bzR3F5pdxHJ5kLXMbxt28uS1mrSWVV1Rtv31tLjP/kH/P4HvWiStZu1rdP+CKUua1lr0Xfby9Oh5Zr22TWNUkb5s39w+7+X8/rxX7Xf8Eyf+CevxI/bW0+61Lw7rGifD34V/D7SrJ/GHj7W9LuvEmoahqcn72Xwl8NPBNhNZT+MfGH762+1XOpalo/hvw2Lyz/ti84+x1+LulaJdeLPHWh+D7O8ttPvfGHjLQ/CdpqF5iSz0+78T69Z6FbX91FEfPnt7GfUjc3Vf6LX/BJ/9lXWP2e/g7a/AXWtStvElx4Ym1XQdP8AGXgPwnrNvp+n+MLcw/atB8R2FrNrt9ofiCfyf7b+1a3qX+mWd39s/wCXO8sq+U4nz2vk+EcMvvLNK7Tw8VRlVnChGvSp4mvFeznTTo8yi/aOPxqSfKpuP1fDGRwzbE+2xq5cqwsnTxdT20aSeIlh6lXD4eXvwn+8jTqVFKL5P3TjKSlOmp+R/DX/AIIF/sayaTa3Hxi+KH7Uuras29GsdS1zwT8M7O3kgjhlMUV14D8N67jp/pVrc639ss+ta3xQ/wCCG/7E9xodxY+BfBn7QnhGOTSvtUPxo0r49zeNH8KXHm+Va38vwr+IOmwweMLCf/l6BurO0+x5x9j5r95vBP7NnxKsNcOvzeK/jR4ra5lkig0X4peONF1vw3oVtqERivzo1ra6DoP+jWMObbQTqX9sXllzmuC8Sfsu6zaLqWra3YfFmXT2uzf3WiwePPGPiDwfbyC+hl1S/sPhzp815Yz6xPDAf7B/5c7M3n/HmMV8LVzbinnq1nWzlU3Dnp1qcMzp0pVVBTSjTlX9nTjzNwUakfZ6OUo1L2h+jU8s4RnGnQ9lkzrOcVKl9YwHtlB1FFXmlCrVlKFptJuVS6UpQ5E5/wCZN+2h8E/F37Pfx58cfDHxhJZ3t1pOpQXOi+KtKs7qz0Dxx4f8ma1sPFujWt1501j9u8n7Nqel3Nz9s0fWPtln/wA+dfK6SfvXbv8AYJMcennV/Tx/wXw/Zd0G0tdc/aek8VeJ/DupeHdY8D+A/Cvwz1XS7DS9DuNE8aa9eWun3UVrqmm2fjj/AISDVdK0258Sfarn7Ho/2TR/+PPJ+2V/Lr9oVWZmO1Ft5HZn/wBgTf5/l6V+nZHmazXLqOJaksRGNGjjYypVKajjPquHr1ox54x5v48W7X5W3CfLUjOMfybPMqqZVj6lD3ZYet7TE4GUatOtzYGWJxFDDuThKXLJ/V5NRl8VN06sXKnUi1g2Xg28uFjaS+tkWb+BIpZJP88/nXUaf8N7WTdcSavcrcW/mPHGlvF5fmRxeb+89TPXJr40vF2raQW0ca/6uab95JJH6eUB5NUbzxp4kVWuYdUe1Z38xvs0cMft3h/wr1E6SSV5Pza5u3pbe/mtTyPf8/6t/X3+Z/pof8G1t1p83/BMP4K2treO19H4t+NN1qVjNHLbvZ6h/wALB1L/AI9fNz9u0++sfs1z9qtul59rss11f/BQnV45v2stchJd20f4TfDSzuF2Zjj+0R6zqkQ/7bfbOB2x2rzz/g231XU7j/glx+zvpXiC4tjcL4m+NHin4XX8Nt9nEnhN/iZqUfizwvfSxn/TtQsdVN1rVtc4OdHvF5H2EhtD9vbUkb9rj4mNJIg2+HvhvCsf/LTy7fwlZnke3nfnW2eL2mHhJfCqtJX3vGShKM/nrp5bnyfEMlDLqiau54mh7m23PPf/ALctt1v0PVv+Cdt95Xx28YWO993iT4XXEax4i/d/2H4j0e/876+RNX5m/wDB2J4Z1rxD8Hf2S/HH2O2j8O/Dn4zeLPDFxffvftkmqfEnwR/oEXlf6iC3x4VI64+2fnX3N/wT51ho/wBqzQrNpNzXXw9+JFhJv7yfYLO7tYoufWz9a8G/4OZtDtfGX7DWpeJLq61Jl+GfxL8N6l8O9D02Ty7fxB4k0uWaX4oeN9Zi/wCX7RvB3g77Toml/wDPneXl5eWf+mVeRythI3dlTr1FJ7KzkpTW+6TS37Nb6acNzbwEI32q14J2e8pQku1r6rrsj/PU1SZkhkdf4nuN/b+vp6U/TNNbWJNG0fbMy6tqWl20nkp5kj28l1DLdA9v38H+jVjalI39nyNzhU5/r7fpnFesfBTwr4m8bfETwb4f8I6DrHiLWh9r1X+z9B0/+1NQjtNLsJpbq/isJZofP8jzv9F/5fPtn2P7FZ3l5/oda42qoxdWpONOMaUnKU5RjCMVy3lKc3GMYrS7bVtNz6rD05zlGlTjKpUm0oQhGUpzbbtGEIKUpSd9Elqf0PfsEfsm+A/j1o8PjD4jWuq+E/hv52n+G/DvgWwuJbP/AITTULOXyrrVL+Wwmhn/AOEX0Pybm20u1tv+RkvP+fOzNf1Dfs8/AL4L/BnS7Oz+Gvwn8H+H7Oze3vI3ttHsJNQuPsf72LzbqWH7dPcYP/Lzc/j6/wA/H7APxI8Zaf8ABnw7psPg3SvGeqfaXtvB/h/VdQ+wfbNP0+/+wXUt1rMUMNxpVxALP/Sra5+x/wDX5Z/Y7yv3X+Gvxq8TSaO1n8QvhHc+B5rG2k/saPwZ8QNL+Jmn6jpf+pli1TXvBs2pQf2hB/o3/LyPsmTzX868SYvGZjmuYzr5hTo5fgcfPCYbC0cZUg5exlyudbC0krc1RTcJVqsOb33TUo3k/wCguE8BhMDlmWUo4GrLG47B08XVxdTDwqKP1iUpeyp4lz5klSlZQop8nOufm92/m/8AwUa/ZE/Zl/bQ01tM8feDrHwl8SbpJLzQfi14A0saV4s8N6g5hlisL/yfsdh4q8P/APMNu9L8SWt5yR9jvK/hL+KXhOT4e+PPGngO6me4n8J6/eaJHdPH5cmoW9vL/ot/5X/T9B/z79K/uO8TftQaleeLNe8I+IvB/wAMNF1FrT7ToWl+G/i54S1z4yaX4bvP3Wjap4x+F8v/ABUdj9un/wCPX/n8vP8Alzr+Of8AbY+DvxC8F+ONf+KXiS6sL7R/FnxI8aeD76S2kurfWNP8UeH7+8lil1TRpbOGHStP1zSv+QD9m1K8+2fY7z7ZZ2f2yvtPD7NKmFzHFYDHY/DujmFClisrw9OrKK5vbTjVjTw0qcfYzr00pxjTtSr61INaxXynHWVRxeEp5hl+BxXtMtq1KGZVpUqan9Xhh4zpV6tWEpTlQpSUacpV+Wph4OCnGEZQivi+S4VV+9938P6d+v8A9Y1wOqXCzeKPDtquflubiTb/ANc7WX/P+RXSXF1nd/eH4f5/x6GvPSzSeNNH/iWGK8f8ovU85/z1r9arTfuLZuauu21tLK/Wx+T0+vy/U9mj2wru3bm+/J6/h/n19a5eSOS8js7dd6tqV/bwsyRxPJ/xML+GL91FJmD7R++/5efer00zLayszfM0MiKv/XT9z+n9a1PCtj/aHjP4d6OvDah4q0O2Xf6/b4e3/bHP+c10Riqs6VNb1alOkn29tJRa87x5lut7mcm6cZTfuqEZTbttyLmv307eflY/Vi88J6DY6hdWXgOF7TwXappdhof2y8urnULiS30azh1m6v8A+1PJvrH7dqv2m5tdL1I/bLPmz/48/sddlD4fuLONPtDJIy+XtZJP+WftWpbzNJoc/wBqt5lurG9jsLppo4vM8z/ll5n/AD3t54P+PW6tv/19RdSLdafDMsfkxx28aMzxRPJJJ+np61+64bDU6NGlTjKdTkpxSdSXPJronLrb0630PjZTc3dtKTbUlFWUeVK1knpfW54zr7Oskke1GjjSN23yfu/+/UWPP/8ArH6V8p/FS6vINe+Hl1p62cd7b+MI5o/t9x9j0+S8k0vUbW1+1Sy9f+nXHFnX1N4gZfOuPMb733Wf/lp/n/Pt8f8Ax4sodS0v7PtmkuG1LQ7y4WOTy5LPS7fVIeYpc5+0X1eVm7ksNOpC/NTlTmuV2b9jJVbKVnbm9ny3s7XvZ2s+7C2lJJ3WjjdK+8bX1a77H1d8NfBPiw6fpuuLZ/21/aFzH5fiCG4+z2cf2eX/AEr7BF/qILeAf8fV1c3XpX7Af8EgdQ8D+BPCfxgjj8YaDoutXnx48car4wvI49LvNU8P/wBoXUOl+F/EfiiLVJofsOn655Nz/YN14kuf9Ms/+PSvxL+EP2jwr4bhXwzqV/a6PqE15bW3h+G8luLe8k4iuv7ZtZZh/pE8/wDx9XVzbZr9RPA/7Vv7H/7GPwl0/wATfF74b3PiD4w/FrVbfxh4X8I+CdPtdPn+IGl6fa/YLXxb438Y6z9s8Kjwv4O1zTdS8N3V0bbWNY/tj/Q9G8N5xeV+VeL9L65w5kVGGFxWKxGIzilKFGjKi6XtI4TE1L16tbl56X7v2kJKEY3oudRqnBqX2XAzjRzTH16mIw+Go4TAylOrUVRSlTqVaNDmoRpvSs/a8sHzSkpSUYxnKdl/VF8Mfjtpmg6bYR6p8QPA3xw8H6lqsmlab8T/AIY6fYXken6xmb/ikte0b4fTa9BfeIIJ4fs3/Ettv5VveOvjZBJqnh+w1n4s/Dr4B6DrCfafD8PjnT/C8nij4iSSRfaootGuvFupQ2OlW88HX/Rvtn0r+IT9pb/gqZ8cP2wtK0H4U+EdA+Fv7P8A8H/Dvi0eMLrw/wDBa41TR9c8YSafazRWB8R/Ea6vNN1W+uIJ5vtNra6Jpuj2f2z/AI/K9h+B/wDwV4/aI+DvgfwH8JPiPH8K/jh4Z+HNpHpVnN8Y/C9/ceOI9LEs32XRrr4jaDNNfX0/2Cb/AEXXtT028vLP0r8Qjwhj4t4i2A53Um6mCq/V3SlSlCDjGNeGDWHjUjKV3GVLlfKlzq590+K8DKSoP657Hl/3qEKinGtzON/YVcTKSi6fxSeInbnStaPvfqx/wWe+IXwF+K37Mfjz4XyfFzwNY/G7QdS8J/FHwn8PxeGz1jxxZ6HdQ/arrwbL/wAgPxH5Fjef23/xJNbvPsf2P/jzr+CfxBqU2pardLu3faLy8/ef8s/9b+X7/A/X8P8AQI+C/wAQP2Rf+CpHwv0P4f8AgT4L6pp/iK/+JXgzwx8bvDvjfwZ4X8V6F8I/D8mqf8JR5vhLxbdQ6d4c8Y+HvHH/AAjdtbWuhaJa6PrH9jHWLPxJo1n9j/03+Dn9oiDRNK/aO+NWm+GdD03wv4X0n45fFjw9ofhnRP3eh+H9L0jxvruj6fYaNFj9xo8H2T/iV2vH2Sz/ANDs8/Y69Tg6osNUzLJ54LEYKpRnHF4ilOvh6+Hp1K0oQaoqEacqar/7xCmoVYqkm41JKNl5/FdOOLw2AzeljaGLoVG8FSkqOIpYiUIRrzh7WVRzhU9h7GVCV3SrurL/AHfllCUvKbPT2t9e0VZJvM8y/t3Vf9Wn7v8Aej/PX8K+kLH95Ftf+5sb8cc/z/8Ar18+2pkuPG2kr86x2ryY3j/pl+9lP6171psyn5W+To/HH5df84r9Sy+y9q0rr2kUn3UKdOy+XNufDTdne3SH5M/QL9l6bRYf2f8AxldfEz4w638P/gHZ+OdUT4meA/CWsWtv8UPj54o0P+x7/wAJfCrwR4Xuv3H9j6HBB/aXij4yeP8A/i1fgOzvLPWLPSPGHj2z0fw2f6Av2ItP+I1v47+KnxE8c/8ACGfA65+DP7Dfxw8YfBP9i3wtZ6/b/wDCh/h38TPDH2TTPih43+3zGfw58QPibe2dvc/2p8UbnWPjx8VLP7X488SWng/wh/wjfhwfgf8AscX2k6bY30nw18D/APCx/wBq7xFr+oXng/xB48j0HT/gn+y/8O/A9rZy6p8btUl16abQ9c8YaV9sudbPxG+JH2P4V/Aizs7PWLPR/GHxIvNH+x/sB+wPH8H9U8F/8FANH8B+MvE/xc8XWvwH1h/ix+1Nc6n4oj0/4weOPGEXirVP7B8EaB4t/wCJrB8ONL+xXOt/8J54/wD+LqfFTWL3/hMLyz8N+D/+Eb0ivUyyVWeYUKc44qUsPCtjIw+pYKVbDUsRTq5dPNFQq1ZYbKMFmdDDPJKfE2ZTxHFnFKw+Jyjg7AZTwZleb5tmfPiVH6rJL2cFXqwpylGrVanJV6c3SafNLESp83M8Ph4wy/AJqtiqlbMKtOFP+U/TJZLjTbG+kbzri/sLK8uLjzPMkuLi8i+1Xd1df9PE882KLr94u2T5Vb+L8vx7/T+tjSVb+xdNaT5W+wWcMapxj/RYc+wqu21tqt83+f1x/nnpwP8Ahr+v5TfXmsu3a/V+a7nnOs2dxM32VV2r+8czP/zz/X+VbWhwtZ29jfWv3fJt0kXp9z/P5d8VrahCrRsyr/B/n3wf/wBdU/CcckmlqP8AWYmuNsf+r/dxy+/0/wAiuOFFxrKylezaaWzja11dfzaf5I2m+WNt9PysegXlwl1JoslraoLhte8PpME/1kkv9s2flRfvf3A8/H2bFf0P3HjjxwZJpG+DPjxY1fY6/wDCUeA7iT933/da9+PuM1/OtoyteeJPCunx2s1nJJ4w8Hotvdf8tJJfEemxCXzR/nmv6arxtslwsbbma5n7f9NenpyK/nX6QOIpxxXC8JYejXfss2b9rLER5G5ZXFuPsK9C/NyJvn5rWio2s3L+h/AehOphuJqka9Sjerk0L04UJc9lmUryVejWtbmslHlvd81/dUfLZviF4qhZlk+EPxIDR/eSPUPBsn38f9TJ/n6VnXHxK8SRw+ZJ8J/ipGpfYp/4pK446/8ALLxV/L9a9DvG8xpvl2/c/wDRUP8An8+9c/qDt9lX/f8A/rf/AK6/nl4iirWy/D/KvmHTl/5+Y2fRdLbu99LfviozikpYuu+16eCj/L/Lg126339b+b3nxO1hm+b4Z/F2Pqi7NH8OSGT2/deJP8P8cSb4l6hHJJ5nw5+LqtD/AK7/AIpfRv3f/lyenOf8K7G4m3SW67/4/l/8g/nzg/zrPvm3Sag33lZJPufy+v8AnpmtlVoJL/YqGiS/iYvWzT/6CfIwdOt/0GVlZN/wsN05V9mjHt5+XZ8ePipvZV/4Q34tBm+dVTwXaydvSLXv84+tTS/FZI1aRvB/xeVVfYzf8K/8yOOTtF+61j/PrTrfi6t2x92Hn+f9KdcSbbHmX/WXMe7/AD/nt0q3Uwl4L6oneSXLGvVV78u/NzbeS8mSqGIbtHFTvp/y4oa6rqqfl97vofWHwzmt/wDhA/Cq+Z839lW/zP8A6z93qF5a/wDtEfn7V6MzR+ZdKsny87V/z9O/61+XPh/4zeOdDtbXS9P8TPDa2qeTa2t/pel3kcccl3NdeV53k+f/AK+Y3PT1r1Gx/aQ+IGm7ptY0nw9r1u3MlxaRy6Xcf9+ovOg5+n+B/pLM/o4eIeEpTr4aORZuoKUvZYHNKlKu1FXb5cywWAopaWvKtH0fX+fMB44cF4upGjX/ALZy5tte0xeXxnSjZrd4DEY+rJ7WUKMuzep9126x/YZFLf8APTP6/Tt1GD1qjHCqyJ7JJ/n+fTHWvF/h/wDHLQfGGk3ElvbPDPbv5N1av/x8Wcmf+Wv4V6VY+IrC+khWOTazJJ8jj/pr/n+dfgOY5fisrxmIy/HYepg8dg606GJw2JjKjXw9WnJRlTqU5L4tFJOLlBxlCcJyjNSP2HA4ulmGHpY3BVqWJwmKowqYfEUZc1OrTqJSUou1klfllF+/GSlGooyi0bF1GrWqlQW/fRv8n+e+fw/Wviz9vrT2k/Z1vL5V3LpfxC8F3Mrf8849Q/tLTO/vMK+z5ryF7X5WT/Xx/L+mfXjj/PNfMf7Z1r/a37L/AMVoY49zafD4b15f+mf9l67psv8A7WOf1r3OBazwvGPC2ITt7PPsrpt26V8XRw777+1seVxdT+s8J8SUJJ+9kmZ2SV+Z0qHtYq7slrFa9LbM/n9kbybj5l+X8/8APPtiuS16FpNS0eRvJ8v7ZIjbI/LP+q/8j8fj0ruZrdb633rIkdxH/wA9vb/6/Q1yusRrJ9kkmV5pLW8jbdC5+z/88v8AP5Yr+7sRFyjbb+FOL/m/ewuvJr5/I/jKL1i0nr533+SNGNf7v/fXX/6x/pUnyo3dj/j+XJ/zx1it3t1X545V/u7JP8/WnXEluskaw+Zhod/zyf8ATT/H/PXFRfKm9H5X1duytrvrtbTuTpd63fV7X06r7yQxx3G63m2SRyfI2/mN/M/5Zf8A66/vG/4Im/HTWPil+wD8I4vFl5aXn/CrYfEHwit9ahuItP1zT/8AhW+qf2Xa2uqWvnf8Ty3/ALDvNN+y3WPtn2Kv4N7eOSaTbH8zs+xP+umP89f/AK9f0tf8ESf2mL/4f/AP4sfDmaHQZNP0T4z6xrdu1zp8Vxrmn6h4s8L6PNdf2Xf3JhsYLe+n03n7Tcj/AEyuvLp3r8if8SDVrfyzpy+9WtbzujmxMJezlLXRxdrdmup/T5rnjTS2bUpbHWvt39oP/Zsf2Cy1SS8e8+y3l15UVrL5MF95EFpc3N19m/0Oz/Sv5Cf+C9klpqXxW+Afi+PzpLy38N+L/h7dXPly/Y7y3s7rTfFFh5vm8/2hB/aVza3XrZjrX68fFD9vrwX4TbVNU8aeLPD3gmPQ7Dzr6z1vxx4Skks7OST7LaxCXS9Ym8jUL6f/AJdbb/TBZ1/Jf+21+2RJ+1x8bv7Q0y5vJPBPgmz1S28Ow/aZTpd5qGu6pDLqmvWtpLn/AEi4gs7bTf7U/wCXyz9K68zr0aFD2VWpCNWpOnGFJfE5wkp8zXSMYqTb15dNHe648JSlOvGUebkgpXknb4ouK067v7rddPkdpWXxxHJz/pGg25/66fZ7qbj+vWus1xo206Rpm/0dv9Yr/wCr6/8A1+/PTGK4e/bb4s0WRTndp0iN28v/AEr0r60/Z18IxeKPiJY3V5bpeWfhW2k8QrbTeVJb3GqW/wDyBvtUUv7ie3gvv9J+y+lfLK0quJinrKq7dvejCX4befke05KFO7VlGN3+H3Lf9EeUeFfhL48t9D0m41rTbbw7Nrc2/SdN168h0/WLjT7y6/0XVLvS5f3+lafPbn/iVjUvsd5rH/LnZ17ev7N+i6XeXEnjbxdLqEMM39m6bb+ErP8As+31SWT979qv7/WYZr6xt/8Al2tfs2m44z612Xjjx5Y6lD441DT40uvDvhzXv7Km8VXlvFqmufFD4sXY/wCJpFYS3/7iDwv4UsYfs39qd/8Alz+x2f8Ax+3oZrjVobiS8VPtk15pd5cLDJL5f2j/AFsv2Xzc/p+lKMEpKkmppKyVox+GTj9lLTRPW++j78869SUE1ywX2mtJfZtZ/f0/Q8l1zwf4Ztdc0nT7PQdNjt77TbiZtQv0/tPVJLfT8xS2H2u/hm9/+Xav7Cv+CW/7THxe+Ev7AfwP8Z+Gbu/8X/DHQdb8efs/+PdN/seLxZL8M/E/grxJ/bPg3wx4j8OX80J1zwP4i8EeJNN1LwJdabqVn4j8N/ZLzR9I+2WR+xn+VHUPDbatNHcQ/LqWg6lcXOnxv+7jvLe8i8m/0uWX/lj58H/Hr63tfsf/AMEef+CgXw+/Yp+NfjX4dftCW6at+x5+03omn6F8X7DUNEl8RWXw4+IPhu0ni8I/EW78O2tje397o1/pc1z4S8ZHTLU3n2P/AIRvxJZrfDw2VPmZtg8VWws3l1WGGxdLlq4ecoe1oVGrQlRxOHc4+2w9SM3Tla86c5QrU5U6tOLPQyzF4WjiI/XaDxWGqQdKvT9rGlV5Hyy58PXkr0cRS5eak/ejVaVGrCdGpUg/6BfH3/BUBtD0V7c3nwx3KkdzJbzeBviN4o1zzOtrF/wgcsMP264Nx/x6aXc6l9j/AOfyvwv/AOCmn7WnxA+IX7Nfxa1L4ua54k+Hfhr49eHrzwN8J/C+sahbWfxw/aj8WJf2kt/rN1o2jTfYfhz+zB8K4LP+0vFFrpv/ABJ9Yu/7H8H/AGzV/El5/Y9n1v7c/wDwU2+AVr4judE/YZ8Ox/ES207W3ubTxT8W9Lj134T6FpH2XzdGtLS2m/sfxH8R9Yt77NxdaF4kuR4b0iz/AOKc1jV/Ed5aXgr+eT4keJPHXxi8feIPij8aPiHr3xO+JniNILbV/FmtyRahqkel2H/IL8OaDa2sFn4c8HeENEg/0bQfBvhvTLPw5o9n/wAednj7WK8bB4Pi6riKlLiKnluWUMNOn/s+UYqni62YSjThWTqYylWq0cNhFJxdbDf79WnF4WvSwsPbo9zHYrhrCUP+Ef65mOLxFOcXWzGFNYfLqdRJThChyQeKx0o3hTq/vMHhueniYVK1Rw9l5b4F+E2g+KrcXE/h+zjaT9zNfQ3l1p+oXH/PKW1/ffYYLf8A7dqw9f8A2WNYs/7WvvBvijR9c05obi3uNJ1a4+z6pp9xJ/yy+32sM1jff+llexaDpM0txb6bZrNa2dw5S423EvmSR/8ALX971Pn9P9G/DrXulrZrZ3em6fpFvbWtvpj75o4pJfL/ANUZfN9riD/j5FfUxw1KcErNSVnzxdnrbbtt562fQ+TnWqQldTspbLlva1ut/PsuvWx+e+m/sU/tBawscmm6H4buo5JvJ8yHxRayeXIf+WUv7nz/ALR9Pf6V7x4R/wCCdvx+urGS41LS/h7aixs5L/UtS1jxZFHZx2/2qG1tYhdS2eftE881tbWtr/x+3t7616lrHhPXNQuofEmqapN4NvdDm1y2t7jR9QutDnj8OafEdUsLr7VFeQwfZ77/AEm2161uba89vWvVrn49fZ/A/iDwL4q1SabVF0TQ/GHh3UvM/eahb28X9qDS7qX/AJb3EMH2bU9Luv8Al8/0zNZRwNCLcnOqoqzUmqa5ou1nb2f93u+5f1mWkUoXbSlpblWl5b623S039GfnX8UvgzN8I9S0PQ/iND4S0vWPEGm6xqum2uieJLXXPL0/QtevPDl1Nqkul5g0rUP7VtLk2ul6l/pn2P8A0z2qj8Pfgr4Z8fSanqVxfarb+G9B+zpqP/CPXkVxqmqahqHnf2fo2lyy/uLHz4IftN1qlz/x52fFQftQa9f+L/G/g66aJ7i8h+Dnw/vNSSEfvB4g8US6x4t1mLyvO5uD/bFvx7V6f8I7O48D6ToPh2Fyl5rj2epeLFSTzPL1TUJYYvsvf/kFWJtrb/r89a5LU3VcVB+zVtXu9Ortrbv5+Z0xb5VzOzd7tL3XZ226PS730dvXsvDOk+EfD/ivWND0XwH4e0m+03StLuZpbG3Elxp95qEU32DRtU1S6mm+3ah9hhtrnVLq263l5/x5819HWuqQ61o1x/Ycm68s02Xmi38f+mWckfEtrLF/y8f9Ot114r5d8LalLNq3xFvvs7rqV94k1CWa7mk2WdxeW8v2WwsIv+eFxBYw23+lZ45r3K1sZNUhtfFHhu8hs/EFvbW6Xlmkn7u88uL97a3UXU3H7n8P5duGcUpxST6OMdHJLeSTvfldtLddGuuVVXivO34pP/gGXcL5K6pHCr2q3yb/ALL/AMso/wDpl5XtX9hv/BLH/hWHxH/4JlfBvT4Jf+EjtPDGna38L/jnfeKYLCK3+ElpZfFqY+KIfAlrYg6rfa/pfjHxJ4B+LPg66uRZ2niS78Y+JT468S6vpA0bwhZfyLXm3WIIb+S0fT9SX5Ly1f8Ad/vP+evP+f6fTX7Ev7XF9+yL8StQs/FFlqfiT4I/ES/s5vFGiweIPEdnZ/Dj4iR2EOg+F/2jNL8L6NDeaH4/8UeANDmudN/4Rfxb4b8R6PrGj/Y/7Hs9H8SaPo+r1zZlg4Y3DSpTjGrRampUKnwYiE6cqc6NVaqVOcZPm72R0YLEvDVo1IynTnGUZ069NfvKNSnJThODv7slJJ80bVFb3Z0487P6zvDH7M3gvWbrUtFuFv8AXI/C/iGDTfFXws8H3FpL8V/Gcmsa9d+HLC18Jwy3l34IsfD9lqkNtc+MtettS/4k+j/2z/Y5vPElnZ6RefzH/wDBarxVpekfGDwV+yD4B8S+D/Evwr+Faf8AC49UvvBOoS6jZz/ED4gRalpel+EdVlv4Ydctz8HPDkOt+ErW68R3P/CR+O/tln488eWdp4j+x2ln9q/Hb/gsf4L8PfAvVdN+Enxgk+Pn7ZHiG+1rSvh1rXh74b6F4H+FH7NPgTUJovDni7xj8WRFb2a/GjxR8WvCv9s6LoHw7ze+HG0e9tPEfiSy0bWLFS/85V6dY1zWta8SeJNY1XxJ4o8TaxqHiTxR4m168l1DXPEniDVJfN1TWdZv7r9/fahfT/8AL1c/9ef/AC5V8LwLwPmnCVHH4XiXAcPYbiWjmWbYHHS4azitxFlE8LRx0/qMstzjF4PB16tCWFjD3oUKca7brzqYmLw8qf0PEvFX+sc8JXwmJzF5XLDYTEUMPmGDp5di1XlhaarvHYKjLlp4n2kqqlBqDoRcaVGFGmpKrw9rpLfbFYR7YYzJtX/2qP1HSuw0uTVPD95D4g0O+1LRtUs3SazvNNuPs9xJeRy/uv3WJoJ/Pn/0b/Sba8rWt7eJMtIvmSffVfT/AK68VDfXn2GObU7htrWNtcX8Lf6tI3j/ANEtf3X/AF3mr9CdOEY62fqvNedkttD5Xmbkn52+/Q9yuP2k/H2qeHb74d+KNL8K+JNfvLC4hvvGNho+jeF9Qt7O4l/0m11SXRtNht7648+b7Na3Vtptn/0+18u/tIeIbPVPgaml2dimlx6f8atLmbT5vssmsJef8K+n+36pf3Vr539q2+q+TbfZdUtv9D+x+tdNb6LNa6/JrDSOIo9HvIdQ3x/u/MklhMUvm/8AXc1w/jrQY/Emh69oflotxrFhbvb3DgySR6hZ/wDIGurXr/y2/wBGu+n+h3lYznKVNw30agvdVo6K11FXtpv+F9btGLuvdvPnavu+uvmfP+h/Z9S8K6WtxDDdC1tvs3lzR+Z+7/z6fSsCbwlpdw3mRNNZt/dhk8yP/v1L/qO3+c1d8HzbbGSzkXyZLd/s00L/AOst7i3iMVzHL/1wn/StD5kkkhZvmV+eP6f/AFs9fauSyko3V7RSX4f5FqTTsuv6Nf5m14L0/S7jxh4D8NyRu1rqniaztri1hk/0gaX9qhiuv3uf+W/nXPU/rzX3t4V+Efwz+JHwh03xVofg220bxRb+J9Y03Vry1klePWdPt5bzyvKiimmggt4Z5ra2tev/AB518H/De3aT4sfD+bcVaHUtVf5/+edvpd5qnoMeR9j68Yr9RP2Q9U0/SP2dYdU1aewtbObUpEha/uIo8XEkU0svlZxPPcefn/j2/GujCw55uNk/daTfRxUWnb57GVSbjFOLd7w2W17+fk19/wA/nHUv2ffCMdvdLdaCkfmfJ9oT/R7iOTr5sVz1guIJ/wDSrW698V/oL/8ABBH9pDQfjB+yV4iN7qcv/C4/A3jnwv4J+M8M1nLZwXmuWfgOyj8J+IrDVMf8Tv8A4THwrpg1zVLrP+ieJRq9pxjNfwveOPGUN1G7abbpdSR+Z9n87zbez8yT/lrN/wAt/XPX8jX69f8ABFn4yfETwf4o/ai0v4T3+m6b8eIfA3w7+Jfgq31uzlv/AAv8SPh/4H168sPiX8Jde0HzvIm0/wAjXtN8W6X4otrb/hJNHvP+PO8+x/6HU4jA4fnhjZUXUq4GliK0OSEp1Wp0716dKnFSlUlWVKHLTS1qQpu/u2lph8biHTqYCNZQoY+rho1VOSjR9pSn+4q1J2lyRpe1qc9Sz5MPOtJrkUnH/QYt9Sutys2/a6fMydv8/wBB+NHUNWuoWVvMdV/efck8v8Pr7/TPt+Jvh3/gsv4I0O3trL4mfDDUvC+pW1hbvrVneDXdLjs7j7LFLNHpeqf2Zr3h3xHYHOdL1TTdT/0yzA/0IE88v4z/AOCnvjr9oO3m8B/sxfD9/COqavbSz33xY8Wx3Mnhj4deD47aa/17x35usQaZBrl/YaHZ3Nzpel2+m/2RpH+maxrN4bSz+yXni1OIchpwhiFjsJXjUsqFHC1KeJxeJqTtGjh8Ng6c5Yiriq1TkpwoKmpqc4xqezd0epDh3PJVHQnga+HUH+/r4qm6GEw9ONnVr18TJeyp0qMffqT59IJtJtKL/AD/AIOivib4O+JX7Z/we+Aula7bapJ8PfgZpnxN+K2j6ZdyvJo/xA8Ua1q+hfDq117ypABqP/Cujqetf2XcE/Y7LWLK9Jze2lfzaaf8C9F1dW+y2rnKbP8AWS/8tP8AllL/ANd/88VqftXfFpviB+118WPjxo91qutaf8TPGGqXo1HXryXUNU8SeH/t/wDwi+l+I7q6lm8/+0Nc0rR9N1u17f6Z9jP2PrXp3gfXL7w/dKzR+ZbyeXsuE/eW8lvJ/wCiOPX3r2sNQoQ5kqDouVV1KsFyylGrXtObm4ScZTV0pOMpQlZShOcZKR5uJr1JuL9vKtTp01SoTlFqUqNDlp01CErShFRirRlacLrnipJpeUyfsr6avlLHou1lT/pr+8k/6Y/n7/XrjoPBv7KnhW41hpfEmmw2fh/Tba51LWrg28txJ9jsz5v2a1illz9ovp4fs32r/lzNfZHh3xVDfKGdYW8v/Vt/yz57/wCfyrvvilNb6b+zz8SPEQt0hmj0S3to5If3cnmXF1DF9P8AJ711fVKPLzR1Vr9dbcum/wDV36nKsRP3VZJucYvl2962t/tWaemm/fb+nj/g398Q3Tf8E8/Celw3mjx6L8J/jr8RLD4W+HbaO1t9U8L+A9Y1TTfFF3oPiO/im87xJcX194q8SXOmapc21nef2P8AY7T/AJcxWL+3V4ktZv2vPjR5dx53kv4Pto/+ve38G6D5UvP/AF2P5dK/kB+Bv/BXb9rL9gy28LfDn4Q2ngLxV8PNS+HHwr8bN4c8eaPqlwdH8aXlhqMus6zpes6Dd6be+fq1jPdabqlrqJvLT7GLQ2gsvsfzfTmsf8F2Nc+O3xI0Dxh8cvgb4P8ACP2i20fQfGXiz4Rf8Jvrmsahp8c32W01nxbpevTXljOPDkH/ACC/7N/4nF5Z/bNH/wCXOzrmzCVPE4SnGFRRr0ZRm6FSNSPNFKUfdqcjpuXvXUebyvfbyc7y7FY3CThRUJTjVVaMeb4uSMlKC7S5ZOS3b5Ldbn2z45/b5/aU/ZQ/aPkv/gdP8L5dc8K6dd6lo+n+NfBF34mNx4T1vR9N0zVLq6mg17TDfahDfajqVwef9EFnZg5HB8t/ae/4KQftkftreAb74d/GK1+AOn+Eda8FeIPAckPhj4Z6rol5peh+KYvL1+/0WW68Van9h8QX3bUvs2BeenFfFGufF/wr+0J+114N8aeBY9YfwL4u8AeMdH0OTxDp/wDZmqapp+ieI5tG/tm60YH7Rpdvqs+j3Nzpel3P+mfY/sX2yvevGGm6XoP+iwQQxtCkf/LP95J/kVtl9GMcNT5YxiuVOpaMf4koxlKTclL3nezel7dmdGApRwWCwtBUfq8/YUp1oL3ZOvKnBVXNdZcytfq49Ln5i3P7G+mzQ/Y28XXMMOdnmPJF5n7s/wDLX9zyP8elfSX7JPwx8K/Af45eH/El58SNB1Kx8RabefDrVNLvbOK4kjk8US2cXhzVNLl6Qaxofiqz0S5tbq2H5DpsfELxba6bpOoQ2uxJvs2zKZ/dyfh9a+F9S8QMt5DJOztIzxssiSSxyRvHKZYpYpf9fBcQT/6T9rrmzLBYfH4PFYGupTpYzD1sPValZ8tam4OUd/ei5c8X0nGL6WPdyvH4nLsdg8yw07VsFiaGKovo50ZqfLLV+7JLkl3jKa6n9T/7Kf7MPijSfi14itdP0T4xfETwL4k1jxXYfFL4Y+G9M1q48B6d8WLOWGLWfGPiPRrDTpr7w34v8Lari516107xHZ+G/GGj+L7PxJ/wjd5eZvK/W/R/+CbHxn0vSfhf8Lf2frXxh+xb4FuNZ8R6h4u8cfs5ahoPhfxJp3hefwlr0dh4Yii8XXniP7dceIvGOr6brmqXdz4SvLyys7PWLT7ZZG84+Qv+DcP9sbTfid8M/j18NvEHi65b9obwnrfgfxV46ttb1D7ZqnxT+G+n6XeeEvDnx9upZZptc1XxhYzzaJ8LvjJr3/Hn/wAU34E8SfY7P7ZeV/TTpvja+juPt1j4itBcQH5tF1Lw5Hf3FvJ/zxi1S6NlfG37/are5I74r4LDeHs6qeKx+cY6eJqu9alhK1Khh6k42tWbxFKdaqpylOVKFRqeGi/qrX7nml9/ifEb2c3RyzJstpYam2qVbH0q2JxPJNRfs5whiIYenKEYwhJ04ShW5ViItuq0vyOl/wCCdnxV8HeDbHxlqvwZ+FPxO+Ltn4W0vR/E2paXNoWp+MPGniTRLXyrnXvEfjHWpdNnvoNc1WG58W3Vrc/8gbWNY/0Ov5Qv+Ci37O/ijQrb4O/sw6LrnhvRPEXw5ufGHxF+NGg6p4sv/EGoaP8AFTx5f3l1JoOs391NqU5uNKg1PUvso/tK8s/sf2T7H/odf6FOqeNb7W5Lq81DWNK03SdJJvNU1K5jsNH8P6fb6fF9r1XxH4jupiT9n0OyhudSuvtNz9jsrOz+13eB0/z+v2qvj54D+Ov7UHx0+J3hOxtl8B+JPiL4gh+H9w73Vxcah4H0O6m0vw5rN1dX8326e48RwQ3HiT/Sf+XPWPsdn/odnXsZRwPgMszChmEcXmFWVNObo169KrR9rGjVpUZqMaEOWUPbzmrLkUoR5YwV7+VmPHuaZjl2KwFbDYGmqsY0YYjC0KtCr7KpWo1KsGvrE6fLOnRdCbhGE5069T2kp2il+W+ifsL/ABm8SXS2+k614GkkkfYvnax5f+ef/rmsfxx+wT8VPhX40js/FnjT4dSa8vhXXPEMOi6JJrOuQfZ9P8L3ni37LdeI9Ph/sqx1G+sdNubb7Ldf8ge8+x/a/wDj8r9HvCM2j3mpRxxK9vHI++OS2k/e9/8A9XXFeO/Hi8k0/wCPnhXR1vLme31D4a/EyNVeT93JJeeCNYm8qXt/yx/pX2tShGMY1LybjKLWveyf9fhtb4aFWcnayel7pdrL8d/X1Pyja5W6jtWjbdHcvHN/2zMXm89f/rV33wlmjX4+fA21kUzJJ480/wA6E/vPMjjsNYupcxf9sf171474dmb+y9NZm3Mlhb7f+/UPT+WPw78/VX7Luh2+pfEjWPFF1axXH/CK/wDCN6XpV1N/zD9Y1CLUr+6li/6eJ9Ksxbf9vn0q8JXVPG5dUaa580yymk1a8qmNopWeu13fT7r6b1Yt068V/wA+K2tu1KUv0t+J+kml65H/AGfqVtdWepWdq03kWa6rHF9tjt/K821i/dTTef8AYf8Aj2tro3PvXRWd99qjvI7WGa6a1tvOvIYfNkjt7eSLzYpbqL/UQW/kwXA4Fea6lfQr5qwxqqyebN5cMksiSR/8tPK83j8uf5V5H408WatZ3Pw90O21S5s7PxN48jS4FncS2/2z/hH9Bm1nS/N8s/v/ALDff8evGfzr9lzXMpZTgHilTVapCdGjySapKTrVuWP8OKirc97KLva11c+Vo0Y4ir7Ntwi1Uqe78S5UnZPS17b/ADPWtStvOmkvp/7NurdeIY31jS4/3n/PK6l+2fuO1fKvxquLbR/DOsa19os77de295r11bappckmn+XdQ+VFaxRTeR9nsYIf9Ftbb/Gv1N1740apNp1rrXiz4c/DfxHqmoW0c11quq+C9G+2Xkn/AC1u7+WKzg8+4n/5erqvGrz45/D1lkuNa+DfwcuLdv8AlnN4bsI/M/7ZWsP/ALbenpXyFfiieIpVKCwPJUnCUVKGKlJRco2UuR4F25U20lJKV9WrXPSp4WNOUJOpOyfvKSi/dVrRvGo91fVpX6Le3lPhHwjqF1Z2upeIrzxhodrfabZ3+k6h4Vjtbzwn4g0uSL7VYS6XLF5P+kXsE34Xn/H5ivnf9tzxRfeJPCfwFjvLdI7f4bf8J54J0ma20uKPHh/xBqln4ttf+Ej1SL9xfeIJ9c/tK20v/RrM/wBjV9Ja9+0Z8K4bWSLR/gf4JaaF4vsaQyazo+l2/mZ83/VXn7m36/8AHtbGrH7Cnw58Fft0ftt+NPgF8XfBuk2fgnxh+xv+1PeeCfB/g2fVLOz8H/Ejwv4N0jxH4X8eeHP7QvLy/wBV+IHhz7HqWpaFqmpfbB9swPsgs/tmfE4pzTC43Jpe2y6pz4J/XMPKNZVZwrUKNTmlRjKnh4qU8JPE4e3LT5vb8ut9PQyyjWpV+RYqEY4pQwleThKNN061Wlyupyudo0q0KWIu/h9jza2svzD+GF8tvcSTMzgpNH5cft/nrXqmvapcSX100S/aPtMkc0m/93/yz/8ASft/nj1Tx9/wTd/bQ+Cfjy88M6T4f0f4ieHJJvO8M+OvDt5o0kfiTR5P3thf3+japPZ33hzUJ7ea2+1Wlz9ss/tf/HneXlnXsHwv/wCCX/7X3xe8QaXa+PLzwz8NPCe+3h1TVrPVLDVPEn2Pzf3sdhoOjQ+R/bM4m/0W61LUvsdfk8+K+HoYWOJeb4N0px9qnGpKVS1laKw8ISxTqatSpugpRnGUZJWTf0/9hZx7eWG/s/Ee1jUVN+7+7d5Rjzxq/wAN09W+bmWy010sfst/tifGv9gj9nn47fHT4Da1Y+Ffit8Qvjl8Nvg/4RvNb8KW3jPwHZ6Xp3gPxh4p8d6ybDxF/wASq/8AH9jZaloeiWwtvtl54csrz7Ve/Yxe8/iXqH2jVPEVxeXlxNeX2rX+oaxqF9cyeZcXuoahfzapf391L/z8X19Lc3N12/r/AFUf8FUP2L/gL+zP4H/4Jq+E9e03xm3wr1PwT+0h4Pu/CvhTxRLbyeH/ABZ4b8b+D7q6+JdhYS/6FqvjDxJca9c6b8RtU1L/AInHiT7HZ/6ZZ/Y7Ozr839J/Y5/Yv8VTfatD8dfFHSdQZJEW3v7yKO8jj83/AJ8LqHnn/n2uc/jXtZBQWOwMc6w+ESnmvJiqtXk5K6wsadOjhaVRt6r2EIV3Fe454icYzlZs481qTw1WnllSs5QwEZUrQ1pTre3xCxFaOi95VJ1aKbtL905ypw51CP5C6f8AZYde1C+n+7amzs7X/ppqGoS+VFk/+BNzdV6g1xJY281xBDc3jWib0t7YeZcXEf8Ay1+yxf8ALe48j/j1tcDtX6Nat/wT1/Z3t9St9Sj+JXxOmkW/t7l4TJYR2cdvb+d9qlli+xzeRcfYc/Zc23HbNfLfxa+GfhPwHpv/AAlHg7XtY1jS7X4i654Ga4v5LC4s7i30vwvZ+KLDVLW6tYYZ/tFxBeXNtdfabb7H/ofNfR0VOHtIVKfs3Uk5Rl7r92VukZO+ytdo8pSjNpxd2ulu6XXX02PbvBfjDwnq3hP/AIUzqnxs+HXgH4D2+j+G/iR8WtN+FeoWuufHj9oTXP3MujfDS/0u/wDN/tzxh4VvoRpul+F9budH+Cfwfs/tvxI8YWfiTxJ/x+fqZ/wT7/bM+FfhP4d/tAeH/iRr2ifAf4S+PvDd54V/Zv8AhL4Tt/GWuxxyaFa69bfErXpfGUXhvUj8VPiBqt7eabbfEb4jeLdb/tjWNYsv7I0fR/Dfhuz0fR6/mg+D95a+B/H3hf4gat4Z03x5pOg69JreoeDb+4i0u38QW9xFN5ul3V/9jvPIgnM3/LzbXoxXofi34r+Mv+EH8OeCvDOn2fhbwv4R1L4oax4etvtmdU0f/haHiyz8WXdhYX+j/Y/9H0SfTba30v7V0z9sHHFZZfWjgcVLHf2ZGvOnXxWKw8K1W+EwtbGYX6ticxp0aKpVMTnmKpTlgp5zmc8VicLktOlkWVxwGXVcxp46q8HiKPsHXnTuqScoRiqk1SqRqwhKc+flownFShSpqEPbOVeqq1XknGrb5t4dsn/HvCkiR7f+mcvv/n8+M+SSMq11Ixjt4/nYf9M+f/18fr1pskkl1a2qtIfmgt3kb/ppJF+9lz9P0qleL5kP2fpGybDsP/LP/P8AnPTpnOXLfpZNdne3z0/KxV22pNWu9r328zb1aztY7VpI5rl02b8fuo4/L/7ZQn8uP6Vm+DYWXR7eZVT5nuZGV/8Ann503p19+ev51zN5qGvR6fN5mqQ/Z7e3dF36fF5nl28XPmy/UV3ngdYY/Dul/a13brCOaQ8+bJ5n73p/n3p0ZQniE4RlH9y2+ZWvtb128rXFLmUUnreS1289v6++51nhmOGTx18O2t/tjL/wn/gtJPMuPMjt5P8AhKNNxmLHn+tf0bXUzLcTLu2/6Tef+juuPw5/pX86Pw5huNY+MXwutre3/wBFm+Ivg9PJh/eSeXHrNndfvf8Av109zX9DE0nmTLJufa81w+7/ALa/5/xr+W/pCVFPN+HIXvKlgMwnLulPFYbk0/vewfpfyP6Y8CE45VxBUa0nmGXwT7uGArzl6W9ulvra+l7KS5mH775k/wBd/wB+8fh/n2rkdUm/0cfvPl6fTt+P+fWtqaRgsin7rXMm3/Ht/niuX1hm+zxKdm1f/t3bqO9fgMIu6s5OyitXde7200v21P3Ryu1yt2vo+97dPI5dpm+0W6q25f3ny468ev6e1V5Jt327a20tNInfy/8AP+elEfNxHtYrtT8v3v5dKz5JFVbr/WHc+9f+/vle/wDnjrXTy6tWva3429f616HPKVpemnr1Kqt++mbvHCP/AEV9ahuG22q7ud1z93/9f+e1NVv9IuF/uwyfKn+H/wBb9KhuP+Pe3+ZNrTfX/wCt3pybU21/WiK5n21TTa9GmunX8D5Nhvkm2/vMf3j/AJHWuoh1JlsbiPduXZIfby8f/Wz+lfOcPiTyv4vl/h/eD/635fWums/E7XFndKsnyrDJ/n/9fp3r/YaGLg4OPNq4u23k36b/AIdD/LmeFqKSaSUVOOrdv833PX/gv4nkh8catZxyfu7qzt3ePr5h82bype3pX3ToeqFZLf8AvfvP84/X/Gvyx+D+rWv/AAn2pXC6lbNdSW1nYf2Skn+mRRxyTXX9qf8AXv8Avvs3p9sr9EtJ1LbJZFvvLNs3N/00i/L/AD+Ff5x+NVBR8Qc9rqKvWq0JuyjHmthqEVL3Ur3s7Lotu5/b/hVXb4MyqLk+Wiq1K7fNa1er7vy/G/zPeYdWmW1/1m799H8v+P8AnvWZ8TdNh8X/AAj+KXhuT5o9a8B+JLbn/npb6XNf2vuf39nx3PSuRh1L/R5l3fdeLdx/01//AFf569Zpt+t1b6xp8mW+2aVcWG1z/wA/lhNbfn++r8swVephcThMVCbU8Li8NiYNaWnh8RSrRlez+HlcrbPlfe6/Q8XRjisLXw8kuSvRqUJxS92cK8HSlBrR+8pcqevLe9tD+cW1m82GFmb/AFkMbSr3TzIv+mv+cVk69GzWNwrtvZ4d6t/y0j8vEv8ArYv06YrWls2W7utPaPa1nc3ln/20s7qaLP8A5BzzUN1p9xNZvC3zLJDIisn+s+nT6frX+iM/3sZ8t3zR5lZX3cdOnb5n8KRi17r3jy03195Ri5fdKTj/ANu30vZc3DDCyrIt1fxs3z7YbyT8P+e3+fWrlvC27zGkmkZvvvNJ5knl/wDPLPNUdNjVrdVkXbJb4hkx3kj/AHQHP+f5Vtom3+XFciS91uNrq/xSe6XWTfbpbfzN3eTaTat+N/uLNv8AL93Z69P/ANf8/X0443xo2oR3Vra6bcX8MbWbzXlrYapf2aXFxJL/AKL9qtbW8igv+3/HzXXQ/e/L5fTn+v8AWuH1LUJJPEVwu7zI7d7e2XYP+WlvEPNzz7+vvU4lp0eT2kqblOklUg+WceWSlo9bXt/wdGnnFtSclGLsr2a93S266/pr3OJWbxJbxWNvHDD5OlTXFzpt1eaPpf2yzkv5fNvxFqkkM08/26f/AJ+f+3PqKr6LGtjrkLM3766iuPM/55+Z/reD7fz/ADr0TVbySeGbqBs2MxPmf5H0/CvMZJPL8QafJ91fuL/6K6/5715M6EKFSm/aSqSc6b5p/F70orv53+WxdOcqiS5Ywt2Wjv2Wltu+vl176TzpvGPh+1tdPvNUutQtorCxs7OP7RJcahcX/wDouPz+03V1/wDqr7a8G2d14I/4SptHuJv7YsfDGo6VNNbP/o+oapqFh5o/df8APvpU/wBlubXnNcH8Gfh/eLplv8Srq3VWvItQ0rwv88XmeXHL5Ws38X/Xf/j2/wCvP3r06S4bw5ayax5P2pbHW7O81O1/5Z3FncRTW11F/wBtrf8AziuzlkpVKsmo89TmptRu3FRgozb5tb2ulbS+7MqslJKmndJpSdurS/K34mX4j0Gzkj+FfgPSbP7VZ6To+oTfZ/8Almbj7VDL4j1m6i86Hz/t32O1tftX/T5ecV6/bwr500P2XUo/LubeZW+xyyW/+j/9NYofI/fz/wDL19a8y1zxVpum+KNJ8Z6PZ3N9bzaVqnhuz0eb/R7i41DVLqCWwii5/wCm32n8O1elQ61NFa6fumdjrmpyRR27+VJ5cdv/AKLLF+6/cfuP9J7dD61tTUeebvF6xSW/uRjGMe29m9tdjnblppo0nq7NTdudNa26dToNsy/arhdNv287940jxx2dv5fB4lupoTXK+JLXVI7PzJLew8yXy7aPfeSz3v7ziL/j1h/4+PP/AOPb/p8969GEkirO0yvM1wI5IVT95Gkflf54/wDrmq9jrV14f8ZeD/EmnW+lXmqeE/EmkeLdJs9e0uLWPD8mseE9Us9e0eLXtGlmhg1zR/7V021/tTS7q5+x6xZ/6HXRKGlr6vbTt8zGLs7XtF/Fpdtdl69+h7P45/4Jo/t7fDbTY7r4g/sV/tQ2GhW0Nvcxap4d8GX/AI40cW86Q3EUsv8AwgZ16eA+VKR9l1K2+2WZB+2cjFfKlz4Rbw3qEmi+IPDPirwnq1v5jzaP418J+I/B+sfu5f3v+geJNN02c+R/nmv6TfhX/wAHL/7aejQtofxU+DH7O3xM1KEpd3Gq+HpPiD8INW8QW6SqIprWSx1fxjYQ3Ixi5tPs2OW4Nma+fP8Agpf/AMFdvEX/AAUj+Gvwl+Cdr8Fr/wCCmnfDXxy/xO8crqXjTT/iBb+NNUPh3UvDHgTS9H1n+x9H8RaVb6IdT1vXNetdRA/te8/sf/j8+yCuanSxPNHmjh68HKKlKn7ZOCsryj7aVLm2taN9fi5Va/RUqU+V8jquT5XZxSilzQ5m5SjO3LFuei1Sts7n4WybrdbhrGa2t5IUkeEpcWsklx/zyi/13/Hv/Ou60Ga3sdS0PzI3ghvrmPR7yOb/AFkmoaha3kv2qb/rjPpv2mvHr7xZpcPh3RfFVna2z/2fq0mieLrOC3tY7y3s5POsItU+y+SPP+w31nbf9udcdfePv7SWG30dnihs7zXNY85JPM8yOy0HzfNil/6b313b9P8ACrdSMd2tk1Z3vf5aW/z7GapyqNt3T5nF3j9qKV1vq9UaH7QHjr+3tF8YWukzP/ZsOl2nhjS/+niTVLqGK6l9P3/ndqzfiroq3niRdBjbyZI/D2n6Ok3/ADzuNL8JWdqO5/5b5/WvO9cCNqnw/wDCsv8Arte8W6HNeL5n/Lnp8sN/dSydP+ePb1HSvePF3kyfGyS3ZUm8mwuNVjX78Xmap9jii5/64Q8D/wCvXNKTq+0cv56UUlpGPNzaxXTb5m8fdUIrS3Or9+XkXy307eZ8mzaaPiB+0g2krvXS9Nfw3Df7M/u9L8H+EtBtbqKKX/pvfWf2b3P0r2bwvYyf8Jlpo2ny5tVuMN/0yjuppYj7/wCp7YP1qH4c+HYdL8cfGbxd5O1brWrjTdLbH7uOzt4ob++MX/b9+v41vaDJ9m1DRbzf80dpqF/Jx/y0jtZpf/a36VxwpqKcm2m6srabwpySjtte0n1+/fqUm4wsvspvXq0rvbr26FPwXb33meNJI4XuzY/ELxRbaDp6f8xTWNci037LFL1/0eH7Zc3N1/z52lmK+gtL8K6Vp3iK40PR9T1iO60nQbK815k1D7Rbx6hey/ZbWKKK6hmgg+3eVc6l9l/5c7PjPevn34b3V1a/ELxNdW8kbSaPNHc6OtzJ5dnba54g0vyr+/l7z3ENjZ/5NdVpfivWltfGFjosc2reJvEmsySax4ouf9H0PR9Ls4/7LsIouf39xP8A6T9ltratqU4x96Sd1OpytK/81Rpd5vRRj9qzd1YUlZLTZJSjrd22e3e7/wCAe7f2HeTLa+XrKXVxMlwjfabeLzLf915vMtr+5I/Suf1jw/eRt5jXGlNGvzyTTx3X7sx+sddho25Ws41d8R2cm5/+ekkdtDay/wCf/rVh+IJpBpuoHov2a8T5/wDr1m8qux6K95Pfd32S8upl6J/n+iP0l/4Jwf8ABGv4+f8ABRj9mv4g/ErwP8Tvht8KdC+HHxFuPC3wxl8bfD++1DTPiZ4n1exh174hR+I/G/hOYeMdK07wr5/hrTdLurnTfEmkWd5e3llZWf8AodeR/Hn/AII4/wDBR/8AZujm1Pxz+zHr/jfwnb/2hNd/ED4D6pH8Z/Cdvb6fdTW0st/D4TspfHGknz4f+Yl4Is/sZyO1fMnwO/aJ+Ov7O2v2ut/Af46fFT4Ka2tnp8F1deAPGGqaPo+qeXHDNLDrPheaa88Ha558/wDx9f23ol50r9kfCv8AwcPf8FAPD/w38c+E/Htr8IPil4i1fwZ4o0rwj8YbDQ7/AOFfxD8Ca/qmg6lo2l+LLq08HTT+D/GM+if2lda1a6Xc+G9HH9sWdpeG8PFcMYVotuM4tK8rOEVbbTS1+t27+SutdXyWW8mkklft5+n5b7n89zaPcNHa3MMdtJDeSyQr/wATCL7Qkkcs0UnmxeT+48iezuDXM6tY3U2uR6W0jwxrqXh7R7q3tsXEckeqZupfNu/J/cfuP9J/Pua9I0vR49P8N+D7VZLmaS3W3mmuryTzLy8uJNLmllurmX/lvqF9PN9purof8fl4eMCvLfE2rXln8XLfR4JPLtZZPDet6gvl83Eml6NeC1iil/7fLb7VWk5NQV5PWUHrra8Yy7/3rfLzISanZa2Tf5fdvv5HQeIJbzWLiTwvpsf2e3hvLx7yT/npJHL/AKLF/wBsPb8a8J1LxHfQ+Jbrw/bQvcafo9hcJNqX/LT+1P3P+i2svP8AqB/x9V7Rr2vW/hHw/wCKvFDSQrdKlvDp7XOfLk1XVJfstr5o4/5b4ufyryvwt4di02ZZby4muLi8S8e6huT/AKRHqFxF5vT/AJb+f/x82t1bduKxqXlo9G+Z23slKyfnzWb8vM1vy3f91q22rtd/h/wWeL+LLePS/FWrSWqxw/2o9vre1MRR+ZqEP+leV/28Q5rDkmVg1xI21VST7Qz5zH5f/LX+mOaufG6xmtG8H+JIQ8LTPrnh6aZOn2zT5bPVIov+/F5c+3Fei/A3wTJrWi3nxg8a2vk+D/CL3F5o2nv/AKvxprml/vf9V/0ALG++zW3/AFGNYxZ/8ef2wVzxUqlV0lHVy5r3XKotJc0n0iravW1xNpQ55Oy/Nu1orvKV3ZdbM6H4X+AdU03xRovjTxZaXNvHDpuqTaToiSReZo+j6hpc1rda94oi879xcarY3n+i6Xj7ZZ2f+mXlfX3hPS9LOh2trHYQ2MOmvc2dvp8P/HnZR28vlRfZYv8ApvB+v6eR+ILi+jt/BvhuSFP7U1b4Y6xr2sTv+7k/tDxBqvm+VNL/AK//AF32m26V6doeoTMq3i3Vt/ZN7bRXNnfPJ+7ks/8AVRD975PkeQP9G/MgV6mHjClNx3XWW1ueNOS018+uujdjkqTlOm5bK6svSXLv1vvt5anSa5pqw6a01rp/9pKqf6VaoPLuJLbP737LL/z8f/rFeqfsl/HrxJ+y78cfhV+0l4Dhi8USfD681D+0/DFzfyaXH8RPh/4gtZtG8b/DTWLrybyfSrnxFoc1zp32q3tf9D1iz0e89q8buNa1BfltbqbzN++F4bf93/1y/dfr+WPTl7e31Sz1i8uLe1hW1kvINbVb/wD0eze8t5YbqW1lsM+ffaffeT9n1W1+zWYFdFSUZNXV091f08v+GMI2sldXUlJNPm35dGtPlrrof25eF/gj4P8A2gPg78N/i18Kbebxh4H8cP8Ab/Afiyz1CLStP8SfDuSW8uvDn9qSywzQaVrGhwf8Ul4y0Hm8/tjw3rA9q/If/go1+1B4d/Zj8M69+x78DdFs/EHxU+M3w91TRPiN8cLPxZdSR/B/4X3GvWdhr/w08B6NawzWPiPUPiNpVnrem694y/tKzPhvR/sWj2f9sXh1j7H6X/wSG+M2m/FqH42+Af2i/EWtfDv4E3nijUNe8CaD8MfEOtaN8MPCXiTxxDp2ofEr4I6L8LrW7vf7E0/x/D/ZnjXwv4xubYWf/CXnxJ4Qs9Z0jWdXwcr/AIJ6fsNfsvf8FYfiH+298dvjf428WfAHV7f442ng/wDZ28G+D/iX8P8AT9R0T4MaX4cH9l6NfeCfGVnrM17/AGTBNov2rU7ZbPSLTxLeavo9kbsWN7n83yvhHJ8p4gxWa0sVKrXoRjXpZe1RnLLpYyc/9oTv7Sd+XEUsHOpBezhGo4Va0o3h+hZrxTmuYZBh8ulh1CFaSp1MZCeIUcYqFOPLRVOo+WEoxgp4uKc4VZ+ztClGU4z/AJrb7wPp+uXmmzf2bDHLG9u0GoJ+7j0/R44vtN1F5X+o/cX0P+i988fX063tbCWNrW3hljkV4vJk/wCWklf1m/EP/g1usLfSr66+GP7cvieztoPMvILP4o/AvS9b0Q2kWZvtUuu/D/xT4axbgAXP2n+zSTzeHGM1/JZHdQrNfSLIkkcN/qlstyknlx3Fnp8t5axX8UX/ACwt9Vt4ftNraj/n8r7/AA9TD1HN01K/uc3tIcu+seV8zv1vrpp2PgqkJQ5FOVr3tyv/AA7/AH6J+fkV9S1S+0vT7aHQNYttM1bWNSfStH1K5s4tQs49Yk86Wwtbq1l/cT+f9i+zentXo2ufFq48ffsYfEa+1axh03xBpf8AYeia5b2fm/Y7jUJL+aL+1LC1lPnwW89xpupfZbW5/wAa+YfEF5Z6boviabUtSe3s9M/svWLW4kt/tHl3EV/Z+VFFFFgfaJ777NbWv2b/AEztWf42t9ctfA+s+DNDmmjkuvC9pZ65peP3eoXGlXU3ijyvK6/aNK1W8uba196Jz0qJRaXI1yr3tXblTa9H0/Q0hFKUW3vONpW31+dt9rv/AD+T/i1dSW/izwqkbfLb/CP4V2zL3jk/4Rv7V/7W+ua4ePVplZZEkeGRX3rNDcS28nmR/wCq/wCPWaE/uP8APrXRfGK8E3j7UI12bdL8PeB9Hj2do9P8EaD254/fV5WLpt3/AKDn+vfHt+decqjitX7q6dHste/lp1O1Qdk3pdJ/f8+n4n6lfsm3FxN8Xv2Y5JJJribUPAfj17ia5kmuJJLiTxl4q/e+bMPPn/1Pvx1r9GPjU0mm3l3NNsX/AFe2T6xfl+Z79K/NX9kOdW+In7IN03zK3hj4mWcy8f8ALDx54qi/dH/tt6jtX1F+118XZrf4kQ/DnTYbbyYfDGla3qWpPJ5l3cXF5dXkcVhFF/qILeCxtPtP6V6OG/gOzdlOLSjpFWhT2337+Rx1U1XSa5v3fN/Lblly2672+X3s+Y/G3iK61S4vLe0Pnbvk3dI/rLLXgus6b86xmR7q8ZN6rCfLgt44/wDyPP8A5z0r0prgTN95Pm/z/j9K5G+tbia5m+zyCG5VP3cjx/aIz5f/AD1i7/4/qpYf7TTlfoo7Wt59dH5WHGpJ35fdStpv+Onb+rH0F+wf8UvFXwI/a++D3j7wl461X4Z+IprzVPA2j+O9KuIrOTw/qHjC1hsNLl1T7VDNY33h/VdVh03Tdf0DUra80fWLO8+x3lpX9qHgr/gr/wDEa3W28I/tCfsvane6haReTD48+CPizSvC+neJ/Li/4/rnwH48hu4fDlxf9f7L0XxJeWdneH/j0sxgD+DM6beXFrG0d0mm6xbyW95Y6lZ/vP7L1izl+1aXqlh9q/f/AGixvobbUrX7SP8Aj8s+K/t9/ZO0zw5+1p8Efgl8afDmg3Euo/FWz+yXGgWOl75IviJpfk6X8S/BFrL/AKjVZ9K8b6brep/a/tP+h6PeWfNnZ2fH5Z4g43iLh2eX5zkFabhiG8vxmCq0vrNGVTldTBV1Qkpezqziq1FuEqfPyUaV5KFGnH9G4DwmR55PHZNnOFpudKk8fgsYq8cLXp06fJDFYd1k6cqtNRdOvGEnL2cYYmq3CDqSX1F8IP2pviX+1v8AGvw98G9S+Gln8L/gLrXg/wCK+u/GDwZfXkPizxz4o+Gdp8NfFNpFpnxB142lloeh2Gt6rqWmm10DRNN+yXg41e7vbTAr+DLw38QJtH0vQY7xXbSms7ezsbx/3lxHHH/otgLr/lh/qPs3+lf41/Z5/wAFJvjx4A/4JLfB3xj4C8M65feOv22f2zfBXjDSNK8L+H9Q0G38P/BvwG/hK98Ky+JPiVdSzXniO98EaVfeKrnUvC+l21tZ3vjzx3pFnZaReWXhzw3rN5X8Rd5bxw6Tb+G4dLuZLG10eO3bUrmTNvH9ntfKiitf+W8+oHyf9K7+9fScEQz2WVVMdxFiJVczxtWGInTnGnShhoKSVLB0qVKMadGFGjClKVOMPcrVqqm5VlUlLwOK6uTSzL6tkNGnSy7CRhRpTh7RvFKNNTq42pUrJ160qtavUpxqVZyvRoUfZ8lHkivvr4R+IrfUtWs4VvIVuHf9zbvJ/pEkfby4h/r/AMvyrlv2oJpNN/aQ+Ca7k8zVPDesRTKP3cn+maNrGly/X9xNzXy54S1q3tdB01b688mZUt4bOR5DHcSXEcXleVFL/r4OT/jXUeKNYvPFnij4e+LPFXia6nk+HaSW32i8j+2XFx4bjtbz/QJbqL9/PqFjPN/ot1c8dLPrX2tSHPRThq1Om2vJat3/AOB+h8lBqMpc6VuSUU3r7z5bK2m9vNbHw3oe37Lp9vu+XZbw/jHFg/Wv0U/ZT0aGH4J6t4q8xIbrxB8bLhJHubeX7PJb6Xpf9l6X9luv+W/7j7T9r+zf8edfmvp9w1nbyXDrtaxsLi5kVP8Ap3tZvr+o/wAK/XbT/Dd58O/2Zfgv4Zl+0reb7PW74pHF5cl5qlhNr0skXleT/qIJre2us21fNY/FLDVMnd2n/bGW1dHb3MPi6GIqPZ7RpW/7e8rP2sPQVR14vVfU8XfTbmoTpr/yaoiPxRrUljHb3UMk5uLV981v5f7tE/5beVLF+4nt68j8UXyXnjj4Dw2832iHUPiRrE1r/wA8x5nhjR4vK8r/AK73h703WtUaTQ5LqHVIbiTZvay/5aW8kv8Ayy/13+kev+cV5f4X1hZvHX7OMl03+j2PxO8calPvxH5dvZ2HhW7l/wC/FvDc3GcV+ucV4n/Y/q6XvTxGFcVf4eTEK+vW/KtdLXXbX5bB0EpupGyfs6l0o2v+7dtbu1vTqexfEr42+I/F3xT+IHhNdbmi8J+EdcuPD3hnR7PNvZyWWh+Ta3V1deV+/vri+vvtP2r7TXJvqStH+6bbuPrzx1/TpXmN99nuPEl94os40ktfEmp6hrdvff6u4kt9Uv5rrzZYf9TPxN/hWxb3nmRrGzJ8vmJtT/pnLx7f0/Dr4uFm6dOMJW5l8TSte22mu3rfc7pr3rLRJxaXpGK/G1/6uR6xdNFJHeS7/wCz4bmPzmhj8zy45P8Al6l8r9/9ng/5evf9fvP/AII7+PLP4c/8Fav2LfFWoXyWNj4g+KOsfDeTUPtEVvb/AGf4ieA/FXhywiuppf3H9n32uTaJb/Zrj/j8+2fY89x8HahdNCtnHCdsckwhlb/rof3Wcf8ATfr/AJNTeB/E158N/iZ8MfiRp8iW918Pfif8O/HkNw/m+Xb/APCF+MtB8R3Us3lfv/s/kabci6+zD2+mOIpuopaXUrtr1i4r8736WLk5ShKKVnOOm72t6d9O5/ok/tDfsx+Fl17+1tC0+az8Maxe3s3ht44/9I8MavGYr/xF4Ii80Dz9P0O9vBdaD9p6aRefYgT/AGNms74X/A+HT5rGPRdL+1a3fXUVhpdxq0f+h29x/rZb+6H/AED9KghudSuv/wBdfqlrHwq0TxNbXOr6Xc3mreHvG09v478OapZRi7tLS/1tDfGaSxUGafR9VsNS8gXVsBeWlnhT9qyduz4H+EVtYCGbWbNFy/2G303gSR28n7zULq68rtfeV/Ztra/8+f8Apncmv5tzLgl1c/8AZUKMqOXY2r9ZqSiny4W0ubF4eDtyUWuVezUmv4smk/Zvm/U8DxTFZJ7TEVo1cfhYxoxjPnviFKn+4qygn79SP/LxuWvs4yfvVJSP4af+DiHxdol18Z/2LvhH4Xu9Rn0b4T/sz+KPE99Jq7xjULvxP8VPipqP9qa7dxxEwFvEh8EnXM4UWYvAMcEt+F+k69ceXtEhkaHy5JFT/WW8n/TX/nh+PXvX6i/8F6fF2j+Lv+Co/wC0FpfhrUPtui/C3QfhX8IrI7Iv+Jfe+F/BtnrOvaVD5YB/0HXPFWpWw4B6/SvyJ066W1ka1jGFb/SZtnP72TP+t/67/wCfWv6HyKlDBZfgMPTgqdKnhqUI01sqUEoqmu0VFRUVZ2t1vp+bY+pOtiKlWpKU6s2pSlLVzlNKpKUn/M5VHd297ysfTHhf4y69pcM2k3zQ6zpFxbSWjW+qx+ZcW8dxEYvNsL+L/ToPI7/y618p/G5rHQ/gjq3h3+2bbUNSuvi7b+KtHjSOa3n/ALL1DwleaDfxy+b+4+0WM/2b7Vn866i4uvJ/eLJ9z52XzOn/AOv9O3evDfi1b3mseG5NQ8x2XS5rO8khSP8Ad+XcSnzZZfaDzvtPfiurMqdJ0KlRUuWtGD1p+7vy7xXurbS0Vu9zmoXU0l8LcY2t663+/wC/7/BbWZbSx27dqxof15/z+XtUdxM1xYq33vMh3/8AkL8/89O1Z9xJiBV7t/8Ar/z+HNQ28ytDNHu/49/M2/8AXOT/AB9f618652cVpG8LaK3b8FbbzZ1nb6XcefpumyfeZraP6/u/3X6c9c+tWZ1aT7p/H0//AF1geFWSbS/Lb/WWtzcQ7f8Apn5vmQ/n53et+Rm+7/Cv3v8AIroj71OGunJGz+X9f0gOR8VzfZdHuFXlpfLgX/tpz/nsM1654ft9unWcX3fJtrfa3+r8v91/k/hW5+zz8I7H9oD9oz4I/B3WIb+60Lxz45t7PxFb6Tef2fqEnh+zsby/v/st/j/Qbj/Q7b/SuOeeeBX9G3wn/wCCWP7CPxZ+EvinWF8XfGz4b+MtF8beMPBOm6hN8SNC1zT7y48JazNoMV1YaDr2j/Ydct554f8Al2uftntXg4riXL8nxv1fF08ZKpUoRqx+rUadVKnzcrc+etSkpc0JLlhGezu1pf6XKuF8zz7DzxOBeGUKOIVCSr1KlNym6cJtxcaNSPLHn5G5yheUZKPNyu34U/sw28viD9pL4c6esMK2vhuHxJ4zutkflyT3mh6DLFayy/8AXCfUrbnt/L9tLf8A5dfm+Zofmx2/e8f/AKv8K+XW/wCCfvi79j39obR/GS/ETRPid8Pde8H+ONBtdUh0uXw/4s0DXJ/7H+zaX4o0H7ZeWM9vfWP+k2uqaJc/Y/tlneWd5Zivpy3ZfMh/u7PmH+f5D6V/KvjPm9DOuKsNXwdZ18Nh8kwdCEfZzpSot4rG1nTq0qsYSpVOSrTcoPmsran9MeEuUYrJOGMTQxtD2OJr53jK8lzxnz0/quAo05xqQvGpTk6U+SatfVWVtaty37tWb7v2m4f5P+WmOBxyRnNcrq7fu4/m+8kb/wCP4+uP8K6K4k/crtXO37R83oP8/wD1sVy+vN/q4/u/JGm70/1P4f41+V0m3KLS3unr9m6ur+dlr5H6ZKNla1rq1929Fu9L2/z9Tm1Zvtjf8AQj6dP5f/rrBmmmWMSfe/fSI35//W9PzrSWXbebf4V8zc3f93/nPH/6sW4f9zH823Nz83/1/wBf5V3fav3T/QxavK7+zyxT/l6X+dur+ZFFKzTXjbfmX5F/zn/PqaWdv3dqrD5d8cjfy/w64/xp27DfeN/00j/79n36/r7VYuZCscP3dqwyO3B/5Z//AFj+XFKcbu19r9OzSHJq9mr287bn5M6tfXGh2LahrC/2bZh44fMuf9Z5kn72KLyv9f8AaPIrz28+MUdja3Eel280yyJsmvZv3cfl9vKi/wDr9KxfiL46s/GV54Tjs7fy9H8M+FY0j+06fJp89/4g1y6n1nXtUv8A7V+/vvI86203StU/48/sdn/odcH+41K3uI/M8vf5af8A7r0z+HqK/wBHJZjneOpSqQzFYWEuZU4YSnG817vNarKU+WMpJxjPmqfC3ZXsf55RoYSi4ReGjUnZO9eV7Xt9nl97z1XTTVW9E8A+KvG3j7xJZ+BPCOoJ4duNa89JNSht/s8kaeVNdSyy38X/ABNZ/wDU/wDPz/x+dq/WD4O+Lpta8M6HDdahc6jeWMNnYS6jeR/Z73UJLO1hilurqLr9o/5++hr8w/2brW3j+NXgm10+OFria/s7aRpv3kf+mXUNr5Uo7ef5w6/hX3t8E91nZzWbKY5LDWNQs5Ief3clvdTWssXH/PAw561/Pvi5g19TwtWbVarHE4jnryVOVSUnTpOTdZR9pKemt5cklbmpvQ/bfCTFy+v4+jf2aeFouMOapCn7PmqrSnzOn7vNe6hGa0UZRu2/sSPUpFt7hVb7z+v/AE1/TH5A11Wg60sd5LJJJt2pbySf8tPufve3+frjnydbrEc3+1+Pt7/5+mK2dNvFWdf9q2+b/pp/n2z9a/nepT9xrdNWa27JP5a/h2P6DUk/k4y+cZKSf4NeuvTX4a/4Y1+K3iLx9cLLrHg/w74b8Ra1rmpWOuJqF14gks9LuNUml83VNL0uzhnsbjyLy2/0X7Txz3Nfa3jb/gnT8Cfhj8E/E3xMt/FHxs+Omr+BZtAufHVl4Y0/R/D2l6Xod54j0ew8R6npejaX52q6rp+h6HealqWqf8TK81izs7MXn2T/AEOrniCbx5Dp+i618NdWsLHxh4dvNQudP0XW7f7R4X8eW95YTWF14N8R+VNDPY6fqvnf8SvVLb/TNH1g2d5mvh7xh/wVK/aMuIdNh8C+DNA+GfjHTbGbw94uvp1/trRtU1bStQltp76TwtJHb2M2tRWsDaFqV3qRvRqzML69VwNjf0VwxxNxhxfgqSw2cUoVMBUVLMMHhXTy+rSoKUoYWtVqQg8TOjiadNU3KlXqJ4iE4VYU6t4Q/Dc9yTg3hLFSljsqrTp4yM6uCxeKpvMYVKvIli6NOnVksLCpQqVXVdOpDDv6u6bhUqU02+a/b2+CPw7/AGd/2pPF/wAPvhHDeWvw1vPDfg/xh4X0zUtQl1TUNH/tyw8nVLCXVJfO+3W899Z/2la/6T/y+d6+Rd0cikqu1hz/AJ/l+NbnjD4tfFj4sN4avPjJ8Tte8f3ng/Rr/QfCJ8SSWEcfhfQ9Y1m88RX+g6N9ms7PydHOq3dzdWul3P2wWf8Ax52X2OzwK5Vrq3X7t5Z+Xxuk/tC1/wDj3U/5NfumUUq+Gy3B0MZWdfEUaKp1q8qkqkpyUm05uf7xyjFqLlUvOXLdye0fxfNq2DxmZ47E4GhLDYOviJ1cPQcacfZU52fsrUv3a5ZJytHbn1Jlk8uTzP7uHb8ee39OfavM7VpLi+85vvTXNxMf+2ko/wA/1rpNY8SabDazQ2N0l9eXCeSslt+8t7bzP9b+9/5+Pw/WuPs7jyZNy/w/9tPrF+f9OtViqkXOlCM17vv6e9yO8eVS295Wd1o07as4Ob3G7bq34ryNzU2kht/LVtvmfe/L/wCvz6fhXdfC34TR/Frwv44tdNuNK03xt4b8Q+G9Y0fVtVjuhHeaRcWGpWl34cku4sfYbe+voba5+1fZv+Pz1FeY3000jSeY3zfu/wAenpj+tfTn7I80kerfEqMfLGuiaHc7f+mkd/ee/wDn9K+V4uxOIwuT4zF4Kbp18NPB1qE5RjJc8cXh01OElKNSnOLlCpTknGcJOMkz6HhHDYbF55g8JjYe0wuKhjqNaF+VuE8BidYTs5U6kJRU6dSDjOE0nF9H71rEUnw2+HPwh0u4jRLq10qPQdU8mTzLeO8uJZpb+WKWLmf/AE7/AJeqa1p/ai+KvD+1DNNpWn39m3P+keZ50X7rP+f63vjZbtrnwv0ue1+a40zVY7nH/TP/AFsv1Pt/9euF0fxTHDefD3WJG8u31y2vPBN5M+PLt9Yki83RvtUv/Tef/Ru34Cvq3zQtSqOLcYYdzlBe7KTjTjVW7155S77eat8ikpc06aacq1dwjJ801GVaUqSlK1n7jik7fZemtlwfiDUFtPAOk6szPb6hofirS7O6V/8Aj4s9Q0e/8r97F/14zH3vK+mpLX7ZrmizSb5rezS3eH/ppJ++ll/Tj/JNfKfxKvppLXVpbO3Rm1p7O4a3l4Fn4k8P38NhfxSxY/54TY/7c/rXvXg2bUrfUl09pJpdPbSftiq8nmSW955MMUvlSf8APvOZewpUGnUcN7Rpwv8A4ebXrv0/4Bc17nN2baXlaNl8tdba9tD1iO7kmhvG+T5r+SFmT/VRx2/kxeVEec/l6+9Q+S39rQycfNFep8/+s/1UP5cVW02ZpLfbHHth/tW8du+ZPtXlfmP/AK/rWlNdQwyRt5e2ZUvHMj/8tP3X+c4710q3VX+djkWj13s012vbX8H0K3iKxjurdZof3V5p6edbyJnHl/8ALWMdf84NV9B1q6uvEGrL5fnP5PhrzFUnzPMksP8Anr/9btWtM3nw2/yozTQxpI3aPzP+Wf8AntXlul3FxpfjLxNdWsm2GNPD8Lxt/q/Mt7D/AFv07/05qpWhKLjpzNJ9e33+n4oaheLTW0XZ/wDgH3epwcnh0yaLc31jM6ySf2pbXWyP955f2+8tZZYs/uJ7iA4uf9J6fnXjPwx22MfjQeJpEkXSbG4dbyH93b/2fHdQ33m+V/y4/bp4ba2urXH+h19keFbOSPwrDNb2qXDLc6ojRzyRRxyf6fNL+9OOP9dXxH4muLW+1zxtouizJcR+JvGFn4YhjsP3lv8AZ9Ll/tTXorDyiPt3n302m6ba/Z+n5Vw4iEYxo1NHdP3U95NX3/vOFtvys+mlK8pw005XdO/2ow1Vlb47rXo15nVeALO68YfEDS/HV5D5Mdy+oWHhuzm/1en2FvazSy383/Xf/j5uuP8Ajzs8fTsPAusW/ij4jeJNeVnk0vT9Kt4dPlf/AKA+jxfZbWX2+3fY/tPH/P5V7xx5Pw78L2Pw/s1RfGnijTduuNDJF/xSfhf/AJerDzf+WGoa511Trmz/AND71yOm/wDFD/Cnx94saOSG/wDFH2fwd4ZhePy5JI/3MV1df9t57ysYxUZJPeKlWrJdGo8zi+zXLZrW107M1bck+VWT5adF/wA3NOEVLtFu+i/u2u7no2jq0XgH7d/y21y21C/kb/VySf2pfzfveP8AphTfElnb+HdFj1i8uraxsV03+yo5rmSOPzLi88nzYovO/wCmH866i5s7fT9N0PRZJobex0+HR7bULqWSK3t7PT9LsIbq/upZZf8AUfuYeuK+UPiFq03xe8SNpfhHSby68O6SmoXKzX+ofZ7OTy/+PrWftcv7ix0+xg/5e/17VFWSjCKau+WKSvrKo7KSV903bysbKzeiVrNt94q3N26tb+vQ9J+EviDwP4i1rUPDd5eTQ+Jry8vLyxV4/M0/XI5IoYrCLS5Ypv3+oQeT/pX2n/tzr6s1TTdH8M6DJMsKQ2+k2caLD/y7x3H+q82KLp9onnmP+le2K/NH4M6e0PxY0m4sbqG4svCr3OsX18n7uNBbf6La/ZZf+W9xPfTdP/11+i3ie8/t7w7occc3mLqPiGzuZl/5ZyWejywy/ZZf+u881t/+ulh5c0ajcUpLmUbaXvy8zu/Rf0wqJ8y952bSaeu6W3Zq3nc9Es7drfHmfLNDZx7vrJ/y1/8A1e1cvrStJZ6pHt8z7RCIYlT/AKeJYYf3X5/5GK7SS4jMOot93YhSNX/1nlx/1z+lV/Cuh6h4r1TRfDek2v8AaGva9r2n6Votg9xa2X2zULyXyrWKW6v5rOxsbfz/APj6urm5+x+ldnu8rSaVk3dv3fm9bfjfXsZx1ce7cbLvza/gcfeaXZ3U25rF49uVj2SeX/qz5X/1/wCeO/K+MmXRfD+rQ2zPn7Nbwr+8lkj/ANM8mL90f+2vHtivSL7S9Qs9c1LT9Qh8u80u/uNKuoUkiuI47zT7qa1uoopYppoJ/Inh/wCPq2/0T2rgfHluzaPb+YqM1x4t0dPsr/u/Mt7e682XzIvb7H61lLl5G4q0rNt3vs0rfjpc1Td1dW96PW/2kaGsSfZtH0WbPyw3NvCv/gB5UX9P/rV8t+KdUZvjddSTTfu9P02ziVX/AOWckmjWfmy+b/22ya948ZahNcR6Las3kwyXiTMv/XOHn/P/ANYV8j+ObPVLz4leMLjRsyXU3lorYlk+xWen2umxS38vlefP6fXNZVpJOMY3XLKF/Pla6dH99ugUtvLlnr2u4L9D1qzhh8eeIIdFa4STRfDbx69qkaeVJJcah5WLCwii6T+R/wAfN1xWtdX0eueOLdbNU+y6fb3EPmR/6v7R5XlRRReV/wA8Ifb+lec/D/UPE2kW7ab4Z8H3+qSailxbaxrk3+j6hqkkn726+yxfv/7Kt/S61L8PSu+s9PvPDv7+8ms9Faa2+bT7m8sLjUNPvP8Arjp+IJ/3H+cVEWnZ/ac7vSSttb4oru9r7a+ZfXlXlyr8Hr326anm/wAdtFtdQ8D+H/CunzIZ7Xxtp/2zUn8r/R9Q1C1vItZuov8Alv8AZ7HSx/pV1/z+fY7Ovobwbpul3nwr8K2Njapb6L5MmpW+kw/vI4/s915Vr9q7f8un2m6te150NfJHxS1ZrPUNL0yFv3l1bW95p6P+8kj0uSWYS391/wBPF9PDc/8AX5Xo/hnVPH3gvTdP8P3F1Z6TofiF5E8O61qtnFcSeE9Y1CL/AECLVLCWaGD+x9Vn/wBG+03P/HneXvWnSnThWnJp2lT9lor2XSPm3r9zXpnUV4qF0no1d2vytXS7yfSPXU9Q+Ki3tj448E+ILVt39n+DI0kV/wDVyR/2zNLLFL/2wm/rmpvhnM1trGvaDJdectlNHeabb3MUUiSaXJf/AGqGW183/l3g87+zbr/tzNea6V4+1rWr5/D/AI6t/J8aeE7m4s9ah+zfZ5NY8P3n+i3V1YWv/P8A6V5NvqVra23/AB+Vo32qWPhnxFYyXFwlrqmjXkmjyS+Z/r9H1C1hv7CW6iH7+fT76D/l6/5c7zjit1NOXOvh5oyd9GrRhHVa2vy338ul3i4y5fZvleluaF+Xpt38tt/u+k9caRbbUGhmvIVby7hZIZP9Xslhi9unk9/8aLprf5o4o3DSP5kkz/8AHxJ1/wBaD/UdfrUk00N1C0TN+6v7W4Mbf88zJa+bF0/zxwKks7UzxwzL8262t92ziP8Ad/uuf6V18qlPTX+v+Br0XVnOpJLXRpxVvXrt/wAOe9fs/fE74gfBdviN8Svhz440HwXrFr4BvPh7q1v4k0OXxBb+MPCfxYupvBviLQdLsP8AUQax/pttc2uqXP8AplneXlneWf8Ax53lfO1v4f0trfTIfsNs0ljZ29nazXMcU95b28fEUUd1/r/z4rVvI7iG3axjuH8m8e3e4jTiOf7PL51r53/XCf8A0m1/rXUWOlyLCt3Mvl7YR5a/8tB+6/deZ/n8eBWNLC0qOIxWIhDlqYuVGVaV788qFGNCGltOWEYrqbVsTOVDD0pSvDDqqqatolUqe0kvK9SU3/29bS1zW8F/G749/CWSFfhX8cvjN4DbXH1Cz1S38H/FTx5o+lyaPBazQ3VhdaLa69/ZX2e+877N/pNt614Xr2qW+g+HdSuI7Oz2x6rHbWbG3tY447f9zF9ql/6d4J/cV0GsalHpbzNt/eafpsaNGnHmSSeddS/uv+2P+eleF+MNcmh8FzSXU39oXDWGqXKw3MfmR/u7CG/l/wC3eD7Z/wDWp1ZKPN/Nyv8A7d+Hppe/fSxMOednzXj919vytfrfVo2tJ0m31DVLeG6vv7e0vQ7y41i8k8uL7PrGuafrM0ujWssX+o/s+C+/0n7L2+x11Elq0niCKSabzJlh+0zfvP3kkkkoll/yfrXA/s9aguqeH7p78p9qvtS/d7/9ZJHb2v73zfT9/eXP4c+ld1pdnq114s1TVrwfZ9Jb9zb29z+7kxH+6tZf89PzzNNqUac0pPncG2lfZp2337d7+TKk+WdVSatBNOT0+5a/n+Z8NftGeG7zw78Uta1KbfJY+Nkj8W6XceX5cflyRQ2F/YRRRDn+yb6z+zc9/sdeBbvmx/nPX+Vfo5+1F4PXxB8K7fxVZslxqHw91L7fdND+8/4prVPJsNZ83t/oM/8AZupc/wAq/N1m+b5m/j+b/P8AWvJxkfZVZW1i7Tj00kkd9CfPBN/ErRfnZaP53219T9LP2Q9SZPGH7IqjZuhv/i5Ybv8Arp471KXqMf8APaqfxs8RX2ufHjxprUyo0MOox6Iy+ZmS3j0vzorWX97/ANdjxXIfsv6k1n4k/ZPmXmSHx98U7Ly/M/5+PFmjyxx+nW8J6VW8XX1jqHxK+JC6p+7t5vGGqfZb538uP7R9qmili831/wA+tdeGneEUntO/ztTkn8uZ/dcyqLV+UY/P36iNLUJPOt2a3keO4h/0mzkT1/55d8c//WqZZP7WsbW/gke1ml+dZk/eeReW/wDz1/572/8Az9c/WuV1WO40W1+1W9xJdQWf+krDNn7RHb/6qWLzf+W9vPCMD/69XvB+oRfZbiFm/dTXlwY/pJ7fTr0/KuyM+eSjLZ/O+3p/Xmc8ruKktGmmvwOwsbz7VG3mRfZ7y3fyby1/597j/pl/z3gn5+y3XcZ/H+u3/g1s/aXum1X9on9iPWvEyaHD52n/ALUnwhZ49Pk1COT/AEPwJ8cvDnhz+1fPMBvbL/hCfEdzc6bb/bLP+2fEt7/z94/kSu7GZWW6tWRbqP5I3f8A1d5H/wA+t1z/AMe+Ot1/y596+pv2Gv2m7z9kr9rn9nb9prTpbqDT/hb8UNEb4gWscgjuLv4YeJJf+ES+LXh2+EYI8geB9Y1LUxakEXl7o+j9QazxND21GdFu3Ny8slJJKUZRkpRn0krWTtZN632Jvdc8dWve1vpy2TS0fNKcZOMVbv10f63/APBcDwL40+Pv/BTz9pW3+C3gi/8AHmn/ALKX7L3wk1v42a14ck0+/l8N6HpemT6/4y8WeIrq5uxfar/ZN74w03TLm1theXtmLK8P2O0tLLNfz8eKr5rfT/sent511qUMk32iH/V2enx/627lGc/v/wDj3ta+sP2mvjVcePv2ov2p/jB4N8Ta3Z+H/jB8S/iXZ2NxomqX+l/8Jp8J9c1mHS9G8OapFYTw/wBq+F/GPhzQfDepapoOpfbNHvf9D+2Wf+hcfOY0+G+s7hb65trWSRJHuJn/AHdvHJJ/01/594MelXRpOCcYygqb9+CglGcZ1KlSpWcrPlV5STp2iuWTqt8/OlHScknF2baagnzXj7ipwg4u2vL7zastWtrHkcbeZqemrMwWG30e3mjj/wCmlxLNLdS+mff+ddNeanC0MNjJa3mrXl4hm/s+GOX7H9n/AOXCLWLrieDT/wDl5uvsuLy79a4/xJcR6Hr1jbsyXs02lR20cemyfbftH2e6m/1Xlf8APeD6/XNby63q0Gl3Ud9DZ2a3kMkNvp8N4bjUJPtH7ofapYv3EFvDz9qPXt70oSSc4tuL5tbR5uz8n1072YrOMYJLmbjHy6L1PGbzwj4w0/xFb+Db7wzrEmveLLy303S4bCz+0W94moSw3Ut1FLFNFBBp/wBhm+0/av8Anzr9mvjpqFnB4Z8DaXDdWMkXk65Z281tceZHH9j0HTbCw/1X/TDivmnwL8QIPiN8YPCsMtrCq+G9B0+whvrrT4o7eTULO1isJYvsv7n/AEeDybb7LdD/AJc/rX0d8ZtJudc0yzhSSGS4sdH1z7KsenxR28txcWE0UXlS8+RcQT/Zq/NM1xWIxFXD0cTCNOeHq1WuTSSk63Kne3SNOMet7brU+xhRwdKriHg51KtCdGlyTqKMWpVMPRqVbcu9qkpR36X0u0fBniqzvLOS6t/MtbOa3mkhZpv3fmeXLjn/AJ79uvpXjetaheWMnw9VpnW6TWfHCR3VtH5nlx6pa+G4vN8r/lvb+R9ptrrj68V9Tx+HbX4xW/w3Wx1Z9BvvE2m75r22jilikvI7AS3VjfxSwzQT+RqsNz+FeX6t8Obzwf4m/wCEP1i6s9T1zQ0k8SW723lQeXo+sfYrDyprX98ftE8+m/af+vOv0ehxHhs+WGwM6dahmb9nVq0pc1TDVHhpRVatScXK0anLKo4yUJxuoyi7KR8zPATwjnWTi6Ci+W7tUXPLmjBx1vazSd1s3boc3eapqWl6asln4fudS022eR7zT7O48zULT/ntdaDFLD/xNdP/AOXkWouvtnrUPh3XLfWtLt9SsXBhmmuNrevlyH/W/pXaa1Y7Y47631BLVo3j8yN5I7fH/TKXnHt9qrxfQ9Qt7HxR4s0uCaH7K2sfbIVhj8vy7i8tYftUUuP3H7+f/Sf9G+hr3akp0KtOMpS9nO9N7KV1FSVnCKte1mmn5Wsctk4uaV3Hbyv+um33HrU0zXVvJCnyzMn7t/8App/rIef8+n0jukXXtBkVW8lr6zubOTeP+PeSeKa1l9P9RyO/HFZcN0kY5+6v8Gc/59f8kVb0+ZVuL633/LN/p8ae0n7q6/8AI8Ofyq1U1s3fntF2tfVrX5f0xcvd3a2dtu/reyP9Xn/gmN8abT4/f8E8v2O/itZu8B8S/AL4fabel/3jwa74T0aHwV4jjkOf9fBrvh3Uge2QRjjn7gh1G3a4lVY0itoE883T4jjkk/5eXEoxB+4h5uj1BzyODX8zn/BrV8eF8ffsL+OPghe3c02tfs6/tAeLNMhhmw8aeD/ivYw/FDw2tqSc/Z7G/wBS8W6aP+vM49/2l/4KI/tB6J+y/wDsT/tL/HHVbtbV/BHwg8Yf8I4N8aPf+N/EelXXhjwRpVtn/XXOoeKtT0y2CwHd8xIyFOPjsVQjDF1aSg/frT9na/25Xgvnfq+7tc6sM5SjGF/eTULb32V9/wAN+99Gf5gP7SXxEm+Ln7Sn7R3xQvbj7ZJ47+Ovxc8VSXnmeb9oj1DxvrH2W683/sFRW3U/pXzyLryY3uNu03j71jf/AFnlnmKLjn/Udv8AGv6Bf+CJH7B3/BPH9sH4U/HXxP8AtteKNc0Hxb8GviL4Q0KzbUv2hl+CPgfxJ4Q8WeDrfWYrrUIxd6ReXtxBrlprltqlzb6kCf8AQ7QcK1ftNr/w2/4Naf2eDLaeIp/+Cf41eGO70uW/vviJ4h/aE8QG0eKW2NziPWfGNxY6wYc3BubYf6FeZ+xkHDH6R4qtSlGhRweKrexgoucIL2d0ldJxlOdumtPfbYwk41nOq525qk9OW838P2brVevU/hI1DUlt7O5aSXbttpHbtz/ntWTDY3XiSCS1vv8ARfD8ltJDcXLv5dv9n8r97LL/ANMIP+Pn/Jrz/wCImrWWn6l4k0HR9ah1jS4/FusaJoPiSHzZLfXfDmn6zexaXr1rFLDBP9nvtDhtrm1+0232w/bKtafDfi3s7GzhvJrO4e3m+y+ZLeSapJ5vm/atUuvO+w6Vp/8A06/l7aPExqT5bScfhkovdu14NtaX/m8tg5HCL1Tbej7d9PkeG6xp15ouoahpOoQvDeabcvbTRv8A6weX/qpf+28H2a59/wAa5W3uJFurpV+dZraP5f8App+X0yeK9Q+KVnNp/iS+a4mmuLzUkj1K8uG/e29xcXH7r/QLn/lvbfuelt/of/Pn7+UwMq3GONrW/wAuP+uvPXj8K8KrHkq1I9ITnFX+N/C/e/T5nZT+FS/mUXbtdX/U3tF1L+ytRkhuJfLs9SSP94/+rjvLf91+9/67/wCec13Ul1Ey7vOhZfv7vMi7f5/+vXCw2sN5Hsk+7/P147+/eri6dYxtFHHawhU/hf8Aecn3/wA+1EHKMLJJxcuaLcuXorrZ36fd8ire85d+n3f5H1H+yP8AtC+Af2Zv2gtB+N3jrw54s8Y2vhPwx4stPDem+CbzQo7iz8Wa5aQ2FhrOvRax5/8Aavhiyg+0/wBqaXolzZ6veE/6Jeda/aH4D/tnfsy+LPh74E8L6T42fSn+Hb3l+3/CVJLo/izWPHnjjxTeSy39rpcX2yfxVb2N9r2pal/Zeif6Z9j+x6PX83d5HH5bKsaJn+H/AFcf+c5/n6V6l+zD4fm1r9oj4UWlrYPqFxF4nj1KOGG3Mkkcel/8TC6uou3+g2MNzdXXX/Qx2PNfHcUZThK2HxebVp1IVsHga1bSX7qccLRqTpwmp8/LpzRjJbczbjK2n2XCvEuY5XVw2W4anh6mFxuOw9Jwq0/3tKrjatDDSqUqsHGWl1Pkqe0i7crWrZ/Sd8QL3wfe69ND4NuPEmp2OnvcabfeKvE8drZyeLLyO682LWdGsIry8vrHR/Imx/xO/sd59s96xbW4YsvHHkyf5/ziuZmm8ya8k3N+8vJH+f8A66c/n/L0Fblqy7Wb0hk3f89P9Uf51/FGZYyrj8VWxdfWpUcW9ZSaSjGEY803KT5YxSu3rbRI/sbA4aOBwdHCKUq6ox5fbV+V1ajcnOc6nIoU+aUpSbVOnTgr6RXVssjeSn8K7Pf/AJaf16fofryfiKRmmX/fj210knzR238OEj2v/wBdJfY/j71yOvM/2r5m3Ms0n/kPz/SuaFudXV1rr22O2pZxd1sm/wAUcuszNNcMy9UuHXZ+OT9P89uc2aTMcK+s3+P9P8jipFk2tcff+5Jt/wC2h/znqKoStwrcN5ckm0/nXek1K7vq107HGm+l7PZ9/wCvVkVrMrW9x8vzM6df8/p/iabqEixwt827ybC4f/v3FN/+vv8AnVS1P+ht6N9788H68VB4imaHTdQb7zLo94it/wBdLWaL8ff/ACKtRUqsYqPVLyXM4x8rfFffW1upM+VJybaSjPp5X7+R+Qf7WXxI8UftHftRfHr4wNZzW9n40+IuqPoNjbRyyW+neE9Dih8OeF7C18qCGCG3g0PR7b7La21sfsf/AB5814zpfg3WvOjW5hvIYpPuxyR+X5n+cdP8j2hvEDJD50kiQt/Cv/LOP/PXr/8AXb4RuNU8deOPDfhHwrp+veNPE2uarHZ6b4a8K6PqniDWNQuZP+XWw0vRrO8vp/8AwGr++szy2vh8Di8THOq0qtOhXq0qdPDOjTl7KDqewUfrEqi5+W32Oa17NI/hDAYnDTxeFpzy6CjUxFCFac60qkmqlSnTlLlUIR05k2pKV7NJxV2+0+Dujr4H+JXwv1S6VEt7zxnpdvMw+5/o93Z3X73/AKd/3P8Akmv0m+GP7Nvxm8P/AAp8afH/AFLSfDzfB/8A4WdqGlafqtr4s0u88QW8mua9qVrpcV14X/5CsFvBN/o11ddLI/8AH50r5n8d/BT4sfCnVfhLq3jzwbe/DmaPxtbvZ6f4qvNHk1yTy/3tzLdeFrXWLzXNKt/I/wBG+1a5bWf+mV+uXwft7Ff2Bf2zNHhjv473Rfjd4f1u8imjlj0+48zxR5trrOl+bNN5H27zvs2qWttbWefsdn/1+V+OZxh6mbcGV6mNVejXwTzDFwjOm6VROlGUqWlampKnUj8UoxjNxlKMZRvd/o2X4+nkvG+Dp5ZPC18NjqmU5dXqKr7ego4ipQw9ZqeHrRj7anKV+WbnDRpwfNp8o6Hp+qeItW03w7otq+oa1r2q6fomi6fD5Ucl3qmr3UVrYWvmyzQwQefcTW3+lXNz/SvtzxF/wT1/a++H/h/xB408VfDXR7Xw74P0TUNb8TXNh8QPBuqXlnpenxf6fdRWFhqM0995P/Prbdc/n8VfDfUH074kfD+++6tr8RfA9yw/65+KNN+n+ePWv6wPH2n6hd+B/wBoS1u9dv8AVtP8RfDrxhNpei39va/Z/C/2fwveRXVhpd1F+/n0++ni/tL7LqX/AB53n2zsK/MeGuGcFnuDzCtiMRiqNXDTdOhCh7J05TlQrVYqp7WlO0p1IfFFR5oOpBrVNfpHGfGOZcM4/JcNgsNga1DGqUq8sVTxEqkFDF0aUo0JYfE4aFO1OpaLcJ2mqc18LUv5Yo7pvsttJG+5fO+Vv+ukn7r2r8jfjdDa/wDC9Pi00drDDGvjC43QwobePzJLWzklliii/wCe8/8ApPX0xX6pabebtLs/rHuX6xQ9x/n+n5h/tDWYsfjp8SpNu2PUn8P63D6eXqmjQ9/byc8/r1r6rwNnGHE2ZQmlz1shqyi1pf2eY5ZOS+UW5L8u3m+NdGT4Yy6a1VDP6Cbts6mX49R031lBLR9b9NfJWaGTcvlrt+/88fmf5OP/AK9cLrmm2I2stjZxtJ8/mQxxR4/7Zf5Peu0jTavT03fn/n1rg9YuJJXuvmLeXNIkf/bP/P8Anmv6gxLg6SU1HW1vdi+kbr3k+y7X67H80U0+bSTjqttOvX0PPdY2wyJGvyrGfm7fvO/+f/r1paPayNtkkbp867P+Wcf/ACyPr2/rxWDrMnmXUMbN8zOdy/8AtLnp9PwrrrVdlrnaE+T5V/558YryIpSqSd9tdv1/P7jqlzKMdb3Sfmr9rfiV2V5vOb+Fn+X/AK5n6dff6cV9Sfsq2/lw/E7Vl/1aQ+H9KYf9NPK1K+/D1/T1r5ft03Qksvyg/wCf89Dj8K+wv2ddMurT4W61eWcafaPEnja8+/8Au/8AQtHtYbD8P+XnHr1rxeI6cK+DweDcbrH5vlGElFfbpTx+Hq149/8Ad6NWX/buu9z3OHZzw+MxOMSs8vyjOcXGb+GFRZdiKNCTavb/AGivSjbW/Mz6Q0e3s/Emg6lpc3zRzW3yb8/u5I8+V+OPavnmPwfH/YfiDwPr14sGk6xfltL1aHzfM0PXI5fN0bVP+mFv55+zXX5V7D4Z1KTR72xk1DfZ2tw8cMkjx/8AHv8AvfKi83pxXgHxk+IHiy+vrzS/BdnHodrHfyWbWL28UmoXlxFL5MsV/wCb/qPtB/5da+qqSi6anNSlJJxlFK8nGXLdd9bLba33fJ04z1jTaUXZqTduVx2fM72au+mvdWOP8VLrMdxb3fiK3e38QaTrGj6d46tYf+Pe41CSWG10vx5pf/LCfTvFVj9mttU451ivqDw6039pTQ7UVF02N9qD/V/vc5/yee3pXxfq3xY8QeH9Hm8L/EzwfqS6hNDb2elX15+7kjs5L+zl8q1v/J/07T/3P2m1tf8An8FfbmgrZyXDa1p9wk1jrGlW81uP+mfm+b+9/wD189cVnhpRdRuLvrSumpRlFyUtGpJbW+flbXerCyinFL44px2krQ95Pztta2zuze0OZvsbIzfd1C43bf8AppL/AD9K2NQ/d+TNG0kbbLhNyf8ATT0P07/jXL6bM0NxNHH8yM/2lYfuf8tPK9a2tWvGaGH5fL+fy2XufM/z/k5rtTXIktb/AKW/ryOWTs7LT9dv6+/uzoC221tY12blS32rj2+nX+Wa8rt7W71bxl40sbPZ58NzZptf/V/6NpdnLN5sv+og/wA/h01n4qs7zVF03y3VfO8m3Z/+Wkkfv7dPyrh1XT9Qm+I376bMvja4hvfs1x5fmRWdrZxRRSy/8+/7nrUzldQtrG//AIFyx5v0t138rCSavo0uWNk1b4pRjvfW103otrHz/wCO/jF4o8Rf8JJ4e8L3f2LwzJqsmmq2m2f2fULy4kzYSxRSxYn+0apPD7ZrvPhv4DtfgX4Y0/xP4k09NU+KDabcW3h3w1CPtNv4Lk1SWaWX/r+8UX/nW32q64/sf/jzs/8ATOnH/BXxJ4F0Hxz4bs/EVjus9S8SahpnhO8T/SLO38YXl/La2F/dQ/6+f9xNc/Zbr/lzvP8ATPp9069/wrvS7xZtQuk1C8t3l229tJ5kb3EY5/0r/wCRhXNSi67deVRSlTvCnGT0p35dXH5bfLc6qs401GlCE1GWspW96UdHZfy+bu+9tD5c8J/CvxB4wm1DWPFU2y+1ib7Z4s1Wb/mD6PIc/wBjWHXz9RuIP/AP3ryv4+eKrPVvGngfwLov7vw74f1vQ7C1t/8Ap3t5YfKluv8An4uJ8fabodq+wPH3jD+z/D11dfJpul29hI8Wn23+jR/z/wCW9fmfr32jT57Xxlqv2mS8bVY9Yj2ReZH5cd0bqX97/wBcP51hiUqMFCLblNc1Vvtpzadbrzv30Kw6c5KUlFKErRhFaRenvLtJW9162u9WfcHxUtfs+l2uqS6KnibRdWTTnvvD7yTeZeXn+qiitZrXyZ/tE8//AB61wPxC1rw34B0Obwn4X8KzHxBrX2ObxZp+n3F1rEln9ni8618Ly3Z877R9hnmFzqn2a2+x/bP+vKvdPC/ii18YWmhw6CsM1nZ2lvf2t5N5VxZ3FxHF9qtfK8rM/wC4nz9q+vvXD3FnZ+H9ek1bVrPxP4X1RZpPJvrnS7XxR4b/AHmfNmtde0uaHVbfz/8An6ubb7Z+VElvNNWqWV3G/LzPzcY9PtSjf0TOnVPlas0vwsrPyvd6dLeZ8n+BbfWPCOpaw2ueHbbQ4/GH9nw2tulxLG9nHH9sv4h5UvP7+4/4+vbmvoa1+Jmj2+m6boNjHc3WqrNcjzHTy9Pj8yWHiGX/AJb3HSvVvE3wr034n6PZ6hY63psj+TG66hYP9ojjuI5fNil/5Yz/ALif/n5tvp2r5zu/B+peA91vqFnbyX9jfx7ZLO4ivLeSPzfKluv+/H+kVh7OdK1k3b4ZJeUb6J+nV/mXzqWlveVvdv3t1/DY9u0nVZNP8UW9q0kzQyXPzRzSSyf8fP8A7b1682rR2rNHNBDItvBeRzecMfu5PJii/wA+/OK+a9R1KRfEGlz+YkiyQ2c0cyf8tP8A9xmvXNfP76aRYXuftFtb+Xs/1UfmfvfNP862hJtST8iH8S8r/ov1NmTx1a6esnkwp5zf9+08v/62K8q1zxtHJH4Rj1Df52ta9cTW8jxn7P5kcU3lS3XP7i34pt5ZzTfu923zPk+SP/V+ZXN+ONUk8M3ljHHpkN9b6foknl+bJ+7t/Li8qWW65x9ng/4+fzqZVJStzP3Vv+H6J/0hcqW0V8/+GZN8QvFP9reJvDOh6PbvdTSXEcNvHD+8+0Sf8tT/APr/AFzWXqHgeaz1LVNYh0DStQ1TULmT7V4i8baxf6X4fjjkl82LS9B8L6VNDquuW8Hk/wDH1qVz/pnHSs34S6Tda1q03iy6L32pLZf6Hb2dx9ns9H0fVJf+P+68ofbp/wC1vJza9bP+dfSFxY6HYxia6tdNkuP+fmaPzJI5P+mUt150/r/kURi6rc5NXdnru1fR7ev4A7K0YpJ2+/8AK1rPe+9jwOPwX8SNYj+x3XxE0TTdL+5/ZPhXT5dDt4o/+eQtYoYf9H/yPSrl14F8I/DvT/7c1ya58QX3mbLPT7mSXy9Q1D/ll5sv/Pv1/Guw8QeMPCel293cNdRrHpqb7u+ePy7e2/7a/wDtrXyz8TPFXibxpqTapoM1zofhfS7CRLP7TZ/bNcks44v9K1m6tf8Ajx0rz/8Al0+03P2z+k1HSpq7c6k42tHm9p/Le0Uk+i69l0Ki5bN2h2XTa29vO3zObvLq88YfFbWrppEuda0/TdHvzGkcXl+XZ/8AH1p9rFzBB/ZXnW3+i/ia+jI2m8YWMmm+JvDc15YzJJDc3ia5Lpe+N+JfN82Hz+P05r4V8M+JI/Cvji11xpvtFnb/AGiwvLiGSW8kn0/ULD7LLdCT9yb64/49rm6uv58V9f2fi6103TbG8vJn1SG+to7mO6s7ea40uSPvN9q8nyJ7f0xUYWpFxk5S5W23JW+Jacr6W697CrKXMmk9VeL30dunyXU7vVPhX4T1rTbGayvvFVvrXh2GP+xdUttU/tzWI9Pj/wCYX/amqeT9u0+D/l1tdbuf9D/5/K89X4P+LvFmtXU2pXVtovh+aGSG41nxV4g0uTxBqFxHF5VrfxaXpc2pTznjkf6HXpHh/wCIfgHWo10/XtSm0+33/LHD5sdvJ5n/AD18rnOD79a9d0HT/hMsizaTcabcTdFkeSWT/v1EP8e9dao0qvK48vK+WU2qsY325bqPNeT15pO19GlY5vaVIe641JXVruHPu4q9rq3R7u+j0sZWh+HNe03w7o9jNq2m+LL3RXs0+3ab9qs/ttnHEbWX/Rb/AMn/AEjyP+nnripdL8UrYxra3Ub2N5a+ZZ3FrMJY5P8AR5Jv3nX/AI9569fj1LRY41jtY5mj/vW1vaxx9f8Apt09K+zv2Rf+Cefj/wDb01y5XRVtvCPwn8Marb6b44+L/iCwuryDS9Q82Ga68JfDm1tfsc/jj4kfYP8ASf7L+02fhvw3xeeJLyz/AOPO8nH47B5ThZYzG4unhMLRUVKpXlZN7RhSVnKpXnK0adGEZSn73LquV1g8Fi8zxUMHgsPVxWIrtunTpK7SVlKUr+7ThG65qk5RhG65nqfn3Ya1++muIbd7y4jht0hh/wCWfmXB8397L/yw8iD/AD1qnqXizVmXyJJLm1a4eSE+Tn/R/L/ey9c+R0/wzX7x/tP/AAC/4Jf/APBMrVNO0DxH8Bv2yv2n/jjquhXkvwo8K/HZ5fCn7NvjLV0069sNP1Px14t8JWugeDvFOgaVqEo1PVvB/hzWr/xGLuzNjeaKLR1Yfz6X2qQrDcWeoahp0mrfY7x7y1sJP+Xi4/e+VYWH76/+zwGX7Nakf8udceUZ1TzmhPE4SniYYZfDXxFOnCnVcZSjJ0pU61aNSC5U+e61kk4qakl35pkeIyarSw+Mngp4mpFTeGw+IjiK9CDVOUfrFNRUqE53aVOolJ8jqK9OdOdTB1TUv7Qsdcm8zi3fVLNh5n7zzNP0uH/lr2x539OteN+JLyO4+H/izWF3yfY/D8mm2Nun7yT7ZcfY7XEVrF+/n8/yetv7V7N4N8B+IPG2g3FlcR3ng9bjW/EG6+1Wz8y91C3uJfNllsNL86GeC58jj7Lrf2L/AK88V7dovwx8L+C9N02x8P2Lx3Vm/wC+1y/cXmq3HmSzSyyyy/8ALC3/AH3/AC7f8ef4ivR9lUrJOK5IygnzS0s38L5XaT5ddJKN9LX1t5TnCEktXJNStH3r8trp7W30et9dtj83fDvjLVND03TdN0fSZv7euEjuWtb+4/sezt5Lj/VRfar/AOx/n+Fe5f8ACxPjRpulyah4r+Eej6xaxwxv/aD6p5d7Jb/9Ov2Cab7dx/y9HmvSPiF4Na4vFjZbDXvD+pXkiTaVr1na6xb2eoW8v726sPtUPnwf9u1z2ro7e60u3tbHRdStbRbWzhjtrOOGM28dvbx8RReVF/y7/j7dazpU6sG4OtKCXVcii237q5HGe9nqpWS79NZTU1GSpxleSd5OT26e7KOrvrdvTotWeXaX8TtH1DztL8WeB9f8H2fiDT7zSr66uZP7Y8L3FnqFrNa3f70wwzwYgm/0X0r8+V8OXGg+MNY8K3ipNeaDPrlhGX/eR3Elnazf2XdRS4zP9uspra5ta/UzxNrXhfwbot9qOrLNN4f0+z/tK6hST7Xb/Y45vKi8q1l86D7RPcf6Naf9Plfm3pOrXnjb4ieJPE15Ckd9rMl5qUNv/wAs7O3klhitbCLyv+fKxhtrY4rzs2c1QtFqriHFqnCEVGaT5dHFScdOlkr63WiOvLfZ/WKUqnLSoe1pupOUpOCve8kpN8vonr1eh6h8D7y6huPg3JY3G3UNB+Jfiya3heTy/LuPsvhvWfpmeCG5/H07+hTafdXl/dawqwtNql/ealcM+ZLe4/tC6mupYpYpf9fb5m/5ea8h8G6LrHhi90m2ntY/IPxBh8TRT2LhnSF9NvbO8t5cf6hniigu2bnczEkkk16Zp/jDQUs7W01SRI7+3h8mZU+1RxyeX/qpfNhhmg/49+T2rowUo8kue0Wowdp6bU4bfrppp30yrJ/Zfuqb+fLLlfVvW19tNnexb8RW8b6RcLteHyrOTzo0k8u3/wBV/qjL/n3Fc14ZjuI9Hs/3iblSN5Nn3PMk6+Vx+f8AXmrHjK8vrjwzqt1Z6fHJY2tnI8a2eoRXksnmfuov3X7np5w/+tWf4L1Bbqxha1+6sNuk1jeRy295B+68rzYv+e9vP9P5E10xlF1Y23dNK2978v3bdtb9kZRb5Hf/AJ+P8keqaPqE3lLBcN+7+4u+T7n+fx/Ks/xRut2tZLZk/wCJtNZ6VfRvJ5dvcW8ksMXmyj/n4sIP+XrNSQQyR/eXbGf4f5f55+lc344kk+w6XdM5aOz1Czcp/wBM/tUPnew/cf5zW1SSVOXNZ2tbp/np5fojOl8aV0n0u7dV5M9Ytda024umurdt1nbvJbaTvj8sXEdv+6lv/K/6b/8ALr2+x1+qH/BJP9ij4Bf8FFfj18ZvhD+0Z478efDrwT8PPgrZ/FPStS+HXjDwV4HvdT1M+O9O8L32j6nrvjqxvtKh0+ez1IajbfZzY3WLS9Ytxg/jnIzfbJo5m2xwPst41z/q/wDll68/1rB8RfY7mFbW8tYbyMfO0FzF5kckh/56xS/lUTqN02m3GOza3TVrdtN9P+AVGm+aNpWacXe3RSUmt+vKlfpvZ7H9hf7WH/BH7/gin+z5+z18f/Gfw3+Ok3iX46+C/g18RNW+DK+KP25fAni3XdV8eaVpN7d6ALP4Y+E/7Lstb8/Vo7YnQbkMt7j7EbIHDL/IlJbx6p9hk1rzoUukt5rfwrpVv/Z/2vP73zdevpf9Ont/+nW2zZ15XoWleFb7Xp7jT/Dej/avD9hb38i2Gl239oW9w915Xm2sVrDD5/8A9evVrPxBos3mQ6fNc6Trl4+y51DW9L1SXULePjyvsv7nye3/AG51FL2dlyqMXLS0qtSpztWvUvUcuTmTV4QSirXikmXNO9kpbR+zsuWKS36WevW/lc7z4U6u0Pxi0u8h2WfmX95Zyx2UnlxxyWfkxY/efuJ//rV+g3iXVpIrVZmuL3y/scm6H+0Iv3nly/8ALWKTI6V+avhOxbR/F/geabzo/tWpap9oW58rzPtH7mX97FF5v2e4ngzc9v6V9peLtWt4dN83zIVZra4+VPNkk/w788fX3+Azyk44+tzRl8cpu8dlUfNHr1jZ3/4c9/LmnSSbXLyRhdu3K1vbe/Tta1tmfLfwp8Rf2P4stdDab7Ovgn4r6jbLvk8yO30PWJZr+2l/694ILwf8e1b2oa5/wsL4geLPHMP7xbrUvs2h3kP7uSPw/pcX2Cw82L/n3nghNz9lufevnPxBdfZfF15eQTPZw+ItHkeeR/3ey80u/wDKil/df9ON4bau28ItqV9p7WumTTafumje+m1K3sLxLySP/VYi+2Qzz/uf9J+1XNz/AKHjjvX1PCeFpqtPHyi5zjThQhGOrhzck6vLt73uwSdly9ney4sxm3D2K0jKr7RvfmSk5x7W3a3Z2PjTxFpOm2/k3lnNeXPG2xtriwj+0eZ/0yv5oYP/ACZ/nXyFNrkMfjzWI7fS4dFW3eOzmtrbUP7Tt7i4t/8Al6iuv9R+/glH/Ht0r6I8faH42sdHlbV9F0fxB4fZP+JhqnhWSWTUNDtpP+X+/wDC+sw3kE+n97q6025/0PjgV8d6Vb2rahdXVq22z+2XH2NfM8yQW/m/upf+/H9K+gzTEVZV6UeVw5JKolKnyP4bP44OXK+b3ZxmrtNOL0twUaaVNyu3pbe61tqn1+5bn09Y61ujjk8wbmP+f0xU0msrb6hp2ofdjjuvs91/zz+x3n+iy4x/zwn+zXPevNdJuJHyqs+5U/1adfL7/wCePwrem0241KzuFjujHuhkTy/U57/4f/rrSNaTgmou9rqL01TVmpa/D6aXWpLgnLl/F69L+R/Yv/wanfGHTvDX7RP7Vnwa1a6+yx+KvAHw7+LVjMx/0f7Z4WuvEngK/tpc9xY67puPfvX2R/wdPftTxWvwh+BH7KPhqe5H/CwvGKfE7x1KkkkaSaH4TjnPhyw8rAE4vdVnOo3PBtNq2eSWY1/PR/wby+L/ABhN/wAFNvhPoPg3UodN8VfED4D/AB/8Ix/bPKudPuNY8N+GLPxR9lurSUGCafyPDepXNseguxk9OOu/4OAvih8QpP28PFHh34pa9Ya54i+FPwu8B6DYxabcRyafpdz4wtZvEdrowii/cW+oQQTW1zqlr/8AWrBqlUx0K7dnTgqzT1g4Qp865tt72V77X8jOnzwlUgkmrJq6v78vZU7eXNv10013X4j+JJND1rUNus2um30ehxyWdrDqWnW2oRxyPma6lh+1QzeRcf8AXtXA61r1npdvJb6baw28MafKsMcVvH7fuov06/0rOjaZbeS6ud/y+ZNJM+f3kkn72T/PWvIte1z7ZPJHFvZd/P8A9fP+ePyK+MfJeN4yltddrX+7ysdVOCvrry2f33X6f8MOju5PEHiK3hkmSO1t/wB9MZpPL6f9Nc+Rmf8Az1r6Q8L+GbO+gj/tJkubST/V6PaSS2+j/uz/AK26ii/f6rP2/wBJ/wBD/wCnOvlDSbG6uLqS4s5nt7i3+dZEk/eY/wCWsWf+ff0/yK+kfAurahafZ5Li4026W6SN7WNJIrf/AFn/AC1+1Wsv/tt07VhltSM5y9rBytP3lurdpKyvF9UrX8no1WTjB8r95/D02av1Ou+K3w90ew8BXXiDT4V0mPQ3t/s1r58skdxJqF1DFdWthYYm+w2//LzdH/jz+2D2r4/kuGja3+b/AFiSJ09/N/z/APrx98X15faxo99pereFdS1DT9WsLyxa40fUNL1C4jjuIvKlu7XS7r7HfT3EB/0n/RsV8O+OvC914RvbWzmvE1KGRJLnT9QSzutPkuI45fKmiv8AS7//AE7SdQgn/wBGurW5/wC3OtM3pxpzVWjBQpyhFTilKPLONkvdlFNXjyrRv4dbXSDDSk4yUtXzN8ys01aKVrN/O+3n0vaTeeYu0feXt/n8P8nNdBJJ0/3Pvc/5/wA+1cHo83z/AN1Whj/Dn/Pb+ldbuDE4/r/WvOjNct1ray/Q6LK911JZGBVtv8P/ANf/AD+tf0L/APBHT9kDw9Y/B74y/tyfFK6066utS+F/xd+G/wCzh4TSWb+1LC7k0W80b4gfFTVIe323SodS8JeDbW5/0M2Z8S6v9rs7wWVpe/zuXVxHa29xdSZWG3hklkb/AKZxQiWXt+X/AOuv7ff2E/At58Bf2Kf2efA/iCPU49f174ESXmt295o8Wu+H7OPWNL1jx5rGg6rHf4gsdPvrHxh9mtTbW2sf6Z/pll9jvMV/K/0uuOMbwl4eZTl+WYyphsXxXxPgspxVPDuMcXiciwtOpjs6pUKjhKVKnUVPBYXFOFva4fGTw0nyV5H6J4bZNHNM8qYirSVSjleH+trm1isT7SLw7tp70VCtUjLX2Xs3VS54QcfzYt5GaGNedyzfM3fH/LX/AD+ldZC2yO6O7d5cMm3Zn+v6H39xXF2axrHCq/c+0/J/1z59q6pXHk3m1uqeX9I/N6e3+eK/IqzanNNfE779reXkf15zOT5r9Xp2vbr8gUtuh3N/zz4/r/SuR1pt19J/dXr2+n5/55rpGbbLGq/dJi/WH/P+J5zyOoSbrq63cbU+Tpxj6/yrOjFe05lFtaWt/StfTuVNrllq/he/y/r+teV3NHDN8ybl8v5T3/e/0x+f51myN8u5m/juN3+f89OatLt+yzfN954419B+94rLujthPzbfkuP/AEbxx7fpXfD4l8/yZxOXNGWm1vzJLIf6Fu3fLvT5cVh+LGVdH1Ta29ms7aFf+2l1DF6DFa1qxWzVVbcWfeq98f8A1/6Zrn/FUirpcy7v9ZeaPbNx/rPM1CzPp/nj3rooK9eP+On+Eoy/9tt8zOtO9OfT3fXqvT/g7H4k6fr2kww3kN74L/4Sa4eazmsdQ17xJqmn/Y7ePzvNsP7G0HybGe3vp/8Aj6u7m5+2f8udnX0J8Of2iPix4DmWT4at4M+Ftx/yzvvA3g/T7fXPn/1vm69fzXl8fxrwdtHuI7hoVh/5Yx9P+uv+R7flXqXhHQ4/Mt4/L3SM/wC+b16fh6V/V2Y55X9nKq8Q+eykmpczi3Zp3mpKNvJK99fhR/J2W5BQnVhSnh+aN7SU1dSjpdW7vpr957R4m+NHxk+KWpaDcfEzx5rHjKPQYbi20mfWLPQdPj0e3uJftcsVr/Y2j6Pjz77/AEm6Fz/y+V9xeFf2mfilotp+0F+z3p7eEofhv4y8UaHqviSSbQ/tHjC8uJLDR9Uh8rXvtvkQfv4ba2+1fZv+PP8A0Ozr4H8QQw2ulp5Me1Y5rfO393J5f4+/TvXtljceX8YPHUn8OpaV4E1Jd4/5+PDmm+vTpXzePzLFYrg7NMRTm/bTxc8PNy5ZuVOrTSmm5R05oyaTjaateMlsvoMBlGBocc5VhqmHpypQwMcXSpxh7KnTr4epJ0ZqFN6yp1KUZxUm4O7i4uykfSOn301rfQ3lvJ5dxp9zaalas/7yP7Xpd3Df2nmxZH7jz4bUfX8a/Qdv+CoX7UuqafrFrN4d+C1t/b2j6pompXSaP4ovJI7PVLSbS7qW1sLrWPI+0eRN9ptftOLOzvOK/Ne1uP30i/w7Pm/D2/D/ABrU02Zts0ff95t/z/n6Yr8hy7O83yeGIjluKeHjivZ+2i8Pha3NyU5U008RQq8klGpUtKHL8bUlKyt+wZnw9kmezw1XN8FDGSwfP9WvVxVD2XtKlOrU/wB2xFHm5qlOE/f5uXl9y13zdlCyw2ZhjZ9sblF3/wCs8uP9ev418HftZWtrH8QNB1CH/j+1bwlZpqH/AFz0u/vLWwl9/wBxNj/HmvuHzma1k/34/lH/AFyzkf1H+T8G/tKXC33xMsbfduXS/CWjoy/9fH2y67ivtvB2lUlxrRkm4xp5XmVSola048lKEYzXWKrTpVLfzwi+h8l4uzhHgrEcyTlPNcspU7/ZlGtKtKUe0nTpzpv/AKdzqR+0fP8A8sXv/wDX/M5/pXlFxPuW8DfeNzcO3/f3+fPavT2k/d3DNnafn/l0/wAP5da8V1a88ltQkj+79mkuQvp5cX/1/wDIr+pcVU/hrZybSVr3u4+n/BP5bpbyfaz+40pfDN5b6P4T8WXkLrZ+KrnxJDYSPH5f+j+G7qGwupf+288tzg9qPMDWcjLv+Z/Jj9v6+/5c4r7O+PXhex8L/s2/Cu0aF1vvDcPgq2sZP+edx4ksJpdf+1evn+d/4GcV8aRxqVt4cfd/fN/7S/Pp/nj5LhvOY55gq+MhHk5MyzHBp8tvaU8PjKn1R+cnhKlCMu0lbV6r6fiPJXkePw+Ec+d1cryvGyvzOUKtbCxjiqcrpJcuLp4jlivhg4p9G7cMax2/zf3P/wBZz/n9M19afDe317Sfhb4XhuIZrWG+vPEGsWKJ5sdxJp+qX/m2F1Jn/nvBD/otrXzf4Z8N6x4y8QeH/CXh3Tf7Y17xNrOn6JpGk+Z5cd5cXkoH+lS/8sNPgg+03WqXXSzs/tlfsZ8Vv2ftB+Gel6Tp8fia28ReIrPRNP8A7Z1rQdQ+0eH/ADI7CH7TFa2sUPkWNvY5+zfZbb/jzs6+hqUaUqlCpVp+0eEqKrRk17tKq6NTD+0v9mTpVqsI7/G76LXwFXrQhVhRnyLE0vYVo3t7Wkq1DEezej09rRpTa68lup8x2+qabqWnx2esTW1nefu4Va8k8uOST/ll+9//AFD2rJ8afDfSfFlrZ6lNcf2T4qhto7ZtWtv3f2i3t/3Vh/akX/Le4gg/5esdD2FWvCvirUvHmg2P/CL+FLPR7zVtVuNE8Opc3lrcWfiy3kv/AOy9G16L7fD58Fvqt9/x6/2kOn+mEfY6878N+NL7UtR1aPVtJ8Q2+oWepapomrrqVv8AZ/seqaPfz6XqlhLF537i40q+s7m2+y/ZulLDZlluY16uDwuKwuLxOGivrVDDVI1K1BKo6blOlG842kpU41nD2XtYypqbvzIxGV5jgYYfE4nBYjDYfFr2uHq1oezp14zjTm3Td5R5pU5RqKKnLmg4Ntc+l5v7W/smTwT480+G6UpImk609v8A2ho+ofuv3UsUssMv2HUIOlTfBu4mXwzHpN1jzNJm1CwXfJ/q7eO//dent9O9d5qWq6bfafHax2upSSM8ePIs/Mjj/wCup87/AI9/X1rjvh/5dlrniLTJF8thcx38KzR+XJJHqHkxdP8Ar+iuf5V3unUp1IykmrQdPnkmr/DyKb/8C6ddVc5F79OSWjk4uy2utZNLS17rTXbzO1tW8nVlhb7skNwi+n/LGXv/AJ54Fa+pXH+isrL5c1reW6bsj95byf6qb/PIrG1D/RfElvuZNyt8yc/vPtFtNF5X/kH8K6DWtsmkx3EOz79v/wBNJBn/AJZH/GnG750nb33+SIW0X3lH84/5nl8l4sniq3ZZUhOn+MI7Ndn7seX+5/1v/f7P0rxzxt4wk03wVqlnpc6W+rePvEPijWLq8/1g0vwnp+s3lrLd+VF+/nuNVn+zabpdr+FegvJnWPFEskbqtvr2sXkYf/r1h+yy/wDXxP8A8fPP+FeQ+A9Jj1z4qaWuoR3NxoPh/wAPaPrEMKW/2uO8j0+WaLS/+mH2car/AGjqVyP+nOyrnqublGNNe/Vk4xjCN23NxW32vd5luviv5PohTi9JO6T5tt7W03/z9DsPBvgv/hELHQ2/s2bUviY1nJc2Mfl/aLP4d6frER827lx+4/4TC+sc23/UHs7v/n9r6O8D/D9vtEN9rrTX1x9+OOX/AI97f/prLFx/h/KsWT45fBPwzdXdncahrGjXbTSPfNfeE9U8uS4k/wBbLLfxQzef/wBfQqvrH7TXwft/DupTeHfHVhqmtLbSfZdF+x39nqGoXH+qtbC1iurSHz7ieeU/5Fa06dKFlOrStp7jnGPWOsozalzO+rcVe22hnUlVnZqnVTk1GUpKblyySbjBxi+WPk727vp5D+094ovNc1qx+Hfg2xuby6uIY3mt7CP7Q8dnHL/x9SRRd55/zwa4HwB+y/ql1q3hm18VXE11dX00mpaf4Vh824t5Y45YfNl1SX/pvffZrci24r9bv2d/2QNYvNuqeMLO2t/GV9YW+seKJLl4o5PtElr9q+yy3Uv+ot9KgmFta21tmz716x+yD8L4/jX8TPjlqnhVtBt7rwj8QtH8AeHdW1WTzI9P8P8AhPRftV9Fpdr/ANRXxHeXOpapx0+x1ySoTxFWM58yU3y0otcrULN62flbfuaRqRpU5RvpBXcvsvayXp2vp8z8q/iZ8IfHX7HGuaZ44uG8n4c+ML+zSS1eT/kB6xqf/LL7JLn6farb/j8s8/8AL5Z164nxCt7zTYdQm0M3azpsupLa4/0eTpj91x/Ienoa7T/gt5rXi7R/EXwb+Hfi3xBba5qGoWfiDxPM1hbxW9n/AGVo8sOg2EX2WKGGAfv/ALT9l/Gvyr0X4veJPD/gS30nR/Ok8QN/ocN9efvI7PS7f/j1uprWXPnzn/j2tftI/wCnzpUOosLVqUIuSioQlJONrPlUnBav3Y8yS7LbexrRXtqUZyad78rTv7ibjHtvyt7vR2W13+u/wH/Zz8VftHfEqz8G/s3+EbzxN8RPs0et6tY6bqFrofhvwvocn+t1j4l+I7//AIkfhzw//wA+t1c/6ZrP/MH0e8r9NfjV/wAEE/2oNU+DPiDx94O+OHwm1j4wWOlR6lZ/B2Pw3daf4L8WW+n+dLf6FafEbWbyHVdK8UCCH/iQ69qWm2ej3t5mzvPsVnefbK9h/wCDerUPCkP7EdxqlmNKtviZqnxu+I7fFLxF9otpfEnie80/U9Mi0GLXrqOb7db2+l+Fry3Og2tz/oYtDe3dnX9Ad58RLWHw/b2raRef2dqWqx+DtY1BPKuIrO41SWawiill87yLE38/+jf6Tx9svP8ATK/GM+4xz+Wc4rC4Kt/ZeCy/EzpqlTpUZTxzoVJRlPE1q9OrUdOpJSaoUfYqEHGM51pJVD9s4f4IyOpkuHxGLpPG4zMsLSrKtVr1qawaxEIOMcLSoVKcEoXpwqVq/wBYnKXvx5Iv2S/zXWu76G40rTdesb/R/EGj3+saDrmh6lbfY9U0DWND1Saw1nQdUizmC/0q+h+zXWa+kLi+aSGzmXeu7StHdWT/AJ6f6Z5v/kCL/IFfV3/BZj4J2fwS/bU1LUtPtbO10v4keCfC/ie1Wzt4rf7bqmh/8U54o1m6MWft2oar5OifatU/4/P+fyvjnwfr3gfXrPWNNvF1648QWvh7wnDoM2m6ha2ej6HrmoX95LLf+KLCWGafXdHvtKs7nTbW1025s/sd4Pthr9WyrH/2hgMLjopRWJoU6jgtVTqR5qVeney96GIpVoS0Wy0Vz8nzLAVMvx+LwM7OWGrzp8zVm4+66cmru3NTcJpXfLzNXe76qOFrz7HuVN0yW6R/8s4/Mk/5a/5+vNfpt/wS3/4Jm3X7UXxivvj98fPCsmsfsz/DO/Gm+C9B1iTy9H+OfxQs7+G6kiv7X/X658N/hzD/AKTr1r/yB/EvjAWej3n22zsr2vya8fapqXh3TdYXS99xq1jo95eaetnl5Li4t7XzrWKKL/n4n9/61/oIfsleD4vhR+zT+zR8Kb3SNN0/VvCv7NXw/wBe1e1trf7Pb2cF3o9nqWsyiSPpcf27qNz/AGpdXP8Apd7e8jOc18xx9mmIwGW08Fg5ujWzF1oVq8XJVKWGoqmq0KPLJWq1vaxpRqXU6cJVJU+Wo1OP1XAWU4fH5nVxeKUKtDLI0KtHD1IxdKpiKyqzpVKsJKUZxwiw9TEQpSi4TqxpupeEZU6nEftf/sH/AAF/bA+D9x4D1LQPCvw7+JXh/SriH4O/G7wl4b0Xw/4o+GmsWcXnWFrf/wBjWdmfEfwvvp4bfTfE/gPW7a8s/wCx/wDTNHNnrFnZ3lf56vxE8Sa14V174heDfF1uNL8dfDnxVrnhLxppqSG4jt9Y8P382l3Uul/899Hvp7P7Tpd1/wA+XtX+lh4m+JHh3wzb33nF2jj8Dah451KZ/wB3b6f4T0e1ml1XWbrnz/7HgsftNza3P/L3eV/lyfEPx7dfEDxx8UfiB4miuZD8SPiR478ZaD4w+zyx/wBoaB4s8Ualr1rpmqRRecILb7DNbXOlf8+X227s68bw9xGMjRxuAqVHPBUKdCpSuvdp1p1Je7Sf2adWnCpOVNNQfu1Uk6sz0fEPCYWnXwONhCnDF4ydf28Y/bjS9mouotubmlbm+17R3S5bSyvA+vah488YTLqEaHQ9DsNQv7HQk/eRx3cl1DYW2qX8uf8ATtQ5ufst1/x52f8Ay5ivZvH2mQ2Pwt8faotr9nkTRI7aGbzJY/3l5dWdr5Wcf9Nv6V6V/wAE4/gjafF746eJvC+ufZtE028+HUl5pd1c/wCskkj16GSXyR/z8TwzV9uf8FGP2Y9P+BP7MPxA1TSb621K3bXvAej/AGy2/wCWn2/XoZf3X/fnn9ea/S6dKpOjVrSV1+9vra7hFS3+X43fY/MJ1Ixqxg/imoJL5xi/u5r+fzP56dJ01tW1jTdLhY7r68t7bzP+ecf/AC9S/wDfj8v5fbHg+TXvBLyWPhOOG8sdZS5SPwzrHm3GhyapHFNdWvlWv777DcarBDc6bdXVt6Wd4fWuT/Yf+DM3xz/aM8P/AA/jkhhkk0HX9RSa6k8u3juLe1hhilll/wC2/wDkYr9Xf2jP2XV/Zl8D2fibWJtNu5P+Fl/Dvw3Y3FtJ+7uNQ1jWfN/dSy/8u/2GzuftXHvz3WEpVWvaJWSdr9Va2z2X47Dr1aa/dS+KSuo6avTS+u3kne62PgLw3D8Mfi5as2n6fc+F/EkcPnXml3tvFbvb/wDgN+4vrfz+f7UtuP8An7Fn1qvqHw78YeC5vtGmN9rtY3/ef6r93H0/5an/AD6VY0nT/A+peMtc0vwf4q0TVI5NSuL/AEK+8K6pFcar4X1j/W3Wlyx/uZ57f/j5NrdW4vNHvP8AjyvOK77VPi8mgta+E9S02bxB8Qmmjtm8N6VHFcRxaf8A9B7Wb/8AfQaVo88B+02ul3P+mfbD9j/4869BRo2bq2jKLcVUhKPJJ+7Ze43FSl9lKMbvm1dtOdSqNqMU7NJyjNcyV7a30tHfnl0uvdPQP2YdP0P4rfHv4SfBn4gfES2+Guk/ELW5E1rXNS83+07fw3p8X2/VIfCUVr/r/FGuW8P9iaD9mufsf2y8+2f8uZr+/D4O6v4Z8F+BfAHgD4LeCvD3hz4aeCtE/szwb4c8Japa+LND0vS7eOab+07Cxi8nxVqtxe3BOp+J9euTeaxeawby81jnr/nDeKPDHwjWTUfF3iLTfGGpeOpP9Nt/DtnqEX9qW95Z/vbWXRvsH2PSvB+j6T/x82uvD/jz5/4/Lyv0F/Zh/b2/a4+B8Xhe+uvG1h8YPhh4f8SXD618HfEMnmaxf6Xb2vlRWEXxf/s2HxVpXiiCea3+06pbab/plnZ/Y7z7ZZXn2yvz7jPhvNs+qYSWFxcJ0sHGbWAnOVKCnKynXpzhH3q04ycJKpyy5LqnUjKdWT++4K4hyjJHWp4/DSpVcTUp2zCFONaDS5YU6FSnUlyxpU5NSUqcZfajKOzP7xvG/hTw58bvAur+GPi14f8Ah74z+EOtQSN408E/E3w2NY8GahHb2p83xb4DmuhFfWV/b7ibm5P2S7syf9C1fR7zNebeAf2ef2X/ANm/wL4P0P4TfBXwB4D8I2MMdt4dvk8L6XqnjTVJJJvt/wBvuvFF/aax4x1TUL7zs/atS1K8vPsftX4K/sX/APBVvwD+1T468AeF/wBo+PWfHH7XXj7xReaZ8I/2WPD1lr3g79m/4X3vge7vLvw3rHiOOIz3vxT1C40KBvFt3rvi261jSLO7zpGjeBAbL7ZX6T/HX9rz4Z/Cn4f6p8aPih8UtC8N+F2vLjw3e/EX7Zc+H7zxp4os7ma217wl8OdB1SGz8cWPg/Q54f7EtbXRNEs/EniTxJ/z56OK/Jcflea0OfLascZFynCf1ONWs1Vl/usOWjCpGWI9pFpUoR5W4NTjOKnH2n6/hMXk+MhSzOk8LOKhODxao0Y+zTfPaderB1MOoScfbOrTgoThaFLl5qh8x/8ABX74OfCXxJ4Xh+OXh3Q9N8C/Hbw+9nZeJLGG3sND1D4oeC7z/j1/4TfR4pof+Kw0P/SdS0HxRqX2PWB4b/4k+s/bLP7H9j/nDmt766aFmvEaGZI5YfJ5jkjkz5X738/61T/aq/aj+Pn/AAUK8WQ6T+z/AODfH+k/Dfw742ubDwx4N8N6Pf3njzUJNRv9H0bS/FHxBiim1KDSvD+uarr2iabdf23c/Y/tmsWf9sXn2P8A0OvGPhHa/tD+FPiTo3wW+KvhD4tfEf4h/ElJD8KvBfhbwhdfED4n+IPEHhvXtY8B+JPBNtoWg+RfW/iDw5rnhXW9N1W2uv8AQ9H/ALH+x3n/AC51+3cD4TN8jyLDU87nWpYStUcMCq9KUaWD5aPtZYJ4uXuykqcHXWHTlPDQ51FzpJun+GcaYnK80zidXKIQdWKdPFVKTi45lNNfvYUpw5nOPvU3VbjGvyqcKcIpc3o+qeH7qaz8tVeO4tZpJreR45ZI5DIf+mfHNcXNovh3RbO81jxRJ5lra4fUNUv/APQ9Pt5JP9VaxSyfv57if/l1tbb/AEy8/Sv008c/sM/tl/Dz4Fn9pLxn+zF8bdJ+CsWjx+IbvX7fwrc3fijStCuDi0uta+FVjPefFTQrafNrbXba54Ssxo3/AB+aybKz/wBMr4/8Ufsz/FDxF4I/Zu/aR1fwf8X9H+HfxX+Gvxcu7rwj4++Fes+EfBfwk+I/g/4i6b4X8OaPa+JL+CAeMfFHj/wRMfFul6prWm6Rdmy/te08HG80e0wPdx/EGS4CvlOGq4yjPFZzj5Zbl1Km41oVMXHA4rMXGpOm5Qo0pYXAYhUa9WUKVfEvD4OjKdfEU0fM08DjOWc6tGWGp0oJ1ViIVaU5+9GLo0IzhH2lVfHUp3jKlSjOpUSjHX88/jdqGpeJvAfiTVtP0Obwz4L8P2MaabZ3/wDyE/EF7qF/Da/2pqlr/wAwm3h/5hel/wDH5/y+Xn+mV80/AmzmvPHEkK2/nQLo95PdN5f+rjjMPlfvfy96/Sj9pD4fyeHf2V/iZrU221WDUvAdhDC6eXcXEmoeKLOL91/1wEP518u/so/CP4kSX3hvxxdeG9Ytfhr8SrP4oWHgbxI8ccmgeKPFnwstdNi8b6Nayw+d5HiDwtY+JNNubrS7n7Hef2PrFnrFnizrmxVTlxGFVSpCE686VOlGUow9pUlGU/Z0Yya5pRp06lRUouU3CFRqLUWbw9nGnJXSUVUavp/DpSno9d+VRv0utHsVfiZpdxa+CfEV7a+Za3Gl239pWs0X7vy5Le6h+n/LCb61x3gnxhHfabZySafDJcNDsm8mOKOOS4j/AHUvm/564r9APjV8G9P039mb4xeNNQ1q20/UtE8JveJpN5i3u9Tkkv8ATbXyrEy/6/Pnf8ev/wBarjf8ERv+Clnw5/Zg+BP7V2k/ArU/iv4H+PmhnxhafDf4Txat4s+MPw18LXmhS+LPDfij4ieDU0q3hsdI8VeFbI65bXWi6nrB0a6Njo+srYazq9nZtw4/PcqyCvl8M1zDD4BZpVWEwcsRLkhXqvla5qj/AHdCC5lH2teVOi61TD4ZVPrGJw9OrMabqxkoLmanL8eXT/E7e7F766qx8dXVi+uaf9nkt4f7LuofmWG4+z+X5n+t/wD1815vdfDNtPVbjRdc1uO3jf5FmuJYri39PK/5+Lf/ACa7Pwv4q0W90+zuLe8doLz/AI92TypLe4lk6xRRSzQ/6Rjpa9q7n7dp25VvJrm33/8APzbyRx8f596+n5IVPelaztyvmlF9L2cWutr3v321MPeh7vVJX1t/XX/hzyvS5PGmi+X9oZPFWnY+aP8AdWeqp1/ewy/6if8A7ef/ANWp4gax8QaDq1vp8j/aIYZPtFjNH9n1CwuPK/dfarWX/j3z6de1d9cWNra7LyxvIbrTbh9itDJ5v9n3En/LtLx/y3/5dePxrB1bRbfVFaZY4LW4hhk2609x/Z8lvb+V+982WL/X6d/z9Wlz/oeeaOVqLim2rW5W+9uvyva3bawotSSduVxkmnFdkvNdvkUIfI8RaTY3Vrcpb6t9gs/tNvN+7zJHaw/vf5fn6VwmreHdcuG8uGGex1S4dIWM3m3FncSSf6qW1uv9R/268nFeoeJvgfqng3T/AA3N8QPCfxa+Hfi3xh4V8P8Aj/wnpfiHQpfD+h+KPhf4ktP+KX+JfhuXVPseq634f8Y/Y9SudB1TRLb+yP8ARP8Aj7xzWf4H8O3Edzcap9u1jVIY2kttLtL+8lkjj8vi6v4opcf6R/y7VlC2J5NG04q1SFSnJShGylUfvRfNzc0X3tfTZW2oWkpJ97x9O0r9bf8ADHReGfDFr4T0uGxs4dt5cQ/8TbWkt4pNQubyT97LLLL/AK8W+P8Al16Vn33hPWtWleRfGOpW67/k/s7WJbf931/49f8AXwe1egNp8MitNJdXOnr1m3yfu/LPf/PT+fmWueJtLt5JtL8L2V/r2pGGSO6vNN/497OPyv30v2uX9x+4g5/zz2uMIRipLlp3tHkclLW1/di0p2t1enR7mEW5S+J3drytpst3fTy8jofhn4Lt7PULzUPDsjX1qz+TJq1zcS3lxqt5Z3U32qWKW6mm/wBHgn/0Xr/x+dcdvevGmrSQ6Gy3jzLcQ2dwki+ZFHF/qv8AJ/zzxv7ItvHqGkx+HrhXuP7I1jyU3yfvPsesf6V5ssv/AF3hufxHevev2xvhPq3wrttBvL63eGz8TaVcSWcyeVJHJHHF9qtbmT/tjNc9K+UzWhTxuAhjIU0pU6lKcLa2pykozg5P35cstYyk378IySumn7GFnPD4yeGk+XmhOHKurjHmjrf7UeV2afxW1tc/L3WNQk1C4aTy0jWxSTaySYkjjkHleb2/1/4V6p8M9aj/AHcO5WjV97R9ufb/AD+PNeQ6Dp8Wo/EDw/orSeXDq2uR6VJ5/wC88v7Z+6/e/mK6jxR4L8TfBfxn/YOuw3sNndeXc6XeJ5v2fUNPn/49bm1l/wCW9vP/AMe3/Tnef6H3ruyDEfVls1B10nJfzyp0mr6fa1S9PMjGRlUacnZ8qcXa9vecXpdb8q7aelz7Yjhk1LT7iJbx7OS6tpIVuEjx5f2iLyppPK6fWvzLbwzcaH4l8ReBdWaG08QaDqV59lmtv3dveW8kv2qKW1/6dzBN9p+y/Svvb4d62uqKkdvePH5ab5lnvPMuJOR/qrXEx/8Ar1zf7QXwktfFWkn4haDZzW3i7w2lu+rPYSS+ZqHh+zxnUIrX/oIaH/x8/wCjf8fmjd6+wzTCvGYeli6SU5Yfm9pBu0p05RSqKm7fxIzjSnHTpa2t15lCbpzdOT5XJ80brSM09E3/AHtei2PjuG61LQZlkuIX8s/8tE/eR3H+R6fnivUdB8SaPrirDZzQx6kyf8ebfu5JJP8Atr+g/wAmp4bWXVIY49U8mObyTtv/AN19nvP+eX+i/wDTf/p2rYvPAemah80lntuIzvjvLCXy5I/+msUsXkz/AOfpXlUadWMY1KUlUpSSapVPdeq3T15flF/g77ylHaSkpLsr22vdabr8UfY3/BMH41f8Ms/8FLf2MPi14ivX0TwxoX7Q3hOHxLqX/LO28KfESx1f4VeMj15t/sHjC21G6z1+yE9cY5v/AIKIftGR/tT/ALdn7VHxwu5HvNF8T/HLxxc+Hl8syR3Gj+G7oeCPDkVqTz9ng8OeG9N+y55/GvkfWNP1aGxj0vUNWh1GNpy+m3l/by/25p9xHFNLF5X2D/SL7z/J+zf8ev2ys/UfDfiy1gt7e3h8yzSG3fzNKj8wSeZFDdf8f0kPnz3H77/SvS8rNx5JNKnK/LdxdOUmoNuoqcuRSjyuo+d8s25cqT5bFQjrzc1uZQur8t5J/Fezv7vLHXa2/vWVHWINY1lV/ta+03w/oafP/Z9tJ5moSf8APKK6l73FcLqVrp8cci6fbptj/wCPf/b/AM+/8q3pmljWS3Gnvb6hb5kmt9Sjl+2eX/z9Wvmf8f3/AF9f/qrHW31OdjdfZ3+95NpZpH5lxeXHlf8APLn/AEeD/wCv71x1Gqjb5JSk/im3zS6WSsoxhFdIxj3u3Y0g+VW328tvvKfgy13falaTyfMikRpv+ef2nEXm/wDkb9K774OR6ha6hrFrJpulX2nxPHbSTTWfmXjyQS+VNLYSy+TP9n/6dftP49K89k+0aBdNayK8JuIY7yOGb/WRx3Gf3X1gn9eP6e5fBbUpI2a8vNP/ALQt5by4MsMMcX2yKSTj7VFF/wBMO9TltP8A22nTlJwcU+ZOEXe3La3Nzd+33jr39m7K7utNvxPoDRfC9vqUNxJM95Z2vn2/k2rz3X9n3H/PL7VEJvt0Fx5//Hrqmm3P58mvlf8AaYsb7w3Np+nx6xquveH3trzW9EbxPINU8QaHfxxfZdU0b/hI5YYb7XNH5trm1/tL/TLP0r9CNLjs7yxjkX95aXSbNs0f2eTy/wDnlLn/AFH8/wCnwP8AtRXUP/CXaX4btZPtlzZ2Ec0kJk/dm81yXybWKL/nhcX0ENtc3X+NfSZvRp0cvnNpWk6dpqT195SlHlTUXeMJSTkpWtolds4cNNyqqN2moStFrvy9dm+m2x5/8TPBNj8N/iNqXhXSdQh1DS49G8J69pd1DcS3n+h+K/C+j699llupfJ8+5sZ7y5tvXnFZtv8AMpHTFepftD+APEnw91n4VQ+Ipf7QZvhN4Y8NnU0Mfli88H3WpWH2CTJP/EwsdKvNNHr6mvL7Xdw2MfJ/hz+A/XivznhTGrH5BlmJ+uLMJSw1OnUxq5f9qq4ZfVK2JtFR5XXrUKlWUZQjKM5STT0Z9HmuFlgsxxeHlQeGcaqqewkrOkq9OniIU7dIxo1aaj31el7LJ1SNrjT9Qt9237RZ3sG7/rpFNF+H9K/uE/Zl8STa5+yv4b8eQteR2+vfs/fD/WLHTLy8luLjRtQ/4UtZ6Nf/AGCW6mm8jT76+022ubS1z9j+x/r/AA866Xt9N1SVWy0NheTKw9Y7WYYr+zTw74y0P4Sfsz+A/Btrdf2frV58E/C/hvwaqWcUlv4k/wCET+C3gPXrq183/UarcaJpWpa3qWqWv/QGs7z/AJ87yv5Z+l5lNfP8s8OspwOGrYzMcRxJiauHpUaMqvPhcLLIKuOilF81OSp+zrudOM63sKFenCM1OUX+meEtaNDFZ1Uqzp08O8JltGpOo+VQqV8ROnRk29FFycqTblH3qsEryai/ifTW/c6bubcywx+Zz/rP+uXf/PFdAsix29x833kjz6f5/P8AUVztrJtmt9oQL/CsP+r8v99/qu32fitpmX7PMytu/Mfr+f5V+e1Ve0oq8ddfV8y0/wC3v6W39RXd1pZ9He/m9F8upMsm6aM/ebO//OPfkgVx9+y/aLxvXzPrj8cd66aOb98zf5/p0xXJ30yr9uZfm/1n8z/kVUIt1NNnytP08jOpKSTWmlum+xyfzeT8/wB37TH0655/z6ZrLvW/dxrn5mSTHbP9D1/StTczQbf4vtMfl/8Afr/J/lWHeS7o4/l++n+fwNd6VklppdaK172832/E5k3fR2u1+ZNFujht1/8AHu3THt/nv3OH4k2tDY2/8M3ifQ4VH/XOX7VnH/bHpjPNbxkG21jZXX5P4/8AnkPqP881zevOvnaOvyf8jJHMzf6v/jz0vUpf8/qDzjehGXtoO23O/upy/wA/v09MqrXs53/uf+naf+Z+ScNw0c2z5JJpLb/Wf9M/N/x/HnrXsXguONrdJpI9su/5e36e2PpXkdjodi1v80cLdm4H+ef8+teneHfDuk+Wqtbwt/28S+v/AF2r99zV0HRcFUnH4dqPO3a32faLv3uj8FyqFeFWnOVOm07OzqSXKnbrGlK911aVul7u3Wa5F51i0c0btG01vuUD/prD7fpXrF0yr8XLyaGP91e/Dr4f3Pyc/vI7AWsp/df9cv8AOefG9W8O6fDp011b26LJbvHNG32y6x+7lh/56y56d69G1TT7TWviJ4PvJt6m4+Fujwt5NxdWf7zT7+8tZf8Aj1mh8/t7/XvNOFKrwbnNP2tTlhjaU5SdFxcX7PDe44e0fbfm2VrbGWIlVhxzkM/Z01Opga1OK9tdTtUq2k5cnu3bdlZ9ddD6AtW2ybVV23Js/wDIf+fyrU0uY+btX/voY/zyR7+lcja+E7XPyzXkbN/c1jVI/wD289s+v1rYt/CMCsskOoazDt/ua5f/APx7/PfmvySUMO7pV6lnazdCOu3RV5d/6Z+y0qleyfsaT0t7teTt8O/NQj30te9jtFuP3Uw/65uvH/TLpXwd8eJI2+ImqMf9cdK0NG6fu447Dyun5fzr7Xh8Ks2FXWvE4VvkZU1y6yP/ACDNz/n6/Cvxck/4rzxRa+dc3S2N/wDYVuLy4+2XkkdnFDF+9uvKh/T1/Gv1fwVw0Z8UY/E06qnHDZFiVO8GuX22Oy1RenP1g77baH5T4zYhw4YwFCcFTniM9wsY8s+e3Jgcwk20oqT0a+FPXVtdfCdXvBY6ffzN822HYq/9NJJfLi7/APTWuJ8D+EdS+JnxC8N+EdJt3k/tS7jm1aZI/Mj0vw3pc0N1r2qXUvJgggsT9n/6/Lyzs+pweo8VNH/ZNws0f3nt0hb/AGzL/rfr/wDW617F+xjHqE3iz4mW9nfXOnx/8Ifof2iSz+y+ZcD+3pvKillurOb/AEc/8fX2XH+FftXGWY1sqybMcdQcVVw2FaoufNy06laUKEajUYzk/ZSqqqoqPvOmo3jfmX4hwpltHNs7y3AV1U9hXxVqypOKnKnhqc8VOmnKUIr20aDo3c1yKo5WnZxf1J+01Y6LqHwd8SPqD/ZbPTf7H1LTVQfvJNQ0u/hi0aw/7fvO+zV+aVrDMu+a4XygTvb8P+WXp/8Aq7iv0h+OGi6lN8KPFjXmrahqFrpqafqy2s0dh5cklnqln5U0ssVnDP8AuPO96/O/UJvIjadh50u/ZDbof3f/AF1lH+f1r4vwmglkGO/fuqqea1fdTk+W+EwL+KUVL95f2ru5e/OTVr6/Z+K7f+sGCfsVScsnouM/dcp2xuOvzOLlGXs7qkmpfDD+9ZfYX7COk6Te/HC48Qa5Clxp/hXwzcOkbyeXH9s8QXUOl/63/liILL7TX7RftyQ/DHw7+yPrUPhLTdM03xh4+1Lwf8OtN1CzuJZLyzk8cazDFrNzHLL08jw5Z6l+Ffzt/BbxlqnhGfxVfRzfZ5tSfS0j/wCudn50vlf9/wCbv0/WvevEvx68YfEZvB/hTUNWeaz0HXf+EkaR4/tFnp9vo+jalF/al/F50NvBb2P2z/j571+h4vF+ywGP+r0pSxSwuIlhlyOUlWlRkqUoqKlJyjUcLOKlPflhK7t+dYTDU6uOwMMTOMcLLF4ZYlucVD2H1ij7Xn5nGKj7Pn/eTlGEOr95Hrvhm60Xw3q2g6xqUc1r4X8J6z4TmuLXTfK+2SW9nrOnWujaDo0X/QR1WeH7Na/9Of2y8/5c6+WPiR8SPHE/7QHxU8T+NIfOuNc+IuuXk1nYWdrZ2dv4f/tS8sNL+wWtrDD5/wBhgs7a2urq5P2y8/4/Lz/TKr6n8cluvEOl6X4bsf8AhMLfwylxf3DJp8tmNb8SXkX2CK6sLXzsQfYbH7TptrdXP/HnZfbLz/j9vKdqlndfFrVm1KSO88P/ABO1K5kvLPRfElxF/wAI/wCLLzHm/wBl6N4stf3EFx/z66Xrdt/2+DFfC8HcNV8ozD+1K9GhDHSwFSj9bqVZTxi+t18LWrYGND3qccJCnhIV66q8letjFRiouNG0fs+LuIcPm0YUMPWqvCUMW1GgoQhhPZ0KVSnTxjqJuVWvOpUl7CFPnp0sJCNVSVSpUg/pD9nfT/H37UXxg0/4K/Afw3pV5fT+W994k8W3F/YafZ2ckvky30VhYfv/AOz4P+frUrn/AEzP+h2dfsL+11/wRH+N/wCzV+z/AGf7THw/8aP+0Lq3gXUTdfGv4beFvA91oeqaH8L/ALLNLr3jz4c/8TLUtV8cHwffQ22pa74Yubaz1e80f7ZrGkEfY7w1+YH/AASv8Ya1+zD+2VouvfENbbTdH8VW1z4V8XX00fl2+l6hqn/IGllll8mCG3sb7/Rv9G/0T/t7r+/rwp+0loMfgZ/F1rDf6pDodtbpqmk6D5V5qkd/FFi6+wRSzQ+fcapY/wDEz0G1ufsf9sWf+h9qXFnFfE2XZxBRxsKWXOnTrUsJLC4V4bEJ2jWjXlUp1a1NU6icJeyqwlHR8z5rR9Hhfh7IM3yOrCVBVMyqVKlCeLVWt7Wi3ySpqjTVRUZe1puMveg7tSguX2fNP/Ot8V65Y69b+H/FHhnUIdZ0O8h/c6poNxFeRW9x+5lilupYv39j/wClln/x5571l2/xK0yFrXSdYvLa3t7y/jsI728kit447h5v3UV3LL5OT/npX91vi/4OfsO/tOy69r/ib9hXU/F3h2Szkubjxnafs9n4eXtxeXkv+n3Vr/YWpeFfEl/rHnzH/S83l59s/wBM9q9J+B//AATj/YD+BK6f4m8A/si/CDwtr1u9trEeuePPC8fjzxZp8lv+9sL/AFPVPiDqXir7DrEH/Hzm2uc5qn4kYTllOGArVKz5eenhsbhq+FlNKMXy4uC5pRfLeLWF11WljCp4ZZjQnCFXHYeNFp8kpUqnt1pFqnLDwlUpwktb3xPWyW5/F7+yx/wTN/a7/bz+MvinwP8ACnwtqXw6+DPiDR/DV38RP2l/iF4e8R6Z8LPhhbwf6JrM3hGW/stNm+KnjfW9Kh+zaF4N8JXI+2Xhs73V9Y0fR/tt6P6cfF//AAQh/wCCeHw/+AY8BeGn+MWnfFCx0q3tm/aEuPGxu/FniS/0+0gi+3eJPh+TF8OT4YgOba18MabpliNI+24/te7vB9tP7A+IPjdoEOj3GpTeIIf+Ed8OpH52sfvYvD9n58v2Cw0vS4v3MF9qGqz/AOjaXpem23+mXn/TmBn8J/2/v+CtXwx+B2h+NvDfh3WPD3jL4+amkeleE/A6SX9x4f8AB8cv7qL/AIS260v7ZP8A8SqD/iZanpem232zWNZ/0P8A0KzrwnxJxFnmMg8reIws05OjQwNWqoU4u7qVMTiFOPtVGc71KlVU8OuZJ0ouUpS92nw3w9w/hKks1nQxVo89Sri4U1o7VKcKFBJ/vKkYpRpw5nKMp/u6icaj/mz/AG9P2OV/ZZ/tK3m8feG/GGl2t5HbW+s3Oh2un28cl5+9sLD97eTTXHiC9g/0n+wdN+2Xn/L5/wAef+mV+W/wxu5PEfxX+E/g3UtC8Kw2uvfF3wRbf2hZ6HFZXn9n2mvWd9f+biabtDX314g8faL8UtZn8YfGK78VeNvHGoTahNNrmpeB/FEvh/T/AO2P3t1a+HNGury8/sO3n/49roW1t9svLP6V4fefDXwL4J8UeGfiN4Vs3hPh/WLfWLOSz1C/kt7S4t5f+Yhpeqfv7HHnfjX6dgcLmlPBxlmOYxzHFyUZVWo0eWl/NGMVh6SlKLatO/X4Y9fzHM8dluJxtSeX5e8Bg78tGPvPn2alNOpUjTlK+sIyly9ZSTVv6krX4e/Dm68D+IvHE3iDWNQ1podc1K4uLm8itrYG3tZrqL91EP8ApjX85f7Dv7ZWofBLUPGGsSXTyL4q8c+JPEM0eD+8kvL+byov+/EPtXeaT+274wtdFvvDMmpbtLvLbULMqZf3iC8tZrX/ANETd/8A9X452OqXGhyXkPmPDBbXmoO0n+rjj/0maWX97x6n2P5V6GJxai8POhL3oe15l/ijBLX5vp+dzyqNCT9r7VqUZqMYpdEk9PO11r1Pvj/goB8WLz9qL42eD/Ful772PQfAEVjb2qRyyZkk8R3l/dRd/wDXz/5558/sfhnorWdrqH9jpq1rqSxzWtvZxy3lxcXEkX/Ht+6/5iEE/wDo11/y52fX1r2j9mf4T65p+myfErxhDNp+peItNjs/C+k3Mfl3lt4buP3st/f2sv7/AO0a5/y6Wn/LnZ9vtl5muw8YXV18NPFmj6pDJ5fg/XLn7Hr2n2dtm80u41CXyote0u7tfOn/AHE/2b+3tL+zf6ZZ1nye0viKi/jST3tJR6Nr56LyeptTcKaVKOkY3su125enX8Pkfan/AATd/aJ+Fv7GPj63t/itBeaH8F/ilpsmm/EaTw3ZX95/wr/4gaXDeDwH8WrWLS4Zr6e40qeb/hG9eure2vLO80e8/wBMs/8AQ6/pMm/bO+FfxK8P/wBpeGNQh1TwP8SLDR/hp8Xl028sPsHhvxjeWH2Xw78S7C/tZv3Fvqvk21v/AGpbf6HZ+JLPw1ecV/GfdeIPsdxeTa9a6lmNLh7q+0r7LJH9pt/3X2Twvo0XnT6rcX3/AEFNS+x2f/L77VD8Fda+IXgHVNd8SeEdYufBuoeILbUNK1zQ4pP7Q8H654X1D/SofC+v+HPOh0qe3sZ/s+pf2rpv2O8/tj/TPttfGcR8IQzOq8ZgqlPDYycY+1pypxVDEuEYQ95xg/ZSlGMU5Wm3ZaOx9/wxxp/ZNCngMwwzxWDpyl7GtTlJ4jCwlUVXljRlNU61OFRzqU4Q5KtOU0qLUIRpr9lP+Cn1r8SviN+x7Z6t49m0fWviR8Ffj9ofw9+Jmsax4PtZPEGoaPrN1qWl/Dnx54D8W+TZz+FNP+I3hu80TxLqml/6Z/wmFneaxZ3lnZ/2PZ1/NnHry/DH4qXFvJcXk2lXGg6PYeJFh/efZ47nzr+1v4v+njQ55vtP/Xp9sr9Cvjd8dvHXxi1yH4ifGLWNKgh+HPgbS9HvovCv9vad4f8AEEnheK88rxv4j0HVNYvLHXPiPqs+pHTbXVPs3/EntP8AQ9H/ANDr8r21KbxVrHiDxVfW9nbXGuXlxeNZ7JZDpcfkwxRaXFF5/nz+RB9mtrX/AKfB613cO5Vicnyyjg8VVjUxHt6tf3HzKlFygnCLW8VK8lorc9raXfk8UZths6zitjsLTlCm6VOk5TjGE6s4OpKVWUIxXJf2iiqcpSnCMUpW6/cEHibS4fE3hvVNWtbzxBpc2seG7/xAdBubWPU9Q8N6XLDf6pF4cubrzrH7RrljD9mtbq5tv+XzpX9gGj/8FGNsvxg8Ua9b6bdf2t+yX8P9E8A2PhK8i/sfQ/D+q/8ACbapqkus/b7ya+guIJ5dN026+zf6ZZ3lnZ2f2PGK/hf+HPjDUvCd1bw6tZvd6FYX/wBps7f91/aGjiT/AI/7WL/lgLef/j5utL/5c7zn6fXnh/8AaC1bwHa+LF+HV0+vaT428K/8IlcP4h1j+y/DfgvS47+bUPN0u1tYZr7+0L6+vbj/AIkP/b4bz/jzrl4lyKrnkMNVw1dU8RhVKCw9eU4UasK1ajKcoOMZclaMabs+WXNCMI2XLzPu4S4kw+QyxdDGYd1cLjeSc6tKlz1KVShSqwipxu5TouM03GNuWSm25RquC/o2/ak/bu1PxZqP7eWuaDqH9g+H/h7/AME3Phn8F1t9N1Swkjk8UfEjxv4wtdL0vS7nzoYP7QvtDvNNudUura2+2Wej1/KPHpN9qFnHpPgfTdN8YW+mwWem6PqWsaha6Nocf9n2sNrdSxWF1NDquuQfuf8ARbr7NaWfp1r6Gm8XXHjSbx1ceKPEGq+LI/iZqXhjW/GHhHT5JdH8D6xrfgu1mtfBF9rNrLNNfT2/g6C8uToNrdXP/L4f+Pyussfh34d/s+H7VaWcl1Im+eawjlt/3n/TKWT99+4xXfw7kc8ro14TnQlXxLw0qnsuZKDpYalSlFSklzXq+2qP3V8fLa0VKXm8T59DO8TQlCnOlSwyxcIOpypz9vja+IVopvljTo1KNHlbdpwlrraPkf7PPjDx18C/H154u8RXCWupSaJcaVb6fYfZbfT9P/0mK6/0WKI+f9o/c/8APz/9f2z9sL9ra++NX7PvijwDebF23nh/W/3cn7yS40vVIJYup7ed/Xivn/45eC5tF8E2+teGVuZrrQ9Yk1XUrdPNuNQvNCktfst/dCKL9/PBpXnW1zdfZsV8jrc614isL6xt7W8uluLC8mmdI5Tbx29vF9qllkupf3H2f9zXtTrVMPCdG9lVi1Jf4uW/5L8z5uMITkqu8o8rTf8ANHaX56ep6B+yT8SLz4RfEq48eafM9vfWNtZ2ccyf6yOO4l82Xn+WK+3v24v2rpP2gvhP4J8G3l9DptvB45j1W8ml837PJeW+g3kVgbrP+o/132f7T7Cvyj8L3VxDJdSWomk3Qx3Mnkxyyfu+f3v/AJGr62/Zl/ZV/aH/AG7/AIt+Cv2ev2evh54n8e+M9f1vS/7UvNL0S+v/AA38O/C+oanDo2p/Eb4i6pFD9h8OeD/Dv2z7Td3eo3Vn9r40fSPtl5eCsYYtUcPODny02pOonpdvlul/elbRWV7NJtuMXtHDuvVpxhFyqtrlt0a+227RjGPxTlOUYQgnKUkonlGj/CHxA2qaHDpdvqX9sXnmPo8Ph63v9U8QXJjiMssWjWugw3mqz3HkQ/afsttbf8eX6/0hfDf/AIIf/tZfDj9ji/8AiD43/ZK+IXiz4y/FrxZ4b1P4d+GvBklrrHjD4R/AjR9Am8aeLviV43l0HWYbj/hOfiNqd7pvgm18Bajc3niTR9Hs7z/im/7YBx/Up/wRp/4N8vhT/wAEr/GGufHLxd8Vr/8AaA/aO1vwxqvga18Rjw3Z+E/hv4L8L6hrEN1Je+CfCV9ceI9dsPGurabZWela54oufFj7tI+26LpGn2VhqOqNqH9FTzQxOkTyIry/LEu/94/GT6EnjIxn/Hz6s51/YqlKrh6VLFYbEyUatanVxX1arTxEKdZ4eph5woTr0oe3oJpYilB0MRGVCrVoz0qUKPJCnKpOvV9yVR0ZQhThy3kqSvRnKrK3J7Wq5cjXPTgnG9R/48nxG0vw54f0H/hG9N0tPDMOqXlvDrm/T7rT9ckjSWEy2F9FqkEOq/2hff6Nb/ZtS/0z7JXrnwR+HcvxM8GfGrx5b6poPgnwX8H7bwlqvizxlrf2k6PrHijxRazaX4S+HOg2tr/yHPiB44n0z/iV6Xbf8eej2d74l1j7Ho9mMf6E/wC39+wB8AviN4n1D9sbwz+y/wCE/ih+0T8ObSZfF0OleGrTW/F3xT8IwaNHbtaDwldk+H/G3i/S7CK2tPD41W1PiO60ZbrRtIvix0ezPsvwf/4Jd/sFeGfhN4D8JN+yL8Kbfw7p/iC++L8PhTxT4WXWba2+JnjzS7OTxT4i17QdW+0aRLq9uM6NplvdaabXwhpNoujeHLXR7IeUfXxuIq1siwea5TmGUPFYjH4nBV8BKpX+v4Gll+IpqvUq4epgp0+THQfssHioRxWHjNzrtYhYOrha/wBBi+D6GF4WyriSPEOErPNMzxuXV8opU41c5yyWCpYavKpj8PLFUIyhi6OIwn1OtQSoYmhVq1FV+s4TEYKn8Cf8G3Xw2+EY/YZtfiZp3wr+G2nfFuH4wfF3wb4i+K2k+G9Lfx94ptNO1uO50yHX/Fs8EmssLDSdXttFg0q3u7bSRY2VkUsEdrpm8i/4LQf8Ei/gL+0H+0l+zd+22fB/ifxHceBvjf8ABDwt+2R8O/DM2pyR+NvgN4v8UW/hfT/inoGmQGSeLxl8PvEcPhzTfGVx4atkvPEnwqu/Eo8Rlj4Z0l2/ol+DHwS+E/wD8N3HgL4MfDLwl8KPAq6je69D4W8D6Hp/h/w5/a+rymfVdTGn6dDBD/aF9IN+oXPLXRGW5yR6fJo1s+ovqGcNJY/YZV42S24lmmjicZ6xSSnGOx56mvnMS69aDk8PHB4jE1qsa3sant3h/rHtIyrQxFKnhJzjGM4yjUh7Cor8rVOV0edUqUoVJU51a1Sh9Vw9BWk6d4U40JO8YVa0aTbg5xhCo1SqtTi4q8Zfgh+y9/wRM8Dfsm/tnftd/tC+Bb/RrX4F/HP4V6BoXgH4H6K32Z/BXjzV9em1j4oQ299dWa2Vh4Ahn0LwldeAtCt7i8ubQatrOkXn2Gy8OaL9u+sv2QP2etT+HOr694v1L4daZ4Vv7zTNU0qx1LUPD+hW/jOPWdV8bzeNvGP9n6ha/bNUg8MeKvFZHi3/AEi6zeaxi8IG4Gvu/wCM+k+Obv4f+KLP4ba9beHPEx8OahD4dupZ4LeMa3IIzp+bm6imhhH7krzuOX4yMmvivxD+0r4k+Hnh3wfoPxy0xJvH6WVul94i8A2+oWfhzxBqkEcUcd1pmmXZOq/b4J2FxcWdtcCzurwEWZ+xYA/J/FnxbxHA/D8PD2tnFb+ys8yz/ZcLiq+JWKdacsZl8quDzOhXvg8dhsLWxFSdbM6ccBj6lbD0q1WvisNh3R4P7Nw2JxOAhQhTWMlzcleE6lOvUhKEafs8R76pOUIxjONuSKjXnRhKdL3Kf3/N4nSfTWvF1CHTba1VUvLlljknF2vBhhhl/cc9csGx2x28F/ac+Dvgn49fAD4jeEfGWijxhDfeHLvxL4e04W7S3r+M/DcMup+ErnT4YZrTz9Qt9cs7S3tdM+0AXeTZnGSR4B4u+On9i2v9oXFjbajcWsMd+lv/AKVcaxqEd5aiWXytG0uGacaxYwTf8vNr/od5/wAfle/fDT42+DvFek6XJ4b1LVZvDOnzaRFL/a+mt/alml7DtuY9TPkj7Zbw3mLm61QdDnHct+W8JeJOGzPNsHieMcweGlgquWYenDMfr/so5xOvSjDE0qWHqVssw6wmD9vWxGMw81HDY2nCpiMZKniHOl7WLyd4KEK1R1pUnUVOrPk5qUZ1Ye0hQp1qCqRqycE4uVopSlKOsoTifz2fFj/ggjc/tlfsSX/hzx549uP2ZviZ45t/DfjDwfosXgzS9bsPA+r6VNLq+iWHxZhl1HTtWuIfEIuLbT9d0vRbiz1bwjesmW1e7tbzSK6//gkj/wAEcfDfwg/YL8Mfs6ftmeGtG1z4qeAvjz8ZviJ4gvPAPiaLXNH8AeN/H4s/Bug6/wCCfE9nZ4vdRv8A4e2Oi6bqml3VteaP9l1e9tPEukPe2Z+x/wBKsXjbRdS1qHw1ZXEGq3E1lJe3EoT5LeISEWxltZccGXH7/oCoPXBrV8m0MMkFtp6Wy393HLcpb28UB89LmHzZpUi8rM58rm5xyeewFf07msI5m8HmlbGUa+Dy2tSzjCqhzcksZSw9aOCxFKeHqcsqMXX9pSUP3cqsYSbqOmrcFLL8PRVD22HUoU1OrCMpXUlVh7KlWnGo7zlToyxE4KUItV4UarXLCVOr+NfiP/gmb8NvB3wp/aK+C/ivw34S8WfCL4ueGNb8MDxj4h0bwveXGneD/EHhu80KKw8W2uoWUFxYeKPB3inU18S+Ftd8J4Os3VrYnGj6vaqT+iPwc8K+IvA3wQ+C3hPxG1quu+E/hb4D8Iak+nT+fbXF/wCDPDekaDf39tNFwdPvZ7E3Ft04YA+p9T8Y6NeeI5tGig1+40aaw1y3kvrOO0tdQs9f0iYYv9D1C2usww/aFK3OnXv/AB92eMgDca+Q/if+07pOheJ/GGhWSW1p4Q8JWkehxeJpp7WOzk1XTzNHqdjpgj5+0i+H2W5PbHGAOPyHjfwq4x4pzHjTOMhwefZ1GrhsDicNgcNj8LisK8RgMvhPFZlTeJngaeS4ShgcLicDLCYrF2x2Mr0MVgZzqzp4KrdXBWwyUnSoKCg6aXMnVqTqU6UFh4yi5urUc01TjKcPZwrVIqhCk1LwTw1/wRe/4J7W/jr43+NtO/ZO+FFw37Rmt67qnjvUPEmhWGp2/h2LxPosOl69pnwi0aWD7D8OLC+1WG68W/8AFN21ld/8JfrOr6x9s5shZfnRq/8AwamfsvD4b3Wi+G/2kfjnB8U4NY8QXelfEHxBYeDdb8Nz+HLj7UfC/hHxH8P00yxsLgaJB9gttT8U+G9T8N+IvEhS9ur1g96q2f8AQZ+zL8Sl+K/ghdfSDUNPbTrn7LHElnfWmm3Vv+9H7u5vohBf3EU8Nzb6p/Z2RZ3g25BZQfqdWJJzjb/D6n3/AJ19H4T4Sth8g/tSrj+IK2Nzx4fEVZZjmM5xoxwlGOGpUMLl9JwpZXgcHNVcPRy+q8RiKNNU4VcRKEaNOlxSjUoyqUa6hOpCvN1Y1qdOsvaJqM7OUHaMuX3lCSvaLb5oQkv8yL9r/wD4Ieftxfsb+FfGvxG8d/CTwr44+EXgTRJfEPjD4u/BnxJaa5oGh+H476W2m1S/8L6z/YPxGht7FYl1vVCvhLWbLw3oxF5eayRaXZr8Z7W78R+HtLh8cWPgvUfGHhvwx4z0+z1LxFc+ENT8UfCePWNIls/EUWg/EHXfsk3g/wCz65Yw232rwbrWo2f/AAkej3n2P7H9jvK/2QofB+mrqPi++uZ9U1e28bx2MOsaFrV7JqnhyCCz0s6PJBpmjXnmWdlBqVltGtQKpttUdVaUHkHxey/ZS+CXhHwp8SfCXwp+GXwz+GemfFqOH/hPdE0n4d+Gb7wJ4tkg0yz0IHxT8OZoIPC2twT6DaQaFeKLe0e80gJaXNzttbQx/qdHNs5jTvVwWFqOFbFpcuIjCv7GlXqU8JJUoYaGHq1cbRhRqt8+Ejged0HHESi5DpYbL6t1UqVsK3JW5YSq0GqijFzlP2rr04UVKpJxp0cXPENRjJ0lFN/5jP7X/wDwUy/aC/bv8JeGfC37THhb4I+PvFPhJRpfwP8AiP4M+HB+EfxD+FFpf/2dLruhWt94S1mbQvFfgDXLHT7f+0/AniTRPsdlq+kaR4j0bWNHvNHAvPi9biPS7dbfTNKu2jtYY4WmH7uOOP8A1Xmyyy/uIP3/APy9XP0zX9zf7cn/AAbKfsu+KfCd/wCKf2CPDdh8Afj8dY8OHQfC/iX4h+O7z9nK/wBGvtZs7Dx5ZT+Er7/hL9V8HzwaHNqXiPQR4QmB+2Wg0f7FaWN7us/iz4ff8G/fiH9lXxx8Rf2mbz9pfwj+0d4w/Z28B/GPxD4F/Z2i0rTNK8G+I/H+n+A9Tj8B3PizQdZ87SvENhol9d3Fzr/g7xILu1u7yys1vL4WRZWvGcTUcqwVStRy7GYjG+zm6GAwsIRlWqRpKpGkq85qlShWqSacmpVqUeac8NZRjPCeX1avLOFWFanyw1gm67cqsaXJ9XV3B3lHkcp/V+aXL9ZspSj/ACP+Lo7OxtftHiK6vJrhofl8N6Ve2sXmdT5Ut+Pr/wAu1fK/jTxlJq32fw7pN0ng3wzeP/p1rptvLHeXEccvMWqX3+vn8/m26fY69jM1v4ql1hta+wR+OtF1a8s/GOg2Els9noer/appb610a0sZprGx0e4vvtNroP2b/Q+tn/x50uj/ALP3xG+JUfhfTfC/wv8AHOveIPiJ4tvPBPgPSdN8P3VxeeMPGlnYf2zf+E9BuvOmgn1DStD/AOJlqn2q5+x2dnzeXlezia6rYSNaniIUIYnDU6lPEe0iotVoxcVRqNx572aTSXNa7UbK+HLHBV6kK1m6FapCpGp+6ivZVHGcp/vFaMYxc38VtIve59df8E59J8P+LPjTfeBfEEzWtj4g8DXFzatDLFHcfbPDesw3/lWsv/LC4+w3lyK/QD/gqF8H/CPgX9nrT/E3hvxRqWuyaf4t8Lp5OpXH2yS3t9Q86wuoYpf+2361+GPwJ+KWpfC/xlY30NwkeveE/wDhINKtbpJIvMuLeSKaxubW6liE0H2ixvofs11x1P5e2fHL9qzxb8WPCMng/XLp5LFprefyfM8w/aLaWKWL0/l9a5MGoUMmqYOuv30KdalBracVepTlHf3Zxd07997HRiefEZk8XBtU6lSMnC+sZS3jKVteXZOyT10R8v8Aw1jbWvi58MbOFN1xqXxA0OzaNP8AlpJLfwwxfn+tfu1+2J+z74s+MX7OOh2cPwgm0HxB8K31W80PxxZiSO41zR7z/kM6Nqnm/wCvt/3NtqVr3s7yvxL/AGdZLHRv2gPgnr2qDbp2k/EvS9bv2f8A1f2PQ/Ov5fN/78/j7iv6VvjV+3t8O9W+EfivSdJ1Sza6k0fWPsNulx+78y4tZf3UUXGPwp5LRpTwuKc5KKc4q1tdKVNaO9lvtbbroTmFSr7XB+ziv4eltOX9/W9b3St02ufy2/C/xRY2c1vJYzXMV5pri2md5JfM+0W8s0Uvm/8AXf8ArX6ofBXw38RPjJDN/wAKz+HPxA+I91p/2eHWIfBPg/WfFEdhJcRfurS/lsLOeCDz4Mf6Lc3NfjPp81noun315YL5N80V5frcSyf6PHcfvrqX7V/z3/8A11/qKf8ABIX4Y+AvhH+wr+zfY/DnQb3wfp/jL4XeF/HPihb+OK38SeIPGHizRbPXtd17XrqLM89xfT3n+i2tz/x52dcGdcZYzhTLaU8Nh8PiMTia3saUMW6yw9JU6cqs61SNCdGpUtyqkoKrS/jOfO+VRl62R5DQzvHTo16talRoUvbTdD2aqTblCnCClUhUjD3pc/N7Of8AD5eX3uaP+ef8cPhXq3wT8eTeH/F3gLxn4Hl1q3uNb0PSfEnhfWfDeofY47r7Lf2EVprMNnP9n0q+/wBGz/159a838P2+p+Ktc0vwv4U8M6lrWva1f6Xpum2d5rGl6Hp9xea5qv8AY2lRXV/qF5ZwWNvPfYtrq6ubn7HZ/wDH5efY8Gv79P8Aguz/AMEybr/goR+zdbeK/hSmpf8ADVP7OVtrvir4HW1tqEVlafEvSNYXTf8AhO/g9qpv8wHV/ENlptrc/DvU7m4szaeL7P8AsX7atn4kvCP83i+tfGtpd6lpviLQdQN3E9/4Z1uy1jR7rS9c0u4s7max1jw7qdjdQ+fpWsWN9Z3GnapbXFv9ss7yz+yXfrU8OcYLP8HOq8PQw2PpTaxlDDqpOhTjL4K1KNSU60adW0V7SpOt7KanGpVlaLe2f8P/ANiYuMITrVsJVTdGvWTc3OMW6tKpKEI0+ePK3CbVNV4Wkoxkpxh/bd/wTM/4NspfiGuj/GT9uOKw8b+FbTVdHvtM+Afwm8YaDF4H1WDzfMlv/HnxMtdYvNb8Y/YSbXUf+EX8N/8ACN6Pe/ZPsV5rF5XMf8FSv+CG+ofBDxlqXj79k+xvLfwHq1n/AGxN8I/FWoSx29neeZN/akXwq8b3X2yx/sfyPs1za+DfFtz/AKHxZ2WsdLQfykfBPxX8VPgjqugfEX4IfEf4xfCLxloOpWeo6Jq/gTxl4h0C80y/s5h5ckVjHqM2iTeTtA+zajp13aXgyPseCwP6P+O/+C0n/BYTxP4M0nwnrX7YWpNougw3lnJdXPw3+H6eJPEH2zyf9K8W39roM/8Abl/YwRfZrXU/s1l0/wCPPrn6an7eE5V41q0bxi/dpwqKa1vCap1KdGUdtFQje7atJRkvmZxnKy92f83NL2cX8KvGKUpR87TV2lfofH/iLw61tdXWm65p8MOoaXc3FneaXrdnFb6hpd5b/urq1lil/fwXH69fWvB/F3ibTND1CTT9PGm2txbw/wCkXEOZJI/Mx+6487tVfxJ8WPjp8Yta1LxJ468X6l428bapNJbap4u1jS7Cznt7O3i8q1tYrWws7OD/AEfzv9G/0auZs/g/53mTaxql/dSTPvZoZIrf95/01lIl8/0/zz01MXVxEIfV8Pebs5VJOMKSat8HO3Lld9uafJbR+9q1HldpSTStZXTtor62Xl9255L4w1T7ZrFtqCzTTSTW2ySR/wDlp5cv7ryh/Tp/KvvX4P8AgvTdP0OxvvsJjvLi2jmkZ/3mJJIf3v8Arf8AUfn69K9w/wCCb3/BLPxZ+39+0F4Y0iy0PxTafs6fDHxTo9/+0V8VLvUP7H0ez0C3mF/dfDTwprMsX/E8+J/ipYbe2tdB0T/TNH0n7XrGsf2P/odf28+Nv+CKv/BO/Wfh/H4b8N/A+5+F+sRw2cVn40+G/jDxHp/iTS5I8H7VLa6pqWsaTqoJ/wCPq11K2vP9D9K+FxnG+U8MZrOljcPiswxK5fbwy9Yeq8IuaM7VZV69Cn7acVGUKEZuo4Pmkoe6p/U5dwrmGdYSVelUpYSjoqE8TGty4ia/lVOnOUaK0/fOPLLm/dRqOM+T+Je8ul0XRb7VJLXzoNPs5LmaFJPL/dx/88hF/wBMPrXyr+1J8IdSn+G/wv8AjBolndXs2peKj4D1u6jt/wB5JqesSnWvB32qUf8ALfzvtWi2voOp4r9Vv22v2O/EXwD/AGxPCP7Gtv4qm8Qab8SprfxV4E8ZNHa6Zd6x8M47oxapL4jsI8W9jqEF99q026+zf6He/Y7zI613/wC2X+ztrfwc/Y++Jnh6z8Tadqo8I6Vo/wAUdAa1giFxZ6/4A13TfEWmXMXmg+eIreG6B4P22yzkGvscXmtHiDL8JjMqdSrhK2E+t03Upyo/vpQkoU8RCavTal7s1NP4o1IOdGVOpU+ZqYWrlmMrYTGqEa9Ks6dSNOoqqcFZucJR92cZRcZJp6XtK0ouK/LD9vDSVj8C/AvWrhXXWoNb1zw/qgfk/u/C+jy3X/bz/atnc9P+PP8AOvgu1ZvJX/c/n259a/QD9tbWF8UfCb4J6lZzW039oeJ9Y1uaNOP9I1DwRo8t1df88IPt2rTalc/ZbfjtX576a0nmNazK8czfOiv/AMtDn6c/hn9c1+R+EKxFLgfAUsTpUhmGd01C0oqlGGcY2Cp2lGMvckpLVI+649UP9ZsW6cXGMsNgJar45PB0r1Xt709ObTSyV3Yj1RVvNL1BNu5vsdwjL/sSRTeb/LP4/Q1/Rl4y8bN8SNQ+Edx4Xvtb8J6KvhLw/wDEXw3C9x/aH/CH/EjQ/hh4J8L/APCW6Nay/uPs88/2n7VoX/HnrGj3l5o95/x+Xlfzq3UM0fmbV+8kiMp/55//AF+K/cL4Q3w1Dwf8G7xsM0fwNs5t/H+suL/R7D97/wCAfX0zmvnvGbDpQ4Wzim508ZlWKzelhK8Xrh6mJwWErqtBO8VWjUyym6dTl5qfvJS5J1Iz+w8IKdHFYviDAYmlDEUcVgMu56NSMZU6kPrqoTpzjJPmjOnipwdnH3W+rTj71pd9/aUNnqQ0+HRmke803VNDs5PMs/DfizS4oZde8O2s3/QH8i8tvEng26/5fPB+saPx/wASe8ra8zda7SvzM/fPH/6/f9OlcPHfQ6Xqk2qTXD2+j31hZ6b4wkSOW4+x6Xpcs8ug+N4rX/lvrHgCe8uftX/QY8B6x4k0f/nzFdVcfaLXdZ3Sxw3lrcyW1wsNxFcW/meVDL5trdRfuL7T54Jra40u6tj/AKZZ3lnef8vlfg+b0KVelRzrB040sNjKjhjcPT5VSy/NnFVMRQppPlhhsXG2Ly5X9mqKxOEp1Jyy+ofvmVYithp1sjxtWdXE4KmqmBxFafNWzDKfaOGHxVSUlCVTF4a0cHmTUfaSrxw+NnTh/alJF6ORvOmbd/BJ34/z0NcfeyM32zHHz7P8P8/mK3IZt0kzbvu+Z8w/z+dcrNN+6uN3y7nkdv8AOPT9OK8WnC0nHTTqo23s9dX2+bfQ9ypK6206q++qt9xlyMyw2/y/x/e7f6rr27/jnpXP3cjeSnzfwR+v/wCv06+1bEzfu7fqoHmfXp/P/wCvzXO3Uy+Svylvn+VkH+efpXdT5rp8u+n4/j/XZnM5tOzSj6ddevp/n0NbezTW4b5pPJ+Yv+86/l/n8a5fVi7ah4fUL1vPEFz3/wCXfS/J/wDa1bzTK9xH/Eqw8smf+Wf8q5u4mWS+03d/y72GsTL/ANdJDZxe/wBM8e+elb0IctRu+ns6jfyp1F+PN+Hmc9WTcIpaa0r66pJxbbX/AG7or63eumv566b4J1j7Ou5YV3Q+cq/aP9ZzkeV/08d/06112l+G9es1XztHvZI2+dZIY/tEfl+8sX6Hrj9ft7wD8H4dekhkktbObS1jjS8km1CWOS38yXzYYrWWLPn+RABc+tn6+v0Zo/wt0OxhW+j0+2vr61TybG4m/eWdxJ9r/e2v2XzoYJ/3H+jfauf9M71/UVfIsBX5oyhWtpqqtpLbaXLpf/g9D+TsPxPmdKzX1d8unvUbt7PV83T06n5m3HgHxTqnh7WGsdHuZlj024mkX91HJbxR2v2rzZYpZof9H5+v8q1tN8L65deIPhmNNs5tSmh+Ht498tt5UlxbxyazDFFL5Xnef+/nm+zYr9cl8O6TNZ3FtqkOlR6XLbeS1v8AaLC5triR/wB1LYSy3Q8j7P5H+jfZftI/0zrWDo3gXwT4Nt2h0fwjonh261A26XcOm6fa29xJb/6qLzLW1hmvvs8HnY+y/wDHnZ0qOR4Oll+Oy6PtpUMe6cqknUhKUXDlUbS9iub3UltHvsFbiTMK+Y5fmc44ZV8vUlSioVuSanGEZKd8Q5fEnJOMl8TjLmvzHx/b+BfFyq0jeH9TjWNI3ZnjiPlxyf6r9753+ea0l8M+JLfYtxo+pWsmyPHnW+z/AFnH/Pf296+wNSsTpf2do28yz0/zHkhhk+zyPqPGYpZfJ8i408wf6T7fY/slcncQwyLGuoXP2y8uJriaGP8As+L7RPHHLzFa2EXnQfufO+0/arm5vLy8r5f/AIh5lcnf61juXTlalh7ra9n7DRN/l5H1sPEvOY6fVcvm1ZOM44ppQ6RssTG/Wz6W2PnOz0nWlaORtNv/ACV8ybc9nL+8jt8+bN5P+v8As9flDqniCbXNa16+uGRprrWNUutyf8tY5Lqbyv8APtnrX78zWt1qS+JoWs545GsNUgs18v8AeXEkel3nlZuv30H7if8A6efwr+c5XazZZG/5YvJDcf8AXMy+V6f89/8AOK/QfD3hvB8PVs3r0K1WtLFUcFRnKuqd6cYSxMv3bhGFueTi5Xv8EbW1Z8PxzxXjeJaWV4fEUqNGOFniqkI0HU5ak6kcNHmqKcpfBGMlHltrUle9rGH4yusw2tu0nDPcXKw4P/XKL8x+Havqj9jGzk/sv4maiquWa/8ADdmzJHL+6t4rXUbrzZZYv+m//wBavkPxBBLqWteTCu5YobdGZP8Aln5n72X9ev61+p37B/g+bT/hd4u8SSJJJHrnjz7NbWs3lfY5P+Eb0aHT5JZYpf8AX3EF9eXP/Ht+Fe1xjgVmuU47CSqzpQr1MJTc4KM5J08TRrONpWvzez5bqSte9nseLwrmMslzjB4+NCNd4aOJlGjOcoL97hquGcnUinJOHt+eytzcvLdXutL4iabdaj4A8cabJazbrnwxrHyvHL/y72ouv/aNflbdyeZbxn+Fk3j8/wDP/wBev6BfFVnZ6XoeuTeIprZdPt9B1yaS3hkij+z6X/Zd5c3Upl/5Yf64fnX88E+taLGtvayapYW7fdhhmvLWOfyz/qovK8717/T2ryeBsm/sPB5ph44ipiadbE0cRGU6fs7P2cqbSbqVHP3YQTfu2stHdnqca5/LiDF5diKmHp4arQwtTDuNPEe09pF1IVU1ejCS5ZTndSlP4tGtb958P9DuvFnibTfB9jd21nqHiJ5LPTZr/wA37H/aFvazXVray+V++/07yfs3057V9Ua98FdW8H+DW8E6Xq2jw+JPE2j2958QNcluPs8lxqH/AB9WHhywlmh/f+D9D6f6N/x+ax/xOL3/AJc68U/Z88B654y+KnhAaf4d8W6pp+k3n/CSXV1pXhvXrxJI9Hi+1WsUV/a6bNB+/vjbf8vPtmv1i174M/FbxVfW94fh/wCJ7Ozu0/fSal4buo/s8nfyjf8Ak+f7V9jOpl+Hc8Ri8bhcIowhBfWsTSwyjvFy560oR5lTtCP8t23fmSPmKGW5tjqlOjl2V5pjnJ86p4DL8XjakpO3LDlw1KpeL5XfpK2ux+Z3wp+DOm+A7XUrjxNq1nf69rHyXzaPqn+jW9nH/qrCK68jz/s88/8ApN39l/4/a9Mh0fTdQuofDrNZx6TqHmQyXVhby29xpf8Ay1i1CK65P2iCeG2/0q57etfU2ufsw/F6+kkt7HwX/Z8H3Ib7Uv7G0u4Ef/PXPnTfj+fpWdb/ALI/xebzN114est2Ub7X4gluI/3Y/wCeVrZ+39K+dxHHfAmVx5MRxVw3T5PiSzfB4mXTph51JN/9u+mlz7LA+FHifmlpYTgLiyqp25HVyPMMHHz/AHmNoYeC8ueUfK9zgPE3iDwY3hP7P4pkudcv10GTTbi60eT7Hql5cRx+V5sWqS4gguO2P5V96f8ABMH9uj4peH/HXgn4A+KPGV/qlx4iS40rwL8RPEl5oEdvpfhTT4ptUuvAfxVk1TydK1zT9KsYbm58L6rc2w+2Xn/En/0O8/4/PkXVP2F/ib4khht7r4jeBtFh2/vF/svxHf8Al57fuvscHbnj19awZv8Agmfql9b/AGfVv2hrHTY4pI3k/sTwZdSSR/8APLypbrXoZ/tH/Pr0xXwvEnij4WZth6mDxPE1CrOMZewq4LK82xdajVceWNanUo5bOnO32qanyVIc1OfNGTR+g8NeBHjXl2KpY7D8F4qnTl7P29DGZ3kGAjVpKScqNSFXNY1Kd2vdqezc6c1GpT5ZRP68Pil/wUt+AvwT8O+FdB8O+Lofjt8ZPiJeWem+BfAPw30OXxBr/iTXJL/7B/Y/hzwRoV5NY+HPIn/4+rnxJqVnZ2n+mXnrXqlv+0BDq9wun/EjxN4Mm+Ilro8mvap4Ds7y/wBYgt7ePyYrW1tdFsLyHz7j7d/xLftWpXNno/2zP/LnX82/7Hvwvt/2N7XxFdeBfEn/AAlPxC17StQ0Sx+J/iTwfYx+J/C9neS+bLFo1rLeXtvB/o+La6us/bLw8/bK+lLHwDH8SLGO31jXPE9hfXGsSeIfFvibRL2LS/EHjzxJJF5VhqniO/8AJmggt9D/AOPfQNB022/seys/+3y8r8yjxfwhOSwuW4zEVaSbalHLsfGeIk0k5VKWJw+G5YuUZR5HN3s7Sikor9jXhN4h0cO8Vj8qwmGcoQUqU86y2q8I4xS9nTr4evWqVGpc8pTjywnzRUXKSnJ+1f8ABSD9uS8+EPgGbWNavtLT4oa1cyeAP2ffhzpsl1eaHofijUNG834g/GTXrC1min1W3+HOh3ltolrx/wAhi8s9Hs9Ys7P7ZX85vgO1gs5Jta03Q7O+17XJZLzXPHXjO4l1zxxrl5cfvbq/u/K/4lWlW88//Hrpem4+x1+unir/AIJm/Bvx14mk8dfEb4ifH34ieKpLS3sE1TxP8SLWf7HpdvLLdWujWFta6DDDY6NBPKMWtsTZ/bP9MvP9MJze/wCGK/g74dt5I9PsfGcmz5IWufFt1ceXFH/qv+XOHp68V+icPeIvA3DuFarwzqvXqyjOtXo5Vh425EoU6VGNTHYdKjTivd5YrmnKpJpXSPzXNvA7xD4mxalTr8L0qEFyUKGJzrGKUVLkc51vq+V1pSq1ZK9Rty5fds9Xf8r9ek/suOG+1qRLXS5njS81q2t/tFno8kkvlQ3N/a8X0Gn+ef8Aj6tv9DszTfFXhnS77Rr7SvGCWDWeoWf2aPxHptx9njvLe4/dReZ0/wBI/wCfW6tv9M7V+g2sfs/fDf8A0rTbiz1X7L+8hkjm1y6kkkj/AOWsUuIR/o8/0rh7H9j34EzNHHJY+J5oYrnT7wWb+NdZ+xxyaXFNFYS/Zf33ni3hm+zdz/x5/wDPnXq1PHrgarVdLDYDiivtFwqZZgoL3bWfvZt7zlrdKyVlvzK0P6JHibGMKlXM+CKK92UbZvnDck7Ws/8AV5W2Xf79D+d3xtpOqeCPHPiTwnHcXOqR6LqXk2OpIPM/tDT5IobqwuppIv3H2jyJv9K5/wCPyvrD9nH9nG41a4t/il8UNNSz8IQz2954R8K3kXmXnjzWPN80arqlrJ/x7+F9Dn+n/CR6xg5Nnaf6Z+xVr/wT5/Zr1jXpPEbeBfFt9rVx/rJJvFmsyafJIc+XLFYy/uP8ivdLr9k/wfHC141nr0clrbRp5t54kuriOzs7OLMX+t/cQW8EEP8A9bvXPS8WeFvaSnUwGfwpKT5ISweAvbRx5rZq5OO94xi733jZN81b6NHHlJU6X9s8HTrNJPkzHOuV1HZv3p8Pxjd+cl5eX5r+Kte1j7M0eh6TDNcTfPJcXlx9n0+PH/P1LFDNfX3/AF6W3tXzLr3h34gatdtcarqCXCr88dvY2/2Ozj/65Red58//AF9XN1/hX65ax+z74Vm2yQtetZsm+Ff7Ult5Lj/prFF5Pn/Zyf8Aj1+05N5muDk/Zv8ACbSM23xJuL7P3OuHYR0/5a2f+frmuip4z8GS95xz1QaUny4PB21ttD+0lKNtryirra1ma0/os+KLjenU4TqPmaTjmmaTS+G9pLIeV30+Fy87aX/J2P8AtDw7cNJqGkXVxIqbF2R/u/L/AOmkv4fpzXTaDq3iLxRqFtZ6X4ZfRdF0tN9/q80csl5eP/yysNLtYjD5/n1+okf7MPhO4/eN/wAJUg/i/wCJhayen/LKW0+n4/rj+Lf2IvCfj7TW0OT4ifFHwjpc0UkN9D4c/wCEcjuNUR/+XXUL+6s/POnjGbq1tvsf2ysn40cC04OpUxOaU42vd5fFvSz0ccW7b63XY2p/RS8X6suShgcgr1NOX2edTha9t/b4Gja/S9vhZ+Jvxo+IVvrUMng/Rby2u9Lt7/7f4m1S2kiuLPVNUs5f9F0uwuov9dp+hz/8fV1bf8fmsc/8udfOdrrH2Rs28n2eZfkhvE/dyeZ/yy87/p4h/D9K/cS8/wCCRvwfk2x2vxi+MFiqpsATw/4NuE/79eTDBVvTv+CNPwpvrO5U/HT4o/aLry0juJ/B/hiQWnl/6qSKOGeA88jg/SsML4w8FZjWSwuMzGdTlb5nk+Y8q2t8OHla/nbbTZnLmf0X/F/JaH1jHZRk8aPOo80OI8pbvK1vdqYinff7Ll8tL/jtpt9pv2GJvMjS1ZNiJ/rLi4uJP+XW1ii/1/2im2/h/VvtX9oaLqF5obM/zND/AKuOT/llFLLL/oOeOT/pnrX7FQ/8Eb/DulT28mm/tJ+L1W3yhjufhfo9xJ5Z/wBbFFL/AGyPI87/AJeR065z2z9e/wCCbLeH90i/HBJnX5IpLnwHL5kcZ/59s6xNBBcf9PQtvyr2JeJPB9OPtMTjsXQjHdzyfOZWvbaVHL6vL58yjfRK7ul83T8CfE2rU9jhchweJqu1oUeIeHby0Vre0zWHN8r+drq/wj8PYfiZqEkNjdax4Sms4/LRm1Lw/wDZ7yPrj97o0tn5/n+n2b9a+tNP0TW9P0+3a6awmVvuw2FxdRiOSP8A13lG/wDO/wDSntXonh39k+bwvart+ImiX11v37ptHv7fzB/z1lllmmnvrif/AJ+bn616FJ8J76WNo4/EGiv5n3m8u6SXzP8AP9K1wvi14b2jzcTwhPvUyzPqdtY7+0yiPpZN+dtL1X+jv41wenA+Jnb/AJ9Zxw3VvqtuXOenmlfpfU+Y/E0yw2MeoJvjutHufOkt3j8q48vyvKv7WWL/AJYefBNc+v6V8jzXWn6TrGuaPcxww29xNqFtbwwx/Z7OS31C1PlXUUv+o+zzwzfaf+nP8a/STxN+z/4y8RXi3lh4k8NxM37mb7T9q/eW/leVHF+6/wCm/P1rz/xZ/wAE3f2h7/4d/wDCf6p4b1JfhHrkN5omj/Ey20PX4/CEeuR3U8NrLF4iltJrH7RZT/adNuvtP+h3h/0Otn4lcC4/231TiXCV3h6U8XXlDDZi1h8PSUfbYnEWwf8As9CCceerV5KcOstVbgxHgh4r4H2DxvBOYYd4rEU8JhI1cfkcJ4rF1YynTwuGpvNfaYjFVYwm6OGoQqVqnLLkpycXb8vvhx8Odb1L47X/AMKvhDpHiv4q63eNd6N4M0TSdBY+MfFYtbbS7maGLw/beeq6jB9puPtFnA+9rLdeqGCOV/0h/wDg2j/4J0/Fn9jL4B/Gr4uftHfDHxj8Kvj1+0B4w0Ky/wCEI8VXmgqNC+EHgfRxd+A0bRNLmu7/AELxRf654s8Zt4xttbuRdi5s9KtLWzjs7Jb2++Mv+CCf/BDr4UfA5fhT+2f8f7nX/jP+0X4itoPi34P1WZdU0H4c/BvQoNQn0bwZLoaX0Nt4j8SfFjVL20udS8Qat4h1GPR7Twytn4csfDV1afbdZvP7KoLqE8284ukjXynEf+kOz+skg64HXnvk4HFe3h8XTzLCwxWH5pYOvKjXwdaLnTjVoypU60JypSjGXLOFenUhzte7NzlFOVofC4rA4vLK2KwmJoyp4qjPEZfi6coe/hq2HrU6eJoVZpv2eIhUpTw1aMoxik6ipVKsJOSsQXsMzMu7a6MFeNyUdDj0yfMHpgkde/FStInm7WX7qeYXZP3aY77zxuznoc4zzTfIicASDeVcyIZfn2v7Z6e3P51y3i221HUPD+uWlnK9vNfaXqllC7p5v2c3FnNaxXH7oS8Bv9IHA/E5ropxjOrThKSpQnNRlUk7qEftStZX5YqUrXV7WujhhCnVqRjGSpqWjdSXuxbtb3rXfXRpdPeaPKtL+J/hGf42+JPAem6xDca1Z6VYXmq2IBRIpBFEJY4pGPkzTw2xtrm6FuQQDtb5gRWR4Z+B2qeHP2k/H/xrsfiv4/k8K+OPB+i6PqPwb1HUhqHgS38a2E0EUnjfRor3z7zSbltCs7PT20rTZ7XTzeXN7fbP9LVR+G3hnxt8ZPDnjjQfiZYalpVw3g1JLa8utS+1af8A8JAPB/2zT7nRrX7V+/8A7PvfDl7b/wDHz0/4/OlfYfw9/wCCpvwki8fajH8VbpPhX4Mj0PUPEV14u8Z65pWn6XpcWl6D5n2HVDdTWcGlf21fWh03QdUurkjxJrH2S0swby8xXkcScV+HWS8b1eD+GeM8Jm0auXZUszxNL38P/bmMdZzwcakac1TpZpicJhsTgoyk6kHOjSqVebEUpP3cox+Zwo5hTwNX6pDN8BmHD1ehOlQxU8xw+ElgMylgvZzpVuXFKVPB4ilXoRjVhX5Hh8RFylJftKvPzdz/AJ/pVdZ12B3XyiQzFH/1nydfbIHJ69frXwT8D9G/aE+I2j6j8UPi38QPE2gWXxDjg8a+Gfg94HuNL00+AvCuoWP2nw74d/4SSKH7dqniBdEu9NuNdubW5FjceIlu1AVVUD6h8L+ONEg8K6ZcyatrGpWUViiWmreJkig1zVUt9QbRpGv/AC4LSGe+gnj8q6uLeDF0f9LHUk9WElXxsKGIeGxGEhOLlCjifYQxD56kY0p1aCnUnQVWl+8pwnOnWjGry4ijSrQlTh58srqtqFBvFVfa06M6dGN+WrU5kqcZXftJc8JxjypRnytxb1t81/Hb9vH4KfCTxLf/AAyg0X4hfFP4mabdaQviDwB4A8G6xdaj4X0PVrb+0P8AhL9e1nWYNG8O2Ph+20rOoi7ttauru6AUWdm5LFfFfijN43+LXhvR/C3w38YaPYeKPHy6xqfw0v8A/hH9BuNUuU8PaNNqd9oV3ql/9sGhkibTLi61+2+x3v2LAs8/axj77v28LXk41q50Ow1BdYs4FN9d6fBqj3FncRS2sdtLL5MxNiITODbXPB3ZwO3n/hX4LfC74da7B4x8CeG7fRIVh8Q/2ZZWY26Boeqa3bQ/2lc6PaZxYQ6tBZeRc2ttiz/59EXofheJuE8Lxa8Xlmf0MqxVGf1nA4bGUMPSoZvw/TxUvYLF4bE4r61/tOsZfWKLhTo4iFOr9XjCU4v0qVGOFoOnVwNNwn7Tkq4inUnVhiKMJy9n7f2vsqfs6tNRq0qeFpSrYd1qc6k5qlF/hf8ADT/glv8At5/Drxv8Sfi/qfxg8JeJr+6+Gnim98BfDlvEeqmQ/GS80yG40GWTU7mGz0vTNIOoWX9l64BqJtJGvP7WQE2eK/Pdv+Chf/BTL9m3T/in4w+Pfjfwl4c8P/DTxlp/hP40/suXHwp0K8+MX7PfhrVYoIrX4g+EvHmizy2HxO+HxsdR0zWxr2naje3dnZ3f23R/tn2O8s6/tNtdc064sY9SfVLcQNKXjZZ40jCSEYtpc8cenPbHcV8V/tCfs9/AL9ozxv8ADbXvH3hjTtSuRY+K/AF34ktPNF/4j+G/ijTPtOq+Dr6/tR9i1zwTq17813aXRuxo75vLM2X26+N38vmfglhsrwsK3C05PG4evhKdfC8QTp4nA4rBUXGnWwtGc6EJYXERp+yqwxVKliKnPh7Om5V6kpbZrnWe5/Rq0cbHD1sTRlRlQxE8FRlLD0cJTnzZfSlVhJ0qFWmouc43rSqUKTnKpTcqM/if/gnp8bPHXxW8c+G/D03hrxn/AGBoXwy0vV7nxzrGh69plx4pHiG2hv8AR/G+oSa9Z2c89t4jt7y21LTBb3N4Oua/a+5uL1oTCAi3TBNs6pn95+fT6/TuRXP+C/AWieCfCvh/wb4Ssh4f8K+ENHsvC3hbQin2iLRPDGj20OmWGj2sks0s/wDZ9vYWdvbabALgm1s0tEIzGFHK/Fvx4fhP4PsvE8wl1g6dqlnJqVpbeVFe6joMcuNaubazjAM82l2Mv9pfZrb7wtDxjOfv5TwvBHDeKzHN8a8Xl+R5fXxuYYmWF5/q+U5bSjUaWGwqqVsRTy7B0pe/ThUrVYxlJwcrRfBRlLF1cLhYexr1aV6dJSpezm+RVKrnWnTj7CMYxjaq3KKtyybcFKUNPx9D4q8P/Drxnq3gXQJvF/xAs/DGs3/hLQE1HT9MfW/FUWm3v9jWP2/VJ4dKsln1CW2U3WoXH2Mcl9oGa/C3SPg18bPFP7P914i0z4deLPEvxI0PVI18ReAVsLTy7f4h3OqTXPiLTIotUvLPSpp/Dk9nbDU9UttS+x3t5ef8+lfuPL8XPB6eBj4+0LxFp/jbRJZNI+x3vh64h1CN5/El1b2miW1z9gF21nE095ai4O37VarhntONh8D+Efxe8b+Otvh3xtDpvhjVvCJkX4hXXh9LuPQbzxJJfzXcumeHbjU4oL2fSLHH2cXfBvPshAZQa+Z4s8S+LeGMPl+acAcQ5z7DGUZYrFYPhnC5dmazSNSjiYZZUqZoqs5ZfgJPMMXiMRjqUsXhaWEwcsUo0q+HoYgxqYSpmE4UMVLESn9Yv7PD08Sqk6VSjyyqzprDznQo4aEUqUnPCucsVLlVfl/d/FH7Ov7V37THgX4sfs+/s8/FX9njxt4Tg+LVvrr6zB4xvfDmoeM/h/qVrFe3Mtzo9z4SvdS8N+MfAFtPD9p1TUtP1L7Z4a0m7BvbIYBH61fEXxlf+AfCcHiu+jRrLS5Jz4lktbO61EWlpLpepR2F1DbWkQvZ4YvEP9iQXIggLfY7q6fb8hI86+If7QHwa8G+FNV8farrNhr8HgpJ76zOhWE/iTWYr258vTzDpVrokd3qoaf7Z9l1I2lt8uktem8zYrdCmfDv4u3Pxbt3km0e/wDAk2maTBqOp241ex1KdbrULi9t7S2sZobdtK1zR9T0sf2haarblLu0utqm0tZAN3JwnxHgcdDMcuwnGq4pzWtXqvB1MPyYuWHnKnSfLicRSrToYyvLGQxGInWxeNp1sbSnXr+1VC8qHEsDOkqcKdGVKnZUqVOq1KonSjCLgv8Al7UspLmlOLkp3i5z5Uz1z4e+KJfE/hbw/e6q1lZ+KToujP4u0K3nt5p/D3ia60mzv9W0W+t4Zpnsbqyubsg2ty32lU2sw656nVtY07RLN77U7lLW1jZU3vtG6STJjijz1kbsB1OenUfPng3w74B+F8C+EPDlinh+38V6nqGqPqepanLf65rHiqXN1davqOqahPNfarq+M3N1n/l0GcCzXA29Vh1PxHrM1tqsTJDomnR3cbR/u7e8vJZJrWSKO1kxjEsIuVuemNoBxjP6Vha88NQoUcw/3ujOOGxqg51Ie2jCnJ2qVKVBzlOlUpVqkoU1SSlOdJuCin6mFyiDrUpZhW+rYdP2mJ9nyym4u0YRofFBSnUcacl+8VDmjO1RTTfl/wC1z+0z8LfgT8ENY+IvinxRBpeppZ6jeeAdOhuP+J94h8R6M8RFtounxiaa9+w+cs+qBYCtrZMxOGwD+cHhe20nxpb+IbzxlqU3jLXPi18PLew1jSbjS/M8L2/h/wAeaPLa6oLqW18meD/iVaxdf8TS5/0y8I7V9q/GL4F/Df4i638K/FHxP0GTxTq3wKvvHWt+B/D51L7P4cjv/Gnh6HT9YvvGWmRBZdct7exsydLtbn/QxeZN4pzg/CvxAWW3tfFVh8J9NvtK0/xzO9vr2sTXclnHb2FvLDYWnhj4f3XkzaHpUA837R9q1u4s7MWYH2Pjp9Pw/nuScMZ1isXn3DWMzXD1q1OOCxmVy+sUMHl1OOTyzDOuL6dZUMJl2DymVTGUMreJq+0zPFYuFHD0KNfD4fErxOKMlxWBxWHrYPETVDEV69PAvDyqVcZXowqQaqcuGarQiozhyzj7P20pVIWtRUn/ADmf8Faf2BfhV8GvhD+zxcfsh/BnU9L+C/wL8Q+OPBXjm6+F3h7VPFllrl5e6PZ6z/wtT4ma1YaFrHiueAeR/Zt3qviTWxo1neEY+x816T/wTb0z4heHf2af+Fft+yT4hsfiV4yT4gfFT9n/APam+ItvJb/A+8+GfxQ0aHwl4t1mw8R2E00/hzUdK0o3Ntqlrp3+meMPB95/x5/bLP7ZX9KXwk+K2r/D7xh8Jvh7rU9l8L/hn4b0dtP1Kx0q5mFnq+t+XLFbXXiGaQXsOtwa5PKWubq4ufshYLeWbD7YCv4u/wDBVLwn+z3a2XxdS7k+PHwE+HcPjC3uPE/w6+EWkaVoB1X4hxwQRa1d/BPT9YurLwp4i8AfFSzvNF8SeKNKn03Sbu08R6Nq96LTPiW9ul+Sz7jThfjHF4zL8kyR8OQlmNGs8ur4epRxuEc80xGDhmdRqlgsujmua4NRx+aYHLqteOUV80nga051KFf2PnYjI6FXJMNiMHjHjMRHE0aeMwtSjWjjKWMr4rERjRngp4iljsRipVIzqzpyVali8LOdXmoSVKOI/hh+OXwhk+Hvxy8feBfBesaJ8Sm8M6/4k0qHxt4G0u60fwf40TS7rzb/AFTwja6p5M/9j+f9ptrX7Tc/bLz7HXmcPhXxk3manfaTc6fp+m+Xc3k2oSRR9JfKiiji87z57j/Pevtr4geE9cha31Dw/pt/JZ6Tf3r2dxPpmoR3l7p7yzWthEbW1hmgt9Q8j7N9qtf+PP7ZXkvjS88a6hoc2kw+A9VmvGubdPtFh4L1n+0LyTzfNjikuYrP9/j/AK9h/Svdx8sNh7xWLou1KKvzUo35YwjtFqMe+i6nq4bLsynGmpYDMHKMoqU/qNVObWspNRhGK5m3JRioxjdqMVrfwG31qTTtS0+8hk2tapeJH/yz/eXEXleb/wB+DSah4ovWha3W4mG9JEZfM/1nmf5/z1r6F+H/AMB9YbS9QvPGXgvxJeaZrkP2PT7x9H1C3jt9Y0+WG6v4rCWGE30GoWME1t9qu/s32P8A0z/l87eX/En4N3Oj6XdHSPC3xEv9Sl1S1sbXboviC6SNDMGuZZjZ6Spx5NuMqfldco4ZSynhw2MoU6cXGvRjGTclerBX1tzL3nva9tbaavc6qmXZjKdlgca+WMY/7rV+JLVe6pf1t5fPOpXkcel6tbhvMk/s3UEjRE8w/vLWaL97X+tx+yb4bvvDf7P/AMDfBf2VLfUPCvwB+Bz3Ek0n2eST7Z8OdButUluohzBcQT/abb/tzIr/AC8v2IP2c9U+MX7Xv7O/wo8dabq/gzwL4t+L3g8+NfFXivw/qmj6BpPhDQNQHifxRJfX+r2dnY5n0nQrrT7b7XdAXl5dEHkgH/QR/bA/aK1C1+H/AOyz8E/hn8RtNtfiR+3b+0P4D8E65qnh7WdLjj+Df7OfhvxbZ+LfG+vXOp6XeeT4PuNV8D6FbeEtL/tG5tLT7Z4kvPevieNatPM6+V4ChVi+SFevUcKlOVOCnKnTSdRS5XyRpTqVGpPkS5bScoKX3XBeXYvBxx2NxWExFGEvZUIe2wlfn5I03iK1SMOVSUeVqMeZR558kY+9JJfr1JfSXFrcWf2qGa4uPMvNO0/zNj3FnbxGW683/p3n/wBG+1Z7V/E//wAF+/2NPAjePfh1+3t8PfB00eg/GnXvE/wv/aLvtBu9Qi0Kf4xeE7n7L4N+IGs29gYbfRdR+I3heyu9F17VAFs/Efi/w4t4QNY1m7vr7+j9vjDonjL/AIKvfEPw94d8WWi/B79mX9iKfUfFlre+KtL0zw/rPjj4sfEzTfFEU2j6pc3v2HxFqHgHwb4O/wCJnbaddXl3ZnWRZ9flP8x/h39rGz8afAj9vP8AZY+Ocvj/AEf4bftV698Sfip8AvHF54e8R+NfD/wb+M+l67eeN/BvhK+sIoptV0LwR8U9Q0e107S9Vt7U2fhvxh4kN3iztL3I8XhHBZlgMxhmtKF8LhKdCpi4V6jjCvgcVXjhq6pOTpe3qUaX+2unR9rOHs6UvN/VcQYfC4/LpYHE0q8MTi7xw9Slh01Rx1OhHFUFXalP2EJ3jQdWr7NP2s6ceZtyj+BVjp9j4Wvv7L0241SOxuoftlr5159s0+4j83975sUv7+Cexn5/Q9DWfqU/iHVryTT9L1q5sbWSHfNqV3Ha28clvHj97p+lxf8ALvB/0E9SuT/hc8VeHPipNpVlqFj8N/H63Vr9jv2t08F69cXH7zyfNtf3Wmj/AEiDH+lVzdr4d+Jn777R8MfiXazXU32m6mm8B+LZPtH2OLzR5sv9j/8ALCDP2b/lzs/1r95lmmXwlKhHGYeMFZJLE4dPkdrxT9p7ve9nfsfiKyvNH708sxzcu+CxPdfzU1ffpft1Re0/SbfwysjaD4g1u2urz/kJapeC11CXXLiL/lrFpd1DNBB/0619H/sm/Aj4oftkftM/Bz9mXwFqmrWurfEvxVZ2niDXofsyf8Ih8O9Glg1T4g+NtTkhsvJ0qDQ/DkNybX/qMXej2Y5OD8q3CeJrPd9o8KeLbXfx51z4Y8RxySR/9dpdO/z04r9Pf+Cev7evw2/4J/8Aw3+NvxE8IfDD4kePv25Pi5FcfCzwhfeINEGh/BT4IfB+zFpqdr4nsbryD4k8VfEfxH4jNzdXVqLaytNHtNGs9GBxeXoPmZpmVeOX1YZNKnUx1ZexwcI4h+zp1qllGvU998tOh/Flpq4xg2ouSO7LcodTMKKzWFbA4OnJV8bWrUqtPkoUbSlFRcVKc5vkhGlSUqsrtwhNpRf93H7MGl/Af4fX3iD9mH9mvQvDfhj4c/sq6hofg1vBOiXg1C48P+JNZ0yHWr7WPHk0gF7qvi/xTBN/wkep6pqVzeXus/a/thzaEk/Zl5qzXU1xa+W6/ZZo903l+XnzP8//AFq/ll/4Ji/GLxh+yn/wRt/bE/4KBeJrq9+I3xk+J3xm+KnjZrz4i3l/HrHxQ+JGn3Wg/DTwJFqms/ub7+z/AO3Lu5ufsum/Y/8AiT2d5Z2VfvP+zj+0DqPjz9nD9ib4yeMrO2s779q7QfDemwfZvtUlnqnxM8WeA9d8R/8ACOeG5br9/ODqvhXW/wCy7a4zef2PZ/6ZyDX89ZnkeNo18bUdapVpYfMMRgp4yVKpJVcThaHtMZNzervUqzqczlLncnJcvPyn7Ng8zy+pRoQpxhRdfDUq9HCVa3LWWGmoOjf92qSnGnSUaiTXLU54ttU5TP5UP+C9aah8Bv8Agrj+zx+0LNJJceD/AIhfsuWWn+H5vtBe3t9Y+H+sa/4Y8UWEQ879zcW819pmpXNsD1vbT1OPgP4+/tyWfxk+GvjLwrIv7nVPBPiTR2Z7j95JHcaDexf5/Pmv0t/4OnrGRNH/AGGfEa280d14W8f/ALRngDxRqdzFFb3EfiS80vwHr39l3UX7nyPPsfs1z9l7fU4r+TqPWGXTdSXzkbGlap/y0/56WE0X4j99+A6V+0cIZhX/ANX8BSkotx56EpdV7CtKlFLT3ZezjCUo625kuZ2u/wAd4pwlGGeYucdVUp0cRDp/FpU5NrV3Um21PS+vuqx9SfGSPVpP2dvhLqmpXVt9nsbzwulvbpp/2e4ikvPCX2X97dfbJvPxBD/z7V8lyLfXCqtvHDbqvzxyPH5kkj/+0P8AI5Nfbnxcjab9k3wHNcK80T3PwrSO6/1kf2y80WaL/Wxed08m5696+J7GaZY2t922SP5F/wCmnT97muHgaV8rx0ElCNPP80hGNNckUpzo4nbXrXtb172Xscbx5c1wUnJzlVyLKak5OcptyVKdHeTf2aUe34B9puo7WRdQjdfLSTZIn/LT/P8AhX7WfBnw74kt/hr8Mbq1vNMjuE+GOh6J5N5pd1JHHpdxLDrNr5XlalD/AMTCCeb/AEr+Xp+J+pLcfY7qW6lTzGt7mG1t0/5aSSReV/n/ADn9/wDw60mk+G/C9jFJBH/ZvhXw3YbRJF/y56NZRd/0r4nxoxU6eXZFh48kpVsbjaqVSEZxcKFGhTvaS0blio7dlvdNfbeDGGU8wz3EtzSpYPAUrwqVKdniK9Spr7OUeb3cLKyfytrezHZ+MrWZ5luvD0jMmNv9j3+zH/gyq1Zr4g/sO30mObR49Y8M21xNppm0+/k0/VPAdv8AvpdGiiivBPBrHw5nvPtNr9quf9M8B3v/AFJ9ai6jcSR7l2Muz737r/P+emaqtfX0ckN1ZzJa32nXdvf2N1/rI7fUIB+6lli/5b2/765ttUtf+XzSLy8s/wDl8r8Iy7MadCpUw+NpYepl+NpqhjoQowjNRU4yoYukoKPNiMDW5cVRi2vack6DkqNatGf7jmmX1cRSpYjB1KkcywE3iMBOpWkoTn7Nxr4KtJ35cLmGHVTDVnaXsXKli4xlUwlK1FV8ZRq8azeGJN33v9A1mP8A1h4/5iVcvfQ+NYNyf8UlIreZjFtr3/LTj/n8r0G6mhaG31Kwt3s9L1L7Qkdi9x9oGj6hZ/8AIZ8Ly3X/AC2/srzba50G6/5fPDd5o951+2CuW1C6wy7WRvrJ/n/IrPE0K2AxdXC1oYWcqcoOFWlTpujXoVIxqYfE0Z04U+ejiaM4V6Umn+7qR+GTlGPRgcTQzHB0sVRli4RqJqdOrUlCrh69N+yxGFrwjbkxGFrQnRrwbfJUg+VuLjOXHTL46Zo9i+D/ANykhG+LxFx5n/b39f8AIrGk07x0yr83gzcr72ZI/EfP/TL/AF3fr27V2hmZvutu3fdXzP8AWf8A6/bFNZrxY/O/fLD9xpM/uz/yy4l6/j3qVWuk1Rwln/06irxfKmvdUd9N72ttY1dJRdlLEOXZu/4/e/6RyPk+OvMaTb4M+ZNir5fiP/v7/rvy45/PGa+n+LmaG4abwx9oS2ns/Lhj1mS3kjklhl8797N5/wBo/c/Zq7Sa5uPL3Rybd3z7vM/z1/pVHdcRx7km/dt86xp5X+fr+ddFOo1qoUeZ2S5Y7reSvfrpZ+Rg6VvilV8v3mzVrPbp/T0PrjQtPks7NbWO2sLOxR/9FtZrPzLe8t7f/W/arXyYZ4Lf7R9m+y/Zv+vyuo23iyM0dvdKs15bu1x+9uLcmSWGG1/dReTB9og/5dP+fOuy0zw7datcboprnUt0O2SHTbKK8njjMXm/vZbWH7dYXE//AD64r1Tw/wDAHx9q0fl6J4N8Q2cNw/mw694nvItHs5DJ/wAfcv2CWb7d/qJfs1rm2+2fyr+rK+Kw+GTdevRopdalWFO228JyjUW/SEvOx/IWDy/H49r6hgcbi7tuTw+FrVIa2v8AvYx9mnG2l5K93/Lr87yQszSGS4s7iRTvjbzI47OP97N/qpfJmggt54P9Juv7NtvtlWEt7xZEj+yvJqk0KbriGz/0OPT7fyfNikh/fT2PvdXPHevtbw7+xv4kmt4/7c8VaDo6+dJM1vYW9/rEkfmdIov+POx/cQf8evuPY17Zon7Hvw5tbVbXW9a8W+II2ffJDDeWnhuOT975vE2lwzX32ft9l+0/6XXiV+KMlwyssROtLth6Upp2ttOfs4/e1f5n1WB8O+LMbySlgKeEptJOWMr06drWXvU6DxNeMnryxlRjzWk4vSR+WN1ZyX7LdapdfYWX9zHY2155lxJB5k115l/dXX/EqsP+ff8A0a5vP+XPitbQ/CNxqE8aW9jeNAySTLb2FvdXkklx/wAsvNli02aef/U/8fVz9j4P+h1+yvh/4C/B/wAOqP7L+HPhiNoFHl3GpW8uuXH/AD1Hmy6pNNBj/t2r0ltPt7GFY9PhtrGP/nnptna2cfB/6dYYTXjV+OcLGLVHCVJtbe3xEVtbTloqpFr/ALiO2h9Zg/CLHzlD65muHp/zRw2FnV6R+GdSvRjLzvTlby+1+IN74L8VQ3VvJb+HdS03Td8e+a90u6s47iPyvKuoorCXyZ//AAJH/XnX40w/8E5/2htSvL6TVm8AeE7Oa/1R4/7Q8SS6vcfY7i/mltf9F0azm/5YfZv9G+0/hX9cvxE8JwalE07f67+Kab955n+HXpz14r5k1TwOu51Mnyr/ABf6r/P6dRXx+O8V+I8B7aOUUsuwqrcsJVKuFxGLqRXTk9riKlLXmlfnou9la2t/17hnwC4CxlKjVz7FZzj50pOcqP1yjgsO+blvC2Ew0MUqbUVpHFRen2rs/n78M/8ABMfUoo1XxR8XLbzmbdI3hjwfL/2y/wBK17UfU9Ps1fdXw7+Bml/DHwT4Z8B6NeXNxY+G7OS2OpXkkMep65eT3U11dapqn2CHyPtF9PN9p/0avuyTwjb2+7dbpJJ/F/y0/wA/4Drg1mtou2Td9lhVVzt/dxf5z1P6V+d5x4m+IGOtTr8Q4mNKLvCNGhgMEov3dIPD4ejJ+7zJtuTTafu6qX7Pkngx4OZdy1MPwXl2Intz5hXzPNpS0Vr0sxx+Iou13f8Adq/XZW8K0P4H+CfFUd1o/ibwnYeINH1b9zrGl39vdXGl6pbyS+bLFfxSzf8AHvP5NfX/AIF+DXwP8A2sMfhX4M/CjQWjSPbcWfw78JfbP/Aq60eafPH/AD81z+g6fJZsrbX2t3/ey/vOK9MhupBtX1/TP+H+RXLhOIMzqw5sdmeMxcptyaxOMrYmF/dvaGKqziubS/KtbK+yt6WY8L8P4ecY5TkWVZbRgrKGXZZhcBty2clhcOm5fFrUcv7qjeV/QLfXZrW3aPT5k0637Wum28Vnbx4/6ZWsMMH9R+FeR+JLW41a8kkuJrm4Zn37fM7fyz9f/rV31mrXEfC/e/i/z0/+vWxDo8MnzN8zbO/v2q8bmKr03FJyv0Sjdv3bc0oRjL0ScVdM86jhvqFXm5o05K28pN6JbxlKUe1tG99ND5L8XeHWt1jaO1Tayb8uZZen/XU9f84rym4024Lf60fN2T8v+WUPf+dfa3jTRVks1by1ZV+RmePH4RCX/PTpXhl9ofzMyypGy/Ju/wD3WPr6mvhMwjCc1H2cfiVvd53uto+znJvvZfmj9HyHG3wyvOXuyfxezW6V9uTa2+ttNe/hFxpszfKbeZg33m8z+fmf4fSqc2k3WwK1vEqt8x35/ef9tf5V6xPpq+Y3zPJt+6yfu/eXk+38xWHeWS7l/c/K38U3+fzrjp4WtCyhTi5ekVezX809e2l+vdM+lhjKK1lKMdNdb2u1bpqchpulzXEzbpvm/i/X0H1r6d+F+hxrZbtrs3nfx/u/xz6/QV5bpcLQq3lwp83/AEz8vqOf898V6L4V1yWGNYZJH+V+dkn/AC0P+fXt+Fe5gHUpV4tqEbW3fNbbZ2V9N/6v8/n0licLWp0nUm5OPs048ydrNqLut9N0rH0X9ljWPa0UKbU2f89Pf6/5+led+JLWzWGbdN87c7Uj7f5//XWiuvMtu2364/z7f/W4zXAa/qUjCb5vLVv8+vp/n1+jxGLpuk4urBN2tZx1tZPacvLe29j4bLstzB4iLp4eqlCStzOSvbtyuO+m9+U+cdW06xOpXQaJ5P33yt/9b8cCui8P6G00sflw+Wq/eVPK9v8AI+tTrYx3WrN+83M/+s/55mP/AJ5c/h/nivcfDGl2dlb+Y32ZVhikuZrifyo447eCLzJZZZf+WFvBD/x9f5zxYClTdR+zjWrNtNJ+0cO619zm+77r6/YZ5jcThsJCEq+Hoy9lHVKmpuPu8ytTp1OV3tZt+lzS8L+HWWPzLia2hjhhkmlkfyo7e3t7aLzZbqW6uv3EFvBB/pN1dXPGM1qQ6PD40j+3XFrfx+B4fLn0nTbm3ls7zxxcW4/0XXtetZf39v4Ogn/0nQdBuf8AkMf8hjWP9EFnZUaNND46ks5J/Ot/Bf2mO5stFmjlt7nxp5csMtrrOvWssPnweF4J4ftOg6Dc/wDIY/5DGsf6H9js694mtY7pW3XD/vPnkY/554/l7168MVTn+7ppxpKyqVIJyhUvvGm4x/h6azV41tOWc6PN7X4GvhMXQqRxFeaeJmualCrKMHhV7vLOUJtS+sO2iaSw+uv1pP6r8Y6p4JW6kvLryZtvnSfN9m68Af638a4O48LhZP8Anmq/9O/1/wA/WvvKfTbOGHy1k3Kv9/6fT86831bw7ZzM21fvfe+SL/H+vpXNi8VRp024qSdre9db8v8ANBdul/O2iPq8ix+Jq4iEKqiqX7tJRnTekej95d9GfLEOgQq377e/+/8Al+nb/wDXWmtjartVSjbf7kcvP+f8816pf6CsLNuVDtxn/DMXf/8AVXMf2e3nfMoZd/8A01P/ANb6n8BXwWMn9Yr2nUdm3pGpGytLl2cJNN8qf56JH7xl+KhhsEqlBQguWXvKN5OXu3e65temlu7OWm061WGORpPvPs/1nX/P9eteveEdPtZNNt5FZFJ/7Z+/+f5V5/qbbljhjXbtfYuI/wAv859a7jwzN5NnFH5ibl6/5/P9O9fS8O1KOExbfMovks7Km7t7LSGnX7vI/PONvrmZ5bGSg6soYhSspVGo07cqclz63vdLdcut76dhNodmqt+82syfeTyv8MgH2z/OvBfih4dt7izZvO8tlyi/6rjn/lr0z/L869+ubrzLcs2yT+9n/H1+vSvBfiBHdXFq6xwpIrSb+kX+f6V7efZrRq4SpR+sRi3HlWlJ+9pb4lC93po9Pmj4nhLK8ZTzKjiJ4d2pz+LmqRb2vZubS289lufP8fg1bpV2yJNtTYzeXFxn/D/PrWbceCVWRl8u2bb/ANO/+s9f8j8hXbabpd5b/N9lQNs+XPH/ALW/+vRcWNx53/Hu+3f80iebH0/z+f4mvyynVk/+YqD5bbxg77f9PvLz1P2SpzKbi6NT4ea6lUf8uj/cq2+/6KxtfCnTfAOh63qUfxG+Gtt8QPDPibQbjwxMtheS2XizwXcahLD5Xjz4fSj/AEGfxxpXk/ZtLtdbtrzR7v7ZeWf2Ov6Hf+Cb3wqh0D4HfEv4b6X4j0Hxxpt3quoXPw91DW9L1mzt9X0/XIvN/wCEc+KvgjWpb3/hB9Q8O3xOmXWg22m/Y7wfbNXsry8zX87FvZtC0lyzPbxx+W7TPeS2/l/9tP6/5H7/AP8AwRb+IHijxr40+KXhjxZq3ibxho3h/wAG6O3hLU7ywudU0vRT/aZtdU0m68bmzANyIP7OOl6BqeqXV3Z2S3htbZVDGv0jwhz3iPI/EXLKnDmaYahVznC4rKc2wuMownhcblvsVmns4e2hiqdDFwxmWYavQq+xcK1SnHD16c6dR8v84/SZ4NqZt4aZ3nsZVJYPK55XmGY5ficbiauGlUwNeOAwOYZZhZ4evQwmY0qeY4nD14UK+BweLwNetWxmFx+OwWW4nA/rD8HvhZrPw/8AgN4V8Ox21zpXiPw1pe3WdNuvFNz4oDyW2qajcy6WPE93/pGqafp8V1cDwxc3HNlpX2K047ezeCfFum2iaDoMkVnbyXsmtSB11W1eRhbNZtHdvYxcwXGpTTE/2X/y6kC6Ldq6HXfGPg/RE1LQ9R1i1sZRFc29y8m9ls5ZbD7R/pBjxjNvL54wRw53c4rynxJ4I8I+HfEnw7+KX9qaLo1z4ch1aDUNauSP7H1fRNa0yCI6nqpEy+VNZGC3Om66WItluz9qLRuBX91UaFWrh6MvqbwFKfJDC4WGFWCwlKlh4S9rHBRjh/YqhQvGFOFCDpexdJxko2iv8+MM6mOwcqGb0MdFY6eKxWWVKlDEp4ms8urTSeI5efExliHQ5ZXxDi6l5UalFtn0bbXeZprcPcXLMz3AlePZAiSfchjkIIxEMZ4z1POePJdT+LHhnSPF+t+BPFc7eGtXdbPUfDy3koMHi/w7dxQx3WsaPI/yzjw5ffabbxTaDnRrT7FeXYFne2hrzHx98YfC2o+G/FVr4c+I02knU9CuLpviD4Fn0XVT4LtYLqGxGqWE2swXmh3tzeTn/Rba53Zzm0BOGGVqfwk8RJY+Gx4m8XeIvHt5oF1qGoQXfiCO1t7i30/UtMMO2M2sInhuLe4hgFyPtP8ApZJF4BaHFZ4nC4/C4+nhHhHh5qnTrVVi5xoThGUlFUnh3fFxnVSqSo1lhnRboy11uvHwuXQp1qFXEW+q4inL97TqQv7SjKlzxjyc6jKNXnpTjOiuXlVWXIp0Jy+Af+CiXwcf4sXXg7wz+yzpviLxl8XRcxeIfiHb+B7vRh4AsPhn5N3odtq3iM3epWWhz+J4Ncj0208L+FvDlwPEur6SNavL2z/sez+11/Pd/wAFD/8Agj1/wU18RX/hP4m/D/U7f4ifDvxRYeDNB8b/AA91688G3fin4caf4fmF9bSy+HdG/wCJV4/0aC+P9o6ZbXIOr6Ne8Xn2zPH9Mvww0XwXqx+LbeBNJ0jUNN+HXjm50TxJZeGtXsbiO38cReRruqXP2a1l+22+oQ/2mLfU7Vm/0XnHGa9N8GKumeI7DS/t1rYa1f2cfiS98GQ3/mahH4QvNU/sqPWb/SwfPsdIm1aaAaZdXIA+2Edw2Plc78PODo5ljM4lPJMdxhiMknnE8JTwXtKmGwOA5cDicdhHXwn1GvmNHH4/B0atDMXhMRiYp+xlKND95+g0OF8DgcrzCtQzDCYjMqmXxxmJpyw06mLnRhShWeFjiKeJp0aM06tGcqNbBuNTkpxq+3pxvH8Nv2F/2pfjN+xp4h0vw9+0F46+JvxQ+FvibStP8JWvw/1bTtel+JHwn1y3u4c+KPCWjXVpNfar4X/c/wBm6poP9pWf2O0/03w3d3v/AB5H+g34e/H34T/GvXNQuvhd8U/BWt2Wi393aeOPBulWYk8TyajP4YhjsdL8UWt/DZ3Hg7UNKgmtrrTNUg4u8izu7Trix8UP2Vvh18brGx03x5pdzeRw3VvNbXmm6hf+H9ct47eX7V5VrrGlzQ30Fv58P2a6tPtH2O8s/wBOi8QaF8Hf2ZfAV34l1O30vwf4O8P2okvJNK8PG8nS3giPm3UljYwzapfeRg/atTuTeXnfoQTtwthMTDL8JgZY15pl9XD0fqzr0K0Mwp1MRzKrgqKc5QoUKNWTowozbVGFKdCnCFCapU/isqnh8TWo4al/aGIx+In9WwkYReIxNWrWrQ5aMKKoVZSUWqcKLi4VXP8AeQkpRSXpOl39l4T8H2YlmbTIo0E15q/iH/Q8PeSDypLmOU+RDPPPL9n+zG4/0S7OOeK5LStSnHjKytb7WNOg027uTq9tpMOqRDU7fU9PP2a1sP7GGf8AX2H2jUTbW3OR+fES/Gzwd44j8FabYW2k+Kfgp8U/Bl/Z2PjHUPtLX+neNDIbrSNM8T6XfQLFYeGvEmim4Gh68ci18RWIs7vBvbQ1tePfhZ+zvY+Jvht8QvGnw9gvPFfwdt7rxf8ADHx/L9ul1Pw3ff2NqWn6nFpGo/bPPnudW0jUdS0/VLS5F0LuyvwpBIszaca4exmJxdDDYKVSvRydSpvAVKlXDV4ywvI6tSs+TEPFUlhOaSUZR+tVoV/by5oOpCM3zCthFjKGJg6GIxmJrwxdSpGlVxcKlOs5KFWlOUZUJTrRVGrBuDoqEoRjyzqKX5jf8FEh4iHxr+B3wj1f4ofFD9nj4A/thePZ/wBnzxF41+FtzpWheLtE8SeIfDmv3OiJ4U1O90zWZtB1/wCINxpZ0O68QWtn9r8N2mrt4kCnBu6/Tzwh8O/AXw4+HPw5+BujeIby/wDD3hJvDWk6DZap4gjt/E+l6X4fhtLbT7W7v7Ubr2/nsrU2vKhvEn2y94/0zNeG/t6fDHw98fvAn7LXjrStctLHVvgX+0f8Jv2tfDN7Ff39nrb6B8PLDXpteh0uKxP+kf2rpOv/ANi6pbaiPsRsr27U/wCmpZirniLXPhRcfCLw9PJqZh1P4ha9pWka34l0ePU9Qu4fHmv6eb/R9Zk8oTQWM9xffZre11M/ZLSzN59jzZjivSw6x9CtmLhU+s16cJYml9fxVd4elFU6bjgKMJ1JUMBSrYlOn7aCjTws3SnOliFaBxYPF4jEUsJhqVeq69Kc6vLKUnB1eROgtJRnGryU3T9pGp7kI04wjGLqRn+i8YWzgihjjlMcSoiLnzJMPgA5c5xEAD1JAI9MV8i/tSv8RNJ0OfWPBPivRbbXrxW0Xwn4fl8IWuseIrzUNQthFcWGhandXHk2f9oW8N1candm1ItLRSc/cLL8VfFHjXSP2fL3TdZ1KTSviLdaT4d0mK6jvRp+pXuq3moaPaX8ukTfeuCvn3f2m5tj9qFoWYrvwR2PxS0Fvil4D8X+DfAerw6F4xjT+x7TxfqulSapc+DbzULU2t1d6NL51pOL86VcXFva3VrdDBu8liOK87iXG5bQy7GxzurjsBg6eDoYmpWwGMxNDG1nW+tyeEwUctq08bisVGngqso4XD+1jWbS5JeyfLphMFKjV9pWnVtKVWjiJ4ScU4Uqns6cK/1tvlowqVZOCnBxbUZU1Ui5xT/nG/ZJbXtP8ZeMPDPh3xBrayTX+seOfGGm2eqXVnpclvJrP2/zf+Ecl8qxvvEGk6rN9nxbf8ef/LnX7eaTNq2sHw94rsoobSXxDpUENrdWl75ehxzWcY2aPcxSDP8AaIvftH2nH+lZ9K4LwL/wTg+EXgnR/E+hN8Sfid4h1PWtL0SysV1nXLGCw8H6po9jFaXGp+CNP0/TbO5sYNXvolu9Vtdc1HxKLu6zlu9Z/jHwzF+x34Z+Imo6VN8QviJr/wAX7+28T6R4Xubi68QeCNP+IHhjw1ptjrOs6LDdSTTeANPn0PTV1G58M6YxstZ1i0e7+9dXhPzf0f8Ai7KcDgpcM5ThqmAhlccfh8bHE18DmOHxWGpR+r4ahhMdhMyxKy2lw6sFUq4nKcbSeaZhHFfXazoYbD1o0f0Tw/q0cNh5ZZT+rzzbH1FB+0rZhiJY+hVp4ei3J4mnhqGBw2X0FPHV4Qli8NWq0cVKrVp0OTEw+jrH4VS+JLJtG+JHgfwndLZal/buhNotlNHJYahHazQxapbSyjjUc3lzbA49eOeO/wDBnwzXwuIrDSbBNF0Wws9gtUkluHkBl82WWa5ujNPNqE8xJujn39K5b9lv9o1Pjj4O0I+IfD+oeGPHC2M0mo2ctnJDpF/JaTeSbvRr/HkzpPAPtH2Yk7csxO0Db9Xs3nQTGLy2Id4mJwAhTKyjI7r+XfPSvdw/DOS4aeWYzI44fDUM1zKPGDzHAUqPsc+o5jh54yGOVeNOEJYfNI18NipVKcIuUKVOnGnRi5wPks+x2bZbmNXA43B4bDVeaFWlUoyU8JUo1l7mNy9xbovDYyilOnVjGSqRttOEor42+Jtp4wu/HXw6APgbQvg34aOt+L/iX4w13U7o+NP+Ehe0/wCEc8E+GfB2lw2f2GKC+n1PUNQ17U9T1K0wqWVlY2l2WIr6T8P2dvqFhbSfb5bkPpsdtp+sJLHFd3dhIP3UpbB231vN/o5J45GASefyM/4Kbf8ABRT9mf8AYu/4RH4O/EvUPGF98RfileaZNp2meHvB2oavp+n6F/bFnL4j8RX+qXcUWh6hqGkaVCdR0vw1b6kdYezsyyqAwNePfDn/AIK1fAKTQvCnibwf4s17xwnxO1OTwz4B8F+FtMi8T+Ob7xRHe3mn6FpWh6Xpd5NjWPFM9ncW9poesmyNndgC8wM7vqMweQyw+a18XmFKdbCYehns8LWr4f23LgorDt0qKnQxNGeHoqFdTnJ0nQr1Z1LQjSq0/XnlGGzfI26WYUMHjaUamOp4LFOjSr4nCxpU5RxMKM+XFqVek6lRVakpYavg6EI0aUZU6Faf7U+NfBnhyx8OTacGt9Ls9Wv4U1G8udSmt9T1O7uCAYv7QlM17PcX2MT25+8C+0YLYn8GaH8PvBvhyx8M6Nplpb2NvD9ku4ZbfzUd7+WUbdX1K5hi+0+eZjBbG6O4/dGRjH82/hr9qD40fHz9urw9+1x4e+L2kXP7OPwy+DEs2kfs9Xvg/wAR6Tqj/FzULq88JfFT4YeLYtZvIYNL+L/hyCztdStfE+iabeaNaf8AE40azwv+mV/RV8MfHWkeOvBeleJNF0+S80y8t7ez1bw1q81gPEPhvVGEN7/Zur+dMbG8a3gntrm2LTm5u7NrS8tAwLVOTRy3MMNWxuDhhZwpwoYSM6FWkqlTB1JYtUpVaUZzjTwVbH0s4wuAxFaEcPj6uDx1bDYmtTUYy8DGZRiqeTYTGzjOvQjXdBY2nVowcasnJ+ylF1ZyjTTo16WHr1/YRrYzDVqMUqlGKqeW/GX9nojwP8RrD4ZSW+iX/jjSrnRobV0tkt9AGrgRX0mkXUlpef2RYndcXYW3tibS7wbMA/d/H79qD/glpeeOPCnhrxZ/b3xE+MHiw+fH48tHjl8QeLNQ0TT7XTdB8L2nwusL+8hsfh/b2P2O403XvFH+max/Y5zZWf8Aon2Ov6Kr7UdMvdXtfCt0268utKn11IRJGJDb6fc2dtL9oij48ktfWxz34HUZrW0zSreyjYpjdM4dmX+4hxFCCf8AljCDtAxyTgnmvleL+GMt4qwdPKqqxFCv9XqYeGPwlSnGvldGNTDVPa4SNdTozxM6VSeDpyr06yo4apWVKMHGFuvJeOs5yLF4DNcNi6yzfBUq+HpYxQoxrywleFOMFOv7KU68qMqVKeHlV5/YzoU6kYyrWqx/gz/bb/Z58R/D34p2sEfwUvvhB4Q0bwp4T8FaTcjQNT0TR/EmuaXpc0t/qEN1JD/xPL+eCb7N/av/AB+eJfsZvOcZr548I+A9W0nUpI75ZrK7EMe21uZJbe8jjk/e/wDHrL5M3+or+wL/AIKIaBrT6drA0T4a61490nQfBVx8YtbuP7Gl8T6Vpmr+B9TgjtLUWhJ1aA63YHUrW7/4R03d7o9qDrH2IWYvK/G/46WfwVs/CviaPwH9m+HPizVLnR/FVx4T8SaXqusa/wCJI7+whv7/AMJReKNZhm1XQ/7K877T4Xuf+Rb8SWdn/oer1/NfF/A/+oWdZfg8np16uVVsupYmgs0xGEeL1rYqGIr4fEUKtZ1sFTnQhGhSxXLmsW6lHFQlToUMVif6w8LvH/Ms1yzhjhHN+EM6xtSVenw2uKsPjsdmixlXDxy6cczzZVMLjsdh3HCYuviMwxs1XwtXFqFNvLMGqmJpflPN4JmGobfvGSb/AFn2iXzPLklP+t9/14r0T/hW91bwhbHVJlX+HZeS/wCPX+RrobyRVbzljm3fcVf9X/k8/Sr8OsMsYXy7lU/iVOJOv8/6Z9q86OKxV5JU6VpN2a9n15U9Oe11663+b/qevhKNSOHnSr14eyVpx5a13y8l7NU5badNebQ8P1zwRqEktxY3F89wrH955ssv2f8A56/vf8//AF/Ox8O2txeLHDEsd9/x8R+XFsk/5afvcw/v/wAMH88V9VX0kd1N5zed86fL+9i/z6n+VZMkdvt2+S7Fk/j8r/E//q/Tlq4jEK69jRVrLV01rpr8T29evkenhoYb2cIvE4uUlCLlJQmrtveMvYQerWu9tHfe/wA82/gdpLe1tpLeH7PZvJNbo8cXlx/89JYv3X7iqN14b1zzZ/LuJrf/AFm3Zcf8s+uentX0JJGqyRxrau2X2MvmDzJP8/zo/sldzSCxdW3jcvm8fj/n8uMeDmGOxXtYr2NBJU4pc3s/K/2/wVtlfc76WGwfxxqYlqTv/wAvF/L/ANO3tr9yPn2DQdeRdralcyf3v9Ilj/8Ar9Of5CtCyh1jT2kX+1L/APeJs2peSx+bFL+6l/5beor2RrWPc7NYu38G799HJ/T+lVV0eO4kXy9Pf7/3puPL/l9f/wBVTSzXEU4uMqWFVrXX7uSeqS5Ze0W2t9O3qZTyzB1OXmq4xOLTi+espx+G/wAMFa++rez0T1fzf4k0XxXoO68t9UvLzS5n3o32iWTyPM/5ZS2suP8AP5Vxf2W6utv2hoZ1Z9+2a39f/wBXpj+dfX2reWzND/ZaSLH8jK/myRyf89Ybq1lH7+3/AJV47qfguO3zqmlw3lvpcz7/ALH/AMfH9lSf8tbWXr/o/wDz69ue/bC0K7VX2VCi6ktXT9nF88kmrul+8fNFKXu25b2aZ6EMVWoUqdKVatWpKF41Ki91xjb3Zt06adR3sm5Lns9I8rv5zDb3Elo2m/aL9dL3/aJNHTULqTQ5Li3/AOXv+wZJv7K+0f8Abt9sP4GvbPh3rPiqzsdLt9L8beMNL03wjqVvr3hPS7bxJr2l6X4O1y3E32XWfCVhFefYfCusQfbLn7LdaJbWd5/pt5/z+XlcG2kxq3zLbSM3/LTy5beT/wAhDyPy/mefVPBemr/ZOpM0rjd5f34/Mj/d5/55f4/WvostjVU/cxGKoOVObvSrTp2ty7Lmf59fu+bzuph6mFft8Lha6c6d1Vo0pxvKUYSlGT5Yu8ZNNQcrdbaX3vHFvJ8arO18P/GST/hcGgt4kuPGC6T8SJP+E00+PxZeWEOl3/iiKLWfOng8QX2lQ22m3WqW3+mXlpZ/6ZXw/wDEv9l34DmTWPDq/BnwHZ6HfTRvdWtho8ujxyfZ5fNtfKurCaCf9xNx/o1zyO3evurSbNY7yD/VSfPyySemP8P89/N/iRHeW+sSKGf5k+Qf6yMx/wDbX9K9injM3pZfWnh83x8JwrN86x+PozW3/LynWlJX22Xz6fH0OHuFcZmdOnjuGclr05YdSmsRlOV4mk5qUGpxjWwqvJWdm5Ts3rvr8F69+zT8Itd8Lt4HuvBM2l+F2uNHu5LPwT4g1TQ/Mu/Df/ILv5YvOvNKn1CD/l61S5tvtd4P+Xw143qn7CPwMmZm0/XPijorN/q5n1TS9X2cf8tYpdN/zjn0r78Zfm2yW8Mn8EjeX5UnYYl/1P8A+qoWht/mV7eaFt/y7/3kfH/XX8Pb+VeP/rlx1gG1huKM/pXd/ezGpjIrbV0sRLEwlJ3vKToyurX5bHp4jwl8Kcxs8RwFwdNWSbWQ4HBz6XlCrhMPhZxkrL3vbK3n0/Ntv+Ccvhe8urW60v406w7LeWdy1hrPhvRpA9vb3UMstr51reQ/8f0EP2f0z1zX64af4dt9ZvFj0u1TRZLqG3RYX0uwkto7i3/dRXUUtr52RNB/o11/o34niuHsdLtbpV2yW0m5NgLx+XJn/rlLn+uPpX0x8H/Cvma/p8qw/uY389mhk/d/J/0z4/U9a93L/EbjfE1qcMfnsMbGF/dx+UZYpw5rXvVhg6F3JJaOEtlbl1v8FxB4D+FOHwmKxGE4QWBkqU58+VZ3xBSi3TjzR/c1s0xNGUVquVU18V3csQ/sp/Fy609pLX/hDLiS6Xfb6hYaxa28lnHcRf8AQGv9Nhgn8jH/AB6//rrlL79mv4vaf5kd58O7yZYXk+z3GlSaXqdvJH5X/Lr5Uwn5/wCfW5/+tX6f6TNcQwxqrJIuyPbv7/5/PrXTR6hIFG6D5c/MyyeXX6LhOMcwlGHtcPl9dtJvkpyot3t/LXjFfKD67H8343wsyLnqQw2IzbCe9dRdWjWhGStb4qFWfu63XtKe/W3u/hjr3gHxF4Jsb7WvEXhvXvD+nxpbp4ga88P6zJ/olvL5Vr4yi8uGaf7R4U/tH/if3X/Qn/2xZ3n/AB52dV5tB0O8XUo5prO31KxufslxcPH5ln5lvdeV/wAukP8Ap1v9u/49dU00fY7yz+xXl5/x+V+8C333tszr5kciNG8f7vyz/rfN/wCu/tWDfeG/CurLGuoeGfDGoeX/AKtX0fS/Mjjki8qX/lz7QYtietevHjPD6OtljitFeGI5bR91qMIPDqKjFXtGVSNlJ2vql8/V8Kq15vCZ/JOpq4VsD7SMpPlvOc6eJ5nKWzapu9rq2t/wk1XwXb2c32W6s5o2KBJvs0cMcd5JJF/y18qH9zP5H/L1/wCSdfIy/BHxNpPxY034lQ/FbVbqxs9YvIdb02b+3rzT9Yt7iX/kDS6XKf7DsfIsfs2ifZfs3/LnZ6x9s/tiv6Stc+Avwj1xGW68F21i2+PbNpV/qmn3Eflf6r/VXk0H7n/r29uMV4hq/wCxb8Obq8uL7QfEnjPw/eXHySN9o0zWLeSP/ljFdRX9nD59vB/083P2yvRwnGGSR5oypVKSnTlTnejSq05Qly8yfJUnJ7LaHr0t4eM8LuJ/cdKvg8U6U41Y8uJxtGpzRtbljKkoOKu+WPtmo6p7q/5dLHo8/wC5t2t7G6vEjmhaw0/7Rb3H/brLZ/8AgV9m/wCvz7H6Wl0PT1uri1uJrP7VDC6Mt39g/wCPy4/exfav9D/4+ID/AMvVt/x+fhX3drH7FutWrSSaH400S4TfJ5cOpaPdWf8ArP8All/os15B/wBvQxeWf8/NdY/Zv+K1jHDDc+HbDxJp8MMkHnab4ktbzVPL83zYovKuvsnn28HS1+0/r0r08PmnD2KdoYvCK9rxmlSetnvOko/e1ozwcZwtxhgXJ1srzCdm3z4eUcTJ3tdJYWpKc+jXNGOvw394/Y7TdL0vSoVg0fS7DTYVPyLptna2f/TX/l1hh/H6/nckU7mZtisuP8/5+lQr5jKu6Z/91P8APB/DtVxbfco2wu3+/J5dfidLGz1lUqTld396Um3s3rVcP/JU99baH9QRwlNRSo0IQjBKMeXljHl0aXJRi4q3R2j5XtpTW8jj27urPzsx/n/PHNWILppG+Xf/ALLdv89P6U5Ydv8ADbK5PyvzJ14/z/8AqqRY/Mbb5jtj+JP3f6f5P8q6ni4KKVvWXPzct7a6R5X8pO3WytfX6rOaTb5em3Nq7WW6311t08yxFJcNu6r/AL/0/wA+lU7qaTaf9I4b+GGPzPx7H/PTirkNvtb7sbNwPnHmf5+ven3Sybfmm8tf4VTyo+n+f1/Plnj4fDeMtt+WPWPSUZ3+TVvR6aQwc272elt3J78vZx+d0/K2xwWqWrXSsrI7r1UzSeX/AJ7/AMulcDrXhX7LcS295DbW80eHbZJFef6z97F+9immgyeOv/1q9Ov44d3zSO/97ofTt6Vyl0sManYqbf4l4Mn6f546V42KlGq3aNRNte9GNla65knf3r6Xfu8qWz5tPosuU6Dh78I6NNTnK97x5ZRcXG3LrdWfNdarr5JfeH7Nd3yTSM3z7kj8se+P89M15/qWnxwyfubb6s4I/wDRvoPyr27ULjbu2o/+z/zz/wDr9vqa8u1qSSSRljVN3qn7z/0Uew/Svl8ZRcpNtXb39pKTk9rc6jBvrZXa66PW33mU4mTlHmk5NqzUY06cpLqouo6knfr70rdbXMSGGZo13SL9z7q/5/l2/TWjtY1wrb2/vH7n+T6VDY29wy5ZXXp83lxRx+372X8q0o7O53fd+X+8/myfr+5/w7dK5qU6VJtOtTja2lN2a+f4bd15v1K/tptuFJyi37rm2v5duVr53v8ALU3NNks41UfIrf8ATb95/wB+vp69O9bT3kvl7lV2X/Yj8useyhht2XMv+6qeVHHH/nr/APqrUaSz29PMb73z/P5nv+9reePoSirqrPs7X/l6Pbpu306nz9fAV/aNysou17uy0UVv16nK61dyXUMkYX/yJvx+P77+teX3Wi3kzSL91f8Arn+X+tz/AJ+tezX1xbxhmWNNw+df3f8An8a4vUNYjjWQbkj3dNkcXt/125zXBWxdWbSw+HV+blvN3u3yrmiuVW1W3p6Hp4CjDDq9WvJxunZTjBR23bez0s7fd187bwvIq8jK/wAWz/ln7Dy65m80G3jZd0jtJ/dTyu36V2V5rEjf6ve6sfmb+v70j0rhdW1SSQnbPDb/AF/ef+ihWCeOk+Wc+Xm05YrllFRtyp6vXXt6I+iw2IwkGmlJrq3rFdd3aEb6tc0lfotB5ksbeHbtfcv8IjP/ALVrMi1iG1k/dwzLH03P/nn/AD9KwZrjzNredPcf9e0Zjjk/yax5JpvM3R2bxsP4rmX8v8//AF66KWGcGnOXP/enWv2taNRqUb310V7JbI71ioOFRU4czk9IwUXJ3aensYTi7W6z0u9uvqH/AAlKrCyxzbW/uJ/9r/n7fnx+reIrqRt0bdPus+Y/X/nrjp7f/Wrn2kvP4rpNrfPtto/3n/XKo/sbTNn7PNMyfPumfy44444vNlll/wCeFvDBj/Sq9uHs4U05T967a+Fct1G+8aV9t1zb/Z6+ZzVOaeiScdVJWdrq8nGXt5Kys7SVPm6OVnZ2k3N62oeY1wkaqkkzbI/MPlx4mlllu5f3EFvBAftN1/PrXt2g6TdeIl0+/wBQkdvCdt5dzpulTfu5PFl5H+9i17WbX/X2/h+D/mA6Dc/8hi8/4nGsf6H9js64XwXpdjqXk3Vwvl6GzxzJZv5sX/CSSRy+ba3V1F5P7jwvB/x86Xaj/kY7wfbLzNn9jtK96a5Vtw87c2P8/wCfWuepj68nLB4Ony02nHEYiNOVqjXLahSST5Y7xrTUpRqXlSTnDnUuiOX0Z4iGOzGUZVaaSwlCtOX7txcbYipCq4e+9J4eHs6c6OlSa9tyKl2nhlZJbySaZfm+/u8z97/kc16Ysm2P5FX/AHn9M5/z/wDqrxPSdQ8m48yOT5ed2/t/nHpgda9Ht9UVo1ZZtu77y9/M/wA8en9e2l7alCPnf4ab/u78vN+Pna54ec0cNWxEZpqceVJRc4pJLl5Ur2ts7tXula2xs3DFi6mN/wDPv+n61ztxGrb18lGbZ97P9f8AP1Na3263XczTP+B/z/8Ar75rJuL633Z873X1+n+f1rixWKxST5LSXdxqa7dPZ6db6+fXXmweFwzlBqNTmbs2qlN9VvaS/P8A4PH6ppsLK0qwp6/6zkeuc/WvMbzS7qSaRo/Oj+f5V+0fyx/njmvZNVvoJLVvLm27fvf6r1H6/livNb7UI1U+XNz/ABLJ5OOv8+v+RXzLxWLdWTcYXTtG8K2m12uVQ389t973/Q8t9nCjFqU4rmUFFtavS1mpS9NbbaXODm0m+jkVhJcttP3ftEX+R6e45rSt2vLfa0MkzL/EryRSyR8/l0/+vTrq+ZmH7xF/vf6r930/r+H6VTjvNkfMybmz/wAs4v8A63+R+XO8zxVOcZWobpe9TqSve12m3O22u2/Wx7csLSrU7VPbdNU5K97b8sle3nd9rXNybVtU+z7V3r/36x/n6/4159rE2rXSt8u5d/zN5cX6j/OeOOlbtxqjMvyyI395ni/Xk9P8muVvtUZlaHy/9hv3fT/P/wBasMZmWMxEJR9jh5baune19O6ve34ammCwOFoTcoe3V3d+9q72t00tr6vpda8+y3y/ehT/AGf3fX+n5GnRtqCttjsUb+83mcj/AD/nioVurrcx8uHd/wBc/pz6d/8AOasNcXEaho/m3fd/0f8A5aV4UPb8yjOlh2rr3XKooPb7PO/z/M78RVhHXnrrb+VvZdZRf5evQ/YD/gkV8I/hZ8TPiR8TvFvxi8M6R4i/4V9p3g/RvBeheJdKGueF/wDhI/Gt/qUMuqTWF1FLpd9rwgs7bTtDtdQguZLOyu7zV0tlbF5af0j6nceHvhHoem6P4O8G+FtG0ySaRLHRtPvvDHw/8OW0jYlupfKdbaIEZ8+Qadpt7cnaWKqDX86H/BJf9rX4f/DXUtH+BXjiHULDxF41+Jt43gXUrPSoZNO1zWPGml2ejxWmv6nH+/sp9M/s37LptzqX+hmxvTZWXPI+Tf8AgpT+1B8TfjR+0L448B/EKP8Asnwv8D/HPjfwn8OfDcOgap4YuI9HvLmyi/4SPxFZapeS31/q+uWGm2wtLvAtDo3+m6RZ/ZNZNf1zwhxBw1wN4aZRmWDw+BzHOcViK+GxccA6VHGf2riMRPEV8Lj8ZUp46th/qWW+xjGdanOGJhQoeyoezxFKZ/AviHwPxT4peNWa5dmuMxuTcM4HLcPjsO8yqYnFYKrlWDw9PAUK+SZdQnl1OtLGZpUqV8SoY2j7CrjMWpYqpWw04V/3V8dfFD4YfFbx54v0/UfjH8NmtfDNnb6rJpngXxZDrxi8T+HrGW+1i6muXgshfafpVhDa291wLO7u7v7GcNgH4f8AEfxruPhNDqnje++K/h+80vxRpsk2kfBPxnqd8P7L0v7L5t/dS3N1ZzT6HqGq+dbfZdBNr/Y/Is+ecfhF+zv8dNL+Dv7RfgHxJrGj2ureE5HvPDOv2r6GdQk0/S/EkX2WXVLDS4h/xNdYsb77Nc6Xa/8AP5njtX0B+3R+1p8I7q+uPFHjLVL/AMQfEbw28mj/AA88I+BbOwk8SeE9DuIoYpZfi14ytf8AiR2/iC+nh+06ppf/ABN7zw3Zn+x/+Pz7ZX7zwv49Uso4I/tuvl+VYriRVqeU0uF5ZjKcszwmGo0vq+Lrz+pwjhcFTwuOxNWvi62Glh3isHh6MK6xM6NNfF+K/DEMh4d/1VyCOM4kqVcLgcNltBYKnWxEsyyyU8J7WhhcHUVHBYOFDERnj83zLGUqODVWnCTq16uGwtf7It/jt8N/id4q+D/wj+AvjzwbY+JPit4k0Pw94y+FsOqarYeLNH0f4kXX9g6pqlh4M16zhgvoPDkP2nxJ9q0S5+x2Zs/tn2M2Vf0ja3428L/COy8M+Eta1nVri3s7LStFt/EGtT3OqarcSW8UOm6Xc6zdww/aL/UNV8rF1d29sCSS2Bnj/OO+CX7Qfi34E/tE+BP2sbPQ4vFfiT4beLLfx9eJcSSS3Gv6Xp8U0V94cudVME97BYXulzXOmj7OD9K/0DfhN8UP2cP+CgH7Nfw6+PlnHY6p8OvFWh2/i/VEudet7M+BNT0yFb/WNM8UXdne2c+n3Hhy4iuReMbi0H2MfbMCzuya+Z4QzDOM2r8T8RZpnFXPeLcyocmCnnWNxuLy/LcLThOvlmAow9tPE0coweJr1Kco0qlTFVP3Tq1a81GD/AI8JYjhahgqmcSqYpV6jWYwwk5Ojl+Kbko4bD1asaftl7GhUqUqqp+yqVoug4zlCMpfEn/BRTXvBX7I3w7+PHx98LeGviL4X174p6JoFzr/APwoTSJNY8TfEP4/R3UPg74eiXwvo2jalO2r+IrKHRNM13xQ32TSG0fRh/bLM2SeE/4IxfDf9vDXz+1Z8Zv+Ch3hSy8H/En40+Kfh5b+ALHUIvDsnjrTvhX4K8LT2lr4X8Q2vhyaaw0TSNK1TUjc6ZoYuPtq6teazq96Bdvk8f4o/wCCvfwf8WeI5Php+yZ8O/ih+1V4zi8R6/d2c51DR/BdvJ4Y0eI2xtvh1NrU0GqeKbef7J9p0q0+y2f2uzvPtpZsgL8BfEr/AILE/t3R6nqeheA/Dvws+D/guwvNc0PUdefw5f8AjDxZZeMPDYlkv/BFhp+vXtppOqaz58Fzpl1qmP7Isry0vby762lmfsOIeIcjweJwcKubYlxwuGeHoZPgcLisTh69V/WU8TUjUVTCuo4YyVOlTpuhXlCny1KlaEJOj7GYcQ4CWU0cvedVKGIwuB/s+pgZfWa9BpYmhWhiKioRxUHXp06EMJTw9Zpwp0owcYzw1Kov7BWjHh+3X7RdPeQwpsh/df6bJ/zyi49v+Xr/AAr88P2x/wBjDwb+2Ingj4jWnxD8e/D34j/A3xO95pniT4f+L9V0f/hJPh9cxQyfEr4G+NtGF3/YereF/GMUNrqTXWpaZeavYavpGj3+k3q2QvLO9/L7/gjN+2T8Xv22/wBnv4pR/G/4kal40/aC8C/EjxRqWuwwXcunahH8N/FF/wDb/B0Xk2sNnY6Vo+lQQ3Phu1/s22z9s96+6NWk8faP4Z034pfDm68SLrX23VPCWveFdUs4tD1jWLj7fqWjRaX4y0a/vP7Kn0fXLGb/AIkPig/6ZZ/6HrFnef8ALmSll8a2D+sYegq3t6lTF1cI6044iE6HJzrCyp+0iswjUpJxpc8KdaUqkoYiSlFT8HC4dYWhVxOHxE/rji2qkLwnyVKakqcIqak5TipwfOoc0eZQ5qko05fMMP7X3hH4Q+KfF3wt+Mmi3PhOPwrf/wDCPeAfGHiRLqz8H/EzwRp9r9vl8UeIrXS7P7D4At/7cmutEtRc/wDIyXln/bFnZ15Fqn7YvxG8RaNH4m1A+OJPg74O+KGseG7APo9/4o+HA8P3fg6aW58N33je1g/4nt/Yia2/su6+1f6F9ss9HuwcnH5OftafCn4heE/iF4s0fQfHXxI+IV58WLnXLDWrrxt4k0zxBcWfgjwvYfb9e8GnxRa3vkf8JBoeqw/8Su6ttE+2Xmj/AGzsK8u/Y1/as+PHjbxz4y/ZZ8G+LEuPgZ4qhk8eeAdF0HS5b1PC9vHpcN343/tS6l8n+yrexvtNtrkfaLYf6bzX5rl3EOZZXnPGPEFfP6+Djk2RcU4zDZfj8uw7oYCrDLcZiMNyyliMuzTEUKzwro4PE1sanXr2p0svxlarh6q+Dx8q2JliZVMXXj+7rV6zrL926cJJf8vZTxCqTipzjUdX2c5qr7OCiuWH9Dvhrw/8Pf2gItP1rSf2kfGfwy03UofBd+vw58H6PdXGrx+G9Dtft+n6Lf3+qTTQeG/A+q65NbXOq6DbW3+mfY7z7YK6zXPhj8Q/hXBrXxS/ZMj13VtZ1JEfVPBvxI1C50T4b+NLzR/7H8G3X2rS7rUryfSrjStChufEng66tv8AQ/El5e/jXxz/AMEafFnibxh+y/4st/iRZpqHxO+Knxa+ME3hD4hQ/wCkXmuWfw78UXmjWHhzxRFdQ/Z86VBDbXGl2um/8Sf+x/8Al8+2V9ofH7y/2S/2Wf2rviR8QPid4qbxz8SvD3iC51j4ga3p58vw3471jwn/AMIn8PtB+EvhyKb7D4cg0PVZra50zQdNtjZ3msf6ZrH2w19zkE+J6rpZjjsJw5gqGd/2lmuZUclp5hl8MqrY91q9Sth55hmmLpVFXljqnPR/s6jhqcKlV1J8uFw6xf2mR4bH5VOlXpYnBxjWp+zlSdHFVJ1MLXap1r1Zy9nOmo+0VWGNpxdOUHGnCMYqdL5A0z/grT4qs/2l/D/g39oPQ/COsy+B7rWLnx18KrbxJpdn4g0uO3M2l/8ACxvh1FfzfYfEn2KCa21LTPC9zc2d7eWf2z7Hei8r9VP2Q/25fBP7QHw/tNX8E32hT+IdP+KviHwf8TfDtlNdx6n4Pt9TutT/AOED17X7HU4Yb+G31XQ4/DVzc6l9n/sn7Ze31ml5mzY1/lqXXwT/AGif7UtfHV7q2nf8JqLbT/7U1v8A4SzVLjWdbv7OLypL7ULu6hlnnuL7i5urX7SLM/jX6o6xqn7Q3wd+F+rah8CfG2saT4u8Qal4PttW12HxJdafeapHZyxX9/o2qS+d/wATzwvfD/iW69oNz/y5/wDHn9kr8o8dcpzLijhLhDhbhPN63DnE2IzarDE5/WxNTlzBQzfLsTglWq4fBwxmHr4XAVswy6vXh7Z1sNiKMaFCnTw0KMc8NxBgMBjKNHFYCeIwmLqypSgvZ+0i4UK0FW5ZVvYuovrDlHDQnTpxlSovm/d+9/pvnQbHVrjTNQ1SG7tNQJVoby2NwuJHkP2q0SW286DBbjE4XkluuQfyJ/4Lu/GT4vfs9fsk+D/2gv2ftatLDx78HP2k/hXdait3bRappt54U8Z23iTwP4k8O6xokksH9q2F62u6c93bW04vLQ2wvl5sia/Dv9iX/guv+2x4G8H/APCvfj5+z/4T+LHiSwg1BvAPi/wT8aP+EDs7jR9PsJb+w8E+MdL8R2epGbUIRZXGm6Z4ntbnbxZ2l4Mkk/kx/wAFTf2+/wBuL/gpL478By6j4J8GfAv4J/DGx1E+CfhTo/jSHxY9/wCJNY8n+1PG3jbXooNMGqa+LGG203QbT7N9j8N/6Ze2mb28vb0/nHhz4fcRcJ42VHDcLZfw7m8s5yvMs/4tw2Mo1cZncsooYhYDMa2Py/2TzKrjcbiMVWk5ZXh8RTw8qWW42nOMamaUPUnm6oTo47B5rP2uFw1WOApKLhUwlbERdN01hqyqOMKPve1VSTwzjGTXtI1FRr/V/jf/AILIftDeLPEHwq+NqPe/CN/2eLG48S+JPAXww1y5uNK+J72evWWp6oth4cv4JfJv9V8OQal4bttLN1e2v+mkFjkY/wBAjwD8SvCnxL8BeAfiL4dmvYvDvxJ8HeGPHvhxNUs5tL1MaB4u0Oy8RaV/aemTfv7DUPsF7B9rtJ/9Ls7wvGxyCD/AN/wbl/si2Hiz9oDx7+0N8fvEDeI/Hfwd1zT/AAN8AfhlpD3V7pemeL/GHhHWNZv/AI76x5WNL1Sw8OaJZ6l4b0HQtctiLTVx/a+MmyNf1o/FHU/i3N4n0PwB8OfEttpvhyw0qTwB4s8a+D5xqmo+H9Qk8OTaprOl2thqgmh0rxBB4V1G1ufC91c4sz9iu7P/AI/K/qnKcFnEp5pnOe5lic7x+YShKhSw6jGVT6lhKVKlTwlCXsMNQ9pZxqwjChCpKKqOMqntJywlPMc+9tmOeZjXxWJ+r16tC1KnTgoYahy08PQpU/Z4ehCrWgqrhSVNe1qVZxozqSrM/PH/AIKCeP8A/goV8NP2qfGPir4TfsVeE/2iPg9e/wBj+P8AwP8AFL4keLfhfH8Ifh3eaRoNn4NjMWqeKJJdVsfEGuWVnqWpa/ph0QXukbg2j3d5Z3v2yvjfw6n7Nvxz8WeMPi34v+AWifsLftZeL9N0uy+NHij4K65YfET9mX4yDwnNFdaN48ttZ8L2mkz+APF8N9i58G+MrbRLS91i9/tmz8StrWfttfE3jr9mP9m7TfiR4k+A/wC05/wUq/aZ0/xF4L8W63YfC3xR8K/EHjfRPhv8F9QuJpr/AMJXXxB8EazrGvQX2saHqs2m3OqWtt/xKPsf2z/jz+2Gqvjn4gftpfs5x+Mteh/a4/Y5+LXhW1+Et5bXXgX4UfFC6k/4Xx4w8P6DNDo3ijR9G1Twf5/gDxB4jghtrm68MXOpfY7zWftln9s/487yvy/PswzzNPq3tnOjkNSpicLjqGcZPiq2bYfExxnsKFCjicJPD4mlltKSjhqNSpSnhnQjRq4enVwKdY+SzXFY/MJuMnWnQlSwuDmsTSdCpSp4KnSp4Sjh4Vqk6bjRjD3HKDhQlGFVyUJRqH78fsgfs0T6d4h8ZeM9A1/UdQ8P6dNYW9vY3MGlvpfii7v7r+2v7e1S7lnmv76cef8AabW6traysrz7ZefbPtd5zXBfta3Hxr/YV/aY8M/tYwePraH4afF//hG/hRpng3wroWoadpeqa74YsNY1+w8CfFC1u9SvPC2t3GuaHPreneDfGNtb6PrIs9HGkXebu0sb29+Jf+CY/wDwVI0L4I6JPoX7XF1fz698S9C8D+K7pfCXgfVPsfwk/tSwhivvCVrqlpNeQa7p+kHGqappf2b+19IvbvV/sYvM/Y6+vf8AgrJ+3f8AsY/HP9lMfAH4R/Gvw38S/iR448d+A9Z8NxfD2OfVJPhfa+B9Zs9e1DxHrt1e2cX9iax9nguNMtba626xd3Wrriy+yFiP5+wnEPjlkviNxJkuCz7H4fwjjUisjyytw/gcNHCYrCVZ05ZhluY5zl0cdj8HjvZSrqllmaqnDFZlQxUsuwWFqZvPD/pmUzxGB4Tynh9ypRwmMxFbmryr0FHE1cXifa+zrYh81PCNYmcKsY1oUqkYOa5ptUnP9AP+Cef7Y/8Aw0B8Q/idb+N7fwroPibxLb6dc+BLHS5Jp9Tt9D8PRyx6xpl3d3Hmw4vbi7tdb0y1trnaVN8GGLSzx95+P/iVdSy+MvCHhLxr4S0PWNI0WOaW/vNUivPEml3N5Y+dFbW3hwQ/urg4Btbm6uWUNdq2Nygj+JP4H/Fn4lfBXWtN8VfC/wAUWmoeJI/7Qh1y38eWf9o6f4rs9Qi/e2Et1pf2O+8OXFvP9nudL1PRP+PO89RX3RqH/BRT4lfGBr/wzM2m+AfEkdhp8Piqx0q38vxReRxxeV9vl8R3XnT6rp8/lD7Lqltj1r9ww/iRhcDw9y5xiMVic7niMZGrQwuXV8NiamHk6ipSeJWJr0I4ipFfvalLEe1g+aFNqUfanuUfC/O8fm8cP9Wy/JcHj50o5fLMuIKGOjSnOKkqH1jD4PGVMwxOGpxqQ+q0qeHxNWFODpzk5Vay/rE+EXjTw54r8EaTc+GtSTVbDTG/4Ry9vk+0y+ZrWjxRWmrwzSXQFwZ4L0N9ouLgHJ3E8ndX4R/8FQbvw18U9W+IOsaz8MPE3w4+KP7NniD4f+EtM8W6heW9/pPxe+D3xOu/Eq6ZcWC2OYLC3sPFWmalf6It1tvY3TWrNgzu1ovgv7If7ZHxB/Zy+JGkafPqU2vfAPxrrFxdfFTw3eQTanr/AIf1STSxa2vjvwTdedFNb6gfsem23ijQrkXtnq1nZi+As73Fea/ttftDx/H/AOOfjDxh4cvdatvAVxpvhzwtommS+bYRavpHhn7Zd2OqazpcoH/Ew/tbUtT1K0+0gfZPSvG4k8Rshz/ghUaEZYbGe3hl+JyKtCjPERtgMS8JjqVWblUp4fB4iOFxX1uhNT56MsLJL2soP9i8J/C/P+F/E6dapaeXYHC0sVhuJsNVx+HwtaCx2WSxuDo03UdDE1c0yqtmGW1cHjvreHjTrVcZBxq4SEl8RzWELfdkm77F8vr+A7/0pq2CKNu5/wDd54x+H+fStxbqFl275v3f/TPAP9P89KdHtkbbHvbH8X+R3/8ArV+IU8RWVm41UrNNyW10tV5dLaffc/udToyppxnFyuuW7t7qtZddm9+2pRh02Nl+ZXb8M9MZ6c9ad/ZNvubbHeY/u/uvc9/T+nHWuojhjVY928tn/P0/z64qwywLGzeY3/fsf1/z2rKpiJOOntFtsn/d35VL8ba3sZ066jJOy17uL89OSUvR336aI4G602FRC3lzfK/zN+68zHr/AF9/ati1sIW27ZLk70+Zf3Xb6064WFvMi8x9quO0v8v8/wBKkt7hLdv+Pp/l/haP/V/5/H8DXjYhTqSc+Sq72V/YaS+H/p1/S7Ho80ZU4XlFKV3b2iV43jZ+7Uj0b3T203Ksmg26s0kn2ks38XmeWn5eTz7/AP1qxbzT1t422rM237rfaP3ecf5z29RXU3WqMy7Vut390f5+vPX9a5e4upriYo0z7f8Av3z/AD6+v05ry6tarGpyz9pfzpystm7ctKN/mntZedU6V4pynT5Iq/K4+Uet+/kcFdWcckjNJG7Mr72/eSyf55x712HhDQ9OuGvobq1eS3uofJmV5D5cn+foK21hs/lC/N8nzBx+f/LHr9f1zWvatHa/6mVI9v3f3nl+X+f+fwrvw2I5/cV6fPFXcnKHxW5uaMoK19Fu9vmceOruVF04w5JJxanenGXTRe/6elzxPxj8PV024aSzVJreSaTyY/L/ANZ/y2/df9PEHW6teR/z6elU/DNnJa2N1Gsf+s/iT957GX/P+FfQGoTLc28lvNcJNDNxJH5kX+ftEH8/yrxPXtPm028kWzuNrXP+pmSTy4r2T/nl5UX7iDUP0vePWvoMnzJ+1jhsTOnCcl7OjVcJONT4eWlUlJQtU192Sv7W8ly+0/i+Pi41amH0oSrRi1OpKM6arQjG3vx953hDXmV1ycybbg24Z9jJtvoVbYzLN0/z+dVfGFr9qmRl3x/J8rPl/c/uv69B2rn7fVtQt7pdzQyKvz7Hj82STrV7VtehkhjkuI3G37vk8/5/zj3+gjKaw9SCUanv6xhKLvtvCThKy6cyXXdmSw9CGNoTbdFqk4r2ilDX3LaxjOmr+dTT0ODuNFk3fNDZyBY9jMkn2eT/AL9cfgP8OOeawVpJFaN7dY/us/8Aq+/+q8r8fX+ldm2tWs22NZty/wAUdz+7k8v/AD/+rNSWGn2K3kNxcWt5dWe//SLezuIkkkjk4zFL++8j8bYCvmMTVn7TkmpUrtJuopRgtvelJx5lFPdxhPlurpXV/pKVNKnKdOftXrKMINTlKT5fcUYy5XJ62UpwvbS+tsPS9JjkjWRokuPM/dw8eX5nln97LL5X/PD9Pxr6k+D+kvp8kl15cylfkjXzPMEf/wBb/JrxGx02RpF83Y3lfuef3cmz/tl/n8q+nPh/a3FrYx7WeP8A2X/e/wCew/8ArV6uW1aMWpJxklZz5nyyl1cnJqV7Wslbroz43ixV3gqlJJ+++W8fdUYKTioWfuKWl5J1ItXVuY+kNJ1C4ZY42m+bjdG/1B/zjiuwt7xvl8yFJP8AaT92f8/y+teZ6bJMPLb5JB/Fs/1vfj+XGa663vtq4ZXhboG/qen+RivrY1ac1eEFHu4tqXyceXs90++mt/xGtQnCTVWU+Zd1NX+HrWTitNd43216dNJJE396P29f8/4VX+XczLIjevT+v/6v0qit0H2/Mkm7/v56f5/OrTKsi/d246sP8+3XitoV3FWcnFd24vqu7h0TXX5def2CnryRlHtySt0e8VKP3Se2o7zLhfmRnKr/ABJJ5ifrj3qOS8m27SySf3lePy+/H+fpUYh2/dl49z/n/PaoZGul+83mRcff/wAB9P8A65qniKcpptU5vu1yy+zv8XN5XslrvzFRwk7LlcopbJPnTva917trNO3bXaxM06t8ske3/rhJ9e361DItv/z1TaSf9dH5f5A/59Kr7m+b938p6/5/zz0qGSSNm2tvXv8A59eO31rOUryt+8tdOTjOTsly3bUr/g18zaOHalq4yel3KPI3qtvchbW999XrY9oVPLVfNmSP5Mf/AKuPT61A00S4ZWmk/wA9O/vWMtxNJwkPt8/f+n5+hq1DHcSeX5jIv/kT8v8APalQoqnFSnKCva7boqTS5bXUYStvpd6/IxmpTl7tOXKrcrcakk9Y7Odu2tu6b0sXluo12stud395/wDP5+/6jX21fmaGHrtTy8e/Hm/5/Km/Y12tuZ2X/YP5D91/Oj7Pax7dtv5j/wB6b/7ZzxVydFcu831b5pfy20rSjHr/ACy36dap057XjBbtpct27XbUIa30Wr0u13tW/tCaRvLWZ5P9wy/yi/8A1fnUbfaW3fuZl/us/wC76n6Y5/zirPnMoCqyL0/1f+fbj/6/NGa/VVZmk8v03yeX/nisKlVu6hRiou1nt2fw01TivVR2v1uaww8N5e8+r95p6L4XKUtra2S+fTJuoriTczfKrfP/AM9On86wZo13FpJHPQLs/d/vP6Y+talzq1u29VkRm/2P3nX/APV/npXO32obv9XG/wA3/LR/3cf+e3bqK82u8RL3Zx5W/KMbfCuso3te67dtj3MJDD002o8+rXLepUvt9mmlF/KcrbetC9S3/hXd/tP/APbfQfpXnWqNCsm5Tu52bf8A91/k10WoXzMjbpIl/wBZ/wAs/wDDj88V5nqFw0kzMvnTLv8Avf6s/wD1j2rxMXgpVE3Obso7TX8vLtK/KvPma7K/T6nLMZCi04R5Y2s4/u4y6W0/e1E9OtLW/kbUeoRxqv3FVf7/AJXT+X/6/XpVm1z5xt3p/uR9P+/v+fzrlS1w3ypbJDl/T95+H5/j+dDQzSf6668v/Hn/AD09uleW8LhKck5SUn9pc3NZaW5VT9pG71uufa3c9mdfE1Xzcnuyd05c3J02lWkou3+CXS9tL739sSbo/wCHr8zSf/G/z4x61JJq0jK377bzwsKf+1f58/4VzKwwx8MXk/2XGPb/AD2/GpGmt49rKu1l/vj/AD6jp9OO+nNh4JezjzbaOMYxlstVNSkrdLqO/VXt5dSlWqN89WPS3LKpPt/15t/5P8ra3Lm6mm+6zyf3d+M9O/6mudvPtCs26a2h2gbR+v8An9a0pLjzAPmfaOe3/wCus+RdyszJ5at/20yf6/SsqmIjd3soq1oKPNKTdrJK6h0+1GVt0ldp9VDLarUeWnUal9qSjSp6JbqEeZOz6VF6nM3kaSbvNuJnVuyfX/63tXNzWMMcn7uHd/tTdf5d+P8A61dlcfYYdvmXEf3ztV5Io4+w/wCWs1Ytxr2hxtt/tLRlKno+oWsvl9f+m3+T3rkqYipyy5Y12rc3s7csNGl8MPZyW7V5x/w9T6DBZXUWnuK+7jq1btKbq/8Aks5efQwG0y6dW2yGOP8AuwxH8u2CayJtDk8zdJIjL/z0mf8Aw/z06V1H/CQaDIFUa1prZ+8P7Qi/H91F39arzap4bRYd+tWG64mjtreNLiKP7RcXEvlRWsWP38/nz/19axVfFyfLSoSsk1KVKjKc1flteUdnZaXS2Z71HA0KcYutVcndJrEVYqz015ZWv0vZ9mZK2dvaxszN8sabpG/dJFHHH/rZpZbryP8AR4KdotjD4i8u+vrd4fCbfPa2swlFx4wkj/5er+L/AJYeD4P+XW1/4/PEl5/pl4f7H5vKT2Nxr19J9v0Vv+ETtZpEXT7z93ceLLy3/wCXq/ik/fweF7Gfi1tf+ZkvP9MvP9DrsZL64mZpPs8O7r5aSf6vt+P4/wA6yxFPGSiqUVNTmlz1FVpxdL4VKL1fJPXSV7K2zuzpp/VYybioOMHZWo+155XVpQ0l7q0s7R5r3VrHpmj3Fi25pVSSRv8Apn/n+vviukWa1m2r5afKflby/X+f+eK8t0u+kXb+4Td/EvmH/P0/+vXaWd1J8qmGRf7q+v8AP/P1r0spyytRim41G/ds416elt/k7r0+883MsZQU5J1UnbVOhJvaO3NGX/D99zc/0VdzFE/2e/16fz98Y7VqWd55a/e/TP6f/WxzWGnmN8rW8ze372PH6+//AOutC1jkwq+Rc8/xfvev+f8APevp44eta3JV6bvvbvbuvkfNV8VhJr3pUG72T9nU7R/u6d7f0+i/tCHaWdkTd/nr19v/AK3XJuJreRmZW9f/AK/+elN8ubvbzMp/i8uX/P6emaqzoyr/AKmb6eX+7/z/AJ561w4rD1Xqvaxn0SfnH+v1DCYnB8yusO0/tKlUjZ6dOR7+q7dQmkha1kjk2fMhfd2T/Pt7da4m6ht2Vtq53fxfp09z+VbFzNGo2yRzL0+Xv/nHauXuJo/M3PCwX+H9P/rfy+nzOIwGKUqjviXf3kk6bs3y2j/Esr9/LY+vy/F4JwslSbdrKUJ307e59/yfQy7ixt/M+Zvm7uec/wCfb/61Z7WFu21vM+T+7/kVcmks2kaTyZv93+fP+frWe19art81Zoxv2L/qo448/wDPUfX8K8WWHxftLJ19N0oRbe1rJVH2Wjf5n0scTh+WNo0l/wCBd4/zQjtp3/zr/wBlwszKu9v9lPN/1fp9P1HrWTdaD8yNJvVv+2sePb/P5568v8O/HGg+JPiNDp+teILy18O61r0Gh28PhjXLDS9UvILeX7BLLpd1dedB/wAf3+k3V19m+xivuTVNB/Z98L2ss03j74hXirNJbTQw/EzwHeXEf2f/AFnmwxabN5H419FlfCOe51QdXAUMXWnGU4yjSoqpOPs5KEpOHtIy5XKMlBxT5uST921n8vnXHHDfDtVUcyxmBwl1FqVfEUcNS5na8PaVpQg5R051f3U0n8R8e/2OsY7M395z1/ye9TDwnrmpR7dL0m/vt3mbfsf/AC1NvEJbr6eR/wAvXSvevFWufBW38H3194H8UfEW68RYjhs9D1jVNB1iO4jkl8q6/dWGj2c0AMH/AB6/6Sa+lf2TvFHwH8L+Gf7Bv9Httc1q+eSbXrXX9Pv7fXJLe4tZorWK1iuofPn0+HzvtN1dab/x9n1Fbx4BzzBY3D0c3pYnLaFanUk8ZiMNXhSi43VON6Ua8Ze0kve5l+5gpTmo+7GfjVfEnhzHZdisTkuIy/OsZQnCP1HB43DVazj7jq1ZOFanGNOMXanOFSUK1RxhGavzR/My40HV7Hc1v/aWj6xp7x3cdx9ourPUNPkjl821v7WWLyZ4LiCf/SbW6tvz9fK/iR/wnXijXtS8WeNPGniTxl4m1aO3m1TxJ4h1y61TWNRkt4oba1+3391508/kQw21ta8n+dfstp/wb8G+NPEXjJrX+29D0qaaObTbXSpNLkuPsCS+VFFdRazZ3n+j/wDXvXivjr9ln4d2OrNYtrnjaS4k+Ty0t/C93v7fuh9jg4/qa9zLspzvB4eM6dSpPBzrc1SEqlNwlVpylClNRrTpONRU/aU4zdFThGdRQa55M8TMc54YzGqqVWly5jDD8tGapuNShSxFOjUr0udQqz5Zy5fbUvbOM7QlJKUKco/iL4g0rWo/9PjmuY5o/nhmS8ljkj8vv/z3PX/Pf5i8QW99/wAIvr1rcedI11eXl1n7RLJJ9okl/wBb28/+X61+yvxa+EvhnwT4m1zwa1vNff2foOl6lJqWq2dhZ3EcmsTeVa/ZP7L/AHE/+frXw7408B6HZx6hDa7JGaSR408vzP6fT/Oa9dcSTy7F0sFj6HvckpwlGF7JS5eVz02sne2t7cqtr8lieA451gp4zLMXz068oKcI1anK706dVTlH2St+7rQaSf2mr6Xfxb8D/iFb2cXijwX4wV/tMnhvWH8K3VzceXb6hcW9rNLLo1/Ln/lvBn7N+vevavgf4f1b4S63a+Gtc+JXiGz8K/GjwxJeW/hfw94k1TS/BcklnF9qiiitf7YhgvtZvtKvLm2urXUtNP8AbFnZ15vofh3xBpPxa8D614P0LWPE3ijR/FWl3nh/w7pXhC68Wf2nqn2r7La2t1oNrDefbre+nm+zf6T/AKH/AM/ma/RqT9h/4+fDFfiB8Yvjt40+Btvrmr6lqmvWfwLs/EHhvxx8SLO9uJYfK0HS7rQYb3Q/A9xZQTfZ7rQbbUrz/hG7Oz+x3g719hknFM8HiJZng6lZ83J9cwsMLVrRqU4YSvQUYVY0aiw/2KlSShOD5Jyqyp03K/8ANXi/wxhOGcsr4THY/B4bG4vCVaeUYd5lKjmePxMq9FxlhsFQpYmtXo06iUZ1pezwtOelfFYeMoyl9CfAX4C6H8HPEGj/AB2+NFvDpPgWx8MeLLz4X65c+IPDkml+IPGEfhy8utGtdBi8OaxeTX1xpUEP9pXV3c/Y7PR/9Dr471r4qaL420vUNa17xtolvr1jrGqJpfhez1y1/suPwX4pzdXUWjS/bJoP+EgsdV/4mV1dXP8Apl59su+wqx+0n8SvCPhvw78P/Afg+10qfwf4X0G4tpNJ0qzi0+zvNcude1LRvirdWEX+vnuNcsdfH2W6uf8ATLyz0ezvP+Xyvxz1T4c6XprXUNrDHNYW/mQ2cyWflyXNvH/x6yyxf9cP+Prn9K+qyDO8HiVUx+cwnUzLEzp1MPiHLDU6tGjGl7Plpqhg6VGn7WMpVKns4usvazhKteT5fwTIfCriDN8NVx2IljMJCcqcaEq+CipzhT5J148vOo0oRlKMJN1JxraOEvckl+8H/BMf9tAfsI/HLxBqt9cJr3wf+J2mx6J8SdD0TUNL/ty3uNOm83wt4y0aWWb9/P4cmmuftWli5+x6xZ3n2Ov2e/bC/wCCsH7Lnxa+FHirRfhtffEfUvFMniPwxoieELNLX4bp408EXGJfEXiO58T2st5PY21iITbHQrq6+2C9FkLIc5H8KMHg+1a4ZlsZtq9P9b7D3/8ArfhWxJ4XjjG6O3vFbZlmgubrPp/z2x6/hX6RHjXBUcNLCe/KjUUoySqNPlny+0s/3fxx0+0tnKL0PpsP4a8Rwg4wxFKUYXhGU8DWa5dLJxWJjzdd36PU/XDx3421jXPjF4g+K3gO3f4Y+HoptPfwL4FsNcutcs/A8cel/wBl6paxX+qTTT31vrl9Nc6lc2tz/wAed5eXnPevVP2VfGHhn9ndfiL8SLeTUpPiXq3wx8QfDH4d+F9Kjij0fUNY8afutU8Y+N9T/wCWGj+DrD/SdL0u2/0zWNY+x/8ALnZ1+Fsfh/UCsyrNqqxyf6w/bL+P/v8Afvu/b+nNdJD4X1RYYJIdS1yNv+WaprOqH/2t/wDq/Kvn8fjOF8XhnhMTh1SwtVeznHCuhR9th/be1q4StyRXNhq7q1oVKataFWToSo1F7R+XLwi4gxkpyjVpNuzqQeE5INNudrQqv92pzm+Rv7Ss9z95vgb+0h+018B/h7D8Lfhj8RJvDfh+31jWNY8O3S6fa3niDw5qniX/AJGK60HWZfOnsbfW/J+03Vr/AMef2yu+/aP/AGv/ANrT9ojwDofw1+NnxH/4SjwfpMGkPNpdt4fsNPj8SanoEvnaN4j8R3VrD5+q+ILH/n6/0PJr+fmHS/ElrsaTXvEK7XyskOuap/2x/wCXzr/X862Lq28WXEfHivxV5ez7v/CQap/8ez/U17X+u+X+z9nGviXScVBRhUp+zcFb93y3UfZp/YUY6LV6HYvCbjJ0/YvGwslyulVw848ifLy801V5lbX4XG+t7WTPvTUvDc37n/R32q++T939eePb2/nX2J4s+Hp8P6fZ6fJa22+61KS5X7NJFcW8lvHp9ndRXQP/AG+f5zX4U3MPjRd0K+K/GflyJs/5Dmqfu+h/1vnf/r/Kvor4kfE3xl441DwXcaf4u8YWdv4V+GngfwSqw6pf2cl3qHh/S/K1TWb+KKYefcX18f8Aj6/5fK+PzzNMBmXEHCGY06tb6pk1fOMRjKKVH99UxGGwn1CV5zcYuhiMP7S7fw8/8p5dbwZ4rrV8HzVcOlQlWnUqzhV5IStThTcoNJz5pS+zzckeaUrRTZ+lkeh21rbzW72fzSQ+creXjPfoe/5dfWvH/F2g/u2Pku3nfxeX/wA9PT8//wBff4VhvPH11GrTfETxtC0f/Uw3/wDn9K5HXtY+I1orBfiN4taNf9X/AMTi6k/d/wBOePY+1fS0+N8mqVfYr6wp3a+CnZ7bP2uu+qsrXWup6NXwT4tw9H61LFZfOkve1VdSV2tHFw5o/wDbyXN0Wh/Xn/wQY0GbwLb/ALQnjoJcsuva38P/AAHYyW0f2yLR9Qs7DWNeiv7+wi/06D+1fO/sS11TBH/H5Z1+of7bWm3HwS/YV+PFn4ZvrDw34h16z/4SeH4l+GLiXQvEmsfEDxB4os7qw1T7fFN9vn8QW8H/ABLf+nSzH2Ov8+v4aftEftIfCnUpNU+Gv7Qnxe+HuqXH2NLq68MeLLqzj1COzuvtVhFfxeTNBe+RPCPsv2m2H9D9o/G3/gp9+29+0Z8LdP8AhH8XvjM+peGo7zS7/UNU0fw/pej+LPEl5o8v2rS7rXtftYekE/8ApP8AxLbaz+2Z5r2qfHeSYTBSo1KOM9rCFaOHnToUXJ1a2snTqQxHNSlGPvXW/Lb09XAeHHESw1OhTxGVqcffqyniq8acp041XQl+7oNz5alSzjJtapqEpKLp9rqvhdtavtS1rWvtOqatqt5cX+saxf8Am3GoapqF5L5t1dX91L+/nuJ5/wDj6/nxXK614P0/RdD1C+is4YPJTZA32eL/AFlx+7i/GvhObx58UoWkaH4oeOt0j7939sfu/wB5/wBsec/561aj8b/FKaO3l1Dx94k1ixhuY5ptN1K8iuNPvI4/+fqLyYftGce1ePPi7KfZSqt4iMnonUp04K/SN/avV69NLeqPHw3hDxXPGU6TxGBrRc6bq+yqYmVSpBTg2lz4WnFz191OcW9bPc+krzXIvC9jHqGrag8cO+OHzMeZJJJ5R/yP/r03wP4v8H+LNaa80m+S11qN43lkfFu+oSW/+ql/df8ALfyP+Xr868b8beJrfxR4fjs7WN1kkmjeZvL/AHcfl/6o9yP5VH8CfhXfeJPE81va+ILPQb2ztv7TtZbq3luJNQkjl/e2trFa/wDLx/jXxOY8U5bOFWjWqONPlu6lNN66KLTjF395pW0+LsftOB8H8dmeC9hisDOo6jXs1OpGnUoVqcoSo18PJtqlWhL3oySl/LJOMnGX6heCYdLuLq1b7ZNCzpv2/wCtj/P8/wDOa908P+EdL1q403XLG6e117w3eSXOl6t9nllEdv8A8xTTL+XP77R76H/j6tbnH/P5Z14f4Ltde0H7PZyeFfEmtSRoUa4s/D+tW/mY/wCWsX+h/lXtn9k+ONUXw7Y6bpfiTwpoMmrRXniD7Z4f1SOTxBp9nL539jRX/lQwWNvPP/x9f8/n4V+M8R5rHGRxdLC1KmJlOCVKKlGF3zSatOVOioS9pKmoyU+j0d0j9Vyjw6zv2dClmOV06WG9yWIruWFjLmo+zrRqUYwx0XGsq1H2tP2UE6U7Sh7NQc39PaXasl5FMrJbqyRzKv8ArIzHJF/y2/wFee+ILGRr2Ropk+/J/wBc/X/P/wCuvoDwD8N/FHiD4Za94o8ReI/Cvh1fDKXEFv4gvLyX7ZrH/LWK0i8OedDb/wCgwf8APt/ph54r5N+Evizxb8RvEPjjw7rXhOaSLwrqVvYaX4i8K6fc6pH4suJ/OlltbDSrqWz/ANIsYYvtP2q2ufbNfK0sHjcLPBVK7oe1x9Cbw9NTipVnh5SjXlCliKdOUYxlCaUnFUqqj+7qT5Z8v69keAapY5x55UcoqUqeLqxVSPs6ldRlQftKPPQqVJRlF1IRarw5oqdJSulsR2N0G+WdGbP3fL//AF8/pWhb6fcRsrbk3F/y/wA9/p0r0638AeJmmaFvAPxaVd+zc/w6/wCeZx/y116E1J4i8J6h4P8ADeqeK9e8O/ELSdH01I/tl9rHgOLT7OLzP9V5so8STTnz/wDp2tv1r0pUMar3pUeWK5pJVMCrqPK23y1Z/DFSa9LLXb36OYZe+Siq1ZTnOEI3hjKb55yjCCi3CUVeUkvea6WucOtrffeEyH/P9P8ACmtb3zr8skPP3t//ACz/ACx/I8g1n+E/GHhfxxoNr4i8M6lDfaXcPcWyvNH9nuLe8s5fKv7C6il/1FxBP/8AqrQmmiXd++hX/wDXj/634Vx81Wa9ykpKSi03hpSTTtZxcZyvfztbRLS9vVhCjCo6dWpUp1Iu04SxHLKLXLfSd7tX0taytcyX0fUJmaVfJ+b72JJfp/nn+VO/sPUFVdyws22TdsnlP5f1H6VtW86r/cZv9j/PJpslwoVmjkTCp8y+Z+P+e/pXLUeM5W1Sprl6ewbu9La+07L/ADO6NXCaJVpN6W/exSfw7N8t/ktFfucjcaPqf8Pk7d/zL5mevb/P1qrHpd9G26aKH/Z/0iU/l/nI61rXV1t+ZpEbd/cn/wA/X2P6YMmpLG3+s3f3V+0YPX/PbvXz+IeKc3ajRm3tfD1Iz6bT9pTvv/K1on3v3/uHCMfauzve2Kgr/Bbp0v8AN+ppNb321vli9v8ASP8A7T2/+v2qiy3B2q2xW/1m57j/ANG4h/yPSq/9rRSD5rhI9qfN/pH/AKN9OP8APeqc2rWob5rpGVfu/wCkf6v0/wAfb61x054um4/ukruLjaEo25bP7M435oyg7t2V7LuZSpYWTUZVG15VKcL/AAvflg9vW3lfWa8W4Vn2yYz86/vz/wDGRXF6s2oOrRtHuVfLdW+0f8tI/wB7F1h/4+PTPH17bVxqlv8AvWW8T5vu/wCkRd/8+/41y99qkUjNtvEZV+8z3Ef6/wCf8K6PrmLcdaPtLKK/eKsrbXty11a97PtbTqd+AwmE9onzvlbk3BTpqOsWrPkWtub7XK97X1ONutNup5vO2zNdXE3WHzrz7R/y182Xyof9HuPbH2O871i3yyeXtUQ3EZT5l8z/AFnp5sX1HbpXYSapDDCzR3SfvkkSREuPLkMcn/LKuVurexkbymuoWkkmjSzkmuPnvJH/ANVayyxZP9o/8+t1c/8AH573le3l+d16cHTxiqWi3y1vZ+0grctoSqXUnfW0pucnrduyuYvKMPCSnhnFUJKC5XLlnSnu2muei6LjySTjB8ibTWqZw8kO6YLInk87FV4h7/8ALX/636V01jbrb/NC06yf7En7v2/dD24/L3rSh0SRmVlmmVv+ec37z95GP556/pWpDo8zbmmtU+Xo1rJ+HQd/8+1df9rUaknF1b7XUnyp6r/l3NQS2e0peduvh4zL61N3inzR2a5VbZ3lWpKV5PS8nCN3ZJL3ra+kSXSyQ+ZIlwv/AE2j/wBX/Q/p/WvoTwvqUMMcPyv82U2pJ2/l/hj1rwbT7Xy2CR3Ey7f+WdzH/wDrH/1s16Fos00bLuhQ/wCr2yQyf5/n3r2MGsNLltClr/LKVKUbWtzczpr0vLQ+GzipjmnH2lSUY30ajVg+bkXwxU6itbSUqcI/zSWh9P6bfW7CPMkat9/6dPau5sZI5FU7t3bp/n/PtXz3p9867V8x93+3/wDXArtrG8uvlZZMqvyfuZPf6V7sMNN04tVZ07/Dzd1a9tdfPb8T4KtXblLnpUqt3G/I+V6+XLLVNXkr+7dau57B5Nu3DKn+zsHl+n6Y9v58C/ul+WTao/h+gP8Anp+NcDDrU6nazbtv8M8fT/P/AOutqHXi6/Nt/wCASD/63+frWip4yCWvtY9ubR7bxtuvX70Yf7DVteNSlJ63VOMZx+F9Et9LX2t3ubsl9MrcbG9v8/hj+frA2oFd3yuvyfKv6e/tVNNQs2ZmZvm6/Of84/yfrJ9ogkb5ZE/9Gf59DwP0q41XHejKK0u0rJ7bP7W+uzW9ncpYOFRJ0q0JN7KV5N6LfW0Pxv5WsSfbt3y7kZ/7r/qfy60NLu+8u5f7yfvO3p/hnNVWjhk+8v8A3x/Xr/kU1o2X/Vyuqr93/Oe3H59qv20XrF6dpK1ttnfXqtl+OieGq09JJW5m7xnHS/Luqrl98Wv73Q9h5+XDMuSQcHHerMZ2kAAZP8WPm/P8PSiiuuCSi7JL3JbL+9FHlJtyldt7fkJJeSbjnJ/d92P09PasibU5H3BIkTJPJaST/wBGMaKK9LB0KVS3PTjK06drra8mnb1SX3HJVqVIpWk1rb8F39EY0k88j+X58qLu6I23/GsC7uo4g5EAcjp5jl8YH+6OtFFctWco1OSL5Y9YxSin7q3SSvbzO1RXuytducrttyf2O7ZlyTz4AWRYx/0yiRP6H1rPuIvMzveRgqLhS+V59sflzRRXDmH7t1VD3eXl5bbq6113+9np5ZGNW8ai54rl0d7arUwLxVhQqqgjH8Y3da5idEkIyoA5+UDC9u3/ANeiivmMwS5VLW8r3bbbdnC27Z9ZhG40Zcto8sIcvKlG1072skYFyq5DbeR05bjp/tVQcYHUnnuaKK8FttRu2/dj+SPpqUY+zpvlTb9ndtXbtG61+bKk4Cfey23BGDs7E9s+lcfrfiN9Jj3x2iyt/tS4Xv8AwtE/480UV2ZZCNasoVY+0jde7K7XxR6HbUUacVOEYxm5SvJRjzO3Ja7tfq/6SLNrpHiTxJpgv08Vf2PCz7Dbado0Jk2n/p7ubyZv/IX9K+z/AIJ/sAaN8YZdMGvfFjxbbrfQ+fOsVlvTd/dVIdYs0VO23aaKK9jhrKsDmuf4vBY6lUqYWhUw3s6FLE4rC04+19pz3WErUOe/s4253Lls+W3NK/zHiJnuacO8KVswyfExwmMitK7w2ExMlbkt7uLoV4dXvE/QHS/+CL37M+naRDfa9rvjLxHeuscryyTxWUb8geW0LSX4MfP3d386rav/AME8v2R/C12NPh+GTahChj+e91UGZucfPJDYxZ/IUUV+7/6gcG0sNgqq4ey+pUqSnKpPEQninJ3o6v6zUq935fgfyVlHin4iZs6k8dxfnU3yrSjivqcFr9mng44enHb7MUYEH/BOn9lb4kfEzUtGTwbqvhXSvAvw/wBI8SGx0PW1WHX9c8WeIrjw7Df6mJLAbToVjpdxLYQ2+2Ga7vxPdJJ9itUD7n/gkL+y3bajdazYp4jtdTlwj3jXFtczBY8bBC00R+zYz/y7eTRRXZQ4G4Tr5XDEyyXDU6vsZJPC1MRgqcUqkrKFHB1qFGG/2aav1Lq+JPHeGz3GYKnxRms8NSxNFQhiK0cXP3qNJvmrYqFatU8vaVJcuysjkdV/4JWfBhJFaDxb4rTzEkysqQTKv7sfcAuIsV4x4k/4Jf8Awwswpg8c+JlLeZz9mI6H/Z1ZaKK+XzrgPhahiqUKWX14wlV1j/a2cSTtyW+LMJd3959lkninx7OHv8QVZcsKVr4HK9L817f7D1OA1L/gnN4GtEfyPiD4qTZyv7u4OP8Ays+9cg/7C/hnz0jT4jeM4Rny8xTTq3Yb8tqb/vD/AHv0oor8sxuQ5Vh6adHD1IOThd/W8bJ6UqDVufEStrJ7WvfU/YMp424oxk3HEZtUqKEKTilh8HTScua9/ZYaF/hVua9raWu75g/Y00q2l8m3+KPj6MbZPn+2O0nH+012fX0q0f2SrSxj3D4sfEVvl+6Ly1Vef9mRJvWiivmMvhGpiY0580oS3i5Ss9UujT2b+896nxHnVelJ1cfVk4wp2ahRg9nu4U483lzXt03Z1Gj/ALHy6hJKifGv4oWqhtqiN9Al2LnGE87S325x713Vv+wdeXMixW/7RvxUt0aA3WJ9L8G3e2TA+Vf+JPBiPn7n60UV+o5Jw7lGMpSeIwspuNOjJcuKxlLWalztqjiKak5csb819vU+BzvjPiXB42FOhmTjCSq3jUwmBr35VRtrXwtRq3M9mr31vZWwPEX7FGtaNOqx/HvxRelx8z3/AIO8NSMe/SCW2j/8c/TivCPE/wABPEmgSzD/AIWe1/5acef4Os4t3f5vI1pN36UUV4+bcP5VSnONOhWUeZ6PH5hL/n31lim+vf8AJG3D/H3FeLp4eWIzGhUc37z/ALJyaN9Y/wAmXxPFNZ8Ma7oxXd4ktbv5tnOgtD8uOn/IYmrkbq1uo2QXUmnX0YuEJhm0648l/Kli+WVG1STzY5P+WsMpeF/+eYoor84UVRqUp07qcpzk5NubbhUocrvNyatd6LR9b2R/RGX1p4xThiXGpBRoR5fZ04JqrNwqKSpxhzKUbxalfRtKybvh+KLLwd8RfEWk+IfGXw2+HuoSeHNTh1S20XTPD3/CN+Gb1rSPyUsNU0XQLuwivNHm8nzbrSvNjs7qaWZ5o234HaeNfG/gjxmFt9b/AGb/ANmgx8WudP8AhTa6XJ5MY8lF82w1OB+I+PvUUV69Pjni/LaXsMDxBmWGoySqOjSr2pKc3zTlCm04Qc5NylyKKlJuTTep5Nfwr8OM2xcK+ZcF8PY2tCjRhGrXy6hOagqVNqLlyptLRK97RSirRSS8usl/Z/0GYahL+yJ8AdVnIIAurPx9bxq2ceYkdh45tkWT/a2/hXtXhT9oT4P+HIbNk/Yy+AF5Z2EhktLOW6+JObeTysb7e6l8aXFxbf8AXO2aGH/pnRRXAvFjxBfs8PPiKpVoYpwp4mjXy/KcRTr03XwycKsK+AqRnFqck4tNO+uyt6C8BfCNuWKhwXgqGJwValVwdfC47OMJVwtSa5ZVMPPC5jRlRm4q3NTcZJXs1dns0vxx+APjrw5JqOp/sY/CrTpbe7jRf+Ee8dfFXRXeMnHlS3Fr4oFw8ffb5o+tfLPiXxB4f1xobSDwkNL8GWWtXOoaf4Ft/FHiibSLZby6vP7MsJNUl1IeJb2y0X/lkt3rMs17/wAvUzUUV6uYcZZ//Z+FnGvgKUqEaOJp/V8jyLDpVk0+aSoZbTVRPrCopwl1izXK+AOGMnqZtTwGGzSnDOFLIcwjX4l4lx3tsqxsl9ZwsHjs3xLwzqeyhbEYV0cVTSapVoKUr894j8bfC28tZYvCvwM0LwZ4lhu9Ovn8Z23jnx/4i1q60a1sLnTbjw3dQeJ9a1TS5bPUtSaPXLy8+wrqCXFvDaWc9ramZZvINfgj1S4kj2rbDYOYlVm/MgevpRRX5tmWeZnnmZUcZmeIhXxHsqdPmpYXCYOHLHE4m37nBUMPRv3l7PmlZc0nZH1WW8NZNwxhqeAyXDVcPhr1q3LXx2YZjV9pJ01J/WczxWMxNrLSPteRdIo+3f8Agn78EINZsv2g/iPqXxD+I+j+HvA+m+HdF1DwT8O/EC+ALvxpeeIvOhiuvEHjewtb/XoNL0r7RJLFoejR6aLuZvMutQbpXgus+PdJ8L/tyeGfhb4R8F6boXw8+Aei/ERLHw+17Nqk/i271LwZ4l8S3Woa/qt9bvdPctqulW0291unfdM00ks0nnAor9Y4YoUp8N5Ji6kPaYipjalOVSo5TtB5rjISjCM24U1OOGoqoqcYe09mnU5m5N/52ccVavEX0gvHbJ85nLG5Vw9wNmk8oy+T9jg8NXXBHDNGOLqUMN7GnjMfTo5/m9KjmGNjicbQpYx06OIhCjh40fzguvDo1Zf7YvbpZLq9tbK7lX7KhiSSXT7OLbEHld0jij+WJN52eprjr7wEv2hi2oxOqv5YR9O3Jt9MfbRRRXzlfMMZhpXo15RcoSu3GE37vs7WdSMuX4ne1r6XvZW/sqngsJHLcrhHDUFH2FKPKqUEuWMaPKrW2jd27XJYPhppzhF+1KgZPMOyzUfNnH/Px7Vo3Hw40+0LCK5UhYxjfZq3/twKKK8+nnWaVqqjPGVGlOGkY04Xvo+bkhHm025r21ta7Pbo5Zl8YzccHh78i1dKDetr7pnOXPhmIKA80LDHayRO3tL7fhW3aeErFEiI8g7+WzbZyf8Av/7UUV79TEV1SjatUW/25f3fPzZFDLsC6l5YShJtq7lTjLo/5kyzqXh7T40VhDCTIRuzCDny+F/j7d+59aqw6FZrlBHFtaTkeSOef973z+FFFYQxFdUVatV361JvpHu33ZhWweE9vB/VcNd812qFJN/Bu1HzZHcaJarn5IW2jI3W0Z/rUtxpFvaPAYlh/eQxuQ0AO1umU+cEfrRRXTSr1rpe1qWvquZ6/Dvrr8zgx2Fw0KtLkw9GOiX8KHRQ7xOv0LTLK7TZPbWzj18hA358+nf1rnvFPhvS1iLC1tgf+uA7cf36KKxVevDGNRrVoq8NFVml8Mf73mzrlgMDPLYylg8LKUqfvSeHpXfwbvl13e/c8rk0OxX7tvbL0Py24Ht/fro9M0OxnjVpYYHOO8TdB/21oor6LEV66ozarVk0lZ+1ndapaPmufM4HLcvliuWWBwrTlqvYUtdYL+U6G+8IaMkELpawqXUuR5QZQ2Rygdm29PU0mmeGtFuYzDLYxkN8hZflbb1xnmiivnZY7GywtRvFYhuPJZ+2qJq+9rSR9JhMoyv6/ZZdgklKjZLDUla++0Ub+nfDzQFfAicqPMIUklRj23f1rr9E0fTtH1GyvNPtkgmtiJo2T5T5kcuFO9NrrjH/ACzZKKK+ewmNxlXH0lUxWImvb4fR1qlv4q/vH1mPwOCo5fiVSwmGglhq0ly0KatKLhyte7o1d2aP3v8AD3xZg1HSNLkn8JWiyNpNgPMi1a/RlaK0h/eIdh2ySf8ALVud/oK7nS/Hb+IbfUfD1lo1ppk9zBEf7RurzUtVUC68ndHJZfarDz448fula6Gz1NFFf1Csqy+vDGSqYaN4U1yOEqlNrnp1HL+HOF78q3va2ltT+DMJxDnP+zr69OzxFG69lQs/fjv+6Onn8EaxJaxafb67pFtYTXFvNNZDw5fy2skzwk+d5D+KfLSQY+9EqeZ/y282vO/G9jf/AAs0aDxDYjw1fnTNetLmWyj0C/0uO8a5/eyqZbfxHO0IL88JJRRXxNTLsFh8fhXSw8Yt1Kkbtzm0oOlyqLqSk4Jcz+Fq/W9lb6XBcV8QYrBYiFfMJTh7aonBYfCU4TtKvBe0jToQjUahCMU6ik0lZNXd/ENV/an1jxp4+8D6FP4M0TRrfU/t9pJdaNqWrQ30jW8M+oxTX0txLcwXxVx9mwbaF/sf7jzf468q/aF/aB8QeKIJPBi+HPDVlZ+HNQuYReSjWb26v7P7DNN9nmCatYxI3mfN54V3/wBmiivYnhqEquMpulBwdB3g1eL+Hpt1Z+mygqHg3lXFVHmp5/S46zXLaeYxnL2kMCshq4tYdUnJ4bkjiG6sX7Hni20pKL5T4y/Zt8Uajonje40GJYpdB8bWNzrU2m5mj/s7VrFfkvoJjLIs0s8f7i63wJ50PyZXrX3kLrcFYwoS/X5pP/iqKK+CwGHo/UcM/Zx05orf4YqDS32Tbsuh9XnVet9epT9pLmq4OnUqS6zm5zi5yf2pOKSbetkkXBcFNpWOIcf3Pfp19qp3lw2GOyL/AL49M+/tRRRKjS9nfkV3a71u7cu7vc5qeIrOavN6eUe67LyOQv53Lknbx7e/1965+61BwJD5MRI9RnuKKK8GrThz8vL7rhNtXdn/AA99dT2vb1eRe+94dv8AIxze7i6tbwMF6blJ9vUf59KypLn98R5MXHXg/Pxn5ueaKK4pU4e1qK2iWiu7LWO2um/9WOmnWqOkpOTcv5rLm6dbXMe/v0MmfscA+mR/Q/rn61zz3ibv+PWL/Wydh7/7FFFYShH2lZWdo8nKrysrt7K/kj38JpTpySipN2cuWN9o9bXM64EBz/o0Q47ZHYfjz0qmohwwNvCylzGysmVdfRxnn8x+NFFOy58PHVqVTlkm21JNpNO7d0+q6npRlJxndp2j1S8l27JHc+HLubUlu4JWP2iwigmW6kPnG5t2Qssd0h2u97H0/tGOaJ7j/WXkNzN+9rsbZ97kOiMx6uV+b8/85+vNFFfP1qVNV8bBQio0pctNJW5Itq6TWttO+nQ2pycsPhuZt80He+t7KLV79unzN+2jWZcuOqRZHVe3Z91bGmQx70VRsyRynHb+7yn/AI5RRXoZfUqQj7s5RScNFJpfdt+B4GYUqdSNT2lOE2qc5Jyim1JOnZp2umr9Gj0TT2KhQfnAXgP83rz25rsLGJEA8seXuTzDs4y2BzRRX3+CnNRqWlJfvLb9krH5ZnNCisXy+zi4xnKMVL37L2rVk5XaWr0uagkcEkneT13/ADVZjCSnJRV/3Bj1+vpRRXrT9ymnD3Xywd1o7trqfJR95Pm1s42vrbR/5L7hssjiQLnO04DHluT606OaTaWBCkf3Rjvj+lFFdtNJrVXso/5/ojnqe5KKj7qSei0WnJbQtJqNyndH/wB9d39a0rXU3ZW/dhcts+Vz9306fjRRXPUpU+RvkScbcrWjWnl6L+rnbgqlSUuWU5SjdaNtr8T/2Q==" } }>